Becoming happier and healthier – a Calm case study
Discover how Calm use Postcards to market their brand offline.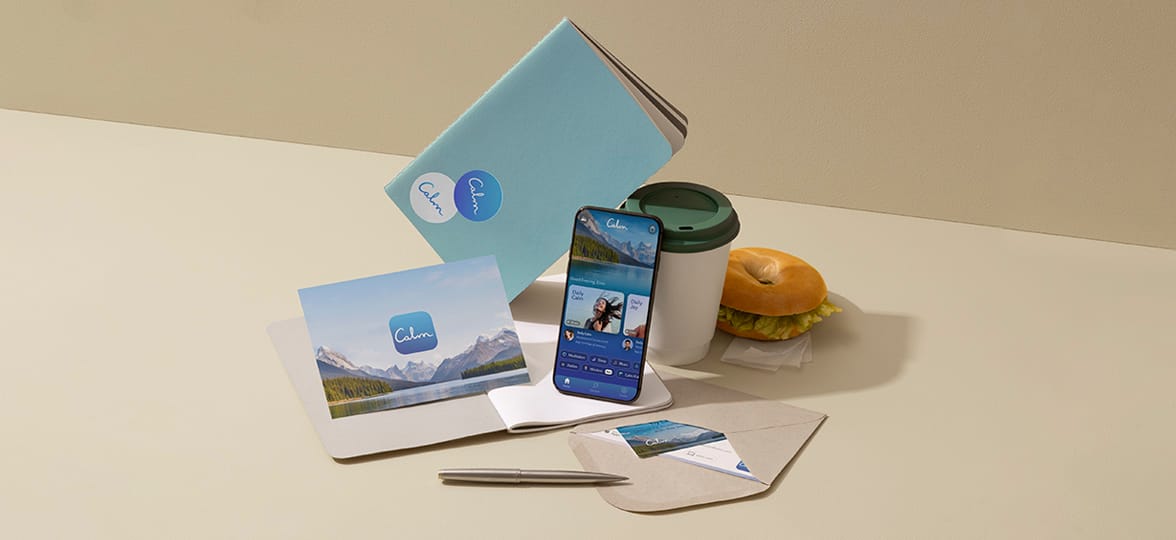 We're thrilled to have recently chatted with our client Calm, to discover more about their brand journey over the last 10 years. And as Mental Health Awareness Month draws to a close, it serves as a great reminder that 'checking in' both with yourself and with those around you should be practiced year-round.
Read on to discover how we've supported Calm in their mission to 'support everyone on every step of their mental health journey'.
The mental health gap
According to the World Health Organisation, there's been a 13% rise in mental health conditions in the last decade. Not only does this have an effect on family relationships and work – but it also impacts global development. Two of the most common mental health conditions, depression and anxiety, cost the global economy $1 trillion each year. Yet despite this, the global median of government health expenditure going towards mental health is less than 2%.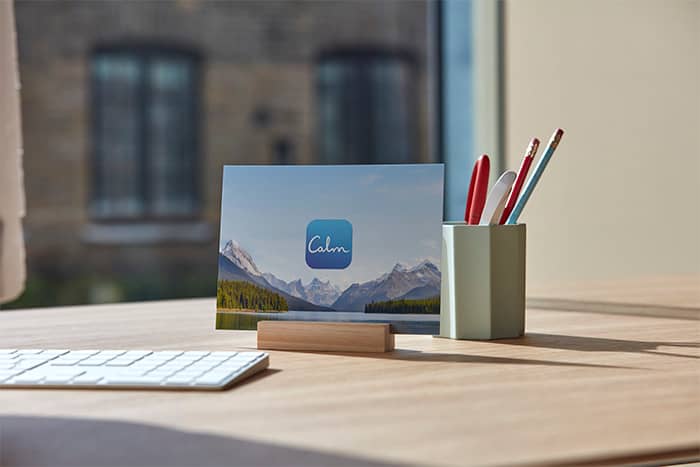 Calm has been supporting the mental health and wellness journey of millions of people across the world for over 10 years. And as the population becomes bigger and busier, there is an increased need to carve out mindfulness moments to help counter these worrying global statistics.
Calm's mission is clear and in this article we discuss some of their offline marketing tactics for keeping their brand front of mind in a growing industry.
Adapting to growth
Calm is the leading mental health brand, on a mission to support everyone on every step of their mental health journey.
The #1 app for sleep, meditation and relaxation – Calm's transformational content supports users across seven languages in more than 190 countries. And it goes without saying that when they approached MOO to help support their continued growth we jumped at the chance to be part of the journey.
"MOO is a nimble and efficient partner for us".
A calm spokesperson stated; "Our partnership with MOO first started in a focused capacity on specific projects and then expanded as our needs grew". They added, "As a company, it's always important to adapt to new and innovative ways of working and MOO is a nimble and efficient partner for us – enabling us to not only work quickly but creatively".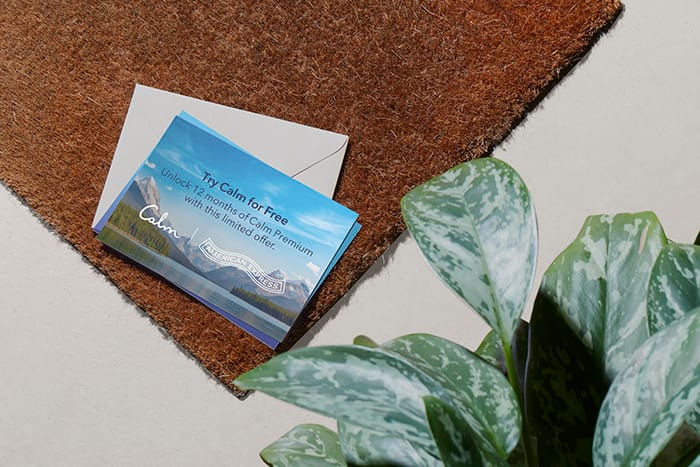 In 2022, the global mental health apps market size was valued at $5.2 billion, and according to Deloitte this growth remains on an upward trajectory. Additionally, they highlight that as many as 20,000 mental health apps may exist today, so creating standout – both on and offline – is key to fueling continued expansion. 
If you're a primarily online business, creating memorable offline experiences comes with its challenges. Whether it's brand packaging, a personalized Flyer or a simple Business Card. Offline communications are a chance to build trust and a more personal connection with your customers (and future clients). 
Without a physical product, offline marketing can take on many forms. But the most important part is creating something that people can hold onto. Something that is a tangible reminder of what you do, and a touchpoint to keep your business front of mind. And when it comes to new customer acquisition in a crowded marketplace, leaving a lasting impression is paramount.
Offline design solutions
At MOO we support Calm on a number of different branding projects, but most notably we work on editable Postcard designs for their B2B networking events. These events include the Mental Health Forum in Chicago and The Employee Healthcare Conference in San Diego and New York. These large-scale events host hundreds of companies looking for ways to help support the mental health of their employees and teams.
'Calm Business' is Calm's enterprise-level solution aimed at helping employees improve their mental health to stay productive in the workplace. Over 3,000 organizations around the world choose Calm as their mental health partner, benefitting from various events, webinars, workshops and unlimited access to Calm content.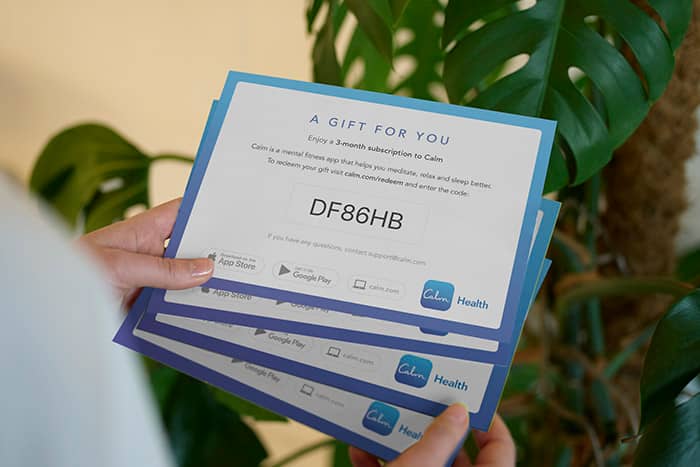 Initially Calm's designers came to us with a vision to create an editable Postcard template that would display unique discount codes. Their requirements for this can be anywhere between hundreds or even thousands of unique codes, depending on the scale of each event. 
"Postcards have been a great means of direct engagement with our customers".
A Calm spokesperson said; "Postcards allow us to create different use cases for multiple projects all at once – seamlessly and efficiently. In fact, Postcards have been a great means of direct engagement with our customers."
Gianna, Calm's dedicated MOO account manager works closely with the Calm team, and said; "We set Calm up with editable Postcard templates that accommodate recipients anywhere. Our Printfinity tool allows for dozens of unique codes, text, or images to be uploaded to an editable template at once." 
MaryAnn, our Production Artist who works closely on the account added; "Unique promotional Postcards are a great way to utilize Printfinity. It is a simple and sustainable way to get the most out of your design without having to print unnecessary duplicates".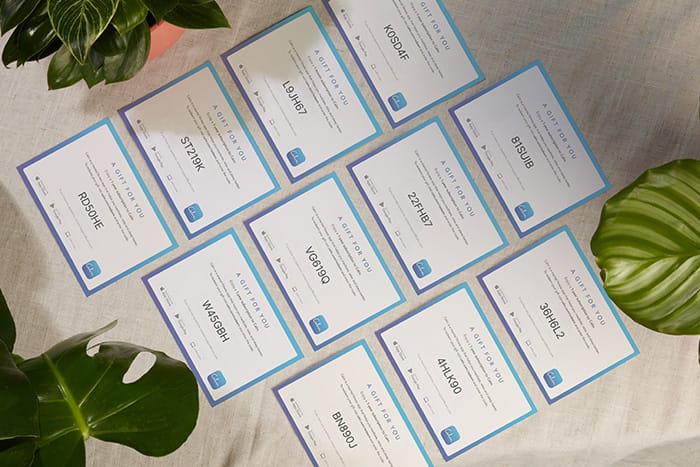 Working directly with both their MOO account manager and our Design Services team has enabled Calm to produce a catalog of flexible, editable product templates across a broad spectrum of use cases. Their spokesperson commented; "We work with MOO frequently across several work streams at Calm, which enables us to offer everything from giveaway collateral for national television talk shows, gifting content for VIPs. and even networking and 'leave-behind' materials at important conferences and events".
But having a dedicated account manager and creative artwork support aren't the only benefits of working with the team here at MOO. Calm is a member of our Business Advanced plan which supports the complex needs of larger, more established businesses. This plan also includes custom printed samples, employee self-ordering options, and access to our offline catalog and MOO business platform too. It really is everything in one place!
When describing what it's like to work with MOO a Calm spokesperson added; "Whether our focus is in engaging and forging relationships with our current partnerships portfolio, fostering employee engagement through internal events and custom collateral, or networking with potential customers within the B2B landscape – MOO makes the process seamless and easy. And they've grown to become a valued partner of ours over the years."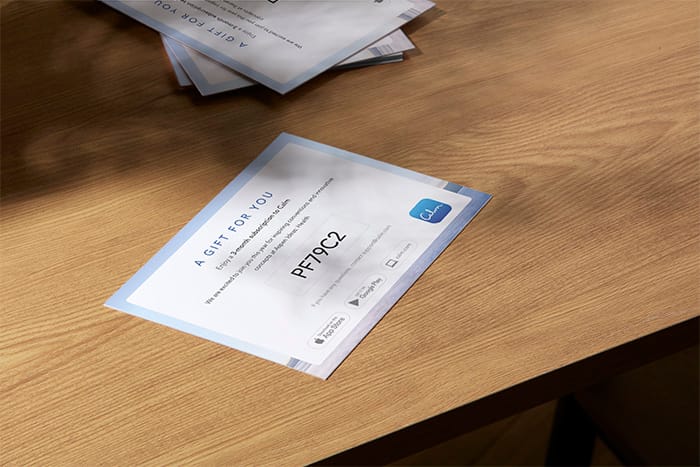 If you're looking for new ways to adapt and grow your business with our premium marketing materials, then fill in the form below and a friendly account manager will be in touch!
Keep in touch
Get design inspiration, business tips and special offers straight to your inbox with our MOOsletter, out every two weeks.
Sign me up!