Big Leo showcases its new brand identity in style
This creative agency is working with MOO to show its appreciation for its talented team.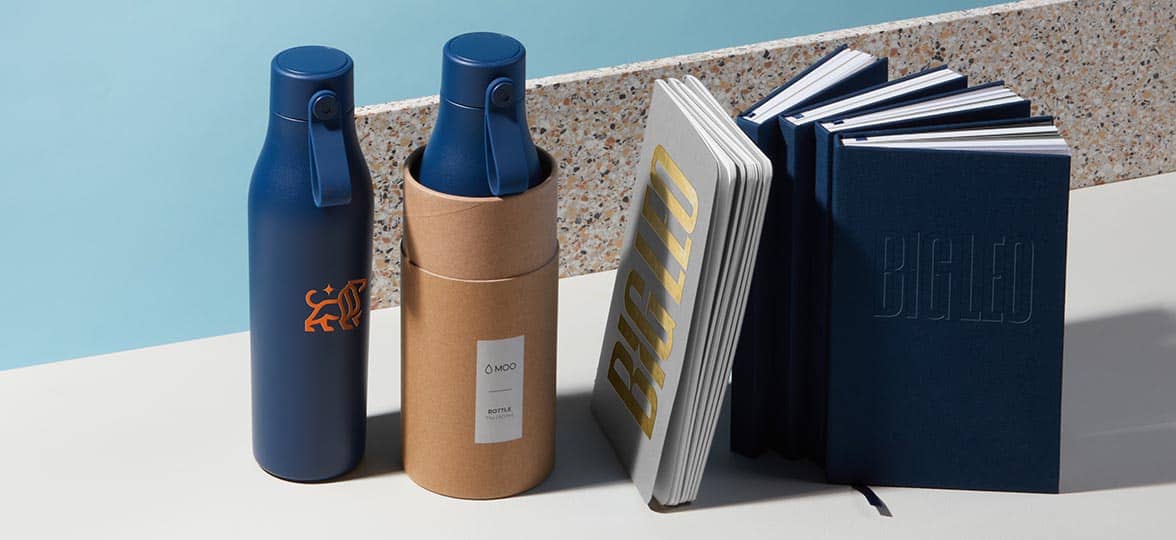 Big Leo Productions needed a way to show its appreciation for its stellar roster of commercial artists, as well as its list of first-rate clients, in a way that was equally as elegant and creative as the work they produce.
About Big Leo Productions
As a leading creative agency, Big Leo Productions represents a talented and diverse constellation of directors, photographers and stylists. In fact, you've likely seen many examples of the agency's work in the wild.
Rather than focusing on a single industry, the artists of Big Leo offer a wide range of expertise, having worked across several industries including food, interior design, lifestyle, beauty, and hospitality. Just some examples of the clients in the company's roster include advertising agencies such as BBDO, Barkley and Wunderman+Thompson as well as brands like Target, Amazon, Starbucks and Delonghi.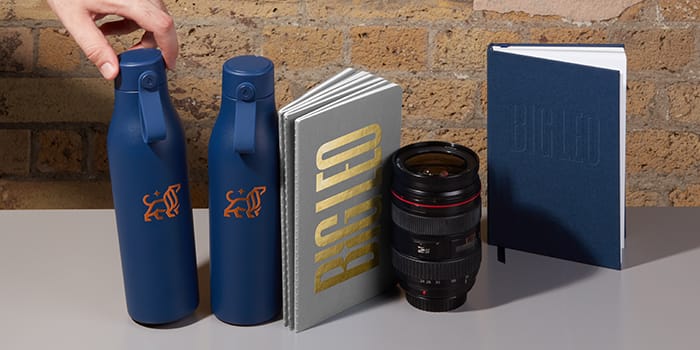 The challenge
Promotional materials and leave-behinds have always been an important part of Big Leo's business. But this time, the agency needed something different. Having recently completed a brand redesign, Big Leo wanted to find a perfect way to showcase its new identity. And, at the same time, the agency needed a thoughtful and stand-out gift for its artists and clients.
"We wanted to find a balance between fair cost and high quality."
To show its appreciation, Big Leo needed something both useful and special — a gift that would leave an indelible impression and represent the brand. But with a marketplace filled to the brim with branded merchandise suppliers, finding that perfect solution is easier said than done.
"Most companies had either high minimum product counts or low-quality production value," said Mary Dail, Creative Director at Big Leo. "We wanted to find a balance between fair cost and high quality."
For a gift as important as this one, the agency wasn't prepared to compromise.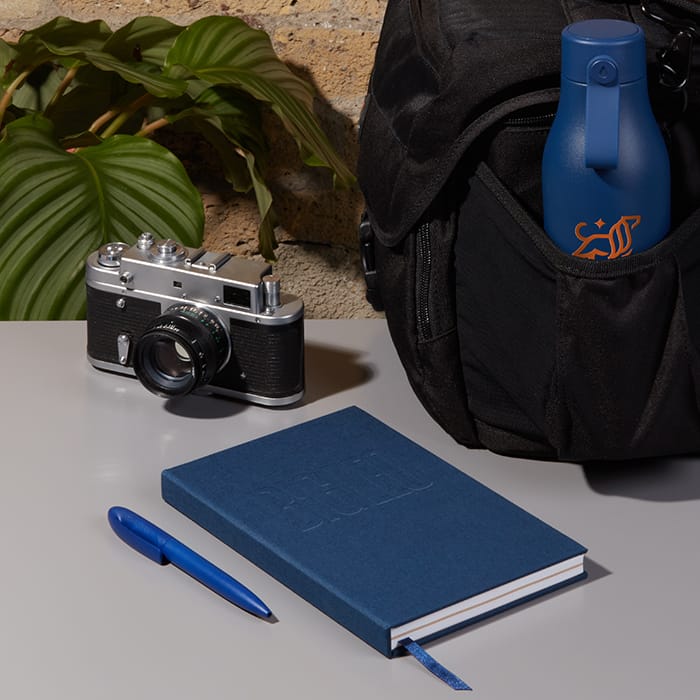 The solution
Despite their challenges, the Big Leo team continued their search for a well-made, reusable and purposeful gift. Finally, they found their solution in a long-time partner.
Big Leo had been a MOO customer for several years. The agency "always loved the quality" of MOO's print-on-demand products, including Notecards and Business Cards — two areas in which the companies had previously collaborated. The agency was thrilled to discover that MOO had expanded its range of branded merchandise and released a selection of high-quality custom products as well.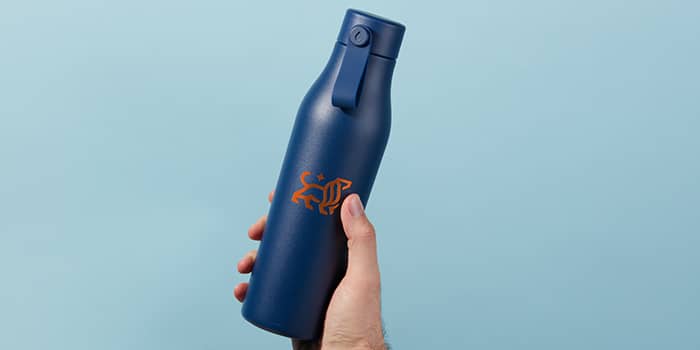 "We were so proud of our new brand identity, that we searched far and wide for the perfect way to showcase it beyond just our website," said Dail. "When we saw that the blue Water Bottle colour coincided with one of our primary brand colours, we knew this was what we wanted to do."
Together, Big Leo and MOO put their heads together to create a series of gifts that exemplified the new brand identity while also expressing appreciation. With clear upload instructions and design options, the Big Leo team enjoyed a seamless creative experience while working with MOO. Ultimately, they decided on three unique gifts: Custom Notebooks, Softcover Journals and branded Water Bottles.
"We are in an era of environmental mindfulness — thankfully — so water bottles are a staple in everyone's bag these days. We wanted to be a part of making that mark while leaving an impression," said Dail. "And, who doesn't love a good notebook? We opted for both Softover for 'getting to know us' and Hardcover Notebooks for a more substantial 'thank you' gift."
Altogether, Big Leo found not one, but three special and purposeful gifts to show its appreciation to its clients and artists alike.
Results
Once their branded products were designed and ready to be gifted, the Big Leo team customised a box and shipped them off to their clients and artists. And the result?
"Who knows? Maybe we'll open a Big Leo swag shop!"
"The water bottles specifically have been a hit," said Dail. "The rubber footing on the bottom is such a great feature, as most other water bottles ding or scratch."
According to Big Leo, the colour and quality of the bottles have also been received with positive reviews. Now with their own branded merchandise, the agency looks forward to how they'll use them in the future.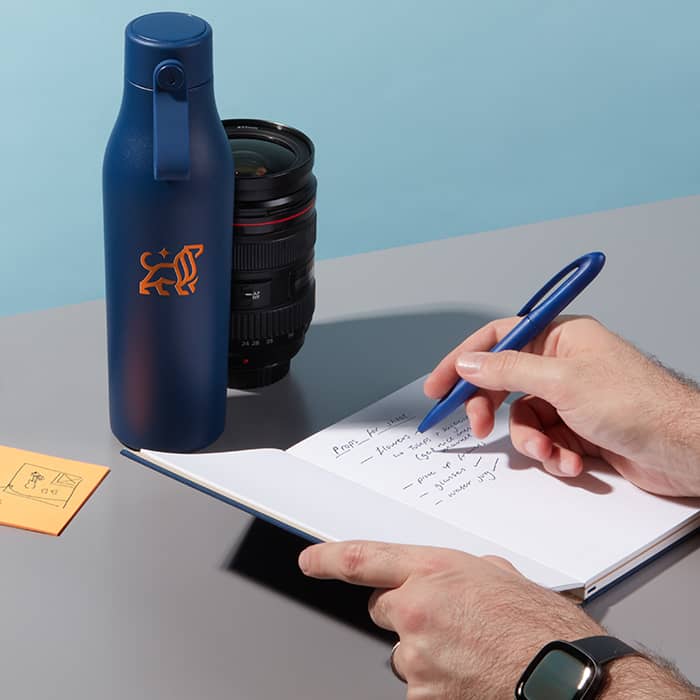 "We'll gift these to clients and also make them available to a larger base of our friends and colleagues," said Dail. "Who knows? Maybe we'll open a Big Leo swag shop!"
In the end, MOO's seamless and robust design process empowered Big Leo to create the branded merchandise it needed to showcase its new identity and give thanks to its people.
And if you're looking for new ways to do the same, you might find the perfect solution in the MOO Water Bottle, Hardcover Notebook or Softcover Journal.
Get in touch to learn more.
.
Keep in touch
Get design inspiration, business tips and special offers straight to your inbox with our MOOsletter, out every two weeks.
Sign me up!