The ultimate trade show checklist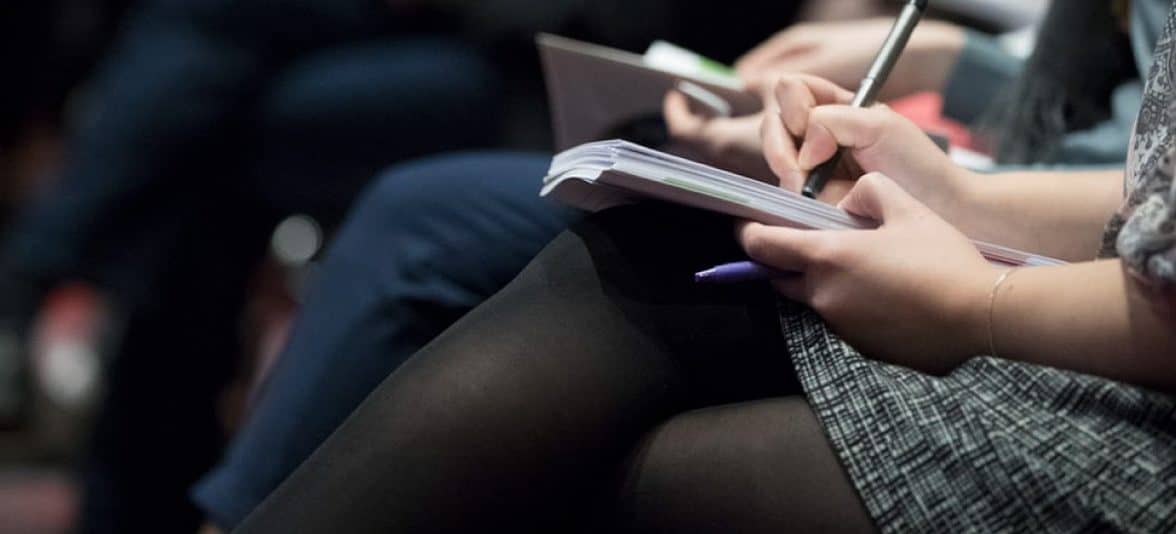 Want to run an outstanding, effective event show booth? From setting goals to following up with new leads, our trade show checklist walks you through every step of the process.
We've broken this checklist down by weeks, months and days, so you can get everything ticked off in good time beforehand. 
Doing things well in advance is a great strategy. It means you'll be cool, calm and collected in the run-up to your show, rather than running around sorting things out the night before. Buying trade show supplies and services early can also net you cheaper costs – great if you're planning a trade show on a budget.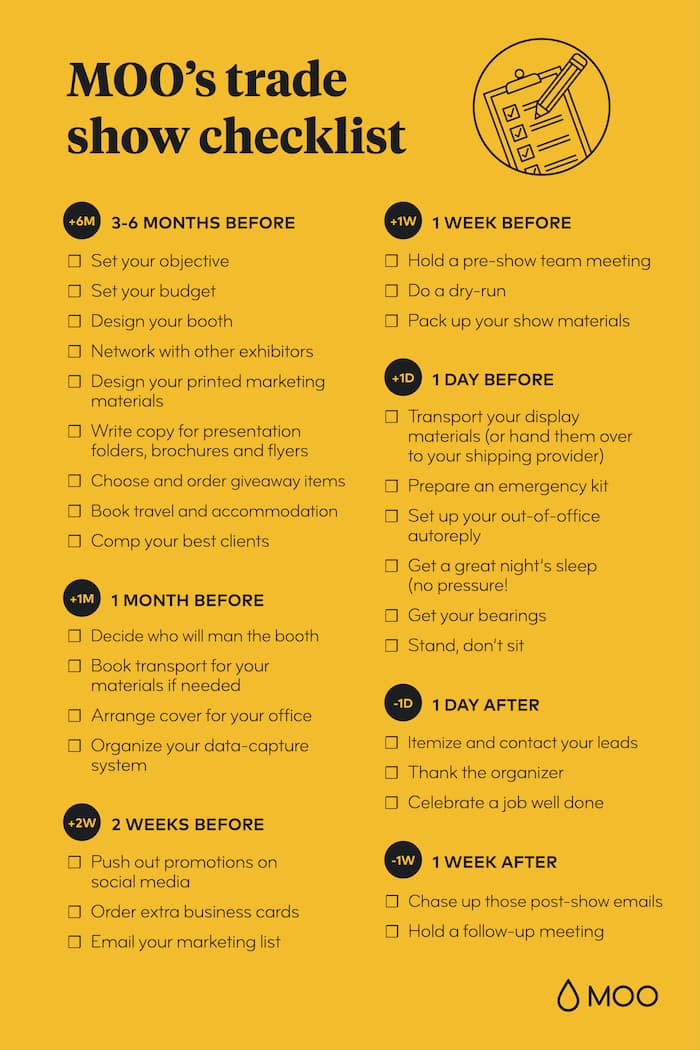 3-6 months before
Here's what should be on your trade show preparation checklist a few months before the event.
Set your objective


You've booked a trade show, or decided you're going to. But what's your end goal? What do you want people to do when they come to your booth – take a brochure? Buy a product? Arrange a meeting? It's never too early to write down your aims and define what success will look like.




.

Set your budget
Now you know what you want to achieve, you can decide how much you're prepared to spend to make it happen. Think of your budget in terms of ROI. Your costs should be proportional to what you can expect to gain back in new business, brand awareness and sales on the day.


.

Design your booth
The fun part of trade show prep! Decide how your booth or stand will look and feel, including the colours and branding you'll use, and what props you want to bring, such as a table, banners, posters, display stands, sandwich boards, drapes or backing boards, 3D-printed replica of a spaceship…


.

Network with other exhibitors
You'll be sharing your audience with all kinds of other businesses on the day, and not all of them will be direct competitors. Effective trade show planning involves some detective work to identify networking opportunities. Take a look at the attendee list for the day and see if there are any businesses you could reach out to whom might be interested in partnering on some marketing materials, sharing referrals or even pooling logistical costs like transport or shipping.


.

Design your printed marketing materials
Trade shows are all about being memorable, so take some time to look over your designs and make sure your leave-behinds and hand-outs are as attractive and compelling as they can possibly be. Think about Flyers, Postcards, Business Cards and Stickers that will go home with attendees, as well as things you might re-use at a future trade event, such as posters and presentation folders.


.

Write copy for presentation folders, brochures and flyers
Start drafting the copy for your marketing materials as early as possible, so you'll have lots of time for proofreading them and getting feedback on your wording from different trusted sources.


.

Choose and order giveaway items
Will you give away a covetable stationery item like a premium quality Notebook? Hold a business card raffle to win a gadget or tech must-have like a smartwatch or drone in your company colours? You start thinking about any giveaway items at this stage of your trade show preparation to be ready when the time comes.


.

Book travel and accommodation
If the show is a big one, the best hotels close to the venue will fill up fast, so book in plenty of time to get a bed for the night in close proximity to your destination. If it's an early start, your team will need their rest to perform at their best. This is one of the absolute essentials to cross off as early as possible on your trade show preparation checklist.


.

Comp your best clients
Invite some VIPs in the form of your most loyal clients. You'll make them feel appreciated and it's a great way to strengthen your relationships by spending time with them. Who knows, they may even introduce you to other attendees.
1 month before
Here's how to prepare for a trade show in the last four weeks before the event.
Decide who will man the booth
Identify which staff members will attend on the day and give them plenty of notice so they can clear their schedules, especially if the show involves working out of hours. Don't forget to get name tags for everyone!


.

Book transport for your materials, if needed
Transport is a crucial element to add to your trade show exhibitor checklist. Find a reputable courier, hire a self-drive van or call in some favours to get your event stand props to the show on time and in one piece.


.

Arrange cover for your office
Trade show planning is not just about the event itself! Depending on the size of your business and how many people you're bringing to the event, you may need to arrange some extra help to cover the phones or welcome customers back at base.


.

Organise your data-capture system


You're going to meet so many people that names and faces will easily become a blur if you don't have a way to note down who you met and what you talked about. Decide whether you'll use an iPad, write notes in a Notebook or set up a business card drop. It's a good idea to plan this in advance because things will happen suddenly on the day, and you'll want to be engaging wholeheartedly in conversation instead of getting distracted wondering how you'll remember everything about the lead you just met.
2 weeks before
Your event is right around the corner! Tick these items on your trade show preparation checklist to get ready.
Push out promotions on social media
Spread the word on Twitter, LinkedIn, Instagram, Facebook and anywhere else you're active. Give out your booth number, the hours you'll be present and the names of people to ask for on the day. Check in with the show organiser to make sure you have the right hashtag for the event, so you can tap into the wider buzz around the show.


.

Order extra business cards
Just in case! Like scouts, trade show exhibitors should always be ready for any unexpected opportunity.


.

Email your marketing list
Send an email out to your newsletter mailing list inviting them to join you at the show.

1 week before
The last few days of trade show prep are the most stressful. Don't worry – we've got you covered.
Hold a pre-show team meeting
Brush up on your sales strategy and answer any questions from your team on things like when to arrive, what to wear and who you'll be meeting on the day. Get those pitches velvet-smooth!


.

Do a dry-run
Practice setting up your stand the way you'll do it on the day. This step means you can head off any flat-pack assembly disasters and have a quicker and easier experience when it's time to set up for real.


.

Pack up your show materials
Sometimes, bubble-wrap is your greatest ally. Remember to label packing boxes clearly so you can get set up without a hitch on the day.

The day before
Or as we like to call it, the unofficial start of the event. Time to dot the i's and cross the t's in your trade show planning checklist.
Transport your display materials (or hand them over to your shipping provider)
You'll breathe a sigh of relief once they're safely packed off to the venue.


.

Prepare an emergency kit
Scissors, glue, plenty of pens and paper, spare chargers for smartphones and tablets, screwdriver and heavy-duty tape, and of course the trusty first-aid kit.


.

Set up your out-of-office autoreply
For everyone attending the show, set up an email auto-responder explaining that you're out of reach – but that everyone's welcome to come down to the booth and say hi, of course.


.

Get a great night's sleep (no pressure!)
On the day
It's finally here! Take your trade show exhibitor checklist with you so you don't forget any essentials in the buzz of the event.
Set up your booth
If you already did a dry-run, this should go without a hitch. For that super slick look, use a steamer or iron to remove any creases from your tablecloths.


.

Get your bearings
As well as being very handy for finding your way around, knowing what's where can be a good way to start conversations with attendees. What starts out as small talk about the quality of the coffee or the location of the bathrooms could turn into a pitch and a sale.


.

Stand, don't sit
Standing makes you look more approachable and gives the impression that your booth is active and open for business. If you're not used to working on your feet and your dogs start barking at you, take a short break behind the scenes. Having 2 or 3 people in attendance means you can cover each other for lunches and breaks as needed.
One day after
It's not over yet! After the event, you should make sure you're leaving a lasting (good) impression on your new contacts.
Itemise and contact your leads
You have a 48 hour window to get in touch with the people you met and suggest a follow-up meeting or call. Make the most of it!


.

Thank the organiser
If the show went well, let the organiser know. They'll appreciate the feedback and will be more likely to welcome you back next year.


.

Celebrate a job well done
Whether it's a team meal, a round of drinks or a night out dancing, reward your team for riding the trade-show rollercoaster with you – and give yourself a pat on the back too.
One week after
Time to assess the results of your trade show adventure.
Chase up those post-show emails
Drop a friendly follow-up email to anyone who hasn't yet responded to your post-show messages to see if they're interested in keeping in touch.


.

Hold a follow-up meeting


Gather together everyone who contributed to the show, whether they were there on the day or helped set things up from your home base. Find out how people felt about the trade show experience. Were there any areas that went extra-well? Can you identify any pain-points where you could do things better next time? Write up a short report of the meeting too – it can form the basis for next year's trade show masterplan.
Got a trade show coming up? Why not get in touch to find out how MOO Business Services can help you prepare. Complete the form here and a friendly Account Executive will be in touch to help you get started!
If you want more MOO tips on trade show planning, check out our guide on how to attract people to your event stand.
Keep in touch
Get design inspiration, business tips and special offers straight to your inbox with our MOOsletter, out every two weeks.
Sign me up!