The big MOOve: injecting flexibility and wellbeing in our workspace
MOO's head of design Ruth Wassermann talks about how we made our new space MOO-perfect.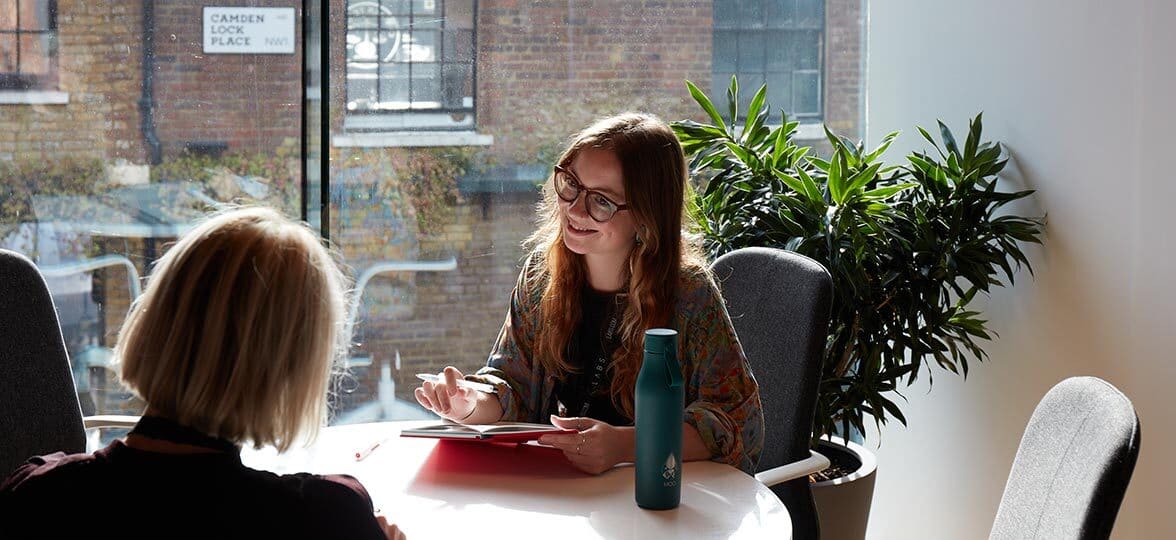 We just "MOOved" to our new London office. It's beautiful, practical and (in the words of our head of design Ruth Wassermann) "really, really big." Located at the heart of Camden market, it perfectly reflects the creative buzz of this neighborhood.
But because customisation is our thing, we couldn't move in without adding our personal touch. We asked Ruth Wassermann how we made the space MOO-perfect.
Finding "the one"
When the time came to find a new nest for our London crew, we had a lot of boxes to tick. First, the location. "We were looking for somewhere reasonably central with a good local community of interesting businesses that MOOsters (that's us) could engage with – and great local food."
With our hybrid team, flexibility was also a core factor. "We needed the actual space to be future-proofed. That meant it had to be flexible so we could change layouts if we wanted to. We were also looking for an office with lots of open space for more social areas inside, and we had practical considerations like having enough meeting rooms, etc.
"It was important to have a welcoming social space for connections and meetings, be that one-to-one or the whole business altogether. That's the main purpose of the clubhouse (our work and play space). Having that hospitality feel where we are treated as valued customers within our own office was part of the mission."
We set off on a treasure hunt to find the perfect fit… and it led us to lively Camden Town.
Living our values
We worked with workspace design consultancy Trifle* to reflect our values in the new clubhouse. It started with MOO's approach to flexible working – "Work 2.0".
"[CEO] Richard Moross's vision for Work 2.0 had interesting ideas for all our workspaces. Trifle translated this vision into a playbook – a practical guide for everything the MOO spaces should include. This means that we now have a guide for other spaces, such as our new manufacturing facility in East Providence, which also includes its own clubhouse."
Our values also found their way to the workspace… starting with sustainability.
Make it sustainable
Even with limited control over a pre-made space, it was crucial for us to include our sustainable principles in the new office.
"As a business, we are about to embark upon a focused set of commitments around sustainability, with a multiyear plan in the making. We know that sustainability starts at home, so making sure that our new space reflects what will be our wider mission was the very important first step.
"We moved into an amazing space that already had brilliant fittings and fixtures, as well as some furniture that we were able to reuse. By keeping those things rather than starting from scratch we did the best thing you can do for sustainability, which is to reuse. And where we had to buy new things, we did our best to use sustainable materials wherever possible."
Always deliver delight
"We spent time thinking about all the MOO magic that we wanted to inject into the space. That translated into the services that we offer our employees, such as frequent breakfasts and lunches in the office, and a food recommendation scheme with a free voucher to try out the local lunch options." We also built our own review page to share our favourite spots.
Keep it human
"We considered how the space would be used by the teams, which involved engaging loads of representatives to give their own perspectives. We had focus groups with various teams, using our different hybrid profiles to better understand when people would be in and assess how many desks and active collaboration spaces we would need.
"It's a space tailored to the people who are using it – real human-centred design. We've also thought about structuring the space to drive the behaviors we want to see. That meant optimising for in-person meetings and collaboration rather than Zoom and desk time."
Every detail counts
"We're adding some great details into the space, such as fun wayfinding that enhances the space design, and a library of records, books and tech things that represent each MOOster."
Imagine it better
This value has been driving the company since its humble beginnings back in 2006. "We tried to, and still are, imagining it better. Richard Moross's vision for the space was a step change in thinking about how we live in and use our MOO home."
Tackle it together
"A project like this wouldn't happen without a huge number of people, and the team has worked tirelessly together to make this move happen."
A space to connect
Our new London office is, above all else, a space to bring the MOO crew together. It's Ruth's favourite thing about it, especially after a few remote-first years. "I mainly just really like seeing all the people in one place. I love people and that, for me, is the number one personal value in working for a business."
To support MOO's flexible hybrid working model, our Camden workspace was built around relationships. "This space is all about connections and face-to-face meetings. So, alongside enough desk space, we've really prioritised meeting spaces and less formal collaboration areas. We also have a mega kitchen and hope to use it soon for group lunches and fun activities with the team."
"Move workplaces into a more casual and welcoming space"
Wellbeing is also at the core of MOO's approach to work. How does that translate into the new workspace? "We're including zen spaces for prayer, nursing mothers and general decompressing alone. We also have access to a gym, for a more active approach to wellbeing. We'll be taking a biophilic approach too, with plants in the space." And with our gigantic windows, we feel more connected to the outside world.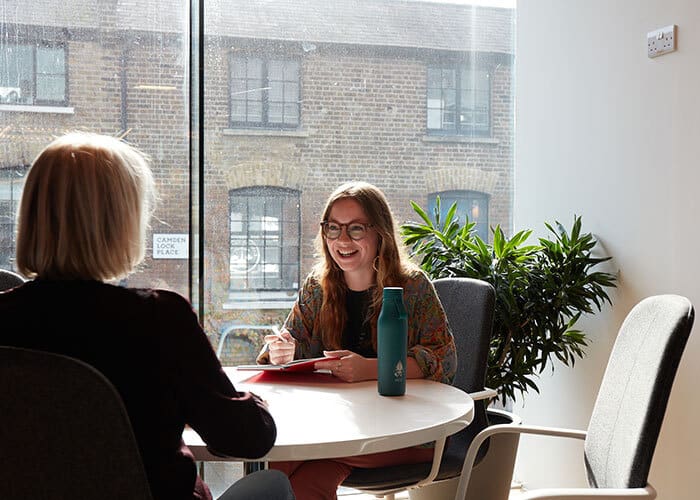 Ruth advises businesses looking to make their workspace more personable to inject more soul into their office design. "Design approaches that reflect the spaces we experience at home and in hospitality settings begin to move workplaces into a more casual and welcoming space. Making employees feel comfortable with great colours, warm materials including natural ones, and lots of plants is great.
"Creating a sense that employees are like valued customers who are served really caringly and thoughtfully makes for a very welcoming environment."
What's next?
Perfection takes time. We're still implementing more details to make the space ours, including moving our photo studio on-site. "We also going to have a showroom space for visitors and sales, as well as our creative design library. Very exciting times!"
Want to join the MOO crew? Follow us on LinkedIn and check out our open roles here.
Keep in touch
Get design inspiration, business tips and special offers straight to your inbox with our MOOsletter, out every two weeks.
Sign me up!