Made in MOO: everything you need to know about sales
We spoke to members of the MOO sales team about everything they get up to at work.
Here at MOO, our front-liners are your first point of contact. These are the people you'll go to when you want to bring a project to life.
So whether you're creating a new stack of Business Cards or maybe customising our Perpetual Planners in time for 2023 – these are some of the brilliant people you'll speak to.
We chatted to Hannah Hawkesley, our new business sales manager in the London team, and Brittany England, an account executive based in Providence, RI. They told us about their roles, challenges and a day in the life of a sales team member.
Sales in numbers
The team is made up of 39 people spread across Providence and London, although some work remotely too. The department is made up of account executives, senior account executives and sales engagement specialists that bring new clients in. Add the account managers that manage ongoing projects with returning customers. And then there are the managers that keep that whole bunch organised.
The sales team is a busy bunch. In fact, the team can have up to 60 customers to manage at a given time. There are A LOT of calls and collaborating involved. "This can be at varying cycles of their project, from initial browsing to us designing a full suite of products for them," Hannah adds.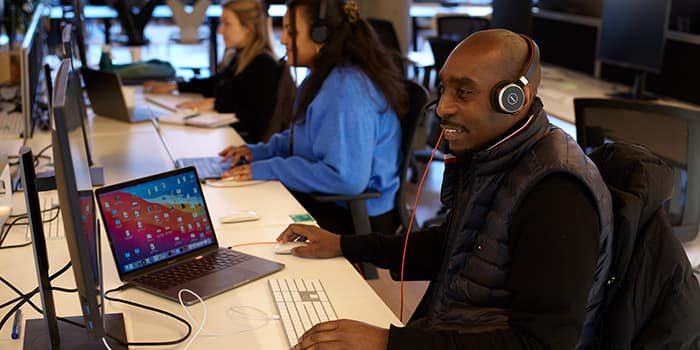 A day in the life
As a whole, the sales team uses a few channels to chat to clients. "Most used is emails, however, our biggest success is with phone calls and Zoom as it gives a chance to connect much more with the customer," according to Hannah. And Brittany adds that this method can be reinforced further. "We send tons of samples to our clients, sometimes by request and sometimes to inspire or show gratitude for their business."
Depending on which team you sit on, your day-to-day tasks can differ. Brittany walks us through each of them. New business staff "start the day by reviewing any missed inbound connections via phone or email and then handle the newest inbound inquiries from prospective clients. Their calendars are usually peppered with scheduled meetings to discuss new client needs and demonstrate the capabilities of the MOO business."
She adds, "In between they are taking inbound calls, calling out to their lists of prospective clients and doing all of the behind-the-scenes work to get new accounts set up and new orders into production."
The Returning Business team may start the day similarly, but she says, "they are usually working on several projects at once so they can typically be found creating special project quotes and working with their clients on designs or order logistics."
"The team does always make time to proactively reach out to their clients during their day-to-day tasks, whether it's to say thank you for their latest order and check in on arrival or to send over some inspirational designs that our design team has created just for their brand."
The highs and lows
Overall, the team is proud to be part of the sales at MOO. They shared their favourite parts of the day and even some projects they're loving at the moment.
Jen, another account manager from London tells us, "I love sitting down in the morning and checking all the leaderboards and reviewing my inbox for the day." She also mentions, "I love doing projects where I can give a creative input or opinion, like opinions on designs across multiple brands for one company. Or putting together unique outreach."
"We try to 'keep it human' and speak with the customer at their pace."
For Andrew, our senior account executive from Denver, it's "helping smaller based customers that need help with design or just an overall opinion on what would benefit their business. Sometimes they just need a friendly voice to help them out!"
But working in customer service doesn't come without its challenges. Hannah adds, "Some customers are super excited about their project but might not have the capacity to prioritise it with their MOO contact. We try to 'keep it human' and speak with the customer at their pace, but this can be difficult to get it completely right all the time."
A fun fact or two
Beyond being a team of helpful, friendly people, sales are a talented bunch – and an eclectic one. Some folks have been here for years, others just a few days. Patty Ferrick, the longest-standing member of our team, has been a key account manager based in Providence for 11 and a half years. Meanwhile, Robert Lavoie is our newest account manager to join the team and enjoys reading manga and building models in his free time. Brittany tells us, "People that join our sales team have come from a number of different backgrounds. We have many with previous B2B sales experience but candidates with retail and hospitality sales & leadership experience can also make a great fit for our team."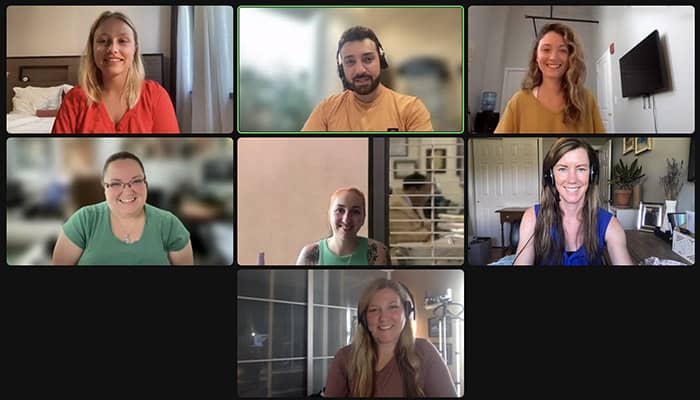 Our proudest moments
Sometimes you can't avoid frustrations. But the team experiences more highs than lows.
Brittany's proudest moment was a project in the early stages of her role that took over 3 months to finalise. "There were a lot of moving pieces that went into the process, which was a great learning curve for me. It taught me to be patient with my customer and how to approach situations that may take a little more TLC."
Brianna Martin, a key account manager in Providence, took pride in a project that her whole team benefited from. "I created a contact strategy to encourage customers to upgrade their platform. This had a huge success rate and was used by other members of our team. It was good to see my hard work pay off."
What's next for the team?
What's next for the team? There's a lot happening in 2023. Brittany tells us, "The sales team will be working on streamlining our internal processes with the help of customer success and design teams here at MOO. We plan to build upon the current level of service and provide our clients with even more inspiration and support as they continue to develop their unique brands."
Want to join our talented sales crew? Connect with us on LinkedIn and check out our current vacancies here.
Keep in touch
Get design inspiration, business tips and special offers straight to your inbox with our MOOsletter, out every two weeks.
Sign me up!