How to build credibility and connections at trade shows
We spoke with events marketing associate Lauren Testoni about how to build credibility and connections at a trade show.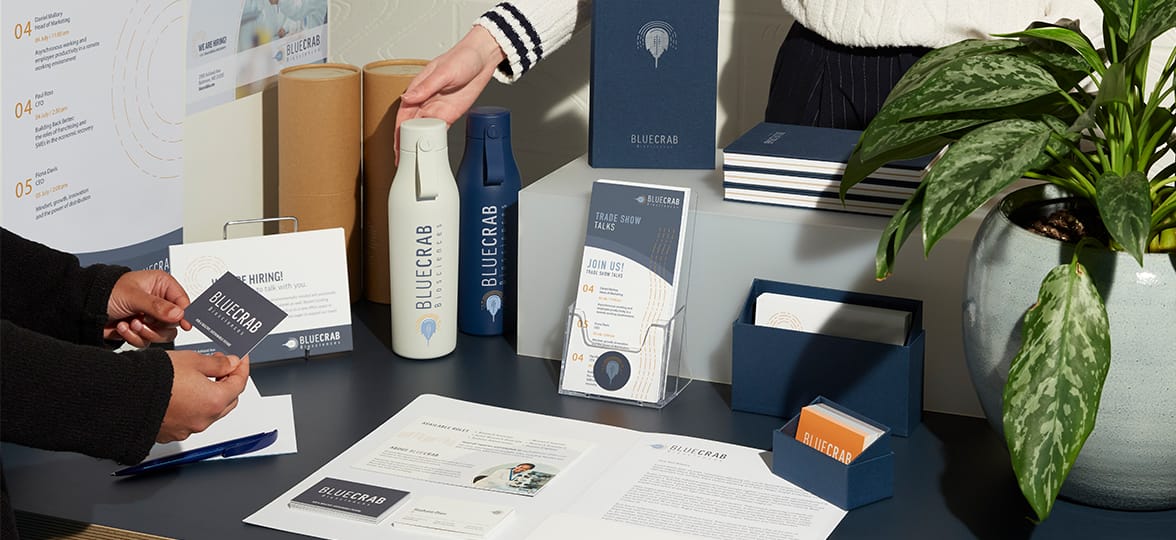 When exhibiting at trade shows in more corporate industries, you may find building trust to be a challenge. You'll be putting in a lot of time, effort and resources. But to retain that positive perception and hit those sales, you need to first off consider how trustworthy you come across.
We spoke with Lauren Testoni, our new events marketing associate, about her experience of working in trade shows for pharma companies, before she joined us here at MOO. We discussed everything from marketing materials to who to bring to represent your brand. So you can keep her top tips in mind for your next in-person trade show.
Establishing your goals
Start off by setting out what you want to gain from exhibiting. It can't just be because you've attended before or because your competitors do. These reasons may vary, from wanting to generate leads (in the form of interactions at your booth) to more attendance at your presentations or gaining sales.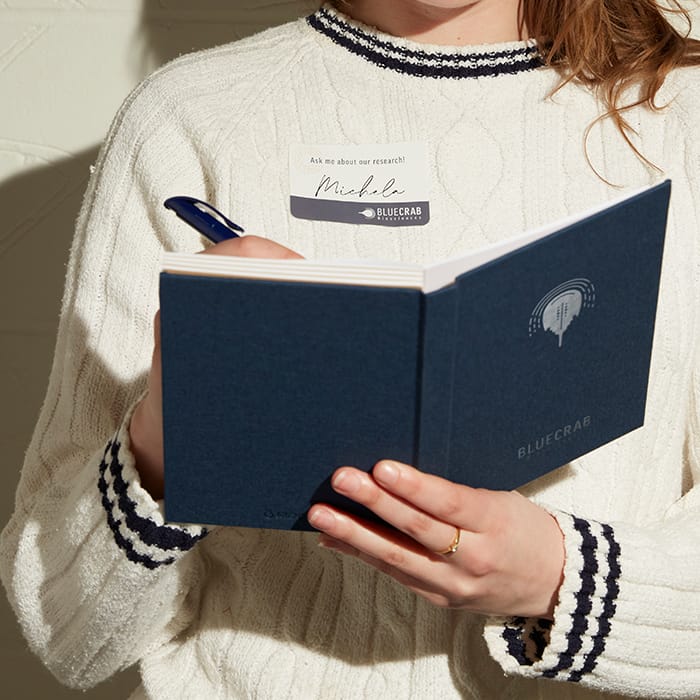 For instance, Lauren tells us why she would go to an event as part of a go to market campaign: "When launching a new product, the goal is to build awareness and demonstrate the solution to a problem or an improvement to a pre-existing product. We offer data about our full suite of products, answer any questions, report any issues, and also use the time at trade shows to make ourselves available to the end user."
You want to build a portfolio of all possible customers – including your current ones. It's also a chance for you to source new customers and network with possible business partners. You want to interact with all kinds of people who can help you to drive sales.
Make your booth approachable
Booth layout and design are the keys to approachability. You want to avoid having dead space on the show floor. And a great way to avoid this is by having a range of products front and centre, with accompanying marketing materials scattered around them. You also want to have your salespeople spread out instead of creating a wall of suits to deter attendees from entering the space. 
If you have a smaller booth – don't overcrowd your space with too many products. Instead, focus on showcasing up to three popular or new products that can generate curiosity in your audience.
Lauren adds, "If you have a smaller booth, keep the counters clean and organised. Showcase products in a way that minimises space but maximises visibility. In the past, we used jewellery counters and towers to display items. This allowed for a clean 360-degree visual without imposing on the counters which are typically used for demonstration."
Select your marketing materials wisely
When it comes to marketing materials, such as Flyers and Postcards – make it count but be sure to check any regulations there may be. Lauren explains that the medical industry is "bound by regulations in what you can and cannot say". And as it's controlled, you don't want to waste your time or resources in creating materials that can't be used. Instead, focus on how collateral can be eye-catching and remind attendants of your key message points. She continues, "If it's a product launch, your graphics should reflect that. If you're attending a show to build brand awareness, keep messaging high-level and drill down to specifics with videos, handouts, etc."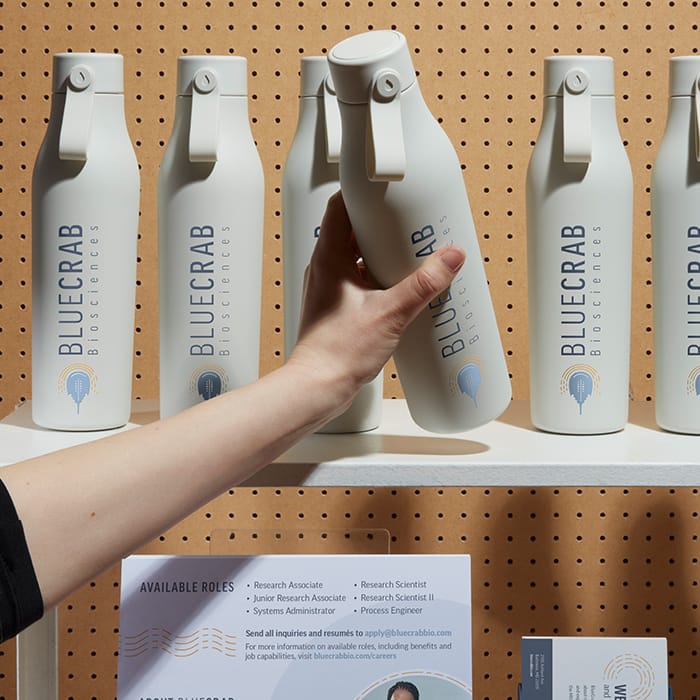 This is where materials like white papers can come in. "We lean heavily on white papers (data-driven research) and marketing materials. The marketing materials tend to have more creativity and leverage information from the white papers into one "sell sheet" or brochure that booth traffic can take with them." Keep yourself organised and make a lasting impression by storing them, as well as your Postcards and Flyers inside our Custom Folders too.
We also discussed giveaways for potential customers. The right giveaway can vary at different trade shows and depending on your industry. Our design team can help you to create Branded Products including Notebooks and Water Bottles. So that you can give potential customers something premium that they'll want to keep for years.
Staffing your booth
When it comes to larger businesses exhibiting, you could have up to a team of 100 representing your business. "In a larger trade show booth we have a team of the top sales reps within the company, marketing leads for the products highlighted at that show, key opinion leaders, internal medical researchers, and leadership (President, VP of sales, etc)", says Lauren. "Each category plays a different role on the show floor. We have also brought our marketing team in to evaluate competition graphics and booths and get ideas for future meetings." With so much staff on the floor, you may want to invest in name tags to create an approachable environment. Use our Customised Rectangular Stickers to create original name tags for each member of your team.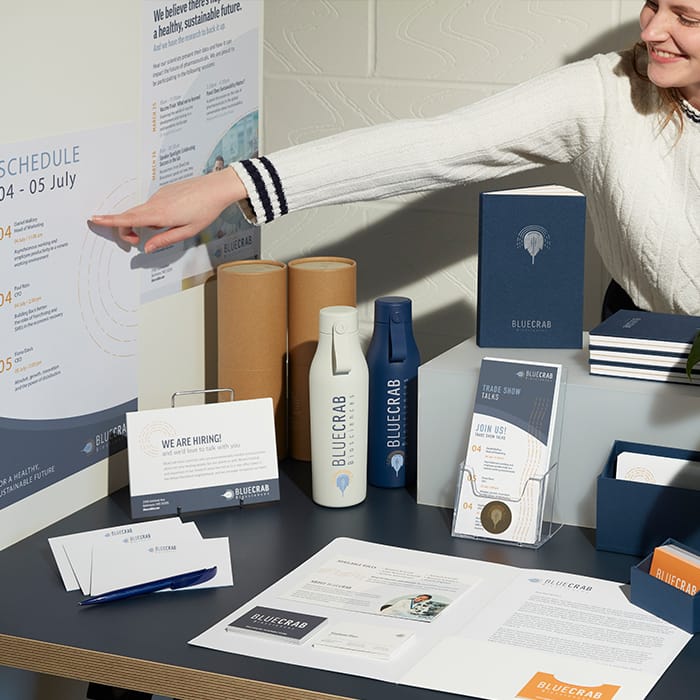 But suppose you're looking to single out key attendees to make a good impression. In that case, Lauren recommends, "encouraging sales and marketing to have quality conversations with everyone that comes into the booth. Introduce them to the key opinion leaders that may be company partners with you. Take notes on every lead and ensure follow-up in a timely manner." Our Notebooks and Journals are great for keeping track of all your leads and any notes you might make in the moment. Plus, it'll keep you off your phone and more engaged while networking.
Keep the conversation going
The road to reaching your goals isn't over just yet. In order to generate business, you need to follow up with your prospective clients. Lauren agrees that this is key. "Aggregate leads and follow up within a week of the show closing. Some people require follow-ups ASAP, so sales reps should reach out to their counterparts to get in touch right away. Have a pre-established cadence of emails thanking attendees for stopping by the booth, directing them to websites, or providing a call to action like – watch this video or sign up for future symposiums." Ensure yourself and team are stocked up on Business Cards, ready to hand out. You can create the perfect fit for your business or try unique sizes and finishes for a memorable first impression.
You could even double down with a personal touch and send a customised Postcard or Notecard. This will allow you to focus on specific details you discussed during the trade show too.
Fill in the below form and a friendly Account Manager will reach out to you.
Keep in touch
Get design inspiration, business tips and special offers straight to your inbox with our MOOsletter, out every two weeks.
Sign me up!