Shine with MOO's Silver Foil Business Cards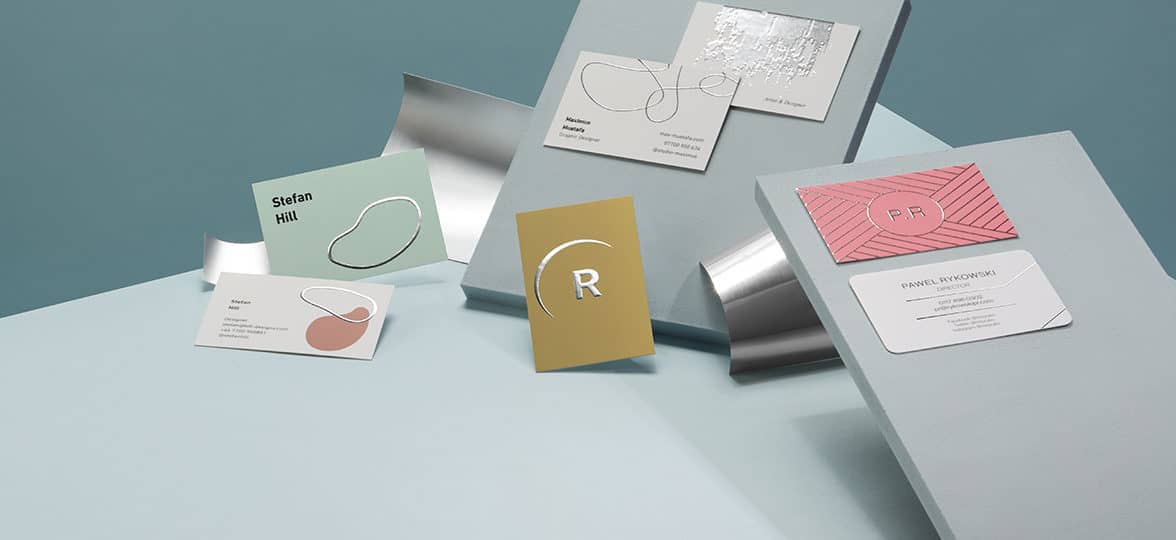 Going for gold is all well and good, but MOO's silver foil Business Cards are a worthy alternative for design that shines.
We know what they say, 'go for gold' (and MOO does some pretty gorgeous Gold Foil Business Cards if that's what you're after), but we also think silver deserves a bit of appreciation. A little bit less affected than gold, silver foil can bring a fresh, modern feel to luxury Business Cards. Here are some of our favorite ways to make the most of some shine in your creative Business Cards:


Silver Metallic Business Cards
Silver foil will automatically elevate any of your Business Card ideas. Silver Metallic Business Cards add a whole new dimension and give a bit of tactile charm, too. Use this characteristic of silver foil Business Cards to your advantage and be strategic on where you place the silver element in your design. 
You may be tempted to make your brand logo shine, but if your business is fun and funky fashion, consider making an on-trend motif like a pineapple or rope pattern the single portion that stands out on a creative Business Card. Did we mention that foil looks even more spectacular on one of our Square Business Cards?
It's worth keeping in mind that silver foil Business Cards are, naturally, highly reflective and the visibility of the foil area may be lessened in some lights (for instance, if your cards are set on the countertop in the shadow of the till). So, if you want your logo to be a constant and clear presence, keep it in ordinary ink and make foil an accent.

Black Business Cards with Silver Foil 
It's a tried and tested method for foil card printing – team silver with black to give a sleek backdrop to its opulent shine. Just as black and gold leaf Business Cards – see our impressive example above – automatically create a sense of luxury a la Art Nouveau, black Business Cards with silver foil, while still being very luxe, bring a slightly more urban edge. It's the perfect color palette for brands that want to emphasize their premium standards without the cliché of gold. Whether you're going for text or imagery, silver foil on black Business Cards will ensure your designs truly pop.

Shining Business Cards
As we said, silver metallic Business Cards have an urban edge as they have suggestions of iron and steel. These are perfect connotations for you to build on if you're in a more technical business, such as music production, mechanics or IT, while it's also perfect for those who are in the business of building men and women of steel as a personal trainer. MOO's silver foil Business Cards let you add silver wherever you want, while you can also add silver on both sides at no extra cost to create a luxury Business Card that's far from pretentious.

Less is More
You can never have too much of a good thing, but you should also keep in mind that your Business Cards aren't just for you. They're a representation of your brand that needs to appeal to the everyman, so don't overdo it. Yes, gold and silver Business Cards are just about the epitome of luxury, but knowing where to use them and where to hold back is what defines the taste level of your brand. 
Go ahead and use it on both sides of your Business Cards, on your logo, wherever you like, but make sure that you keep some balance. If you opt for an entire side of silver for a real show-stopper, consider keeping other elements simple, like clean lines and classic fonts. If you're into creative Business Cards that showcase everything from color to calligraphy, then even a single line of silver can give a small but hugely effective pop of premium style. Get inspired by the designs of some supremely talented foil Business Card designers on our Gold Foil Business Card Design blog post.
Keep in touch
Get design inspiration, business tips and special offers straight to your inbox with our MOOsletter, out every two weeks.
Sign me up!