17 gold foil business card designs you need to see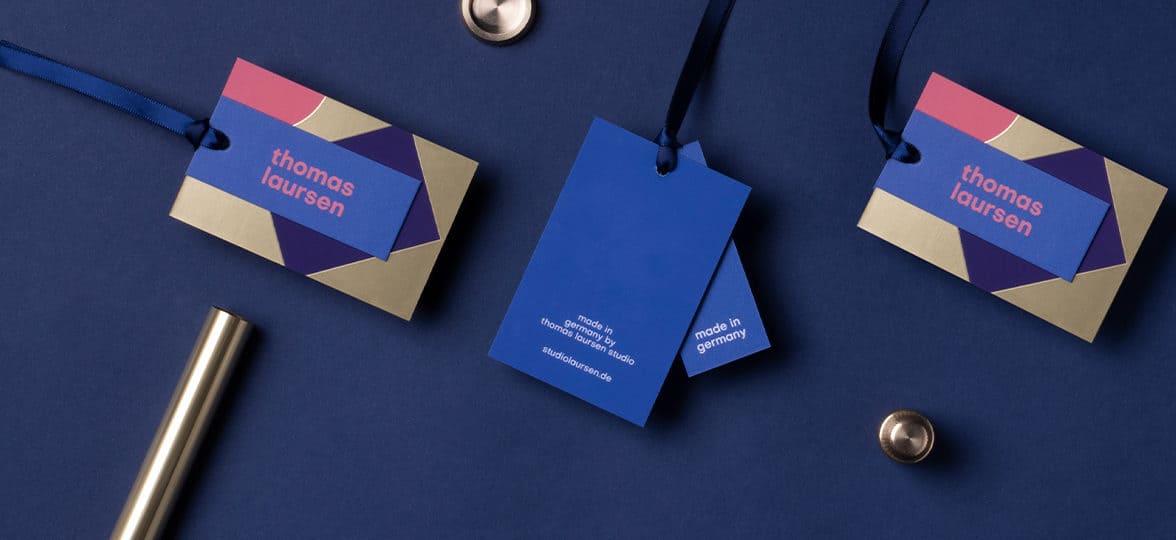 A little opulence can make a big impression, as these gold foil business card designs prove.
Luke Tonge is a UK-based graphic designer, whose leap into freelance work led him to co-found the first ever Birmingham Design Festival. He used MOO's 24 karat gold foil finish to make his contact details pop on business cards.
"I've used MOO cards for many years – previously MiniCards, and more recently Gold Foil Business Cards, which are both tactile and eye-catching. I've had a great response, with clients often taking the time to pick their favourite design – that's the great thing about Printfinity."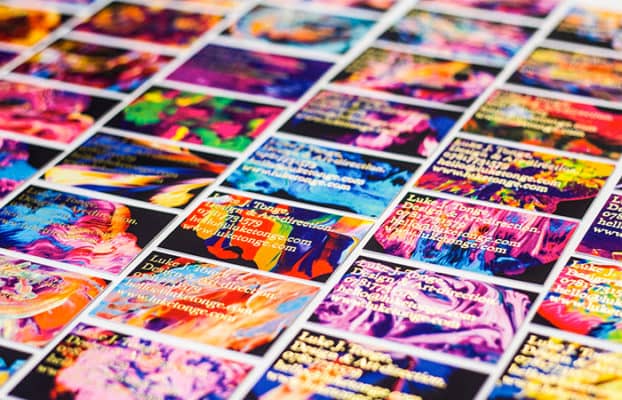 Pelikan Print Co. is an illustration business founded by US based artist, Katie Pelikan. Driven by an interest in duality, and articulating childlike wonder, Katie creates all of her bold prints by hand. She created eye-catching gold foil designs to elevate her colourful business cards.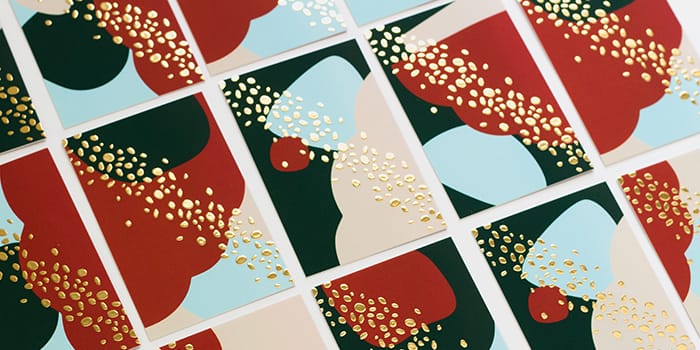 "Besides the luxury of the gold foil, I love the paper thickness and soft finish on my cards. They encapsulate what I'm building my business to be: a celebration of beauty in the familiar, an element of surprise, and never taking myself too seriously."
Founded by best friends turned studio partners, Carrie and Morgan, Ampersand Studio was born from a love of pattern and typography. From their studio in Kansas, the Ampersand duo create uplifting designs and accessories in vibrant palettes. They created bright gold foil business card designs to reflect their playful brand identity.
"We first fell in love with MOO when we discovered the possibility of printing multiple patterns on the back of Business Cards. As surface pattern designers, it was an 'ahh!' moment. Each year, we update our cards with new patterns, and we fan them out so people can pick which pattern is their favourite."
Founded by two friends studying visual fashion communication, House of Vincent is a business dedicated to creating beautiful watches and jewellery.
What better way to convey their love of jewellery than to add gold on paper with dazzling yet elegant business cards?
"We love that our cards are totally in line with our values as a watch and jewellery house – they are beautifully executed and the quality is super high. They say that we take ourselves and our business seriously, that we care about our customers and that we're committed to high quality."
Graphic designer and abstract artist, Kim Knoll printed miniature pieces of her own watercolour art on business cards.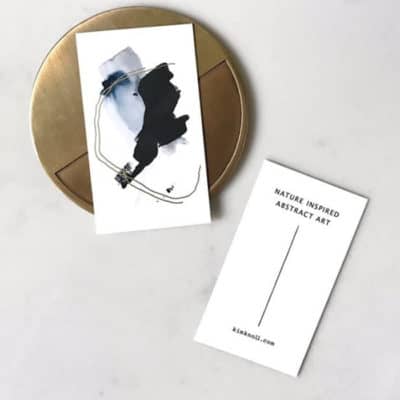 "Clients love the shimmer of gold foil and are obsessed with touching them. That Soft Touch finish wows them every time – it makes them not want to put it down – which is fine by me!"
LA based illustrator, Carolyn Suzuki creates designs packed with colour and joy, from a range of playful greetings cards and postcards to cool enamel pins.
"I love my fancy Gold Foil Business Cards – the Printfinity option is so perfect. It really feels like MOO's products were made for a designer!"
Eric Kass built the identity for his own brand, Funnel, from a love of vintage inspired typography. After years working as an in-house designer, he's built his client base and now runs his own graphic design service. He used gold foil to add a unique twist to his cards.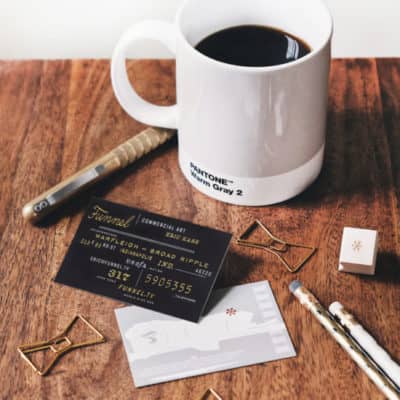 "The unique typography and design, coupled with the distinctive satin feel of the paper and raised metallic gold, not only stops people in their tracks, but starts a conversation."
After beginning a career in graphic design, Lucy Frost turned her artistic hand to tattooing. To promote her style, her intricate designs have been reproduced on print with gold foil designs.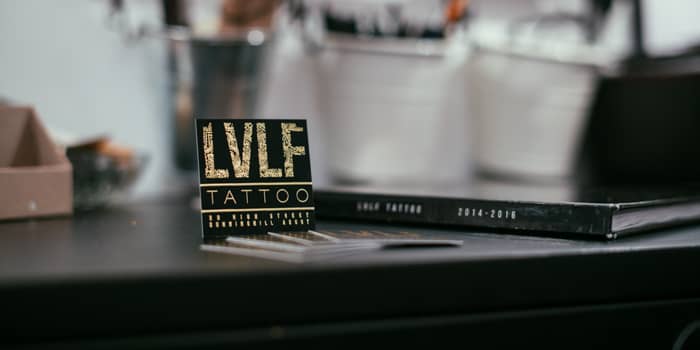 "A business card is the first thing somebody sees of my business, and MOO's quality is second to none. I really loved the gold foil option and was immediately set on using it for my branding."
Giada is a freelance graphic designer, who built her freelance career through networking events and her passion for working on creative branding projects for her clients.
"I love everything about my cards; the paper quality and thickness, the soft touch finish, the brightness of the colours, the gold foil details and the fact that I can have different design options on the back. I feel like my cards communicate premium quality, passion and attention for the details, which is the essence of what I deliver through my designs."
Based in Texas, Austin Eastciders are a brewery on a mission to make America fall in love with cider. Their gold business cards were cleverly designed to mirror the branding featured on their cans.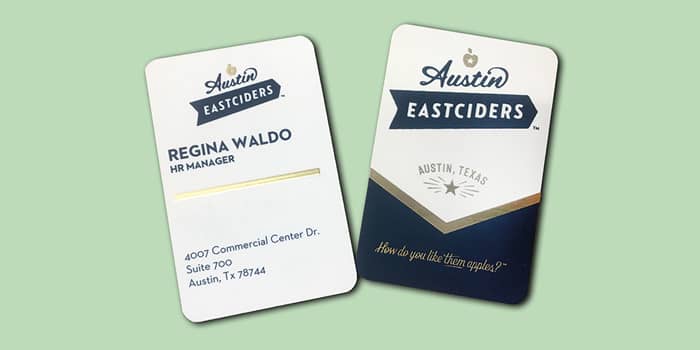 "Every time I hand out my business card, I always get a 'wow!' Once people see the design mirrors the branding of our cans, they get the connection straight away."
Phil is an in-house Graphic Designer at MOO HQ. Tasked with concepting a brand identity for a fictional Product Designer, he paired bold colour with delicate hints of gold.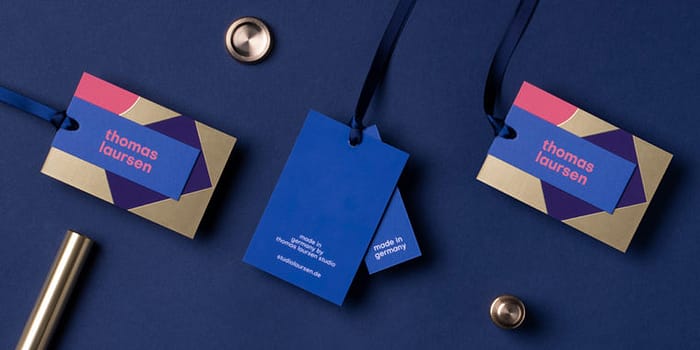 "I chose gold foil as a special finish to create a premium feel for my product designer's brand. The gold details mimic the material quality of tubular brass, and feature across the printed products. I think elements like this elevate a design and look amazing when the foil catches the light."
Creative consultancy, Ware MFG take on custom interior design projects – so making a great first impression to potential clients is hugely important to their founder, Paul Karas: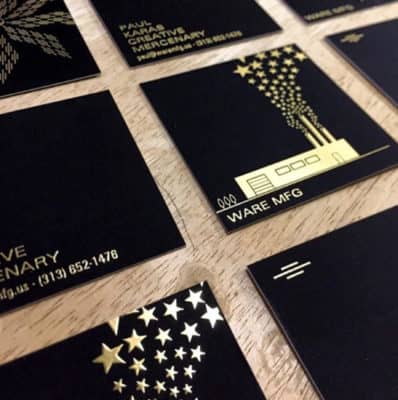 "I love everything about my cards – especially the option to print multiple designs on the back with Printfinity. Now, when I hand my cards out, the reaction has been a double-take, a smile, and careful placement in the pocket."
Customer service connoisseurs, Zendesk, wanted the business cards for their sub-brand to act as "charming conversation starters."
"Our Relate brand accent colour is gold. Not only is the gold beautiful, but it's eye-catching and elegant. It really captures the essence of Relate."
Working in Kansas City, graphic designer Shelby Page's passion lies in print, branding and art direction. She created a gold business card design that showcases the essence of her work.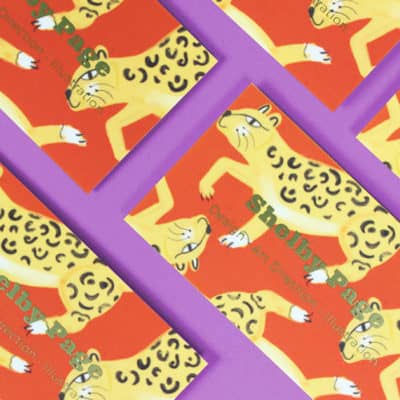 "The Soft Touch finish is like butter – it's so sturdy and silky. When I hand out my cards, people can't help but rub them because the texture feels so cool. The absolute best reactions I've had are people inquiring for me to design their business cards after receiving mine."
Graphic Designer, Hilliary Rose Alway founded Always design in the forests of Portland. After seven years working in-house, she made a move into freelance design, specialising in hand-lettering and illustrations. Her gold foil business card design is an all-time favourite!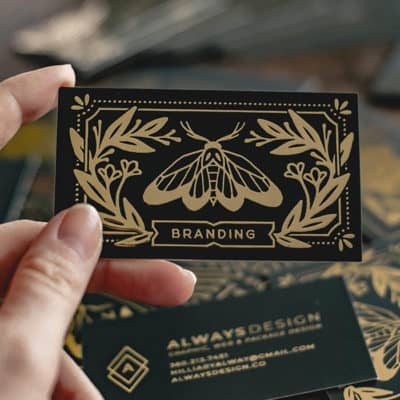 "Raised gold foil balances the decadent craftsmanship of the intricate details with a dash of personal charm, and I feel like that describes my business perfectly."
Social media management and content creation company, Media House help small companies to enhance their branding through creating unique design and content consultation.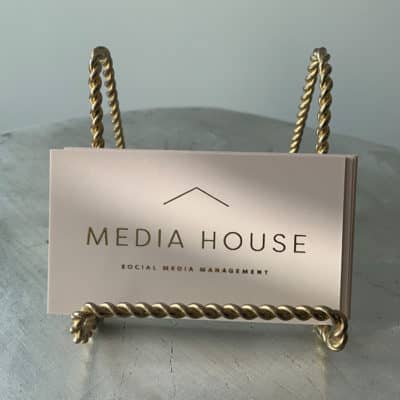 "The texture of the Super Soft Touch Business Cards is so luxurious. They're exactly how we wanted them to look and feel – professional, clean, modern, and fun. Plus, the gold foil option adds the perfect dash of shine and glamor."
Lisa is an artist and graphic designer, who favours working with pastels and feminine iconography to create uplifting, joyful aesthetics. Her delicate yet playful gold foil business card design perfectly conveys her colourful identity.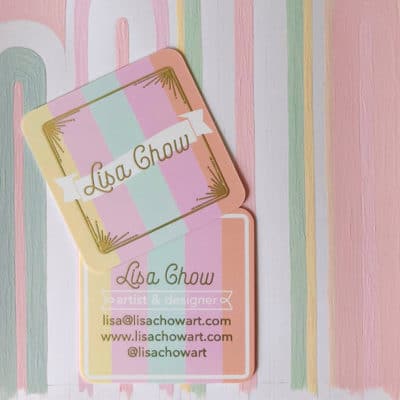 "The square shape, weighty paper and rounded corners all lend a unique and professional touch, but the gold foil makes them feel absolutely luxurious. They've been so well received, I've gained new clients based on my cards alone."
Inspired to add shimmer to your designs? Check out our Gold Foil Business Cards.
Keep in touch
Get design inspiration, business tips and special offers straight to your inbox with our MOOsletter, out every two weeks.
Sign me up!