Custom Water Bottles with logos we love
We spoke with four brands about how they created branded Water Bottles with MOO.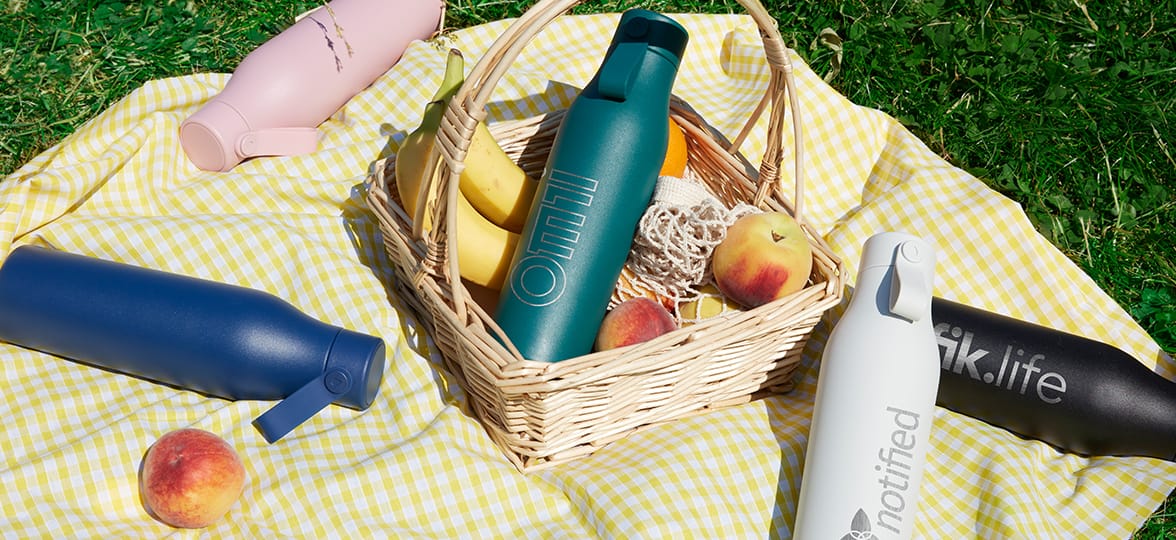 Our custom Water Bottles do two essential things for you and your brand. Firstly, they keep your customers, and employees cool. And secondly they act like a walking advertisement, spreading the word about your brand wherever they go.
With summer in full swing – it's the ultimate branded product. So if you're after some inspiration, here are four custom Water Bottles with logos we love (and the brands behind them).
Pinx Catering
Pinx Catering is a professional event caterer. We chatted to their founder, Pinky Cooper, about her ordering journey and how she's using branded merchandise to engage her clients.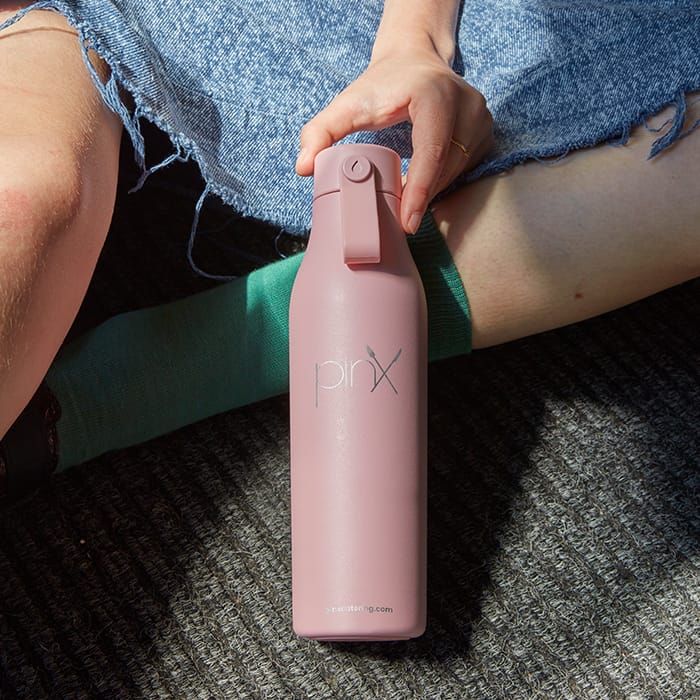 For Pinky, landing on branded bottles was an easy choice, as it suited the feel of the brand and resonated with her customers too. She told us, "As the whole business is about providing an experience, this product was perfect for communicating the value of our clients."
When it came to choosing her water bottle product, Pinky decided that one colour simply wasn't enough. She opted for laser engraved bottles in Cloudy Grey, Jet Black and Dusty Pink. This allowed her to give her clients an option of which product to choose, making the whole experience feel more personalised and special.
Pinky said: "We wanted to create a 'collector's moment' where guests would interact and ask each other, 'Which colour did you get?' It was a crucial aspect of our client appreciation event."
MOO Water Bottles are a great way to promote customer loyalty, and provide a positive experience at events to help customers feel valued and recognised.
OMTI
OMTI is a business services platform offering software solutions and consulting services. We spoke with their Creative Director, Ronnie Sampson, about incorporating their logo and brand colours into a seamless custom water bottle design.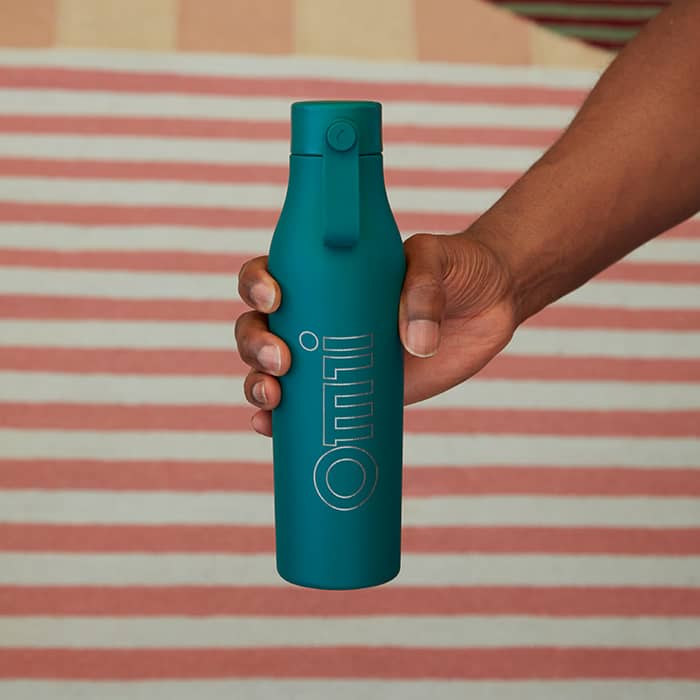 OMTI first approached MOO to help create gifts for their staff. Featuring the logo was the most important thing. Ronnie explained, "Our clean and geometric logo looks great vertically and horizontally. Having it readable when the bottle is in a drinking position added a fun touch for us."
Ronnie and his team also loved the range of colours that MOO had to offer – so he opted for all of them! "As they were gifts from the company, we thought we'd have everyone choose their preferred colour. The silver engraving enhanced the elegant look of the bottles. While the size is great for using them in the office and while you're on the go too."
Branded merchandise is a great choice for employee gifting, as it not only rewards and recognises hard work and dedication but also fosters a sense of belonging. Ronnie commented: "Everyone loves their OMTI-branded Water Bottles from MOO. An absolute winner."
fik.LIFE
Next up is our customer fik.LIFE, an agency specialising in diverse e-commerce solutions to help businesses thrive. During our conversation with Co-Founder, Bill Murphy, we spoke about their recent order of custom Water Bottles as holiday gifts for their staff.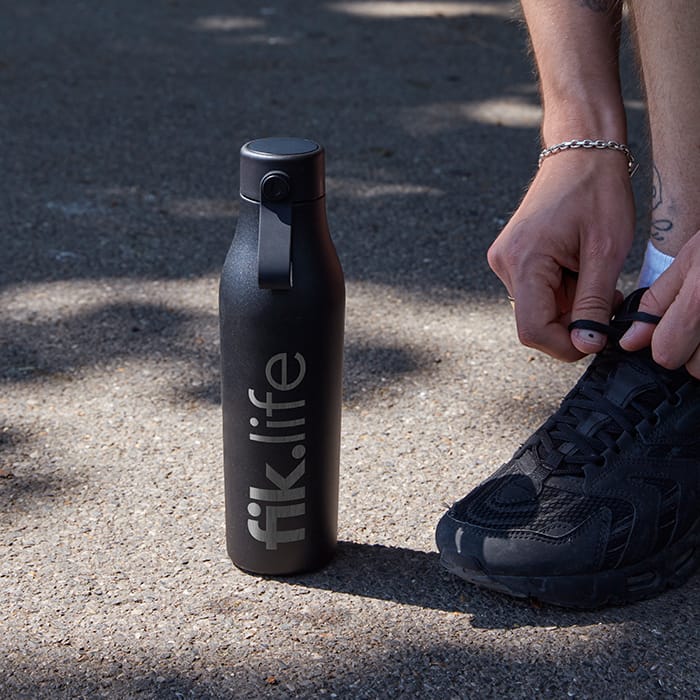 "This was a joint effort," Bill revealed. "Our brand fik.LIFE was designed by Naranjo Etxeberria. This gave us a complete brand book, and included some sample designs of merch too. With this, the MOO design team came up with a few ideas. We loved the initial proposal, which aligned perfectly with our brand."
Gifting branded merchandise as part of an employee rewards scheme really helps contribute to a positive work environment, helping team members ultimately feel more loyal and connected to the company. Bill commented: "Staff absolutely loved them. Even some family members of our team have gotten their hands on a bottle!"
Bill also loved the fact that MOO water bottles are triple-walled to stay cool for up to 24 hours, and hot for up to 12. "It keeps water cool all day – even on very warm days, and it looks amazing."
Notified
Last but not least we spoke to Estelle, Senior Marketing Manager at Notified, a communications cloud for events and public relations. Her team used their branded water bottles at an event in Stockholm. "We wanted to not only leave our guests inspired, but give them something to remember the day by, that would be useful and elegant, and that stood out from the usual pen or notebook."
For their water bottle design Estelle opted for our neutral Cloudy Grey colour, to give an elegant feel. They received great feedback about the look and quality of the bottles for their event attendees. "They were a crowd pleaser! We had great feedback internally and externally about this thoughtful gift."
Estelle reached out directly to us here at MOO, and their account manager Robert provided detailed, personalised support for their water bottle project. This included multiple design options to show how the bottle could be branded, helping Estelle decide on the right fit for the business.
Want to create a unique custom (and award-winning) Water Bottle for a client or your team? If laser engraving isn't for you, we also offer 360 wrap printing (where your design goes right round the bottle) and also one-sided printing (which lets you hero your logo and keep things minimalist).
Fill out our form below to get started!
Keep in touch
Get design inspiration, business tips and special offers straight to your inbox with our MOOsletter, out every two weeks.
Sign me up!