A refreshing way to celebrate talent at Launchsquad
This leading public relations agency is celebrating team members in a stylish and refreshing way.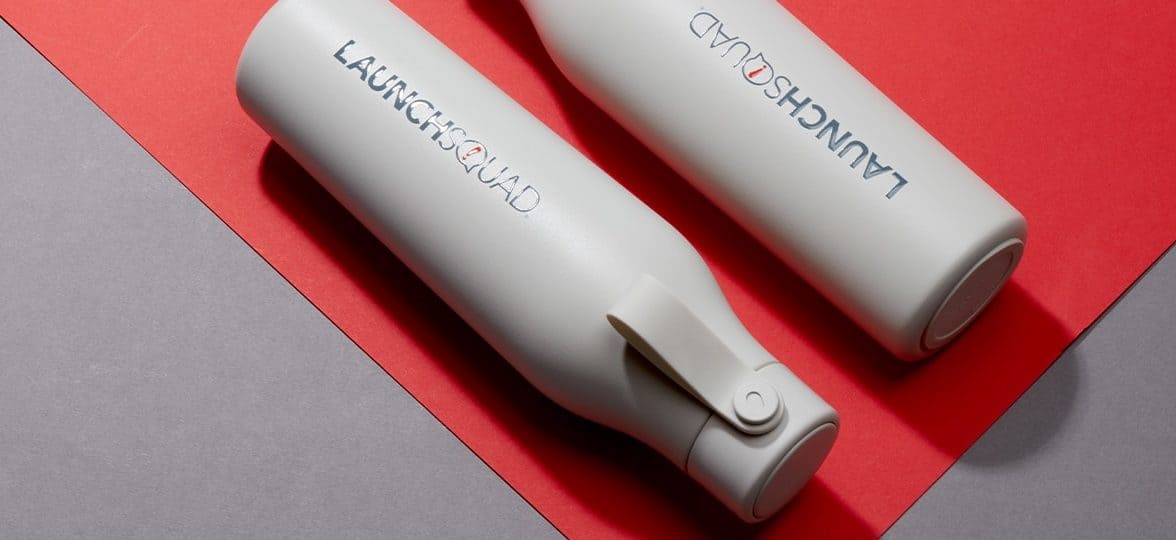 LaunchSquad, an award-winning public relations and creative communications agency, is celebrating recent hires and current staffers with the help of MOO's "cool new workmate."
About LaunchSquad
Founded in 1999, LaunchSquad is an award-winning public relations and creative communications agency that is home to a diverse team of storytellers, writers, artists, strategists and analysts. Applying this wide range of expertise, LaunchSquad works with its clients to create handcrafted programs tailored to their needs and designed for lasting impact.
The team at LaunchSquad helped young companies like American Giant, Monday.com, Simplisafe and Rothy's become powerhouse brands. Over the last 20 years, the agency has crafted countless campaigns for companies that are shaking up industries, from consumer retail to municipal power to talent management software, and everything in between.
The challenge
During the pandemic, the agency's employees were working hard from home offices across the country. Facing the physical distance between them, LaunchSquad began looking for ways to celebrate employees, fuel team pride and send a reminder of the agency's surprise-and-delight office culture.
In recent months, it's been challenging for LaunchSquad — as well as many companies — to welcome new talent and motivate existing teams. As many organizations have shifted to a fully remote or hybrid work structure, connecting in a meaningful way has become more challenging than ever. In 2022, the talent team at LaunchSquad began its search for trending and useful items that could easily be customized and would ensure new hires and current staffers alike "felt the LaunchSquad love" — no matter where they were.
For even the savviest of shoppers, sorting through the mountainous world of branded merchandise can quickly become overwhelming. The market is rapidly growing, but brings with it an exhausting amount of options, many of which often lack in quality or uniqueness. In addition to finding high-quality, desirable options, the talent team was up against the pandemic's slowed supply chain. So, even when they found a gift that seemed perfect, it wouldn't be available for months down the line.
With so many other employee initiatives on their plate, LaunchSquad needed to partner with a company they could trust would not only deliver quality products, but do so in a timely and satisfactory manner.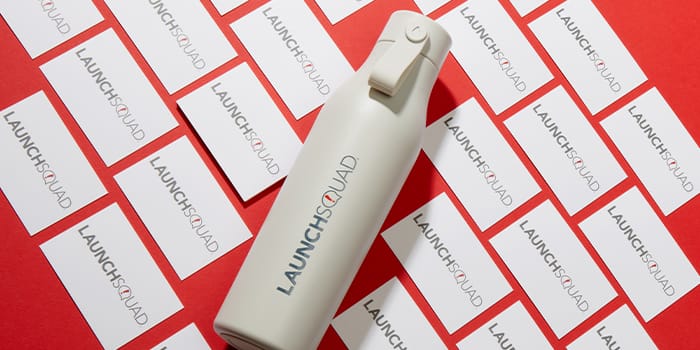 The solution
Before kicking off their search for the best brandable merchandise, the team at LaunchSquad was already fondly familiar with MOO. The two companies had collaborated on Business Cards, and LaunchSquad praised MOO's proven reputation for premium papers, clever design and exceptional customer service.
When they discovered MOO had expanded into branded merchandise with Water Bottles, they knew their search was over. LaunchSquad was one of the very first companies to order the Water Bottle at its launch, as they knew they could depend on MOO to deliver a premium product that would not disappoint.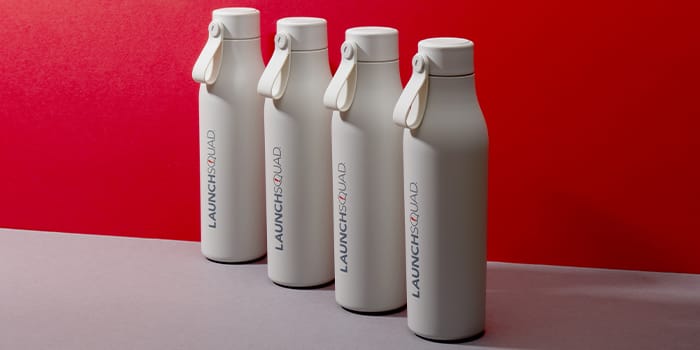 The two companies worked together to create a Water Bottle that wasn't just another piece of swag, but was something meaningful and ensured that no matter where a LaunchSquad employee was, they could feel connected to their team. In the end, the talent team chose the bottle in Cloudy Grey, the perfect shade to serve as a backdrop for the company's memorable charcoal gray and red logo.
"We are big fans of the leak-proof lid and non-slip base"
"We love that MOO ensures our brand shines in comparison to many of the other bottle brands whose own logos take centre stage," said LaunchSquad SVP, Gavin Skillman, "and we are big fans of the leak-proof lid and non-slip base so none of our laptops fall victim to spillage. It's also lightweight and ideal for travel, whether our team members are heading to the coffee shop or catching a flight."
Given the fast-paced and idea-driven work of a LaunchSquader's schedule, their "cool new workmate" ensures that no matter where their day takes them, they have the fuel they need to innovate.
Results
The talent team at LaunchSquad was excited to unveil the Water Bottles during a lunch meeting, treating it as an "unboxing" event. Overall, the employees' response couldn't have been much more positive, with a chorus of "oohs" and "ahhs" quickly sounding off.
LaunchSquad team members were quick to share their praise, noting they really enjoyed both the look of the bottle as well as how it felt in their hands.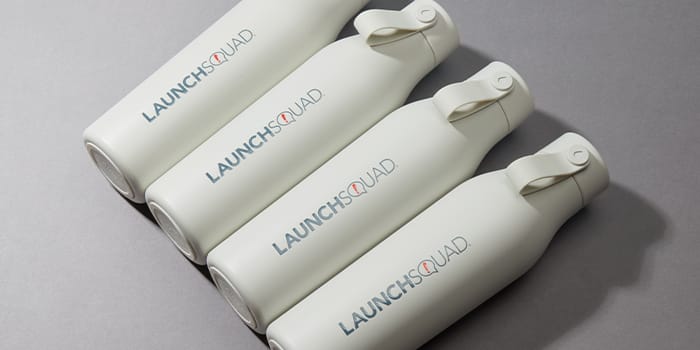 "It has a modern, sleek look and we love the texture of the bottle," said Skillman. "Our team is always looking for the latest, on-trend LaunchSquad gifts and the MOO Water Bottle is a premium addition to our collection."
If it has been more difficult than ever to feel connected to your colleagues and customers, you're far from alone. As you look for new ways to stay in touch, you might just want to refresh your own team's bond with the MOO Water Bottle.
.
Keep in touch
Get design inspiration, business tips and special offers straight to your inbox with our MOOsletter, out every two weeks.
Sign me up!