How MOO and Kitty & Vibe celebrated World Kindness Day
This lifestyle brand teamed up with MOO to spread their brand mission.
Kindness is complicated. It's not something you can buy, or a switch you turn on. It's not about good manners, one-off gestures or a passing trend.
This year, the MOO team decided to celebrate World Kindness Day on 13th Nov. with our friends from Kitty and Vibe. How? A one-of-a-kind(ness) toolbox. Read on to discover the origins of our partnership and how we put our heads together to spread good vibes around the globe.
Where it all got started
We are constantly being asked by our clients: How can MOO help bring our brand to life?
For us, that means helping businesses make a meaningful impression. By telling your brand's story through thoughtful design and purposeful messaging, you can create an emotional connection to your consumers and demonstrate what your brand is all about.
And guess what? That's exactly what we did for Kitty and Vibe.
As a direct-to-consumer clothing company, the Kitty and Vibe team takes pride in its highly inclusive, female-focused philosophy. When they asked MOO to help celebrate the launch of its newest offering — the Play Dress — our teams worked together to create custom "Kind Is My Vibe" Water Bottles with a 360° wrap.
"Typically we see a 25% repeat customer rate on new launches," explained Kitty and Vibe CEO and founder Cameron Armstrong. "With the help of the Water Bottle, we saw a 47% repeat customer rate on the first 200 sales of the dress!"
After a successful collaboration, MOO decided to strike while the iron was hot. With World Kindness Day around the corner, our team reached out to Kitty and Vibe. According to Brand Manager Sarah McRae, the team was thrilled.
"Tapping into a worldwide holiday that celebrates kindness perfectly aligns with our mission."
"Our slogan is 'Kind Is My Vibe' and our core purpose is to 'choose kindness,'" she said. "We want to encourage our community to prioritise choosing kindness in their daily lives, whether that's taking an extra moment to be kind to your body, your mind, or others. Tapping into a worldwide holiday that celebrates kindness perfectly aligns with our mission."
Kitty and Vibe wasn't interested in any ordinary social media campaign. The company's goal was to make a tangible, real-life impact on the community. After all, according to McRae, Kitty and Vibe wouldn't be where it is today without the genuine support of its loyal fanbase.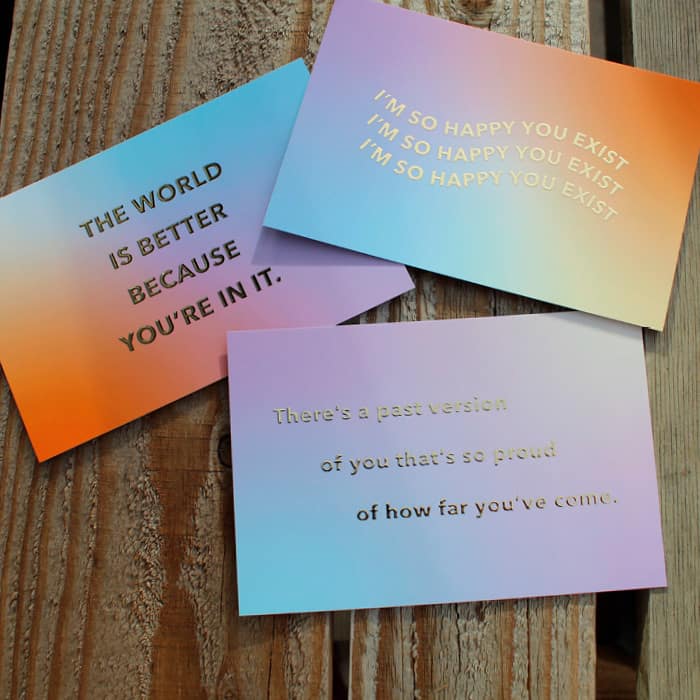 "They are the pivotal heartbeat for bringing our mission to life," she said. "Whether it's taking an intentional moment to be proud of their body, telling a friend about our size-inclusive swimsuits, or participating in a nationwide campaign on World Kindness Day."
Building a better world with the Kindness Toolbox
People don't want to interact with an anonymous company logo. They want a human experience with personality, empathy and compassion. Simply put, people like brands that "Keep it Human."
As one of our six guiding "MAKEIT" values, the MOO team aims to "Keep it Human" in everything we do. From person-to-person connection to simply making each other's day better, it's important to stay grounded and empower one another to be our best selves. Kitty and Vibe's World Kindness Day campaign was an ideal match.
"We had the idea of using printed goods to spread random acts of kindness in local communities on World Kindness Day, so partnering with MOO was a no-brainer," said McRae. "They perfectly brought our ideas to life by designing compliment cards, stickers and take-what-you-need flyers with a Kitty and Vibe look and feel that was entirely on brand."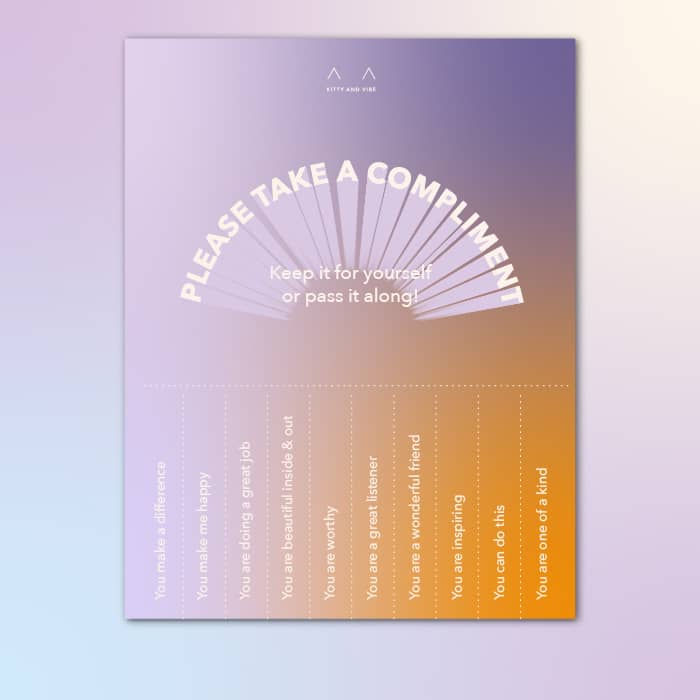 To distribute these items, Kitty and Vibe decided to package everything into a Kindness Toolbox, which would be delivered to "Kindness Ambassadors" before the big day. Once received, influencers would spread the word to their social audience and amplify kindness to the masses.
Each Kindness Toolbox contained:
Five "Take What You Need" Flyers to post around the community, each with 10 tear-away compliments.
Five "Compliment Cards" to pass out to strangers.
"Kind Is My Vibe" stickers.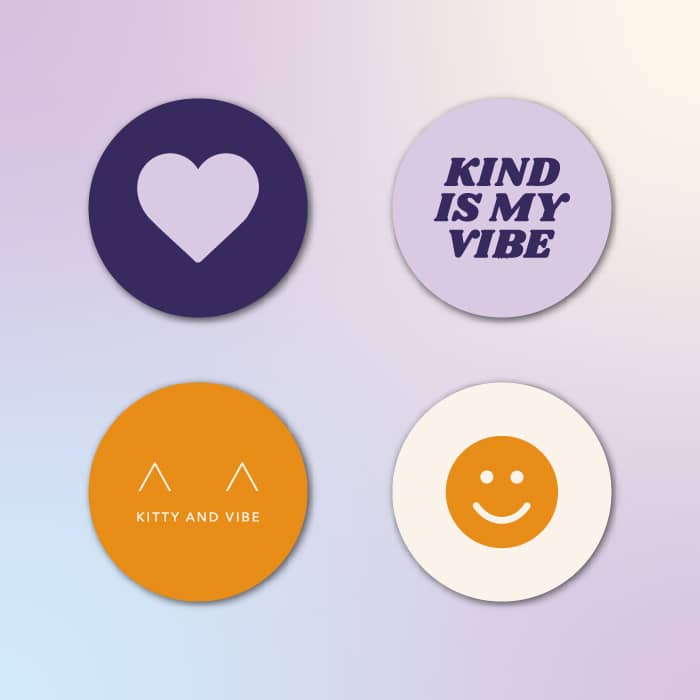 The team also included a Play Dress, a "Kind Is My Vibe" trucker hat and other Kitty and Vibe goodies to round out the gift. Plus, the Kitty and Vibe team also designed a Soft Cover Journal, which was given as a gift for any purchase made on World Kindness Day.
"MOO is best known for their printed goods, but after the success of our custom Kind Is My Vibe Water Bottle designed by MOO, we wanted to tap into the catalogue's other lesser-known products," McRae said. "The design team at MOO is world-class, and we were so impressed with their ability to make cohesive collateral that allowed this initiative to feel like a beautifully crafted campaign."
A big message and an even bigger impact
The campaign went off without a hitch. Kitty and Vibe received hundreds of applications from all over the country, and even a few overseas. Ultimately, the team made the final selection of 40 Kindness Ambassadors spread across 23 states to touch as many communities as possible.
"Our goal was to spread the Kind Is My Vibe mission across the country and get people more aware of the Kitty and Vibe and MOO brands," McRae said. "And bridge a real-life and online campaign that has the ability to touch thousands."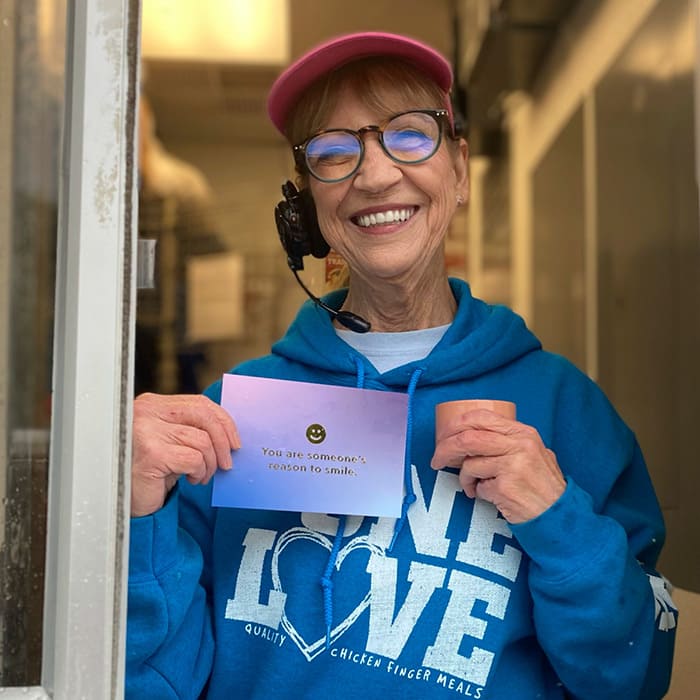 When World Kindness Day finally arrived, the Ambassadors got to work. Using their five compliment cards, five flyers and 50 tear-away compliments, Kitty and Vibe's influencers reached 2,000 people in real life alone.
For this campaign, the IRL impact was even more exciting than the 10 TikTok posts, 36 Instagram posts and hundreds of Instagram stories the brand representatives posted. MOO and Kitty and Vibe shared the UGC content across their combined social media following of 320K to engage their followers online and give even more reach to the efforts of the campaign.
Kitty and Vibe's goal is to spread kindness across the country — not just one day of the year, but every day thereafter. If you ask Sarah McRae, it takes a village to make that dream a reality.
"A successful brand mission is one that is backed by a community."
"A successful brand mission is one that is backed by a community," she explained. "At our brand's core, we strive to fuel and awaken self-love for a kinder world, and we wouldn't be where we are today without the genuine support of our loyal community."
Contact our team to learn more about how MOO can help spread your message today.
Keep in touch
Get design inspiration, business tips and special offers straight to your inbox with our MOOsletter, out every two weeks.
Sign me up!