Reaching one million readers in style (& substance)
The newsletter celebrated one million subscribers with a premium product as reliable as their news.
Independent online newsletter 1440 was looking for a way to celebrate one million subscribers, and MOO had just the right product. 
About 1440
1440 is on a mission to give readers an objective view of exactly what's happening in the world – something its founders were looking for when they first came together. The newsletter launched with a clear aim: providing "just the news." No more, no less. 
Instead of cleverly crafted messaging and media narratives, 1440 gives its audience a factual rundown of exactly what's happening around the world so readers can form their own opinions. Scouring hundreds of sources each day, it delivers expertly curated news with breadth and depth in a single, digestible morning briefing.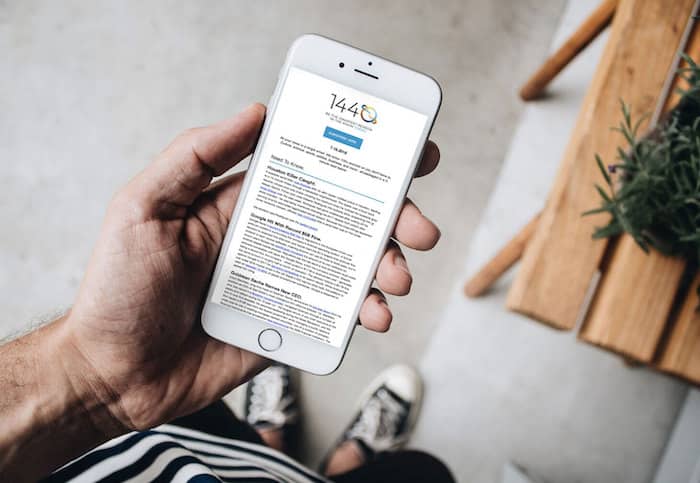 The challenge
After launching, it quickly became clear that the newsletter's founders weren't the only ones looking for the facts. What began as an email among 78 friends quickly grew into hundreds of thousands of daily readers.
Following this growth, 1440 recently reached a milestone in its history – one million subscribers. To celebrate, the team wanted to run an exclusive, premium giveaway to reward loyal readers and encourage them to share the newsletter with their network.
Readers didn't need another piece of "swag"
The 1440 team knew readers didn't need another piece of "swag". Their mission is high-quality news over quantity – facts not frivolity. But they quickly found the branded merch industry to be like the news business: crowded, overwhelming and, more often than not, full of clickbait. 
"When it comes to choosing branded merchandise, we wanted to ensure our products wouldn't be thrown in the back of a cupboard or worse, the trash," says Pierre Lipton, Co-founder and COO at 1440. "We were looking for a premium product that would be reliable for our subscribers throughout their day. Just like our news."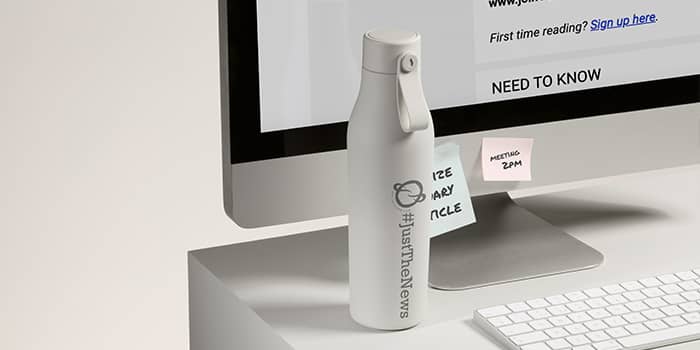 The solution
Even before they hit their subscriber milestone, 1440 were no strangers to MOO. "Many of us know MOO for helping make a memorable first impression with business cards and customisable stationery," said Lipton. And they were excited about new products like the MOO Water Bottle.
"For a small team like ours, it was exciting for us to be a part of their expansion into branded merchandise. And true to form, MOO made the design process super simple. We love working with them because we know they'll always go the extra mile to make sure we're happy with the end result."
Our readers' new swag will outlive the next newscycle
The two teams collaborated to create a branded bottle that 1440 could be proud of – and which their readers could rely on. In the end, they chose a cloudy grey bottle to spotlight their logo and boldly display a simple hashtag: #justthenews. 
"With MOO, we knew we'd get a premium product that our subscribers could depend on throughout their day," says Lipton. "We're thrilled with the sleek design we ended up with, as well as the high quality materials that went into the bottle itself. We're more than confident that our readers' new swag will outlive the next newscycle."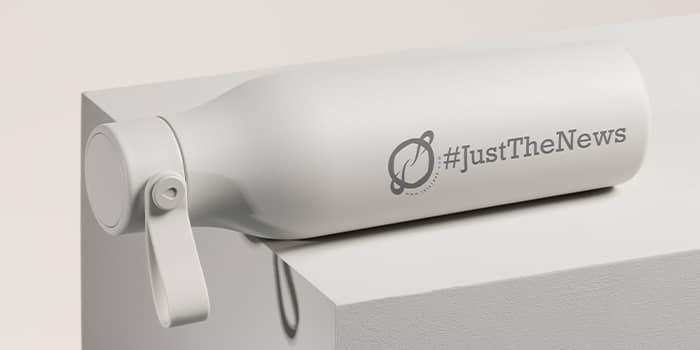 Results
After creating the final product, 1440 gave 50 of their readers the chance to win one of the branded bottles. All they had to do was get a friend to sign up for the newsletter. And the response was even better than expected.
"Our readers' response to the MOO giveaway was stronger than many past campaigns: even when compared to a Peloton giveaway," says Lipton. "It only speaks to the company's reputation for premium materials and great design. With their clever packaging and above-and-beyond customer service, we strongly recommend working with MOO."
Daily organic referrals increased by 158% during the 48-hours of the giveaway
Not only did the MOO partnership drive 24% more subscribers per shoutout than 1440's earlier giveaway, it also drove over a half million unique opens – and daily organic referrals increased by 158% during the 48-hours of the giveaway.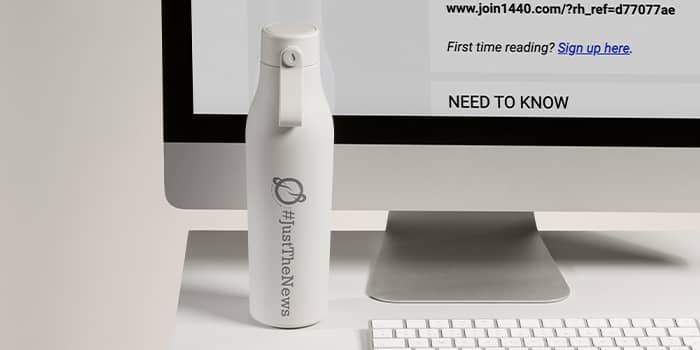 "This past year and a half has made it difficult to make meaningful connections," admits Lipton.  "We love that MOO used this challenging time to [help] brands like us reach out in a relevant and memorable way."
So they may be delivering "just the news," but the giveaway gave 1440 the opportunity to celebrate their hard work and their readers' support. 
And if you're looking for a way to thank your own customers and colleagues with a branded product they can use again and again, check out the MOO Water Bottle. It could get your ideas flowing.
Fill out the form here and a friendly Account Manager will reach out to you.

Keep in touch
Get design inspiration, business tips and special offers straight to your inbox with our MOOsletter, out every two weeks.
Sign me up!