Creating an on-brand environment to engage your employees
Because we believe a beautiful office space inspires incredible work.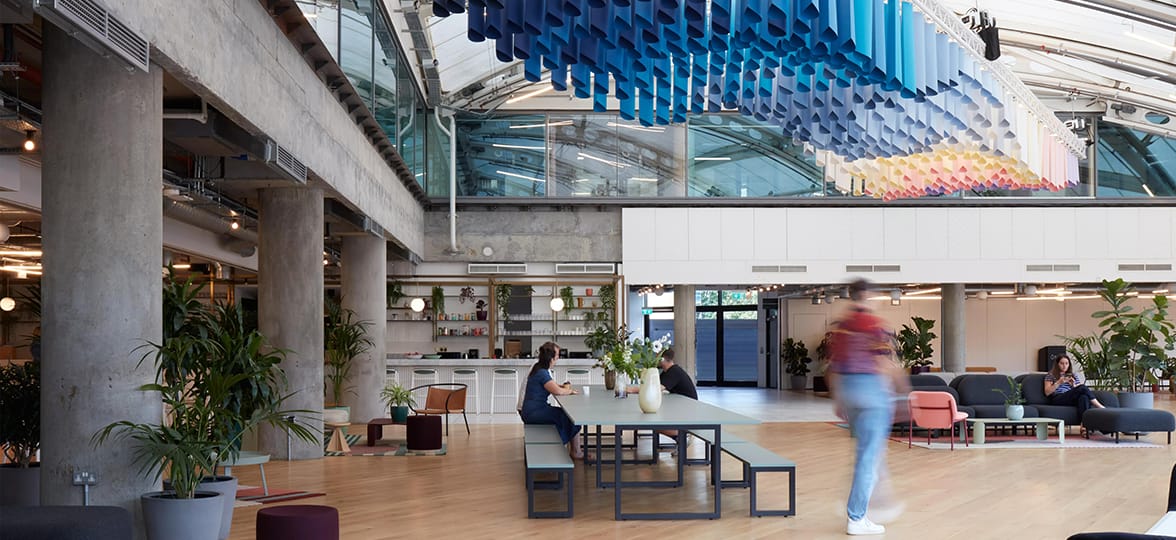 As with everything we do here at MOO, great design has been at the heart of the recent re-design of our London office. We worked with our friends at Trifle Creative, to design a workspace that not only celebrates our brand but also engages the people that come to work in it. Because we believe a beautiful office space inspires incredible work.
When collaborating with Trifle, we wanted to make sure our brand was considered at every stage of the design process, while also balancing our need for functionality and practicality. With the space having previously been a restaurant, a lot of re-shuffling was required… and Trifle didn't shy away from the challenge.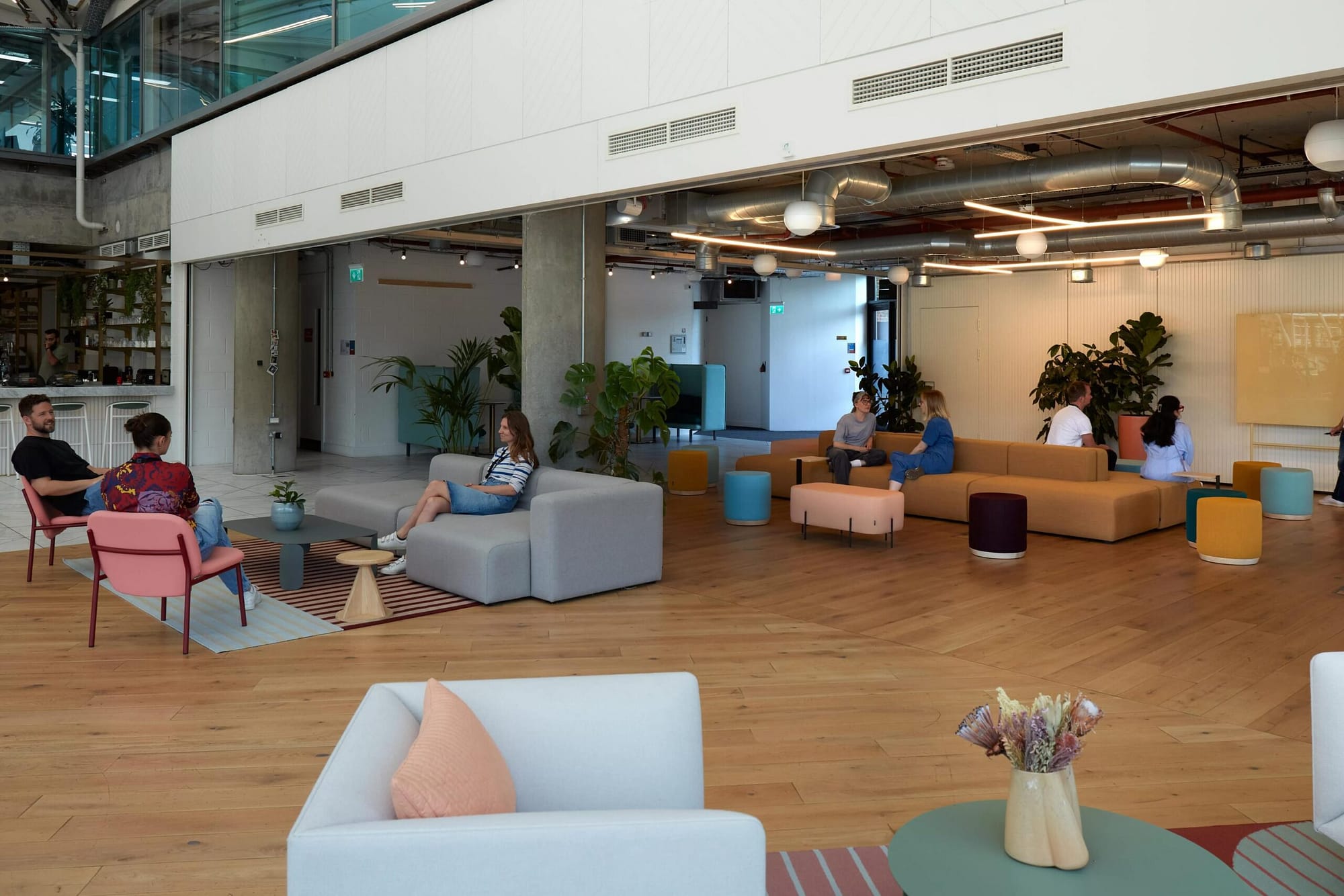 We spoke with the Lead Interior Designer at Trifle, Nadia Themistocleous, about how she and her team went about the design process, taking inspiration from our MAKEIT Values as well as their human-centric design approach.
The Impact of Human-Centric Design
If your job involves going to an office, it should be somewhere you actually want to go and spend time. Whether you are fully on-site or hybrid, an engaging working environment encourages creativity and collaboration. We like to think it should feel (almost) like a second home.
When it comes to their company mission, Trifle is all about designing for people. Nadia told us; "The goal of our human-centric design approach is to create intuitive spaces. One that prioritizes the needs, preferences, and experiences of people that will use the space."
Studies have shown that 87% of workers wanted their employers to offer healthier workspace benefits such as wellness rooms, standing desks, ergonomic seating, and balanced lunch options. And when it came to investing in these areas, Trifle was on hand to help our team make the right choices for both communal areas and practical working spaces.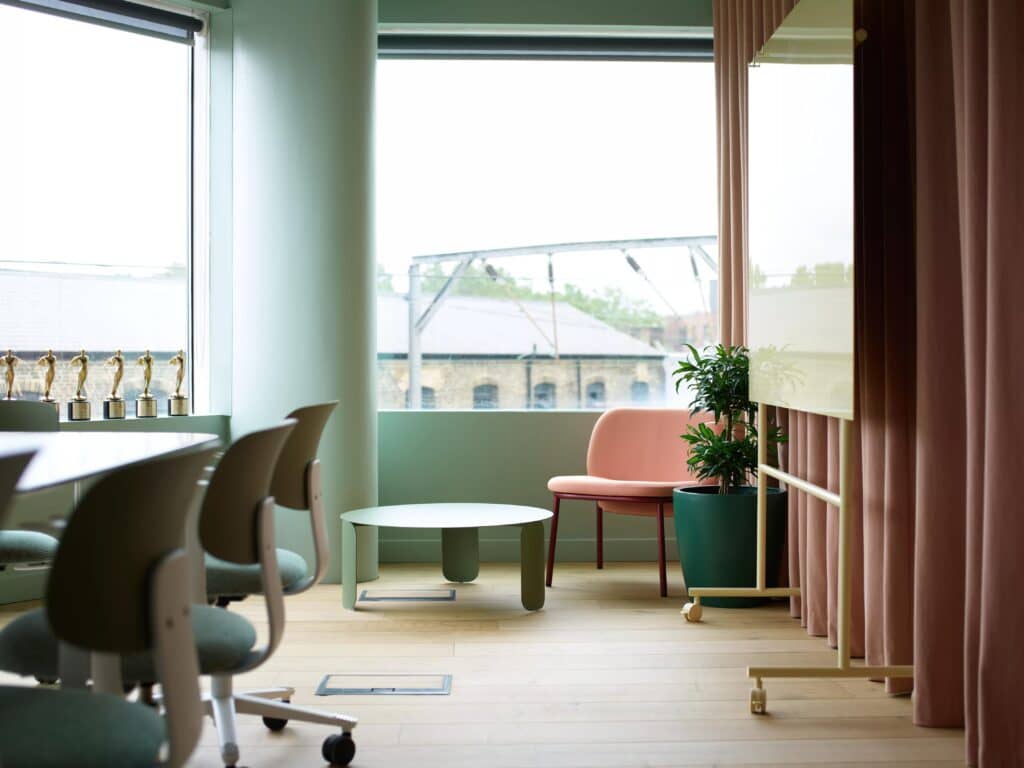 The need for a space that promotes wellness and puts humans first is something Nadia is very passionate about. She commented; "If you can design a project from the ground up – or make significant changes to a building – then you can look at factors that improve indoor air quality with ventilation and filtration, or ensuring plenty of natural light and views."
And there's more, Nadia also told us about less structural aspects to consider when making a space more human-friendly "Don't forget about things like acoustic comfort, ergonomics, or Biophilic design, which integrates elements of nature through materials, colours, patterns, and textures." Amongst other things that make our office a more comfortable space, we really enjoy the adjustable lighting in our meeting rooms, all the ergonomic chair options throughout the office, and the use of sound-absorbing materials that greatly improve the office acoustics.
It's all about layout
When it comes to designing the layout of any workspace, there aren't necessarily any rules to follow. But when working with Trifle, their team helped us understand the importance of creating dedicated areas of focus. Creating stress-free, comfortable desk spaces were high on our agenda.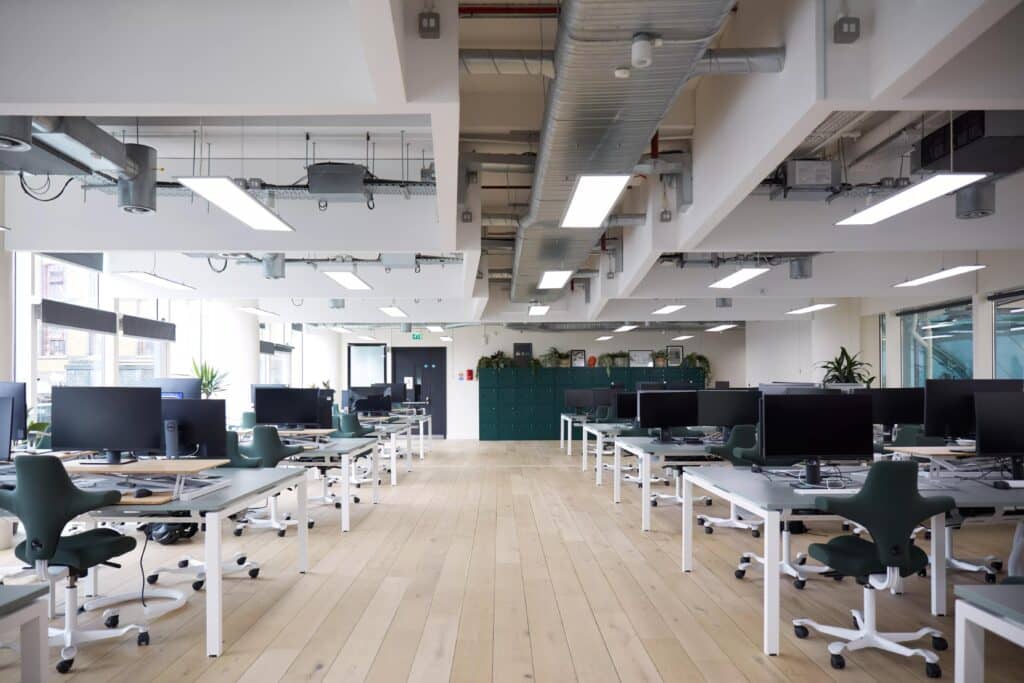 When working on MOO's London office, the Trifle team took advantage of some pre-existing architectural features and furniture on the first floor. This was reconfigured into a highly collaborative zone featuring a variety of breakout areas, and even a café space.
The second floor is dedicated to more "focused work" featuring a re-worked work zone, tea station (this is England after all!), and multiple meeting rooms. (And if you are lucky, you might encounter one or two MOO office dogs). The open plan workspace enables everyone to sit together in one room, while hot desking encourages teams to mingle amongst different teams.
Nadia explains, "Being accessible and having a variety of settings is key; places that feel private, opportunities for social interaction, spaces to be able to personalize. We always try to incorporate elements that foster relaxation, stress reduction, and emotional well-being, such as quiet zones, meditation areas, and calming colour schemes."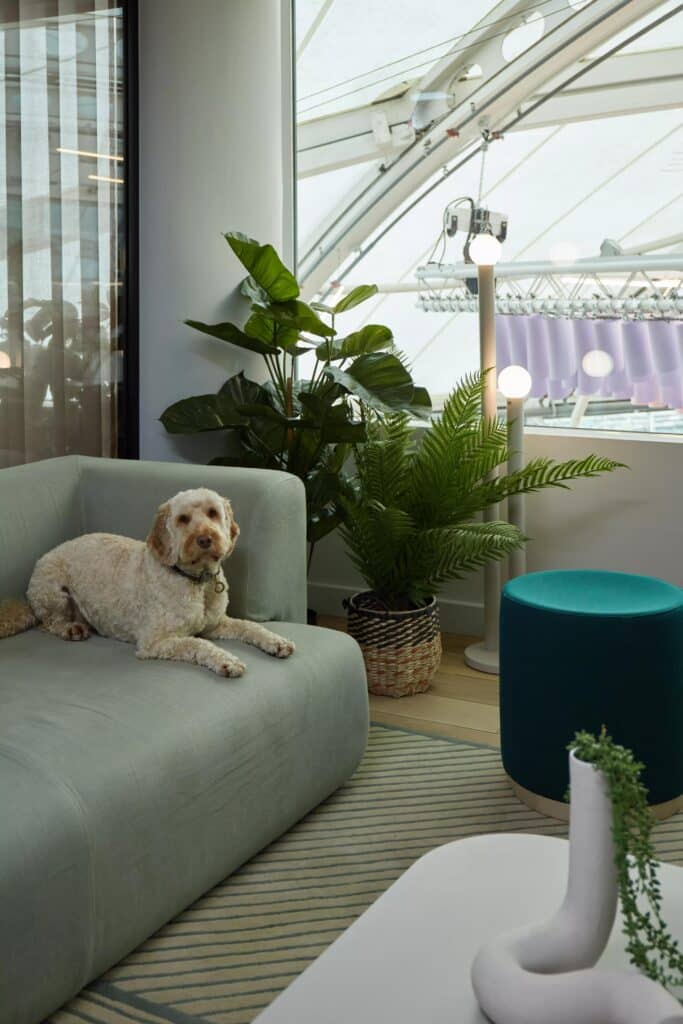 Our favorite addition to the redesign? Our very own Zen room. With an air-purifying machine and calming colours throughout, it's also where we host monthly massage appointments with a trained therapist. (If you've already decided you want to work here, make sure to check out our latest vacancies).
Staying true to your brand values
Creating a space that promotes "oohs" and "ahhs" from visitors can be a pretty satisfying experience. And it's safe to say that since we worked with Trifle, we've been hearing them a lot.
Nadia explained, 'The office space serves as a tangible expression of your brand and company values. By creating an environment that reflects these elements, you can strengthen brand identity and culture, engage employees, leave a positive impression on clients, and differentiate yourself in the marketplace. It's incredibly important to get this right.'"
Consistency in brand representation helps build trust, credibility, and recognition. A simple way to achieve this is by using your brand colour palette at various touch points throughout the office. Whether it's through furniture, framed prints, or even the paint you choose for the walls – using brand colours creates a consistent and recognizable look and feel.
Having worked with us for a long time, Trifle knew exactly how to approach this. Nadia told us about the inspiration behind our new workspace; "This is the fifth office over an 11-year period we've designed for MOO and this gives us such a familiarity with the culture and the MAKE IT values. You can literally see MOO's brand colours as accents in the space." Read more about how we made our space MOO-perfect.
Employee engagement
When people feel connected to a brand, they are more likely to embody its values. At MOO, we are already seeing the benefits of working in a space that both motivates and inspires. From joining colleagues at communal lunch tables, to finding some focus time on a private desk pod. Balancing team engagement and productivity has been easy with the new re-design.
"A space can encourage teamwork and create a sense of community among employees. This, in turn, fosters a positive and productive work environment," said Nadia.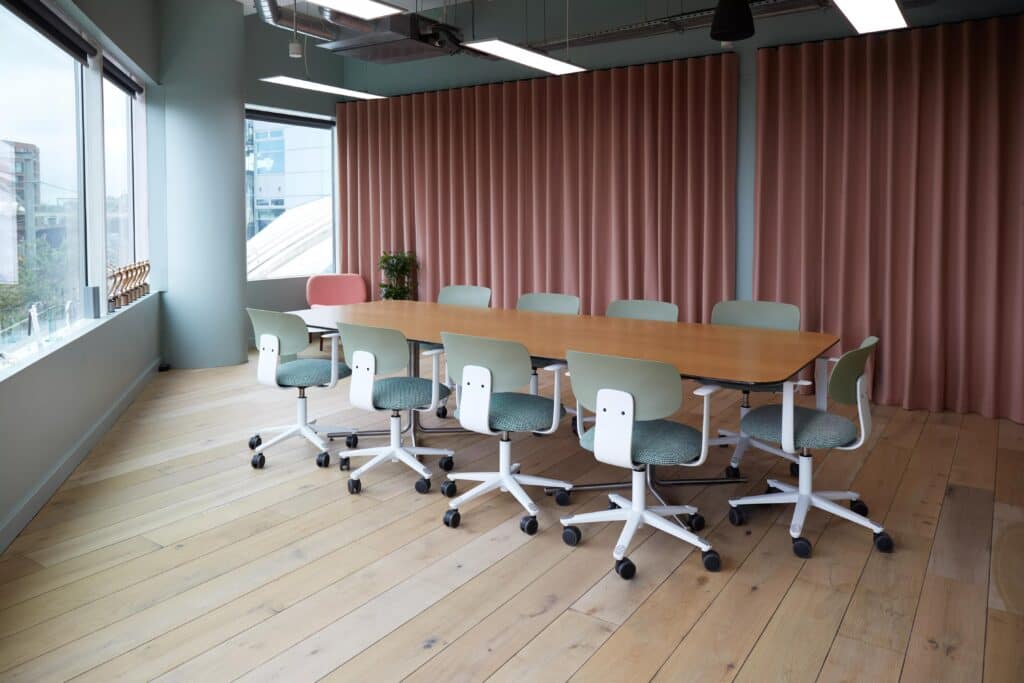 In our new office, we needed to cater to varying work styles- collaborative, individual, and of course, hybrid. We've upgraded our tech in each meeting room to coincide with the re-design. So no matter, if you are dialing into a meeting or hosting a call with colleagues across the pond – everything just "works."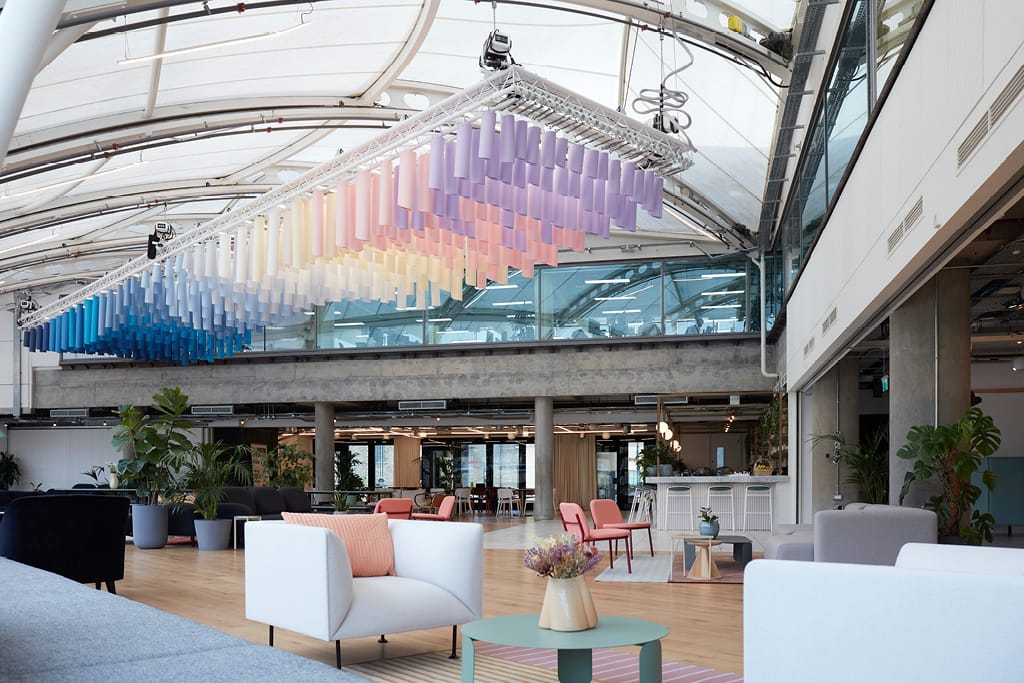 Recently, we had the opportunity to create a centerpiece that reflects our brand's creative approach. The paper installation was designed by our Lead Product Designer, Felix Ackermann, and installed collaboratively by all our MOOsters. Watch a very satisfying timelapse video of the action here. Not only is this an incredible addition to the new office space, but it was a wonderful way to work together as a team to create a physical, on-brand masterpiece that we get to enjoy every day.
Attracting new MOOsters
At MOO, we're a growing team of incredible people. And when it comes to recruitment, we think that having an aspirational office space helps attract the right people. And in fact, this study found that 48% of people agreed that the look and feel of an office would impact their opinions of the company. Specifically how it values its employees and culture.
"In a post-pandemic world, office expectations are much higher than they have ever been before and this is a part of a decision to join a company," said Nadia.
A well-designed workspace goes beyond aesthetics. By prioritizing the physical environment and the needs of employees, companies can create an inspiring and supportive workspace that amps up productivity, creativity, and employee well-being.
What's next?
Through collaboration with experts like Trifle Creative, we've transformed our London office into a dynamic, employee-centric environment that fuels creativity, productivity, and well-being. We're now super excited to be now also be sprucing up our East Providence office, and can't wait to show you what we've done to celebrate the MOO brand in the US too.
Want to join the MOO crew? Follow us on LinkedIn and check out our open roles here.
Keep in touch
Get design inspiration, business tips and special offers straight to your inbox with our MOOsletter, out every two weeks.
Sign me up!