Why print with MOO?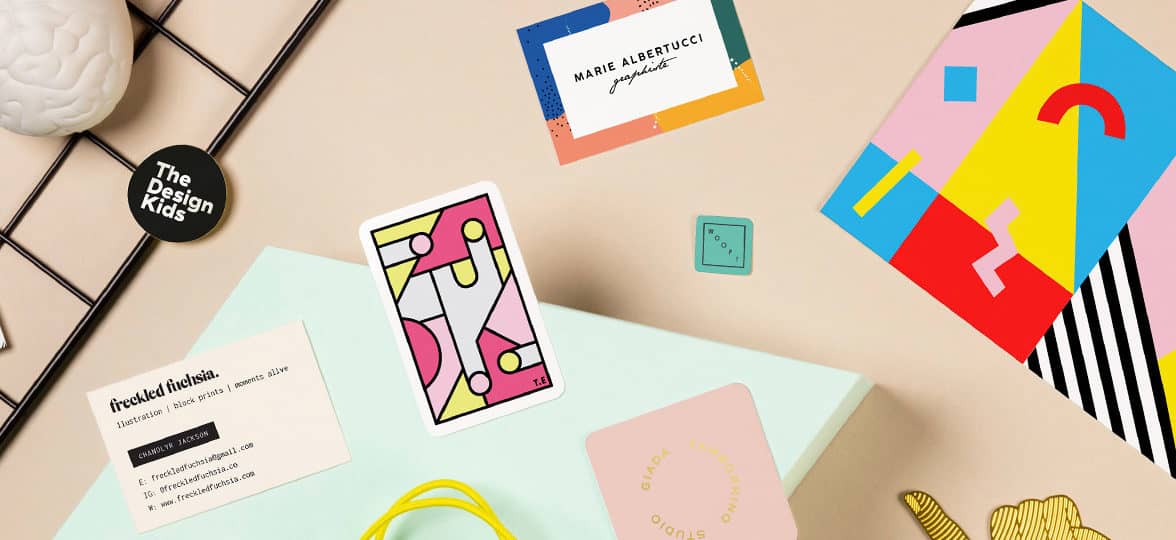 We all have ideas that we want to bring to life. Whether it's a small business concept or a design—there is an alchemy that occurs when ideas go from 'thought' to 'thing'. And that's a truly special feat.
At MOO, we love being at the union of ideas and tangible things. Or to be less poetic: print. No matter what your vision is, MOO offers all the tools and support you need to make your idea a reality.
In case we haven't met yet – Hello, we're MOO. We're an award-winning online print and design company with one simple mission: to provide great design for everyone. Because design is at the heart of everything we do. Curious to know more? Well, we're glad you asked. Right this way:

A product for any occasion
While MOO started out in 2006 offering premium quality and unique business card printing services, we have since expanded our offering to cover all of your stationery needs. From eye-catching Flyers, to ultra-versatile Stickers, we strive to make every interaction with your project a memorable one. But Flyers and Stickers aren't the end of our product offering. We offer a range of print options – from special finishes like gold foil and gloss to beautifully tactile paper stocks:
Printfinity
One pack of cards. Lots of designs. We call it Printfinity—and yes, we made up a word. We developed this exclusive technology which allows you to print up to 50 different designs in one pack of Business Cards, Flyers, Stickers, Postcards or Letterhead. How it works is simple: pick a product, get creative with your designs, upload, and order. And at no extra cost, what's stopping you?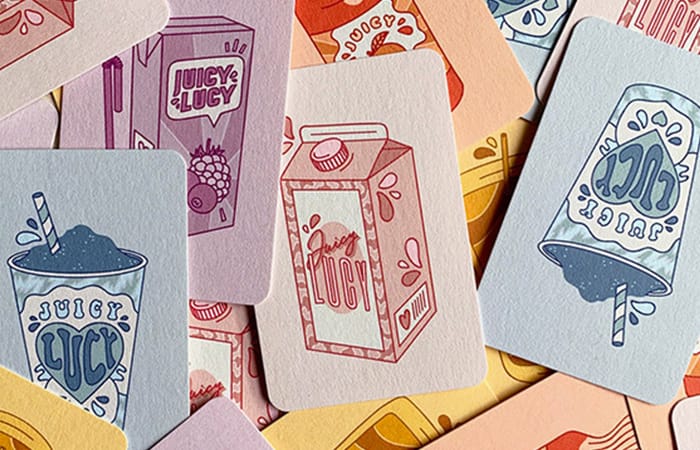 Special Finishes
Sometimes, it takes a little something extra to make a design really pop. That's where our Special Finishes come in. We offer Gold Foil on our Business Card range for an irresistibly eye-catching touch to your designs. For those looking for a tactile touch, go with the Spot Gloss and Raised Spot Gloss options that add a sleek and tangible shininess to your designs.
Papers
Across all of our print products, we offer a range of premium paper stocks suitable for any project you can dream of.
Luxe
Our irresistibly thick Luxe Paper is the perfect way to make an awesome first impression, thanks to the textured feel of Mohawk Superfine as well as eight color seam options to add a pop of color and surprise to your prints. Available for Business Cards, MiniCards, Letterhead, Notecards and Postcards, Luxe is our finest paper stock option. Put your best foot forward.
Super
Our Super paper stock is slick and durable at a non-bendy 19pt weight. Available in two finishes, Soft Touch and High Gloss, Super offers an unforgettably smooth and tactile experience for your Business Cards or Postcards. How can you top that? Well, try adding Spot Gloss flourishes to your cards for a luxurious texture contrast.
Cotton
Yep, you read that right. Cotton paper. Together with our friends at Mohawk, we developed a paper made entirely from T-shirt offcuts for a tree-free business card printing option. By reusing fashion industry waste, we can now offer a sustainable—and might we say beautiful—paper that feels and looks premium.
Original
Our Original paper is a step up from standard business cards and postcards. While it is our thinnest option, it still offers a thick and luxurious feel at 16pt weight. This paper has a great print quality and holds color well, giving your print a vibrant and dynamic appeal.
Pearlescent
Looking to give your Flyers some extra 'oomph'? Our Pearlescent paper stock for Flyers offers a dramatic metallic finish that makes colors 'pop' off the page. The subtle sheen of the paper makes you want to do a double-take on first sight.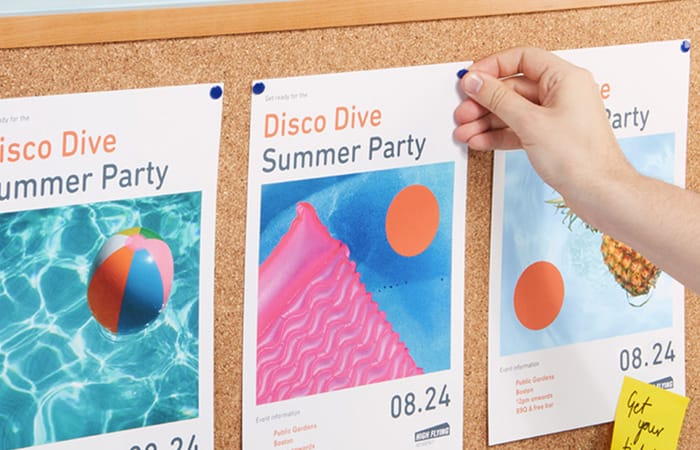 All shapes and sizes
Every project and design has a different scope. Which is why MOO offers a range of different Business Card shapes and sizes so you can find a perfect fit. We offer the Standard Business Card size for a classic feel, or—if you are looking for a little more real estate—we offer MOO Size Business Cards. There is no detail too small to make you stand out from the crowd.
Hip to be square? We couldn't agree more. Our Square Business Cards make the perfect canvas for your brand to shine. And no matter what size you choose, MOO offers Rounded Corners for an added impression at no extra charge.
Great design for everyone
At MOO, we strive to provide easy, accessible, and amazing design resources to customers of all abilities to create the best possible products they can dream of. But we don't take this mission lightly. We are passionate about providing resources on our platform to make great design widely available—for everyone.
Templates
Our in-house Creative Team is comprised of print experts with an eye for branding and design. Together, they've worked tirelessly to create hundreds of design templates for all of our products. With these templates, you can simply select one that best fits your vision and enter your details, logos, and images to make the design unmistakably yours.
Our customizable templates make it easy for people in all industries to make a truly unique business card design, all at no added cost to you. Whether you are a real estate agent or a florist, you can filter through our templates by industry to make the design selection process that much easier.

Print for designers
Sure, we have plenty of template options, but we also ensure a quick and easy way for professional designers to upload their designs to our platform for print. Our full-upload option makes it as easy as click-and-drag—in just a few simple steps, your cards will be on their way.
MOO even offers a tailored service for professional graphic designers and agencies who create print materials for their clients.
Early access to new products
With special trade pricing, you can gain access to products before they're available from the MOO site—designed specifically with graphic designers in mind. Everything from new papers and finishes to Custom Notebooks, you'll be able to 'wow' your clients with special access.
Expert support
No robots here. Our Customer Service team at MOO is an award-winning (all-human) crew that offer technical help for design and print professionals. Available to call or chat Mondays through Fridays, our dedicated Customer Service agents are here to listen to all of your needs to make sure we can make the process as easy as can be. Because at the end of the day, we care as much about print as you do.
Tools for Pros
Sometimes a project requires a little more to help get it off the ground. We get it. Our uploading tools will help you work faster on more complex projects—whether they are multiple PDF designs or ordering a suite of products for one project. You can also store your designs so you can do a quick and easy reorder when the time comes.
Quality. Guaranteed.
With MOO's Pro Print service, you get a partner, not just a printer. Our experts will make sure to do quality assurance checks on every order—every time. And if you're not 100% happy, we'll do everything we can to make sure you and your clients are thrilled with your orders.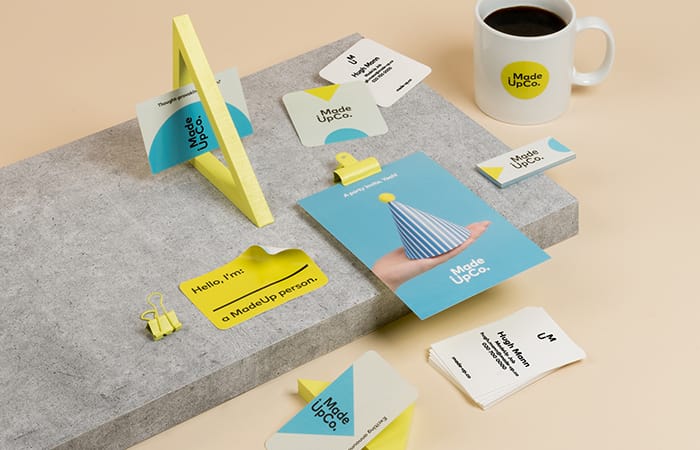 Print for businesses of all sizes
As your business grows, so do your print needs. With each new employee you add to the team, or for each new marketing campaign you launch, print products get added to that never-ending list of things to do. But with MOO Business Services, instead of ordering new business stationery for hours, you can have more time back doing what matters most to you. Here's how we offer printing services for business, made simple:
The platform
Whether you've got 10 employees, or thousands, the MOO Business Services platform is your go-to home for your team's print needs. Upload all of your brand's approved Business Card templates to the platform and once each employee creates an account, they can log in, enter their personal information, select the quantity, and order. And we know businesses have needs beyond Business Cards, which is why our platform can host the entire range of MOO products—all with your branding. Have multiple offices and locations to ship to? That's not a problem either. Enter in all of your locations to the platform and a list will appear at checkout for your teams to choose from.
Dedicated Account Management
We want this process to be as easy for you as can be. That's why every MOO Business Services customer has their own dedicated Account Manager. Our friendly team are there at every step of the way to take care of those time-consuming bits of uploading templates and on-boarding new employees to the platform. Their contact information will be available on the platform so any team member can reach out during the ordering process.
The process
Looking to sign up? Awesome! We are glad you're here. To get started, one of our friendly Account Managers will set up your business account platform. They will be available to do a detailed walk-through of the account with you and your teams to get you acquainted with the platform. Next, our team will help you create and upload your print designs onto the platform so they are accessible when you log in to the platform. And finally, once that is all set, you and your teams can start ordering those print products in just a matter of clicks. It really is that easy. We promise.
Design services
We understand that not every business has an in-house design team to create branded materials for your business. And hiring a designer or agency to do the work doesn't always fit into your budget. That's more than fine. Our MOO Business Services customers have the option to work with our in-house Creative Team to take care of any design issues or branding project—no matter how big or small.
Service levels
Every business has its own needs, which is why we offer three different service levels for businesses of all shapes and sizes. Our Essential Package is free to use, with all of the basic needs covered, like business-level pricing, access to the platform, and employee self-ordering. To go further, our Office Package provides advanced brand control with dedicated support for larger teams. This package comes with a dedicated Account Manager, invoice payment, and the ability to use customized templates for all of your print products. Finally, if you have a larger business with more complex print needs, we offer Enterprise Service Levels for those businesses looking to do more. No matter how big or small your business is, we've got you covered.
The MOO Promise
What's better than 'Satisfaction Guaranteed'? How about being thrilled with every order? That's what we strive to do. We call that the MOO Promise. For each and every order you place, we'll go to great lengths to make sure your product is just right—the way you envisioned it, and more.
Quality inspection
With every order from MOO, our quality control team will perform detailed inspections on your order to make sure the design specs are right and that every typo gets caught. Even if you notice a typo when you receive the order, we'll fix those free of charge.
In-house printing
We have print facilities in the United Kingdom and the United States, and we take care of all of the printing ourselves. This makes it easier for us to have more control over the print process from start to finish.
100% right. Every time.
What looks good to us may look different to you. So if you're not totally over the moon with your order when you receive it, get in touch with our Customer Service team and they'll be sure to fix the problem. If you're still not satisfied, you'll get your money back. And that's a promise.
Customer service at every stage
Our award-winning Customer Service team is here to help. They are on hand 24 hours a day, five days a week and there's no question too lofty that they can't help with. Supporting our customers is crucial to our mission of providing top-notch products and services. That's why we make sure you'll never receive an automated support call from robots—just humans here. We feel that humans know how to help other humans best, it's just that simple.
And there you have it! That's the MOO story. No matter what story you have to tell, we'll be here waiting to bring it to life.
Curious about MOO Business Services? Fill out the form here and a friendly Account Manager will reach out to you.
Keep in touch
Get design inspiration, business tips and special offers straight to your inbox with our MOOsletter, out every two weeks.
Sign me up!