How to stand out at your next recruitment fair
We spoke to our Junior Recruiter, Afua Yeboah, about how to stand out at your next job fair.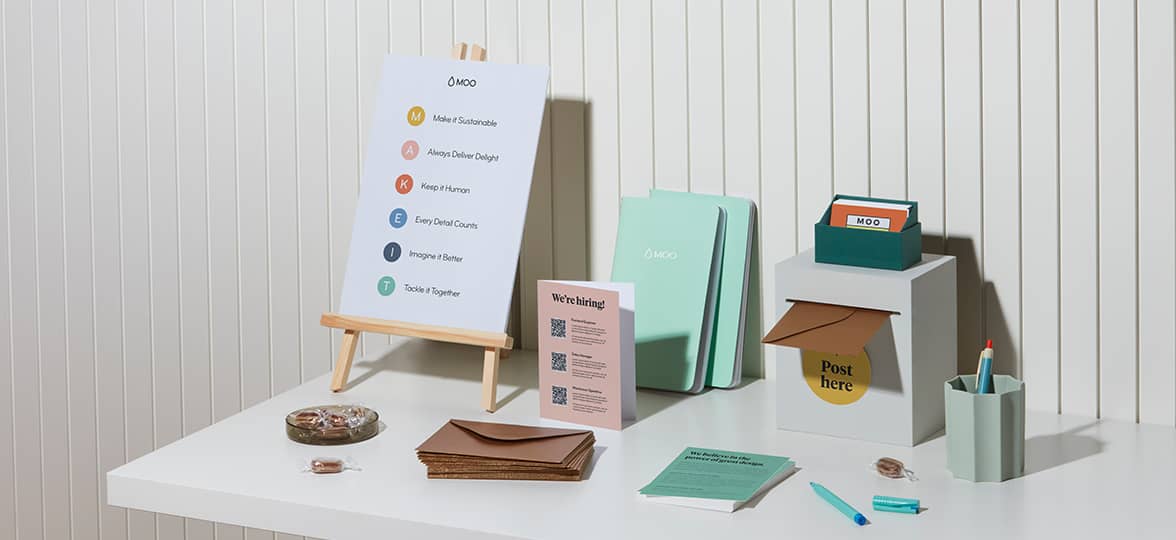 Job fairs can be a good opportunity for companies to meet and attract new talent. Seeing candidates in person allows you to gain a better first impression, rather than just skimming over résumés.
But while there'll be plenty of people attending job fairs, you'll want to attract the best and most suitable talent for your brand. Back in November, we attended London's Silicon Milkroundabout job fair and were lucky enough to hire some candidates after that initial meeting. So we thought we'd share some of our tips on how to promote your brand and stand out from the crowd.
Set a recruitment goal
First up, choose a job fair that suits your needs. This may depend on the industry you're in, the size of your company and the roles you're looking to hire for. Job fairs come in all shapes and sizes, and you can waste your time going to some that target the wrong candidates.
For instance, if you're looking to hire for entry-level roles or internships, it would be best to exhibit at a college job fair. Target local careers fairs if you're looking to hire in specific geographical areas. You could even exhibit at invite-only events so candidates are pre-screened – doing some of the work for you.
After deciding on which to attend, go in with a clear understanding of what you want to gain, the positions you're trying to fill and the kinds of candidates.
Our Junior Recruiter, Afua Yeboah, advises: "Attend to increase brand awareness, engagement and communication between potential future candidates."
For MOO, "It was the first official job fair event post-pandemic, and we were interested in seeing attendance from a candidate perspective. It was a great way for us to gauge interest in onsite events without taking on all the logistical responsibilities."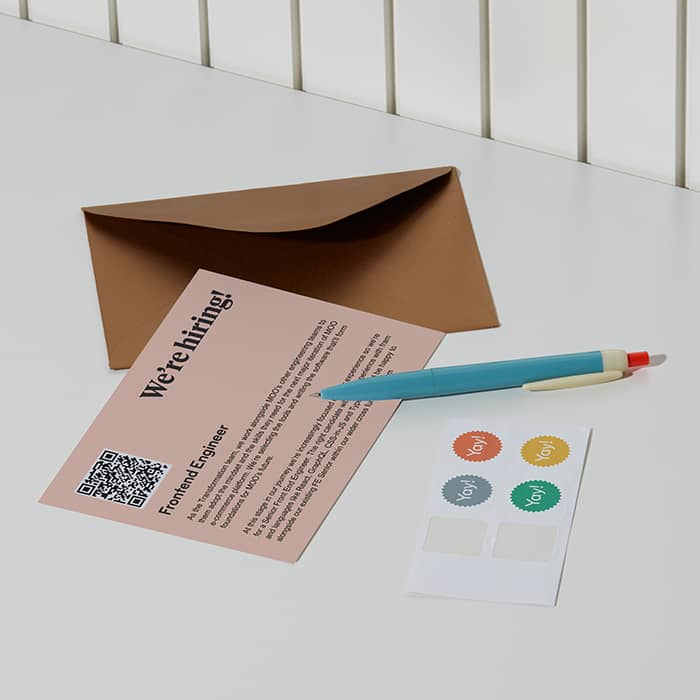 You and your booth
Pick your team well. Make sure the representatives of your business are professional and knowledgeable. They could be HR staff, hiring managers or coworkers who have been at the company for a while. If there are open positions requiring niche skills, ensure you have someone that can address them with potential employees.
Adam Carolan, our freelance senior recruiter who led the group representing MOO, chose his team based on the roles they were hiring for and their position within the company. He told us about the team, "Chris from customer operations was especially good at speaking about our sales and production cycles, even taking leads from other exhibitors who may have print or merchandising needs down the line. Whereas our VP of engineering, Claire, can sell the MOO story well. Plus she's direct, down-to-earth and relatable. All exceptional traits in a leader."
And on Afua, he says, "She's able to engage and interact with pretty much anyone, it's basically her superpower. Her enthusiasm and natural charm is infectious, it always is. She led the event and none of this could have happened without her."
The look of your booth also says a lot about your company too. It will help grab the attention of good candidates. Ensure you have branded pop-up banners, event signage, maps and a table (preferably with a nice cloth covering it). You should also have enough marketing materials to give out. Afua says, for MOO, "Our stall was a beautiful pale pink. Which stood out against the other black, blue or red stalls." So it may be worth investing in an alternative colour to catch the eye of potential employees.
Depending on the size of your booth, you could even consider where you position yourself. As a general rule, avoid corners and never position yourself behind companies that are much bigger than yours.
And when it comes to the day, be sure to always stand in front or behind your display. And avoid sitting down.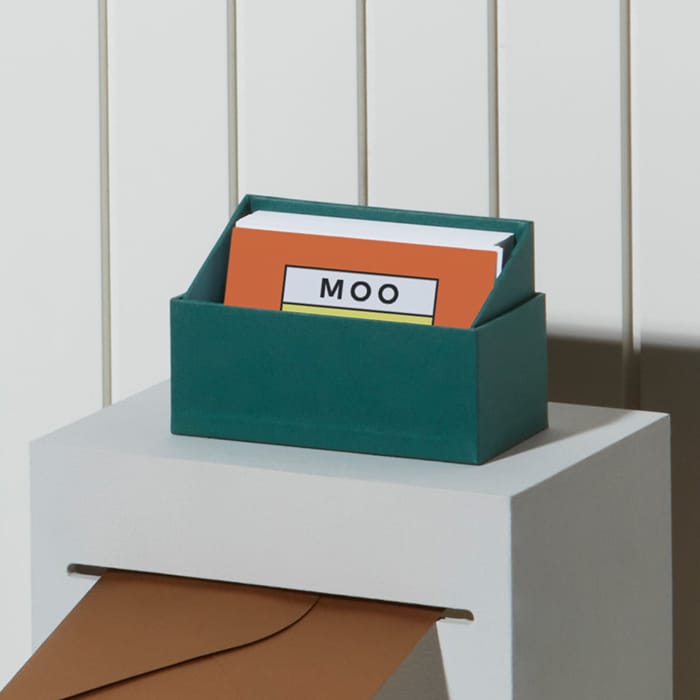 Print materials, giveaways and more
You only have a couple of minutes to make an impact before that potential employee walks away. So aim to give them a few take-home resources to remember you by. Including Business Cards with your contact details, Flyers with info on job roles, and Postcards with more about your company. If you really want to make an impression, consider custom Softcover Journals as a branded giveaway. Our team brought London-themed Postcards, Holiday cards, Small Round Stickers and Flyers with information on MOO benefits.
On the other hand, some events can offer too many materials and handouts. So in order to stand out from the crowd, you need to get the balance right. Tailor your printed materials, consider what will be beneficial to print the most of and plan for the number of attendees or potential people you'll take to interview. If you've got a lot to advertise, a pro tip from us: Printfinity. This means you can have up to 50 different designs in a single pack of anything. From Stickers to Flyers. "We used Printfinity ourselves for the London-themed Postcards and Stickers. We created five different designs."
Additionally, our team added a small post box to the table and asked attendees to write down their New Year's resolutions on them, which we then mailed to them. Afua said, "The post box came from our London office, and the idea was to take it to the recruitment fair to bring people over and get a conversation started."
As a giveaway, they held a competition for a £150 gift card. "We asked attendees to take a picture of themselves at our stall and post it to social media," says Afua. But it's worth noting that some people may not want to post online in case their current employers see them at a job fair. Alternatively, you could host a Business Card raffle – have potential employees add their cards to a bowl and the one picked at the end wins a prize. It's also a great way to swap Business Cards if you're looking for more people to hire and follow up with about openings.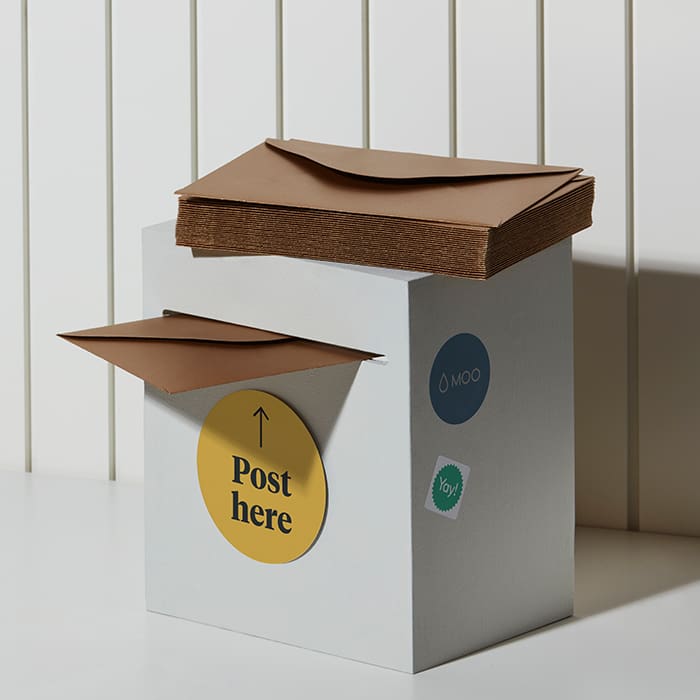 Act fast and effectively
To make the most out of your day, and find the best candidates, you need to act quickly. On the day of your event, arrive early to set up your booth and prep for the day.
Have questions prepared, and be ready to dish out details of your company benefits and the roles you're hiring for. Job seekers will want to know the ins and outs of your brand, from in-office culture to remote and hybrid working.
Be ready to tell candidates your next steps and when they could hear back from you. And always have a Business Card ready to hand over, and include your LinkedIn so you can connect digitally too.
After collecting these details, reach out to qualified candidates within the week to schedule a formal interview to get to know them further. With luck, you'll be filling empty roles in no time. "We scheduled interviews with candidates and even hired one, who will be starting next month," says Afua.
Got a trade show or recruitment fair coming up? Get in touch to find out how MOO Business Services can help you prepare. Complete the form below and a friendly Account Executive will be in touch to help you get started.
Keep in touch
Get design inspiration, business tips and special offers straight to your inbox with our MOOsletter, out every two weeks.
Sign me up!