How to make your real estate business stand out
No matter how many realtors there are in town, one always shines brighter – and you want to make sure it's you. Here's how to create a strong brand in a crowded market.
So, what gives great realtors star quality? There are lots of realtors out there, each one looking to make a lasting impression on their customers. So if you want to be the best in the business, it takes more than just doing a competent job.
It's all about networking
You need to build fantastic professional relationships. No realtor is an island, and word of mouth is a big driver in developing new client connections and growing your reputation. As well as dealing with customers in person, it's a great idea to  make yourself available on social media to make it even easier for potential customers to connect with you
Networks like Facebook and Instagram are powerful tools for realtors who are hoping to get referrals from past customers. By having a profile set up and being available to answer messages promptly, you're making it simple for your clients to send their friends your way. After all, they don't need to be a realtor to refer someone to you, provided there's no referral fee changing hands.
Provide amazing service
Thoughtful touches and attention to detail can make all the difference when it comes to creating a memorable name for yourself.  even just making sure your clients and potential buyers feel listened to and cared for when they come to a meeting or join you for a walkthrough will put you front of mind when it comes to your clients giving recommendations to others.
Thinking about what your client wants and needs will come naturally if you're able to make an emotional connection with potential buyers, so be willing to take your time and talk to them at their leisure. By getting to know them as people, you'll understand exactly what they're looking for in a new home, and what their challenges and stressors are. You can then make it your mission to clear the way and make the buying process as comfortable as possible for them.
Make your branding stick
Even when you're not personally in contact with potential clients, your real estate marketing and branding can work wonders in making you stand out positively.
Are all of your competitors using a similar approach with their design and imagery? If so, you have a chance to shake things up by choosing a distinctive font or color palette. Opt for a look that's fresh and new, not the same old cursive script and headshots. Why not try taking inspiration from interior design blogs or Pinterest pins, and build your brand around beautiful home design?
How to market yourself as a realtor
You're right at home with selling houses, but what about selling yourself? Great realtors know that their unique personality can have as much power in making someone feel at home as the gorgeous condo they happen to be showing off.
For that reason, it's important to think strategically about your personal brand, especially if you're a new realtor just starting out. What are you known for, and what would you like people to remember about you?
Think about your personal strengths and how they play into your professional role. For example, do you have a bubbly personality that helps people get excited about new possibilities? Are you reassuring and calm, helping nervous first-time buyers and sellers through their sales? Or maybe you're highly practical and good at helping clients think their plans through logically, even when things are complex.
Create a marketing master-plan
A marketing plan is a must-have for any realtor. You need to decide on your messaging – the ideas and facts you want to communicate about your business that showcase your personal brand and help you stand out. These might include things like your years of experience and your reliability, or the number of satisfied clients you have, and their testimonials – you'll find more details about testimonials at the end of this post.
Another consideration is the channels you're going to use to spread the word about your services. That could include advertising, social media, email, your website, or offline options like Flyers and Business Cards
The best marketing channels for real estate businesses are generally those with a local feel. You're looking to tap into opportunities in a geographical community, so check out local and regional groups on Facebook, or use and follow Instagram hashtags that are specific to an area or state. Of course, offline marketing is perfect for this, since you can hand out Flyers or distribute Postcards locally.
You also need to be clear about the goal of your marketing activities. Are you trying to drive brand awareness, i.e. make sure people know you're out there? Or will you measure success in numerical terms, looking at number of new clients or successful sales? Putting goals and measurements in place will help you keep track of your efforts and see how the rewards of your hard work mount up over time.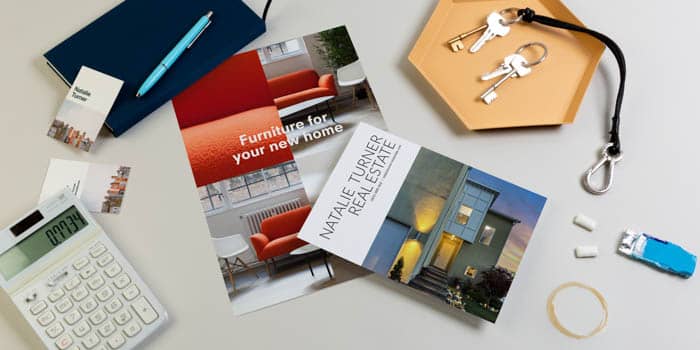 Build a referral network
Throughout the process of your clients moving out of their old home and into the new one, your customers will need a few things that you can't deliver. You may not be able to do these jobs yourself, but what you can do is partner with local suppliers — like a locksmith or moving service — and negotiate a discount for your clients when they use those services. This is a great extra step in making their experience with your service memorably positive.
After the home-buying process is done and your hard work is rewarded, it's still just the beginning of the story for your clients. Once they're moved in and enjoying their new home, they'll want to get everything perfectly attuned to their tastes.
As well as helping them get great deals with suppliers, you can create a list of local businesses and service providers that you recommend once they move in — for example, on a nicely-designed Postcard (then you can even write a personal note on the other side of it!). A few ideas for businesses to include in your referral network are:
Interior designers and decorators

Gardeners and landscaping crews

Painters and construction professionals

Cleaning and maid services

Local restaurants that do take-out and delivery
You can also reach out to these businesses and let them know you're sending clients their way. Sometimes, the same people who need these services after a move also need them when they're preparing to sell their house, ,so you might find yourself getting referrals from them, too. Networking is a skill that brings all kinds of unexpected benefits.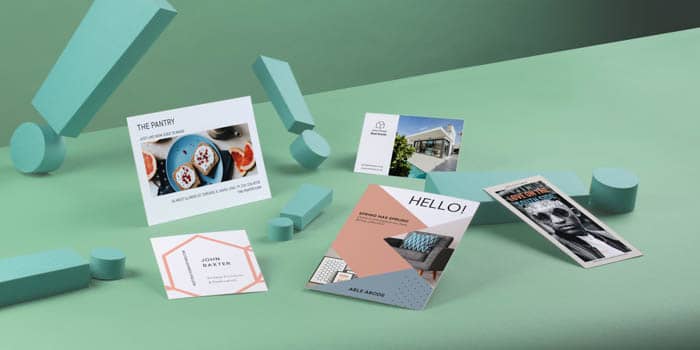 Follow up and stay in touch after the sale
Across all industries, one thing that businesses can almost always do better is client follow-up — real estate is no exception. In addition to making sure that your clients have the support they need after the purchase by referring them to local businesses, you can:
Send thank you gifts and cards once the deal is closed (you can even combine this with the above tip and have, for example, a $25 gift card for a local food delivery service)

Stay in touch with your clients and see how the process is going

Send small gifts or cards at later times, as you stay in touch (for example, to congratulate them on a new baby or a wedding)
By doing this, you're not only making it more likely for your clients to refer you to their friends, but you're also making them more likely to come back to you in the future when they outgrow their current home.
Use tech to keep things in order
Buying a house is often stressful — it's your job to make the process as smooth as possible. And that means you need to stay organized. The best ways to do that are:
The power of testimonials
When you do the work of standing out from the crowd, you're going to have very happy customers. Make sure you're getting testimonials from these customers after their purchase is complete and when your glowing service is still fresh in their minds.
Then, you can work those testimonials into your social media presence, quote them on your website, and even include them on your Business Cards and other physical marketing materials. For more ideas on how to effectively use testimonials, head here.
Keep in touch
Get design inspiration, business tips and special offers straight to your inbox with our MOOsletter, out every two weeks.
Sign me up!