Lessons of resilience and reaching your goal with Adrianne Haslet
Adrianne Haslet, Boston Marathon bombing survivor, taught us about positivity and resilience.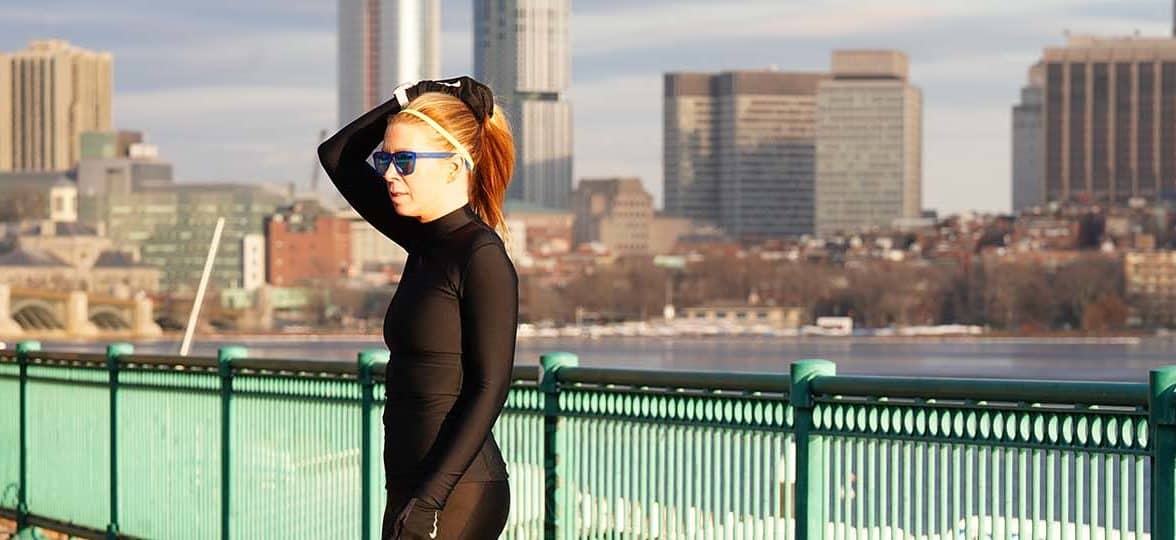 Adrianne Haslet experienced one of her worst moments during the Boston Marathon. Little did she know, that years later, the same marathon would become one of the most profound and proudest moments of her life. 
We had the pleasure of speaking with Adrianne Haslet, an internationally-ranked ballroom dancer and a triumphant Boston Marathon bombing survivor. She captivated each one of us here at MOO, by recounting that day in Boston, overcoming powerlessness and trauma, moving forward, before becoming a global advocate for amputee rights, and eventually running the Boston Marathon several times over. 
MOOsters far and wide, have been contemplating the stories and lessons told to us about Adrianne. Here's her story – and what we learnt.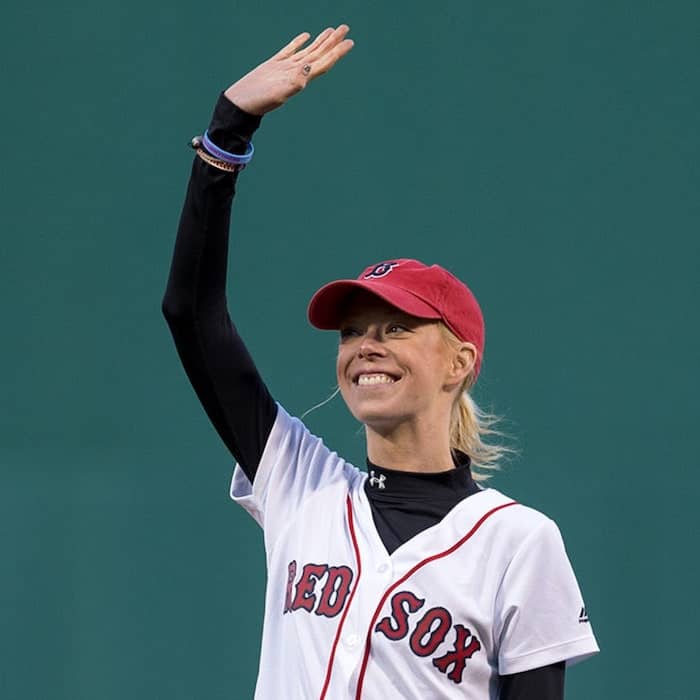 "Tell people your goal" 
In 2013, Adrianne Haslet was a professional ballroom dancer, nearing the Boston Marathon finish line, when the bomb went off on April 15, 2013. She lost her leg that day, along Boylston Street. By 2019, her lower leg had been amputated and she was readjusting to her new life well and even starting running – she was hit by a car. But even after facing such misfortunes, Adrianne has never lost her fighting spirit.
Adrianne's first lesson was to "Tell people your goal. Because when you start to doubt yourself, those people will remind you of this goal. They'll remind you that you can do it." 
At this point, she'd met her 'superman surgeon', Dr Kalish from Boston Medical Center, who'd also been present at the time of the bombing and would soon be operating on her leg. She managed to call her parents with the help of a very kind nurse, speaking to them for what she thought would be the last time. 
By a stroke of good fortune, they were both by her side when she woke up. She described the moment she woke up in hospital and the days that followed as a 'painful blur'. But a spark of light was soon to appear. Soon after her family's arrival, she'd be speaking to broadcast journalist, Anderson Cooper about her plans to start dancing again – after her mum had run into him.
"I'll run the Boston marathon as a thank you to this Boston-strong movement"
It was during this interview, that Cooper posed the question of her dancing once again – which she was determined to do.
"It felt so good to make that goal and say it out loud, that I decided to set another goal. And I said, 'I think I'll run the Boston marathon as a thank you to this Boston-strong movement and love that's coming in for all of us survivors'". She surprised herself with this positivity and strength but describes how good it felt to express a goal. 
Laëti Soubrier, our content marketing associate reflecting on how this conversation has since changed her, said "It was so moving and inspiring to see how someone who had planned their entire life around a clear goal managed to bounce back and overcome such a traumatic experience. It really taught me there are many ways to live a fulfilling life. If your original plan doesn't work out, you can still find purpose and happiness by following another path."
View this post on Instagram
"Believe in the conviction of others, even when you may not believe in it yourself"
This brings us onto her second lesson. When speaking with her 'superman surgeon' in hospital – he set out three promises before discharging her from hospital. 
To not allow anyone other than himself to remove her stitches.
When she dances again – not if, but when – he'll be there to cheer her on.
When she runs the Boston marathon, not if – when, tell him, and he'll be at the finish line, waiting for her.
She promises each of them to Dr Kalish – even though she didn't necessarily believe she could do it at the time. "I didn't think I could do it. I was broken. I was a mess. I was in a wheelchair wondering if I could ever walk again."
"I believed in his conviction and I believed in those promises I made him"
Adrianne added "I trusted that man and still do. In fact, one of his daughters became a ballroom dancer. I trust that man more than anything. But even when I didn't believe it myself, I believed in his conviction and I believed in those promises I made him." 
She added "Low and behold, a few months later, I got my leg. I took my first steps and he was there. I sent him videos of my progress."
Our technical product owner, Kate Wood, told us "Hearing about Adrianne's courage and achievements despite all the trauma and setbacks she has been through was both inspiring and humbling and I was quite emotional afterward. It reminded me not to take anything for granted, allow myself to be honest and vulnerable with people, and gave me determination to succeed with my goals too."
Laëti also added "Adrianne is such a strong, inspiring woman. She really taught me some perspective about what I perceive as 'impossible'. Her resilience really made me think about what I feel capable of, and how much is possible when you set your mind to it."
View this post on Instagram
"What gets you to the finish line is nothing compared to what will get you to the start"
To finish, her last lesson for us to consider was in reference to her journey of recovery. After receiving her leg and learning how to walk all over again – she finally started learning how to dance again. 
"[Dr Kalish] encouraged and reminded me of these promises I'd made all along. I knew what I needed to do in order to dance again. And I started to try and dance again – it was very new and difficult." 
"I knew what I needed to do in order to dance again. I knew it wasn't about perfectionism, it was about progress. And I just wanted more good days than bad days." 
Adrianne's final life lesson was one that resonated most with each of our staff especially. Efé, our senior CRM marketing manager said of this "Starting can always be challenging. It reminded me of working out when getting to the gym was often my mental challenge vs finishing the workout. Or the early stages of changing a habit."
He added "Resilience and perseverance were two key things I took from Adrianne's talk. Also enjoying the present and actually "doing things" (I am guilty of procrastination and allowing the fear of the unknown to cripple major moves)."
"So often, we think about how far we have to go, instead of thinking about all of the stuff behind us"
Laëti also connected with this message, adding "Our own insecurities and lack of self-confidence can be much greater challenges than any obstacles we encounter on the way. Once we get started, all these (usually unfounded) fears get replaced with tangible challenges – learning a new skill, training – which are so much easier to overcome because they're clearly defined."
MOO's brand marketing manager, Megan Haney-Claus also added "That really inspires me to keep a mental framework of gratitude and confidence. It somehow makes goals feel achievable and forgiving at the same time." 
In 2014, Adrianne Haslet took the stage at a TEDtalk to speak of her experience, and to also surprise the audience with a ballroom dance! She described the dance as one of her best and was so thankful for that moment. Of course, she was joined by her superman surgeon in the audience.
In 2016, she also ran the Boston Marathon. After feeling so sick of chasing perfection, she was just happy to have move forward and fulfil each of her promises that she'd made. "So often, we think about how far we have to go, instead of thinking about all of the stuff behind us that it took to get us there in that moment. I was like, you're so right, I did so much to get to this point. What will get me to the finish line, is nothing compared to what got me to the start. I learnt to walk again, I had to brave stairs, I had to brave Boston winters…it was so hard." 
"I knew those 22.6 miles would be awful…but I knew I'd get there. And in 10 hours and 46 minutes, hanging out in the medical tent and stopping for lunch, changing my shoes…I finally crossed the finish line, dead last, in the Boston marathon. After being such a competitor – it was the best thing that's ever happened to me." 
Two minutes after crossing that finish line, she received a tweet from Barack Obama that read "Congratulation Adrianne on finishing the race. Terror and bombs cannot stop us. We carry on."  
View this post on Instagram
What's to come next for Adrianne?
Well, she recently took to Instagram to share that Daniel Ferguson, film director of award-winning IMAX projects (superpower Dogs, Jerusalem), was inquiring about my story and my intention to run Boston. 
"He asked me if I would be one of several stories to be featured in a new IMAX movie about New England. I told him about the impact and lasting impression IMAX imagery had on my young self."
"I knew, without a shadow of a doubt, what an opportunity this was. We could show kids with impressionable minds what people who looked like me can accomplish. We can teach everyone about inclusion. Daniel and his incredible crew will be filming me running in the new Para Division, start to finish. I'm humbled and grateful this moment will live on film, capturing Boston's greatest day of the year, and the hard-working runners, volunteers, and the Boston Athletic Association."
Learn more about Adrianne's campaigning work on her website and follow her journey on Instagram.
Keep in touch
Get design inspiration, business tips and special offers straight to your inbox with our MOOsletter, out every two weeks.
Sign me up!