A guide to holiday greetings for businesses
Level up your happy holidays messages to clients with our handy guide to business season greetings.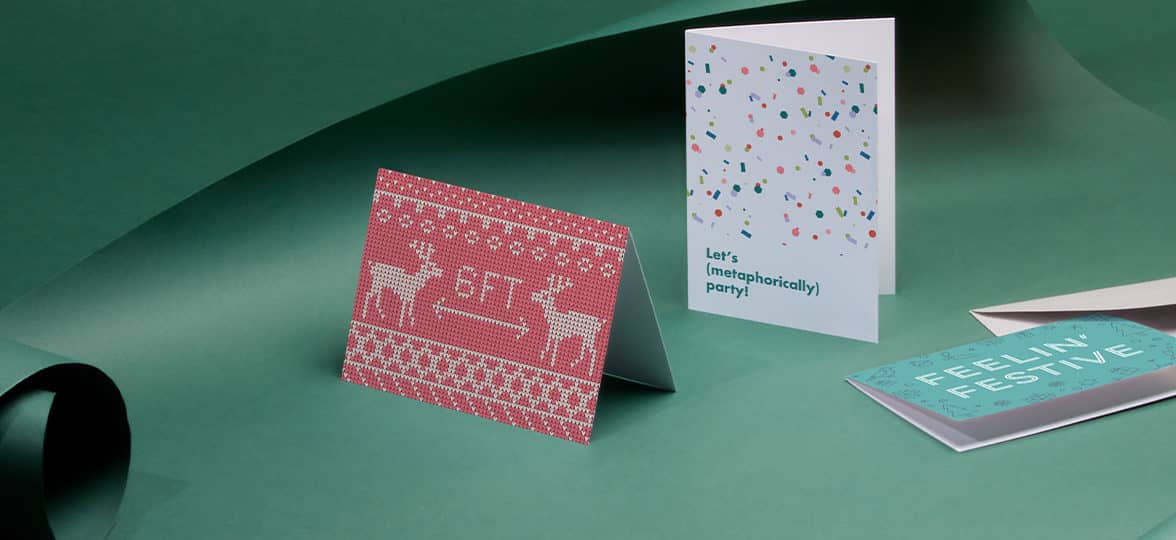 When you're sending holiday greetings to your clients, taking a more personal approach to your messaging can do more for your business than just spread a little holiday happiness.
Sending a Greeting Card around the festive season is thoughtful and guarantees feel-good vibes, but it can also strengthen your working relationships, re-engage customers, or simply make partners feel valued. Everyone loves to receive a personalised message, especially when face-to-face meetings and end-of-year parties are less likely to bring people together in real life.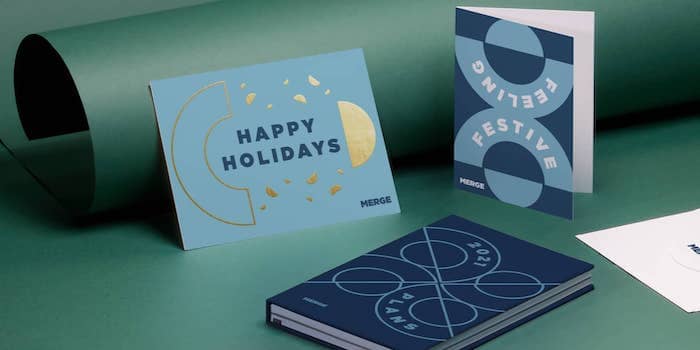 Wondering what to write in a business holiday card? Level up your happy holidays messages to clients and partners with our handy guide to holiday greetings for businesses.
What to write in a business holiday card?
 1. A friendly hello
Great for:

Suppliers and business service partners

Messaging:

A friendly greeting to a valued partner

Looks like:

A fun and informal design with minimal branding
A friendly business happy holidays message that builds relationships with stakeholders who you buy from or work with in partnership. There's no promotional angle or sales opportunity with this type of card, so you can afford to go as jokey, playful and off-the-wall as you like.
Business benefit: Builds goodwill and positivity between you and the people your business depends on.
Create your business Greeting Card here.
2. Thanks for an awesome year
Great for

: Repeat customers

Messaging:

Thank you – let's keep things going

Looks like:

A branded design with a gratitude theme
A Greeting Card that expresses thanks for their business over the previous months and makes them feel valued. This holiday card message for clients recognises the relationship you've developed and expresses the hope that you'll continue things in the same way.
Business benefit: Helps you cement a positive relationship and encourage repeat business.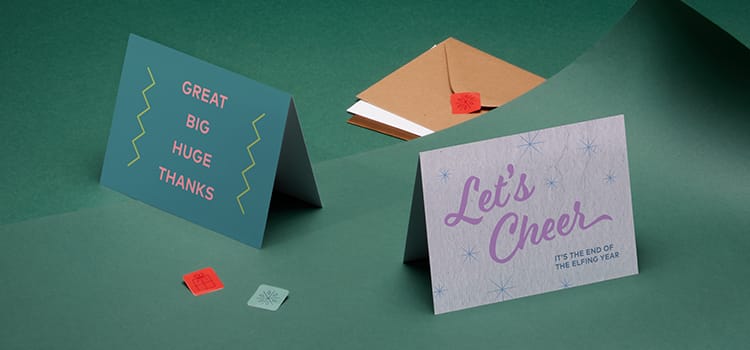 3. Look what we've achieved
Great for:

Partners, investors and employees

Messaging:

We're doing well, thanks to you

Looks like:

A relatively formal design that emphasises professionalism and success
This card recaps how you made it through this year and acknowledges the support your business has received. If applicable, it can also indicate how your business has grown in value. The perfect holiday greetings for business partners and employees!
Business benefit: If you're a company that has started up with investor help, or even if you've just received useful advice and mentorship, it's always worth remembering and valuing your supporters – after all, they're the ones who believed in you from the start.
4. Keeping in touch
Great for:

Dormant clients

Messaging:

Wishing you well this holiday season

Looks like:

A branded design that doesn't assume familiarity with your company
This type of card is an unobtrusive way to maintain contact with dormant customers who have not considered your offering recently. This holiday card message for clients that haven't bought from you in a while gently reminds them who you are and what you have to offer. While it's not the place for a sales message, it may be helpful to include a URL or company boilerplate on the back of the card so the recipient can refresh their memory of you.
Business benefit: A very effective season greetings message for businesses to attract returning customers! It encourages re-engagement with your brand, and could prompt a customer to come back to you after a dormant period.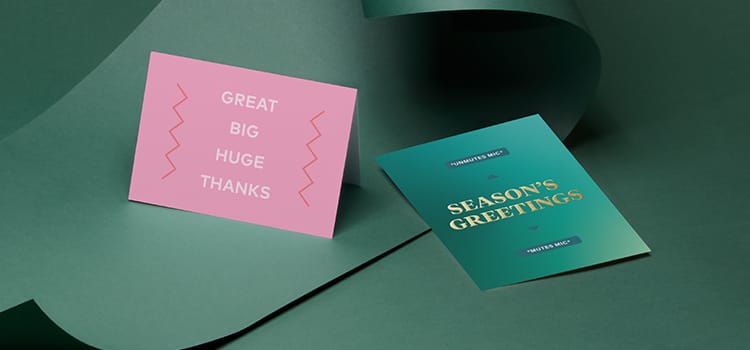 Short on time? Check out our design templates.
5. A twist on the familiar
Great for:

Vendors and others who know you primarily through what you sell

Messaging:

Happy holidays from the makers of [your product]

Looks like:

A holiday-themed representation of your product or service
Looking for a fun holiday message to send to your clients? A brand-led/product-led card that plays on the familiar in a fun way. You could reproduce your product logo using a festive colour palette, photograph your range under a fir tree or depict a delivery truck being pulled by reindeer on a snowy road.
Business benefit: Builds your brand and adds a light-hearted, fun dimension to a working relationship. A nice way to elevate your happy holidays messages to clients.
Order your Holiday Greeting Cards now
We can't help with the writer's cramp, but our Printfinity feature means you can have a range of different designs within a single pack, so you can indulge your creativity without over-stretching your budget.
Now you know what to write in a business holiday card, it's time to design your Postcards and Greeting Cards with MOO.
Keep in touch
Get design inspiration, business tips and special offers straight to your inbox with our MOOsletter, out every two weeks.
Sign me up!