Made in MOO: behind the scenes with customer service
We asked the team what it looks like to spend a day in their shoes.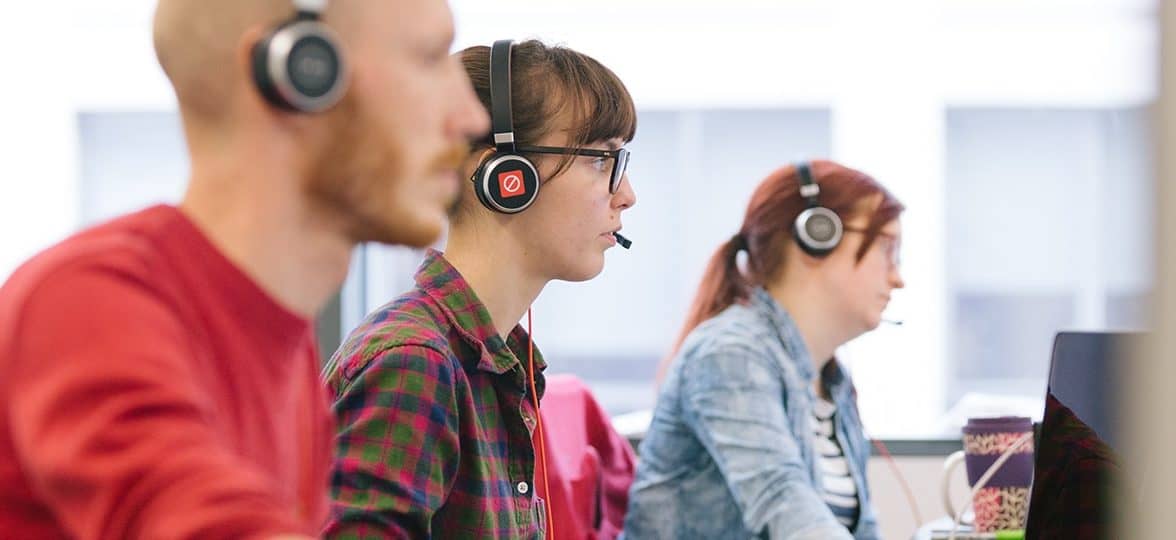 Sometimes, things go wrong. And when they do, you need the best support you can get in order to get back on your feet.
Here at MOO, we're known for our five-star customer service. We've even received six awards for it. Behind this award-winning service is a fantastic team, working from both sides of the Atlantic to help you make the most of MOO.
And so we thought, why not spend a day in their shoes and see what they get up to. 
Customer service in numbers
Our service team is spread out across the globe. When Doreen Berard, director of global customer services, joined MOO 11 years ago, the team was only six people answering emails. Now, with 15 service rockstars in the UK, five in Denver, and 35 in Providence across five different roles, your questions and queries are sure to be taken care of in no time. 
Our team is on hand five days a week, on four different channels. "Customers contact us via phone, email, chat, and sometimes social media. Our number one point of contact is via chat because most times customers are on the site designing their business stationery."
"Together, our current team has dedicated a total of 164 years to customer service"
On average, customer service receives more than 850 requests per day across all channels. That's about 25 to 30 requests per agent. Fortunately, they get the help of Little MOO, our clever chatbot, who handles the most simple requests – about 17% – 24 hours a day, seven days a week.
Together, our current team has dedicated a total of 164 years to customer service. That's 1969 months or 59,901 days – but who's counting, right?
A day in the life
Because they're based across the globe, our team most answers your queries from home. It makes it easier to manage their work-life balance effectively – especially when you're answering requests all day. Ren, customer service representative in Lincoln, walked us through a day in her life. After a stroll in her neighbourhood – or some playtime with her cats – she only has to take a few short steps to her home office to set up for the day.
"In customer service, our schedules are set out so we know where to be and when for all hours of the day. This structure helps me focus on the tasks at hand and how to navigate my day. We have many interactions with customers, ranging from amazing to sometimes not-so-much – but the vast majority walk away pleasantly surprised. 
For Tiffany, client service advocate in Lincoln, the day starts with a fresh coffee in hand and a read through her emails and Slack. "Then, I patiently await the daily huddle to ensure I'm aware of all things happening. Once I'm up to date on all things MOO, I review my calendar, log in to our customer support software, and swiftly move onto my first scheduled channel. 
"While I'm on channels – either email, chat, or phone – I work on follow-up emails, design requests, and keep a steady eye on Slack for new information, to lend a hand, or swing by the 'water cooler' channel to see what the hot topic of the day is. Before logging off for the day I make sure to check on all of my pending tickets, and artwork requests, and review our Slack channel one more time – just in case!"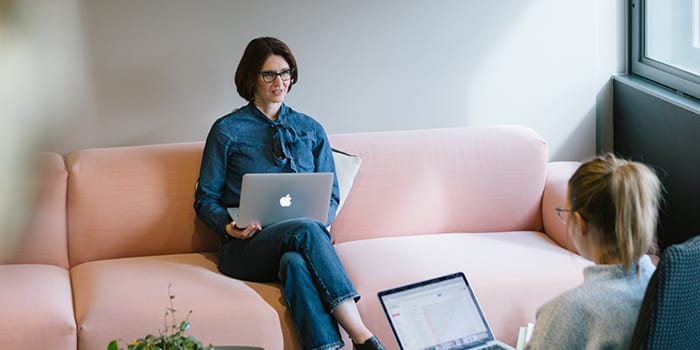 When asked about everyone's favourite channel to work on, Sam, workforce coordinator in Lincoln, and Annelisa, senior manager of customer support and insights in London answer in unison. "Chat is the channel most of the team prefer to work on as they can play music and snack on a cookie whilst they type. Phone is the least preferable as it is less flexible; you don't want music or cookie crunching sounds on the phone after all. 
"As a team, we do our best to support the agents by trying to balance their channel workloads whilst considering our incoming volumes. We try to ensure that the agents have varied schedules, giving them time to work on their emails away from live channels, that they never have too long on one single channel, and, at the end of the day, ensure they take breaks, especially as we work from home – it can be easy to forget."
High rewards
The crew cites growth, knowledge-sharing, and especially the strong team spirit as the other best parts of their job. This is also what makes them proud to be part of customer service.
For Amanda, client service advocate in Lincoln, the most rewarding part of the job is knowing she made a customer happy. "I love reviewing the shoutouts that I receive from happy customers. This always puts a smile on my face and makes me feel valued." Ren agrees: "My favourite part of the workday is anytime I interact with a customer who leaves our conversation feeling happy with the outcome. I get a little boost to continue with my day."
A team of problem-solvers
Working in customer service doesn't come without its challenges. Annelisa cites uncertainty as the biggest one. "You don't know what your next contact will be about. It could be a really simple question or a really complicated one. It could be a super happy customer ringing to say thank you or a really upset customer who needs a solution immediately. You never know exactly who is on the other end of the line, or for what reason."
"It's always fun to explain that we make Business Cards, not milk"
Sometimes, the issues make great anecdotes. "Having such a quirky name means that we do sometimes get confused for other companies. As you would (kind of) expect, we get the occasional contact from people thinking we sell or deliver milk, but more unexpected are the contacts thinking we are a car wash or an investment app. It's always fun to explain that we make Business Cards, not milk." Shannon, customer service team lead in Lincoln, remembers a scuba instructor asking for waterproof Business Cards, while Amanda got asked how to roast a chicken.
At the end of the day, be it a serious one or a funny one, the team is here to solve problems – often as a team. "Being a problem-solver is key. Whether it's finding a way to get a customer new cards in time for an event, or piecing together what went wrong with an order, customer service will always put their thinking caps on and find a solution. Despite remote working, we are all still working together every day to find solutions. That's what makes it so engaging."
"The best people at MOO"
This bond is what makes MOO's customer team so strong. "Besides providing top-tier, unparalleled service, I like to believe our customer service team has the best people at MOO," Ren confirms.
"We have so many different personalities here and we all come together to make such a fun environment. I love that my team can answer any question I might have while helping a customer and I also love that we can have playful conversations like the great 'Is a taco a sandwich?' debate. Even on my most stressed days, I know my team has my back and will make me laugh."
"We all come together to make such a fun environment"
Customer service supports you, but they're also great at supporting and recognizing each other. Every month, the management team scours our public forums – TrustPilot, Facebook, Twitter, and Instagram – and presents any customer shoutouts that highlight an agent in our monthly "Rewards" Celebration. These agents are then added to our virtual "Wheel of Wow" for a chance to win a gift voucher.
They're also using "Hey Taco", a Slack integration that allows the team to give a "taco" to another team member. Think of a gold star, only better. Team members can give "tacos" for anything from covering a shift to helping with a puzzling contact or assisting with an artwork check. At the end of the month, the top three taco-earners receive a reward.
The whole team meets up on and offline for their Friday happy hour. They also organize activities ranging from Cluedo-themed games to quizzes and (in their own words) "very bizarre" photo contests and celebrate birthdays with custom birthday cards designed by their very own artwork specialists. In short, the customer service team knows how to have fun.
An eclectic bunch
Beyond being a team of helpful, friendly people, customer service is also a talented bunch – and an eclectic one. People come from all walks of life with one goal: joining a fun, open team that values their work.
Lee-Nicole, customer service supervisor in Lincoln, learned on the job. "I had a relatively wide range of roles such as a case manager for Family Services of Rhode Island, counsellor in a residential detox facility and a few different call center roles. When I started working as an agent at MOO in 2015, I couldn't even tell you what a PNG was… so naturally, I had a lot to learn."
She progressively climbed up the customer service ladder. "I'm now specializing as the unofficial 'new hire supervisor', onboarding all new agents and guiding them through their probation. I hope to continue growing with MOO and broadening my journey into the next role, whatever that may be."
"I hope to continue growing with MOO and broadening my journey into the next role, whatever that may be"
Some other team members moved on to other roles within the company, continuing their MOO journey with a new challenge. That's the case with Logan, who just joined the e-commerce team to grow his digital merchandising skills.
When it comes to secret talents, the crew has a lot to offer. Starting with Jenni, client service advocate in Lincoln. "I'm a super nerd – video games, board games, etc. – but I also play the viola, violin, and vocals when needed. I was in the Fall River Symphony Orchestra for years". 
More into exercise? You should meet Connor, customer service representative in Denver. "My favourite thing on earth is bouldering. There's a meditative aspect to it, where the only thing that you can focus on is the next movement of your body. It helps me clear my head while keeping me in shape, and it's fun too!"
As for Gia, client service advocate in Lincoln, it's all about the movies. "I love movies. The theatre is my happy place, I also like to stalk local movie sets. I started a podcast about it and was even an extra once. Plus, I can make any prop out of foam board and paper mache."
What's next for customer service?
For Doreen, the future is about finding the right balance between human touch and automation. "Over the past year, the team has implemented an AI chatbot. The objective was to make it easy for customers to self-serve with their less technical, design-related questions they may have, such as 'How soon can I get my order?' 
"While many companies have implemented some type of automation, I was a bit hesitant to do so because one of our company values is to 'Keep it human' and I didn't want to take that away from our customers. I believe that having conversations with customers matters. It strengthens our brand. But I also had to recognize that some customers were having a bad experience with MOO because they were waiting a bit too long to get an answer to their questions… Hence our new Little MOO bot joining the team. 
"The response has been vastly positive. If a customer's question is not answered by Little MOO, they are quickly diverted to one of our rockstars who take over the conversation."
Want to join our customer service crew? Connect with us on LinkedIn and check out our current vacancies here.
Keep in touch
Get design inspiration, business tips and special offers straight to your inbox with our MOOsletter, out every two weeks.
Sign me up!