10 holiday marketing campaigns from brands we love
Discover the 10 best holiday marketing campaigns we've seen.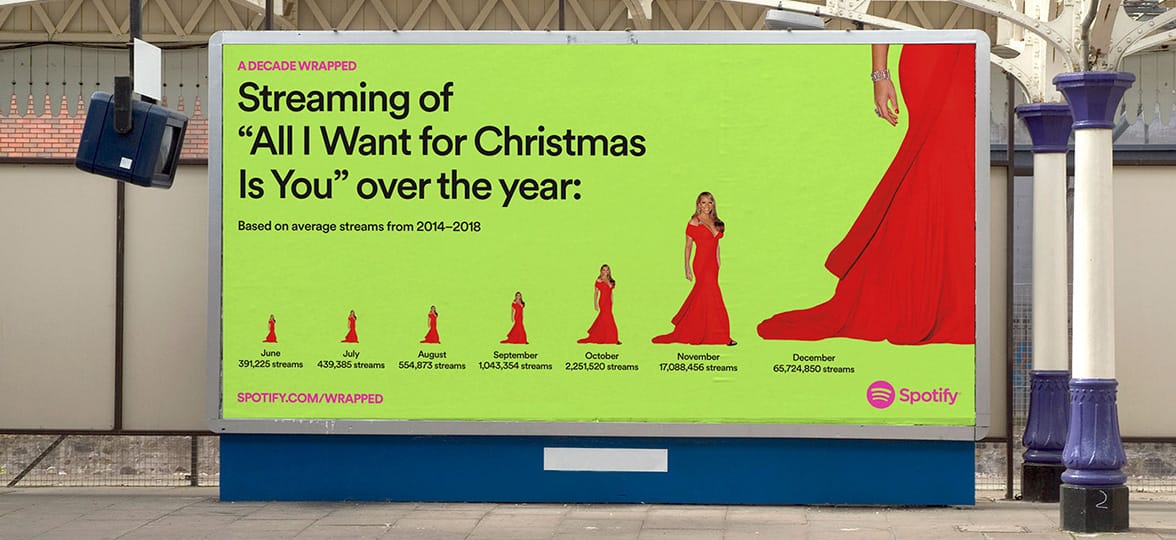 What do Thanksgiving Day, Santa Claus at the mall, Maria Carey's vocals and the first snowfall of the year have in common?
They all mark the start of the holiday season — and with that, holiday marketing campaigns. From social media to billboards and everywhere in between, companies of all shapes and sizes can't help but participate in the most wonderful time of the year.
Whether you're a small business or major enterprise, it's a can't-miss opportunity to reach your target audience, engage potential customers and spread some holiday cheer in new and exciting ways.
Looking for inspiration? Don't worry, we're here to help. In this blog, we'll discuss the basics of holiday promotion and share 10 examples of effective holiday marketing campaigns from brands we admire.
Holiday marketing unwrapped
A holiday marketing campaign is one that centers itself around certain holidays, usually through limited-time offers, exclusive promotions and creative assets. Generally, this marketing strategy occurs specifically during the "holiday season," which includes the following:
Thanksgiving Day
Black Friday
Small Business Saturday
Cyber Monday
Giving Tuesday
Green Monday
Diwali
Hanukkah
Christmas Eve and Christmas Day
New Year's Eve
However, this is just a nonexhaustive list. There are many other special occasions throughout the year that may be worth considering. That said, there are several reasons why businesses tend to focus their holiday ad campaigns on the traditional November-January holiday season:
Higher demand: As the season of giving, purchase intent reaches its peak during the holiday shopping season. In fact, consumers spent over $211 billion during the 2022 holiday season — a 3.5% increase year over year. With more shoppers actively buying, it's a great opportunity to convert potential customers.

Increased urgency: Limited-time offers, such as holiday sale prices, incentivize shoppers to buy before it's too late, thereby boosting customer engagement.

Social media marketing: Exciting holiday ad campaigns are a great way to maximize brand awareness. A well-timed and coordinated holiday promotion may even go viral, thus increasing exposure to your target audience. This is especially important given how 58% of shoppers use social media for holiday shopping inspiration, including 87% of Gen Z consumers. Given how they're digitally native, social media is an ideal channel for reaching Gen Z at scale.

Holiday spirit: From November to January, holiday cheer is a marketer's best friend. It's a season rich in positivity, good will and nostalgia, which is why many marketing campaigns base their messaging around these three feelings. Emotion-driven holiday ads are a great way to connect with your target audience.
Clearly, this marketing strategy has its benefits. But effective holiday marketing campaigns don't just happen — they take some careful planning and plenty of creative thinking. So, before making your list and checking it twice, why not start off with a healthy dose of holiday inspiration?
10 holiday marketing campaigns and why we love them
There are countless ways to reach your customer, but these brands really take the cake. Let's look at some of our favorite holiday ad campaigns and why we can't stop talking about them:
1. Starbucks holiday cups
Starbucks ushers in the holiday season in style with its annual lineup of holiday-themed to-go cups. The brand first introduced its festive cups in 1997, and even back then, they created a buzz. Over the years, they've never failed to capture the attention of target audience members around the world, helping the company boost brand awareness in the process.
Today, Starbucks customers look forward to the brand's newest round of fun, exciting designs. More than just a Christmas campaign, the cups feature a variety of holiday imagery for people of all backgrounds.
What we love: Aside from the cups, Starbucks takes its design assets to the next level. How? With seasonal drink menus, limited-time promotions and a whole series of Branded Products. That includes cold cups, water bottles, tumblers, coffee beans and more — all of which are adorned from top to bottom with holiday spirit.
2. Warby Parker's holiday book
In 2014, eyewear brand Warby Parker turned its in-house magazines into actual books — "small, clever morsels" that customers could flip through while shopping in their stores.
The idea was that human history is filled with bad-luck superstitions, but very few positive ones. So, the brand set out to share with shoppers a few "good luck omens" that could raise their spirits and (hopefully) send some fortune their way at the same time.
As part of this marketing campaign, Warby Parker mailed a free copy of the book with every gift card order.
What we love: By no mistake, this marketing strategy lined up perfectly with the holiday season. In addition to a holiday gift, Warby Parker completed the bundle with a handful of crafty design assets, including branded Greeting Cards and Envelopes, which recipients could use to spread their own good luck omens to friends and family.
3. IKEA's Christmas campaign
It's never too early to start your holiday shopping, just as it's never too early to launch a holiday campaign. In fact, almost a third of consumers kick off their shopping in October or even earlier. Knowing this, furniture brand IKEA didn't let the opportunity go to waste.
Back in 2014, the company decided to promote its early holiday sale with a series of simple (yet very clever!) Flyers. Each one featured just a sprig of evergreen in the design, highlighting the fact that the holiday shopping season was just around the corner.
Why we love it: Not only is this marketing campaign worth a chuckle, it's a great example of how powerful print assets can be. The most effective designs are often the simplest, as this well-crafted Flyer demonstrates to a tee.
4. Spotify Wrapped
If you're not familiar with Spotify's annual "Wrapped" campaign, you're missing out on one of the most creative holiday marketing campaigns in recent years. Since 2016, the brand has analyzed users' streaming habits and shared a personalized snapshot to each individual customer — a musical "year in review."
For example, the feature breaks down preferences and gives customers a list of their most-streamed artists over the past year. Moreover, Spotify encourages users to share their results on social media, generating a frenzy of online attention in the process.
Why we love it: The genius of this particular marketing strategy isn't that it's a great New Year's Eve promotional tool. What we really love about this example is how it connects physical media to digital content. Although the campaign begins in the app itself, it's also complemented by billboards, posters and other traditional marketing tactics. This helps Spotify drive interest among potential customers, increase engagement and integrate the campaign across multiple platforms.
5. Google's Home Alone Again campaign
Google ads are always fun and effective, but few are as creative as the company's 2018 parody of the classic holiday movie "Home Alone" (spoiler alert, in case you haven't seen it).
The ad begins just as the movie does: with Kevin McCallister — played by Macaulay Culkin — waking up on Christmas, only to find his family is nowhere to be found. The much-older-than-he-used-to-be Kevin spends his day hilariously repeating everything he did in the film; only this time, by using Google Assistant — a voice-activated smart home device.
Why we love it: This ad is a great example of brands tapping into Christmas nostalgia. By referencing a classic holiday movie, Google instantly wins the hearts and minds of its audience. Plus, after watching it, you can't help but want to share it with your friends on social media.
6. Macy's "Believe" campaign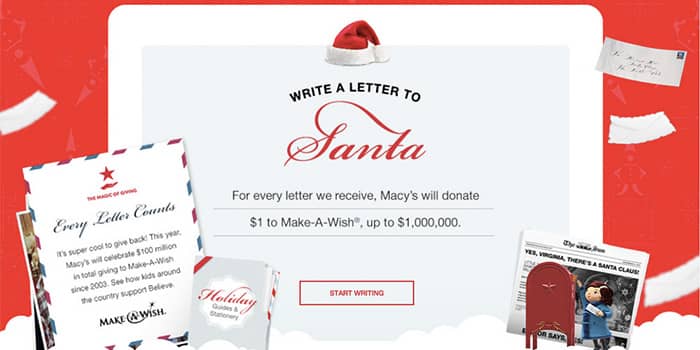 Macy gets into the holiday spirit by encouraging customers to participate in the season of giving. In collaboration with the Make-a-Wish Foundation, it invites holiday shoppers to mail letters to Santa Claus using festive Stationery and eye-popping Greeting Cards. Each letter mailed represents $1 donated to Make-a-Wish.
Since 2003, this Christmas campaign has reached over 3.2 million people, raising over $142 million.
Why we love it: Business aside, this marketing campaign speaks to what the holiday season is all about. More than just revenue and brand awareness, it supports a good cause that everyone can rally around.

7. Nordstrom's "#MakeMerry" campaign
The holiday shopping season can be stressful, which is why Nordstrom aimed to make the gifting experience a little bit easier on its customers. In addition to a holiday gift guide, the brand provided convenient services — such as curbside pickup — for shoppers in need of some help.
As part of this holiday promotion, Nordstrom offered curbside customers free gifts, including branded coffee mugs, cookies and gift cards.
Why we love it: What really made this campaign great was Nordstrom's holiday shopping bags. Made from 100% recyclable material, customers could convert the festive bag into origami shapes based on provided instructions. Or, they could be used as gift tags, wrapping paper, tree decorations and more. This example highlights the versatility of premium products and why design assets are key to marketing in the holiday season.
8. Aperol Spritz's "Merry Spritzmas Cards"
In December 2022, Aperol designed three vibrant Greeting Cards in its signature brand colors as part of a new holiday campaign made to help people reconnect over Christmas. Each card featured an eye-popping festive foil on the outside, while the inside contained a recipe to make the "perfect" Aperol Spritz.
Every "Spritzmas" card purchased came with a complementary pair of Aperol Spritz at any All Bar One location across England and Wales.
Why we love it: Aside from the incredible use of direct marketing, the brand doubled-up on this strategy by promoting it on social media, thereby bridging the gap between traditional and digital marketing. As a cherry on top, Aperol did it all for a good cause. Proceeds from all card sales were donated to support the hospitality workforce and those affected by the rising cost of living.
9. Cadbury's Secret Santa Postal Service
In anticipation of the 2022 holiday season, Cadbury launched a "Secret Santa Postal Service," allowing up to 120,000 U.K. customers to anonymously send free chocolates to their loved ones — with a catch.
Before anyone could participate, they'd first have to find one of Cadbury's select few campaign posters scattered around the U.K. Each poster featured a QR code on its face, which linked to a page where the lucky customer could choose which chocolates they'd like to send and to whom.
Why we love it: There's almost no better way to connect offline media to online content than QR codes. From Flyers and Business Cards to Stationery and more, you can link directly to a landing page of your choice — and in this case, Cadbury did exactly that in the name of holiday spirit.
10. ELEMIS' "Skincare Stories" campaign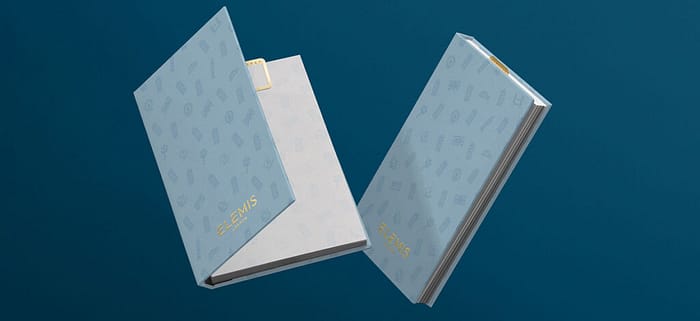 Full discretion: We might be biased here. In December 2022, we collaborated with wellness brand ELEMIS to help its loyal customers share their "Skincare Stories" in style.
In the spirit of the holiday season, ELEMIS started looking for ways to show customers how much it appreciated their support. However, the brand also wanted to remind people to take time out of their busy schedules for a moment of self-care and personal reflection.
The brand held a series of holiday workshops in partnership with John Lewis & Partners, where it gifted attendees an exclusive Perpetual Planner to jot down their Skincare Stories. Because this planner isn't associated with a specific calendar year, recipients could do with it whatever they wanted.
Why we love it: ELEMIS customers loved the Planners, which featured iconic London landmarks and a gold-foil stamp of its logo on the cover. Ultimately, this collaboration was a great example of how powerful a purposeful, premium product can be — especially during the holiday season.
Embrace holiday marketing with MOO
After reviewing these 10 examples, it's clear that holiday marketing is well worth the time and effort. However, that doesn't mean it's a walk in the park.
Print materials, design assets and custom products are a common theme across almost all of the ad campaigns we've shared. But designing them? That takes expertise — which is why brands choose to work with MOO.
With our business printing services, you gain the help of our experienced team of designers and brand specialists. From Postcards and Water Bottles to Business Cards and Notebooks, we'll work with you to make your holiday marketing campaign come to life.
Ready to get started? Fill out the form below to speak with a MOO Expert today.
Keep in touch
Get design inspiration, business tips and special offers straight to your inbox with our MOOsletter, out every two weeks.
Sign me up!