From thick Business Cards to lightweight Flyers – your guide to paper weights
Discover the ideal paper weight for your next project.
As a business, you already know how crucial it is to make a lasting impression on your target audience. And one thing that can really make a difference to your marketing materials is the weight of the paper you choose.
Whether you're looking for thick Business Cards that will stand the test of time, or thinner paper stocks to support large-scale marketing campaigns. At MOO – we've got it all.
But with so many options available, it can be an overwhelming choice to make. In this article, we'll talk about the different paper weights available at MOO, explain how these are measured, and give you some advice on choosing the right one for your next project.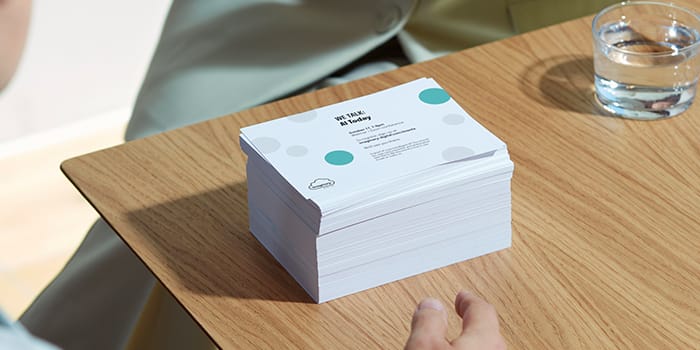 Paper weights explained
Points, pounds and GSM. These are all units of measuring paper weights across the globe. But what do they all mean?
Points (pt)
A paper labeled with points is showing a measurement of the paper's thickness. The higher the point value, the thicker the paper is.
Pounds (lb)
Paper measured in pounds is determined by the weight of 500 sheets (a ream) of that particular paper. So, a higher weight in pounds means a heavier, more substantial paper. This type of paper measurement is also often labeled with a 'C' or 'DTC'. 'C' applies to papers of a medium weight, whereas 'DTC' (Double Thick Cover) refers to a paper that has two lighter weight papers laminated together to form one heavy sheet.
GSM
GSM is a measuring system most commonly used in Europe. The abbreviation stands for 'grams per square meter'. This is a metric system of measurement that gives you a singular number to help you understand the quality and feel of a paper. Higher GSM equals thicker and sturdier paper.
Understanding the above measurements will help you make an informed decision about your next paper project. Whether you're designing luxury Business Cards or lightweight Flyers, the right paper weight can make all the difference.
From thickest to thinnest (and everything in between) – are you ready to dive into our guide?
MOO Luxe Paper (Available in 220lb DTC / 32pt / 600gsm)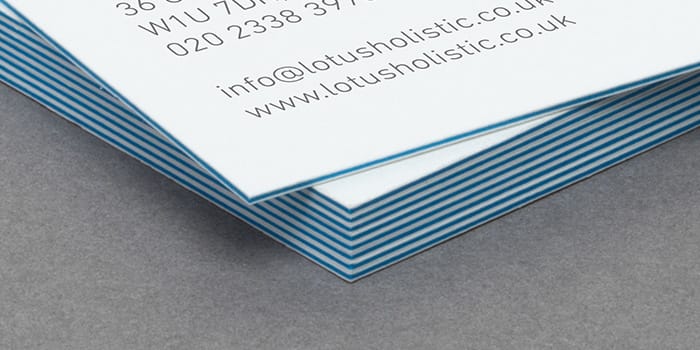 If you want to make a bold statement, MOO Luxe paper is your best bet. Carefully crafted from four layers of archival quality Mohawk Superfine paper, its extra thick, with a rich colored seam that runs right through the middle.
It's the perfect choice for sumptuous, thick Business Cards, VIP Notecards, and any marketing material where you want to convey a sense of something ultra premium.
You can discover more about this paper on our dedicated blog here.
MOO Super Paper (Available in 140lb C / 18pt / 380gsm)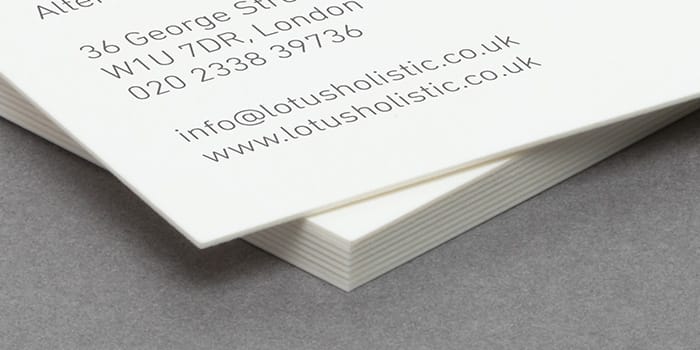 MOO Super paper is a great option if you want something nice and thick but not as heavy as Luxe. It's ultra-durable, and available in two finishes, soft touch and high gloss. A great choice for Postcards, and the ideal paper to pair with our special finishes too.
But don't just take our word for it – check out some of these awesome designs using MOO Super right here.
MOO Cotton Paper (Available in 110lb DTC / 18pt / 298gsm)
If you want something truly unique, our MOO Cotton paper is the way to go. Despite the difference in materials, it's a similar thickness to our MOO Super stock. It does however have a much more natural, tactile texture to it (which our customers love).
You can find out more about MOO Cotton right here.
MOO Original Paper (Available in 130lb C / 16pt / 350gsm)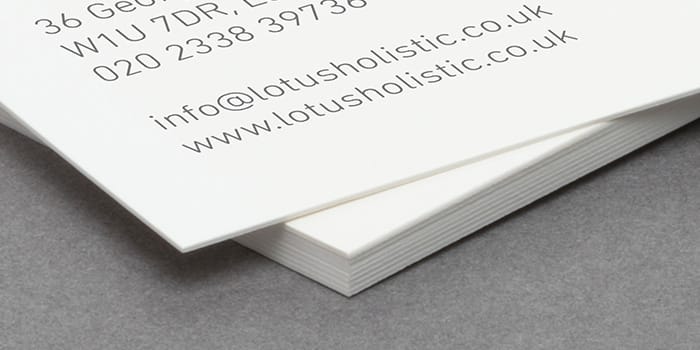 MOO Original paper is the perfect option if you're looking for the next level down on the thickness scale, without sacrificing a high-quality product. This premium paper is great for everything, especially Letterheads and Greeting Cards.
And it really does look as good as it feels. Discover how some of our customers are using it here.
MOO Eco Paper (Available in 80lb C / 11.5pt / 216gsm & 100lb C / 15pt / 270gsm)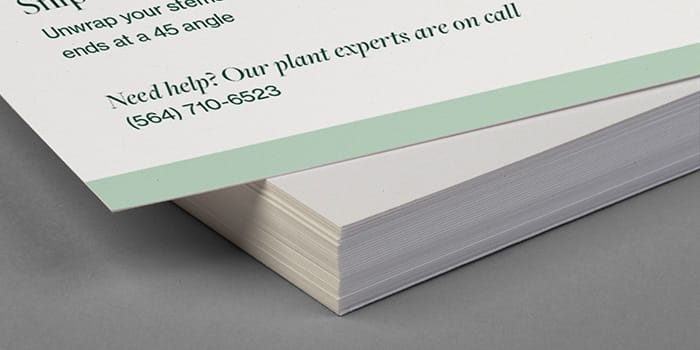 Currently only available to US customers, our new Eco paper is made from 100% post-consumer waste. Perfect for Flyers, and Postcards, its thinner quality makes it a great choice for bulk mailings or single-use prints. Eco is exclusively available from our catalog with a MOO Business Plan.
Find out a bit more about our new kid on the block right here.
MOO Letterpress (Available in 220lb DTC / 32pt / 600gsm)
We love a bit of letterpress here at MOO, and our Mohawk Superfine paper is the perfect accompaniment to your Business Card projects. Created from our White Luxe paper stock and finished with a debossed design of your choosing, it has a tremendously satisfyingly crisp effect. A great choice for thick Business Cards (with a little extra finesse!).
We have 12 letterpress designs to choose from which you can discover here.
Paper stocks exclusively for Flyers
Aside from the above, we also offer 3 additional paper stocks for our Flyer products; MOO Premium Matte (80lb C / 11pt / 225gsm), MOO Premium Gloss (100lb C / 8.5pt / 250gsm) and MOO Pearlescent (110lb C / 10pt / 300gsm). With these three additional great stocks you can choose to keep it classic or go all-out. Pearlescent in particular has a dramatic metallic finish, perfect for Invitations and VIP prints.
Discover how to keep your Flyers fresh on our handy blog here.
Helping you make the right choice
Choosing the right paper weight (and of course, the right paper!) can make a huge difference to the impact of your marketing materials. And if you simply can't wait to get your hands on the above, you can order a FREE sample pack right here.
And if you're looking for a helping hand with your next paper project, simply fill in our form below and a MOO Expert will be in touch to get you started.
Keep in touch
Get design inspiration, business tips and special offers straight to your inbox with our MOOsletter, out every two weeks.
Sign me up!