Print your full potential with Printfinity
From stickers to postcards, here's how our customers are working their visual identity to the max.
Show off your range or create mini artworks: Printfinity lets you showcase up to 50 designs in one print.
Branding yourself with business cards, popping postcards into your packaging or spreading the word on stickers? Here are some tips and inspiration on how to work that visual identity and print your full potential.
Lucy Jennings is a London-based graphic designer with a passion for packaging design. She has a colourful, playful aesthetic, that's echoed throughout her portfolio of personal work, and client commissions. Her personal branding is a nudge to her vibrant personality, and a fun homage to her mother's nickname for her: Juicy Lucy.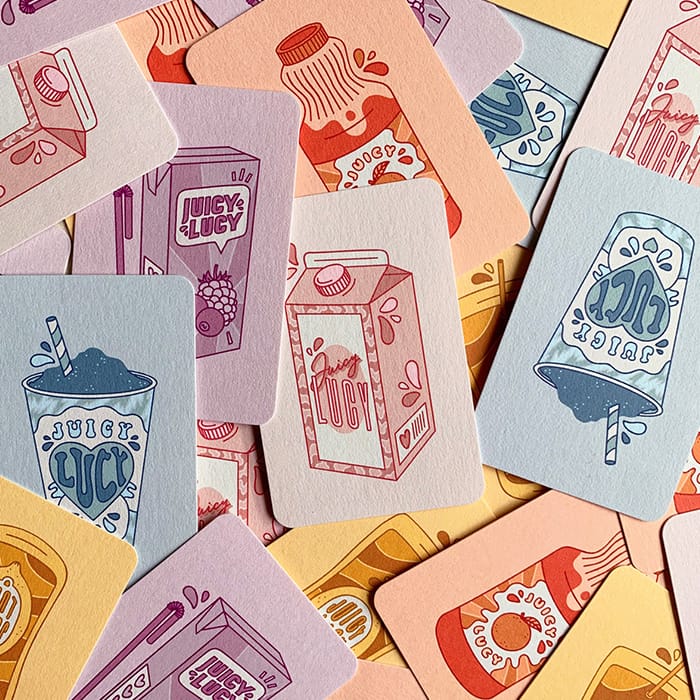 "Printfinity gave me room to explore different colours, styles and ideas – sometimes you can't fit your whole personality into one card! I try to be conscious of my impact on the environment so I chose recycled Cotton paper. The textured finish is an added bonus – I always get compliments on my choice of paper!"
Illustrator and designer Tim Easley works with bold lines and a colourful style that has landed him collaborations with the likes of Nike and Etsy. He uses his business cards to showcase his aesthetic to potential clients.
"Fanning out a selection of different cards and asking someone to choose one is made infinitely more impressive when you have a big selection of designs to pick from. I love the visual impact Gold Foil gives – it turns my cards into a piece of art, rather than just a way of handing someone my details."
Anne van den Berg is an illustrator from the Netherlands who creates amazing miniature worlds from paper and things she finds around her home.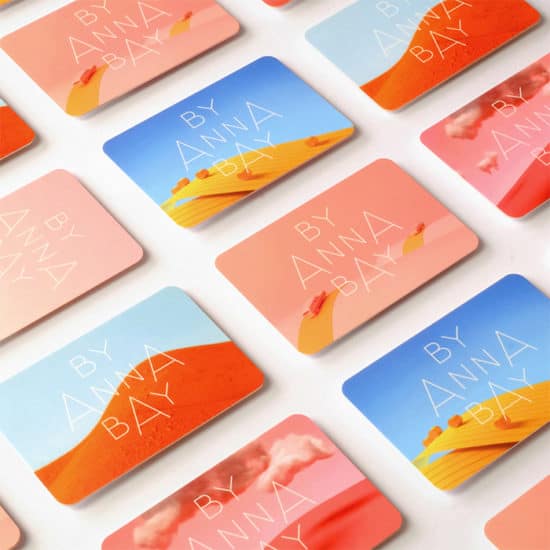 "I always have my pocket portfolio with me, printed on Original Matte Business Cards. With Printfinity, people can pick a specific image that they like, which gets them engaged and makes it feel like you're giving a gift – a few of my contacts are even collecting my cards!"
Rocio Egio is a graphic designer and illustrator whose modern designs feature geometric shapes and bold, block colours.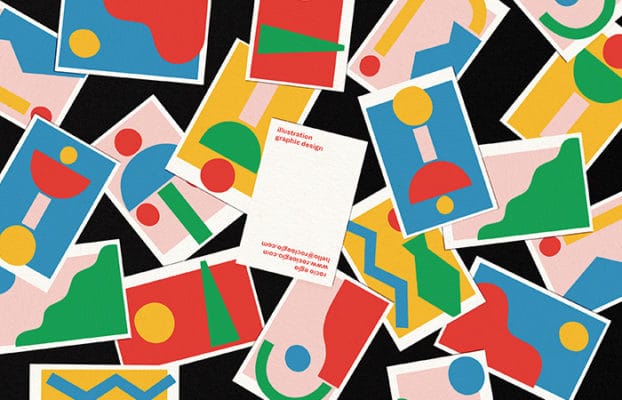 "People love being able to choose a different colour and design, and that adds a touch of playfulness to the card exchange. Your visual identity speaks of you, your values, your personality and your work. It's important to have a clear identity if you want to be recognised by your future clients."
Ravnita Rayet is an animator, illustrator, and designer from London, UK. Since graduating with a degree in Animation Studies, she's been running her own website which sells her prints and showcases her work.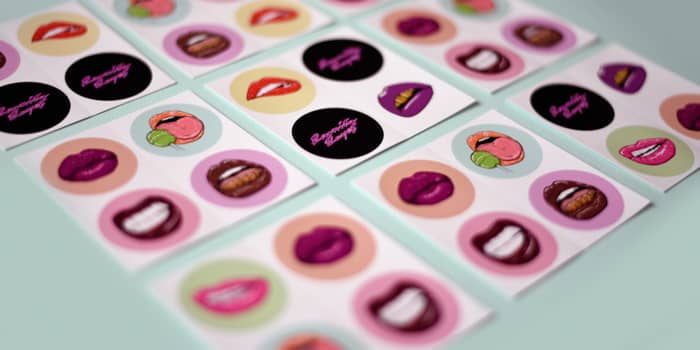 "The stickers were based on a set of illustrations I designed called the 'Lips Series' – I wanted to create something pocket sized for anyone that didn't want an A3 print. I love the versatility and how they can be used on anything. Put them on your phone, travel cases, laptops – they're super cute!"
Sara Boccaccini Meadows is a textile designer and illustrator. After a brief stint as an English teacher, she now works as a freelancer, designing for big brands like Zara and Urban Outfitters.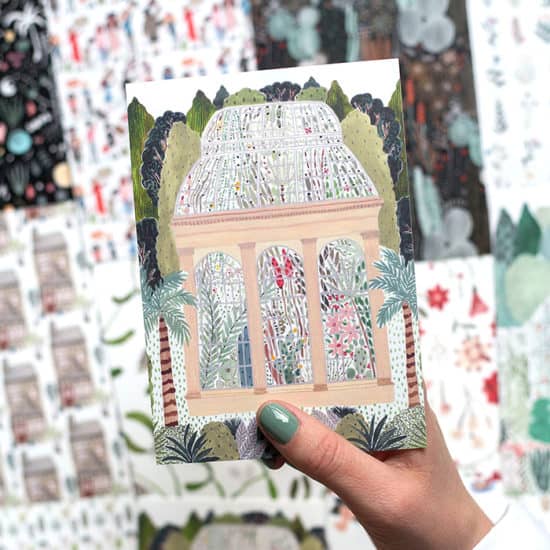 "I love that Printfinity allows me to show off the intricate details of different patterns and paintings. The printing quality is amazing, and I've had nothing but great reactions to the cards so far."
With a rich background in design, Kim Berlin specialises in building visual identities for brands, driven by her passion for using creative direction to help companies connect with their audiences.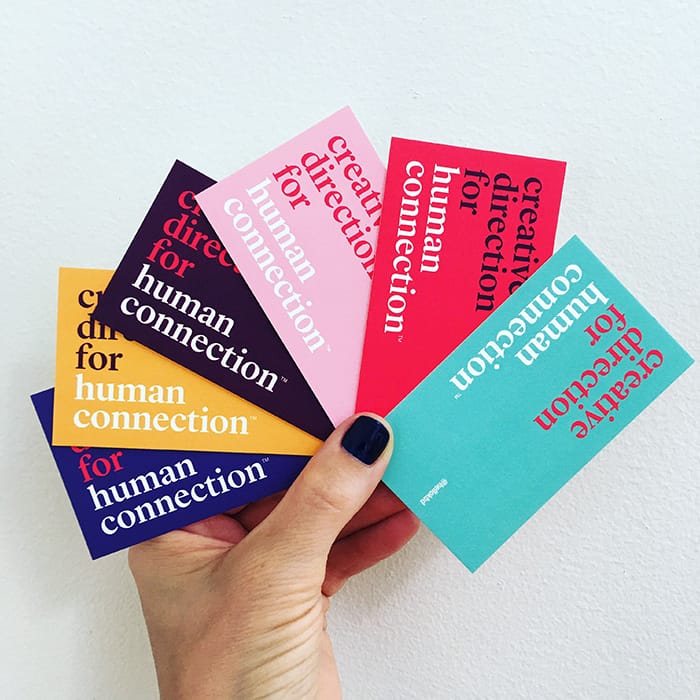 "It was important that my cards communicate the full range of my personality – artful and analytical, playful and professional. They literally put a smile on my face every time I look at them and they seem to have the same effect on others. I chose Luxe paper because I adore a sheet I can sink my teeth into! Mohawk Superfine is super yummy, thick and feels so substantial in the hand."
Revel Brand Design are a team of twelve creatives and marketing specialists, with a passion for helping premium lifestyle brands recognise their visual identity.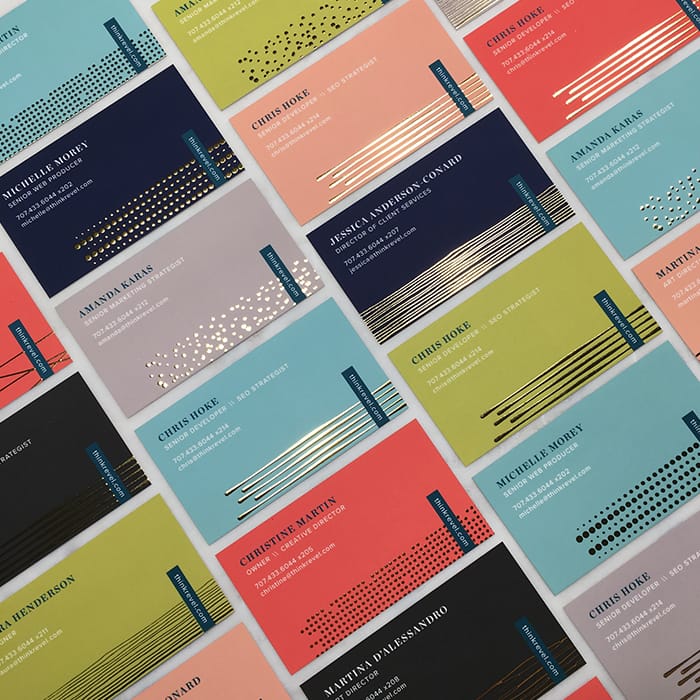 "We love that our cards are as individual as each member of our team. The patterns were crafted by the artists in-house at Revel, and each person chose a pattern that they felt reflected their personality. Our brand celebrates beauty, elegance and elevated design – the option to add a Gold Foil finish allows us to show that.
Roza Hamta runs a UK-based illustrative design company, spanning a range of creative disciplines. From branding to animation, Roza creates bold, playful aesthetics that pop with colour.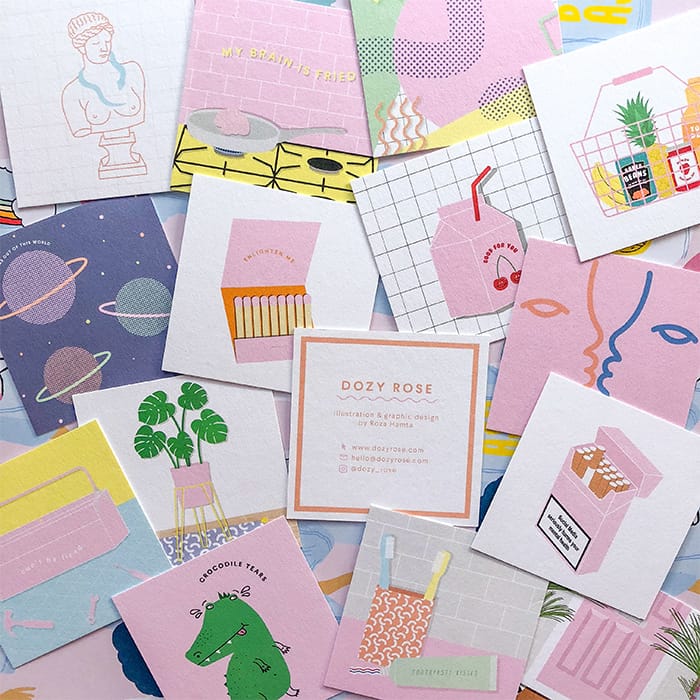 "The reaction to my Square Business Cards on social media has been amazing, with people calling them pocket-sized works of art. They're one of my most shared pieces of work and have attracted a lot of new followers on Instagram. I also love having the eco-conscious choice of Cotton paper made from recycled t-shirt off-cuts."
Working freelance in Television, Lucy Burley launched her own ceramics studio as a creative outlet to fill her evenings. Pottery went from being Lucy's 6-11 to her 9-5, proving that you can make a successful career out of doing the things you love.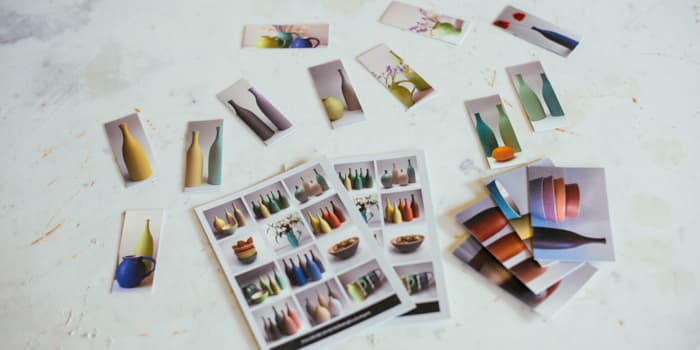 "Printfinity allows me to upload a different image to each business card, which is great as I've got such a broad range of vessels and colours – I love having a card for every piece. I always put a card in the box when I send pots off to customers, and I try to match the design to the item they've bought for an added personal touch."
Mother-daughter duo Micaela and Dawn-Marie Hoo launched their own skincare brand, Drifter Organics. Based in San Francisco, US, they create organic, cruelty-free products packaged with care and attention.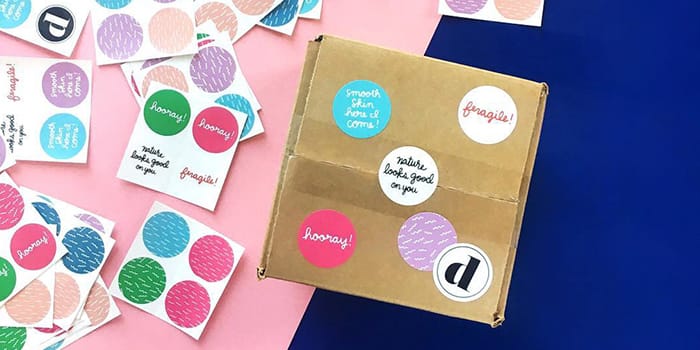 "Shipping boxes on their own are so plain. We love the extra pop of happiness colourful Stickers bring. Small details like these are easy to overlook, but they really tie our brand together and contribute to the full customer experience."
Kristine began painting as a form of therapy to improve her mental health. Three years later, she's formed her own print and stationery business from her passion.
"Printfinity is perfect for me as my Greeting Cards come in several different colours. I love how the satin finish makes the colours on the card pop and the quality of the paper gives it an elegant touch.
Julie Frank founded her studio with the mission to make everyone's day a little bit brighter. Her Etsy shop features hand-drawn Postcards that are packed with colour and positivity.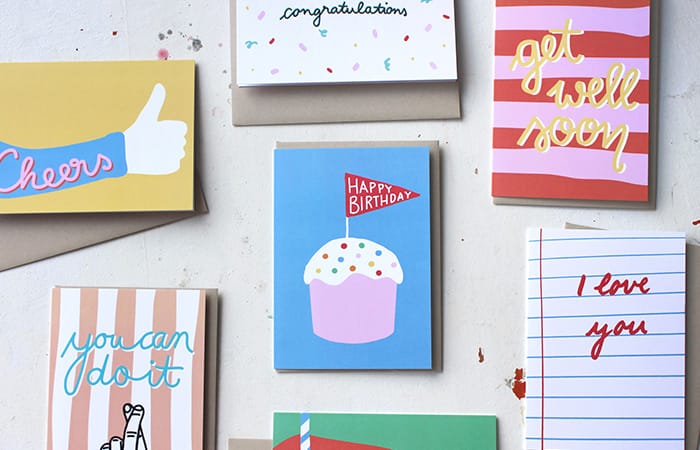 "The paper is where it all starts and ends. That's why I love how heavy the Greeting Card stock is. And the matte finish gives the cards a modern look."
BoundLove Creative is a content creation, design and branding business lead by one-woman-show and graphic designer, Amelia Houghton.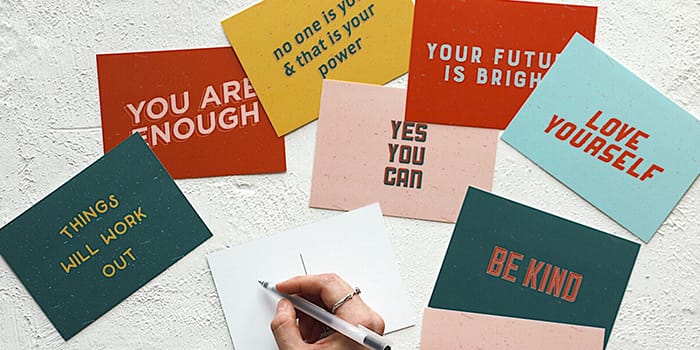 "I've always loved writing letters and Postcards to people, and I want to encourage others to start sending mail to their friends and family again. It's so much more meaningful to receive something in the post."
Pittsburgh-based artist Ashley Olinger founded her online shop, selling prints, cards and stickers that unite her colourful personality with a dry sense of humour.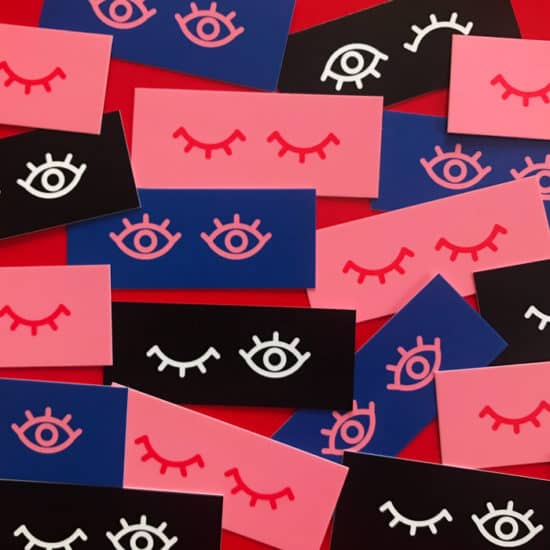 "My work is humorous and unpredictable, and I feel like having these tiny MiniCards reflects that. I include one in every order, but people also actually try to buy them from me thinking they're little prints, so I'd say the reaction has been pretty good!"
After a career in photography, Jenna McKechnie founded her own business with the aim of bringing happiness to those around her with colourful cards, prints and other creations.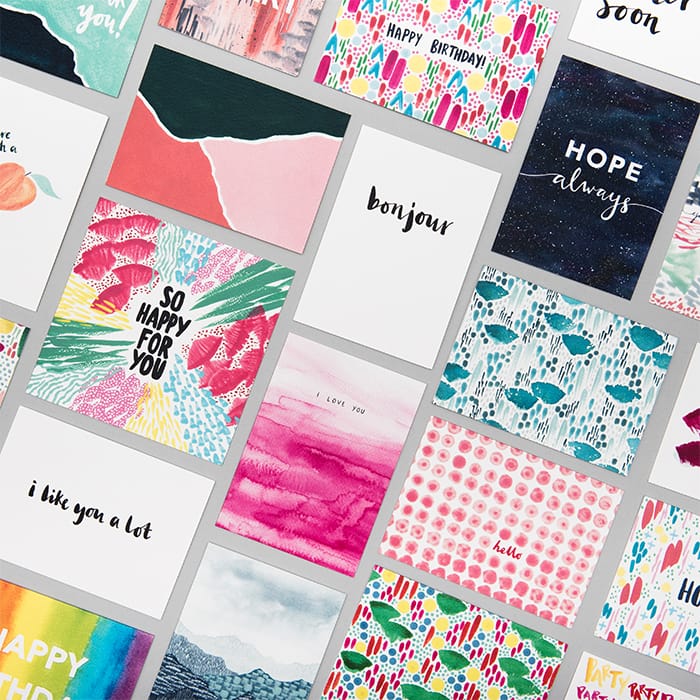 "My Square Business Cards are like little pieces of art, and people love taking time to pick their favorite design. I hope my cards bring positivity to a corner of their office or home and really make my name memorable.
Based in San Francisco, Nicole is a painter and visual artist. She creates colourful collages and large scale abstract murals that celebrate order and chaos, dissolving boundaries, and worlds in flux.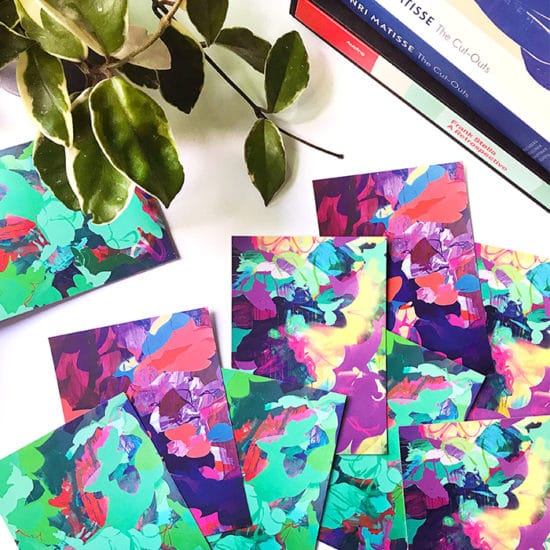 "My Postcards are just like mini prints – and I love them! I keep them on display in my studio for visitors, and make sure I've got them with me at shows. I love having a range of designs people can take away with them."
Liana Teresa is a travel-inspired freelance designer and illustrator, currently based in Harlem, NYC.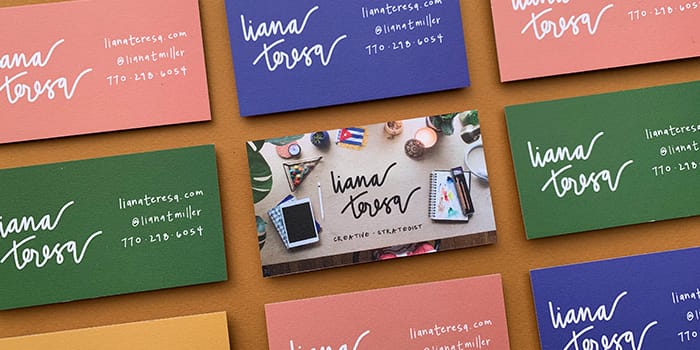 "Handing someone a sturdy, nicely textured card speaks volumes about the calibre of your work and business – which is why I printed on super-thick Luxe paper. Plus, with Printfinity, I was able to capture the palette of colours that inspires my work, giving clients a taste of my style right off the bat."
Inspired by hand-painted signs and vintage typography, Jenna Carando creates hand-lettered designs that often feature positive messages.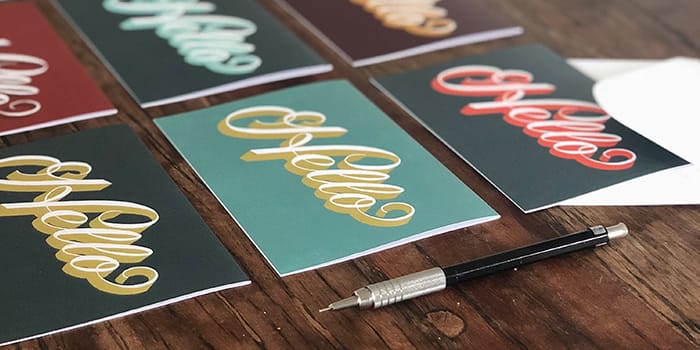 "I've had so many people asking me for one of my Postcards! I recently went to an event and had loads of fun swapping them with other creatives – I felt so proud to trade such a quality postcard."
This Amsterdam-based studio specialise in many different aspects of branding and visual identity, from print design to digital platforms. But, their goal is consistent no matter what the project: to help clients find efficient and beautiful ways to tell their stories.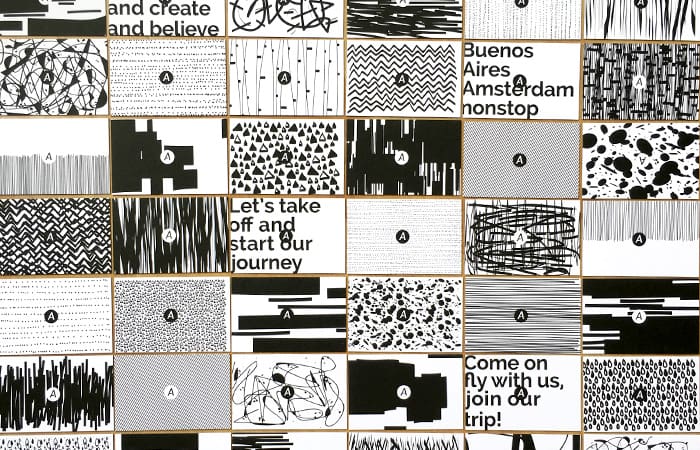 "Our Business Cards deliver a big impact. The team especially loves that they can print a unique design on each card with Printfinity. It's the perfect metaphor for what we want to communicate: Aeronave Visual offers unique experiences."
Song Kang is a Portland-based artist whose intricate illustration style is both whimsical and scientific in detail. Alongside her career in stop-motion animation, she creates cross-hatched pen and ink artwork as a creative outlet.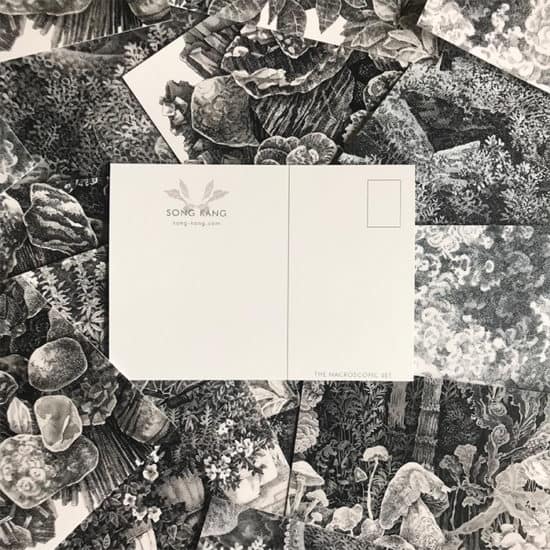 "Postcards are a really appropriate vehicle for my art because I don't want my work to be restricted to gallery walls. I want it to reach a larger audience and be accessible to anyone who finds joy in the pieces."
Try Printfinity with MOO's printed products.
Keep in touch
Get design inspiration, business tips and special offers straight to your inbox with our MOOsletter, out every two weeks.
Sign me up!