Customisable Postcard templates to promote your heart out
Looking for inspiration? These four postcard design templates are a great place to start.
Starting from scratch can be difficult, especially in design. That's why customisable templates are great to show off your brand at its best if you're new to branding and graphic design. Promote your brand with a set of striking Postcards that will make you stand head and shoulders above the rest with our personalisable Postcard templates. Add your logo and brand colours – then you're all set!
Get inspired with four of our community's favourite Postcard design templates.
Gifted: Designed to treat
With a lovely shade of pastel pink and a clean, minimalist Postcard layout, Gifted is the perfect template for your gift cards and vouchers. It's got all you need on the front: space to add the sender and recipient, address, date issued, but also a little message to give your gift certificate more personality. That means you can get extra creative with your Postcard's back design.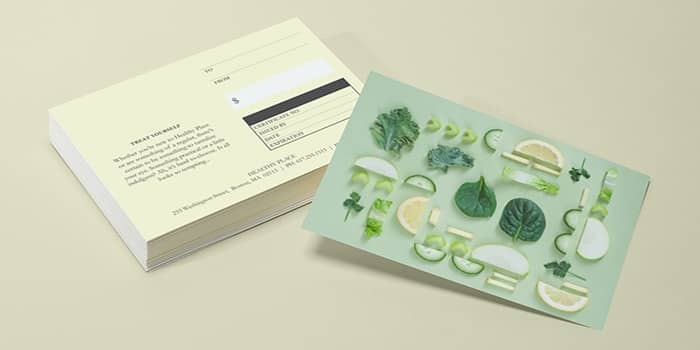 Choose from five back options with beautiful floral imagery. You can use one, a few or all five in your pack and replace the pictures with your own imagery. Use this opportunity to showcase your best-selling products, some shots from your place of business, or even some fun illustrations or inspirational messages.
Sea Change: Thanks are in order
Don't let its name fool you: Sea Change is very much about stability. This Postcard template was designed to reward your most loyal customers with a promotional code or any other treat you want to share with them. With its sharp design, the front layout lets you share your message in a simple yet powerful way – brand the front of your Postcard with your logo and add a bespoke message for your customers. You can also change the background colour if you want it to match the other side.
Sea Change is all about gratitude. Your Postcard's back design says it loud and clear with a big thank you standing out from a beautiful sea background. Keep the original imagery or replace it with your own for an even bigger impact. Just make sure you pick an image that contrasts enough with the text, we wouldn't want your thank you to be missed. You can also change the text, font, colour… Make it yours!
Finnish Line: Big sale energy
Announcing a big sale? Finnish Line packs a punch. With a big, impactful layout, this Postcard design makes sure your sales and promotions never go unnoticed. Discount, dates, conditions, address… Nothing's missing. Add your own colours or change the font to match the front of your Postcard with your branding – you can even add a QR code, logo or image on the left.
Flip it over. The deconstructed teaser text stands out from a lifestyle product shot that's announcing what's to come. Replace it with your own product imagery to get customers excited and you can also add your logo here.
Highline: The sky's the limit
Highline aims for the stars with a minimalist design that delivers. This template is all about making an impact with a modern, subtly branded design. You can keep the front messaging as is, or add more text to say more about your brand. Swap the icon for your logo or a QR code – your front design is ready.
You have three back options in this Postcard design template. You can use one, two or all three in your pack. Experiment with different colours, messaging and images to reflect the various facets of your brand. Or keep it simple with a clear, impactful messaging. The sky's the limit!
Ready to get started? Explore our free Postcard design templates and create your very own Postcards with MOO.
Keep in touch
Get design inspiration, business tips and special offers straight to your inbox with our MOOsletter, out every two weeks.
Sign me up!