How to create your own branded Water Bottle in 3 steps
A simple guide on how to create your own branded Water Bottle in 3 steps
It's much easier than you think. All you need is an idea. Then choose your color, pick a style and add your design. And let us do all the hard stuff.
Branded MOO Water Bottles may look really fancy. But the actual process of making one with us? Really very easy. It's like anything – once you've got an idea, you're halfway there. The rest is just about bringing it to life. And we're here to help you do that. So, where to begin?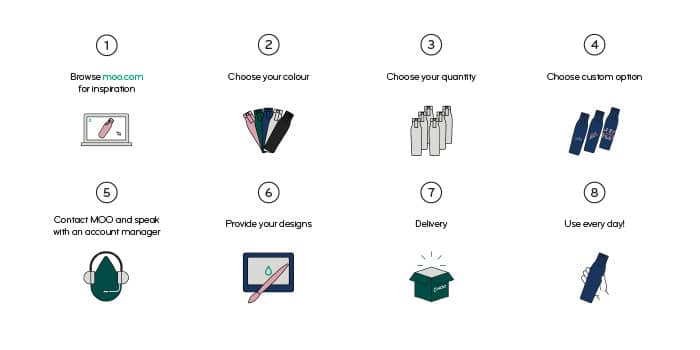 1. Pick a colour
This one sounds simple because… well, it is simple. But the colour acts as the base for your whole design, so choose wisely. There are five to choose from: Jet Black, Midnight Blue, Alpine Green, Dusty Pink and Alpine Grey. Focus less on the names and more on how they look.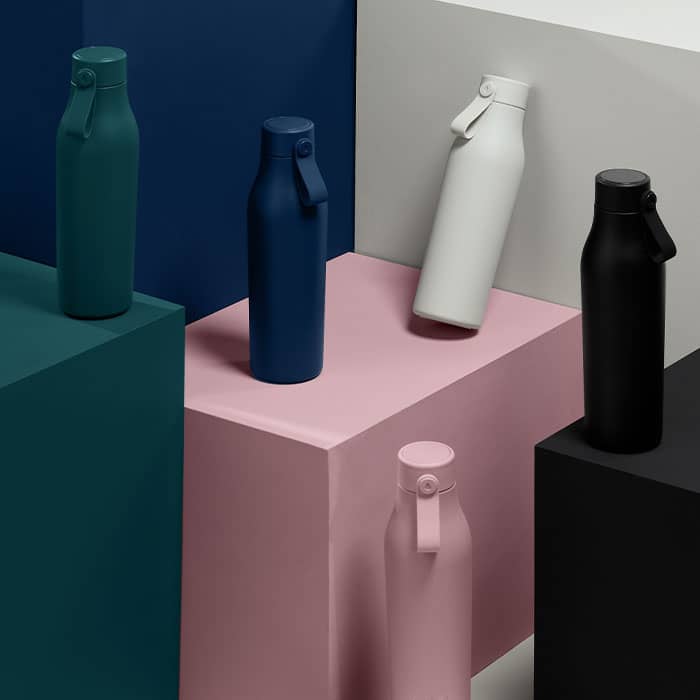 Will your design be adding a splash of colour? If so, maybe grey or black's your best bet. Do you want a base hue that matches or complements your brand colours? A stronger colour can work well. And also think about contrast – if your design's light or dark and work from there.
But most of all, don't overthink it. Just go with what you like. Your branded Water Bottles are going to look great.
2. Choose your custom style
This one sounds subtle, but it can make a big difference to how your branded water bottle looks. All you need to know is, there are three different styles:
One-sided printing
This lets you hero a printed design, in up to four CMYK colours, on the front of your bottle. A good option if you'd like to keep things simple and focus on your logo, say. Or use it to promote a tagline or hashtag.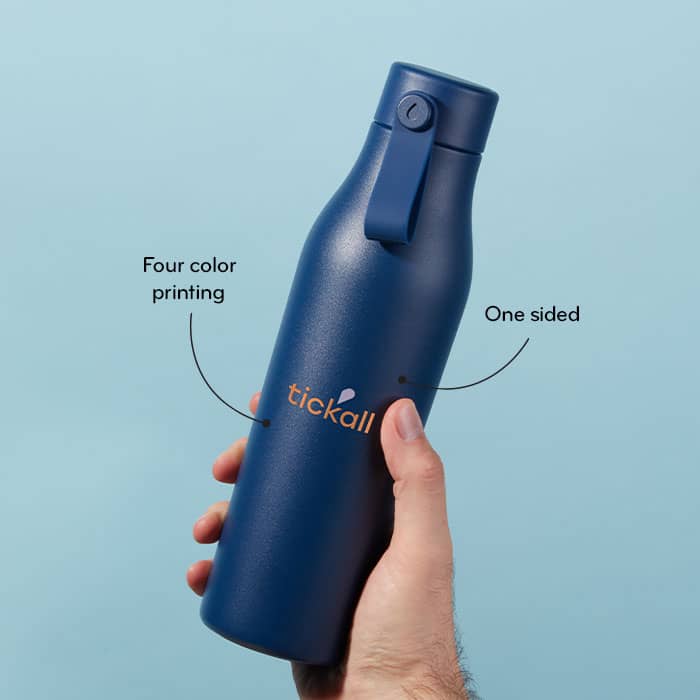 One-sided engraving
Similar to one-sided printing, but instead of being printed, your design's laser engraved into the bottle. Pretty cool. It creates a crisp steel line that contrasts especially well against darker bottle colours.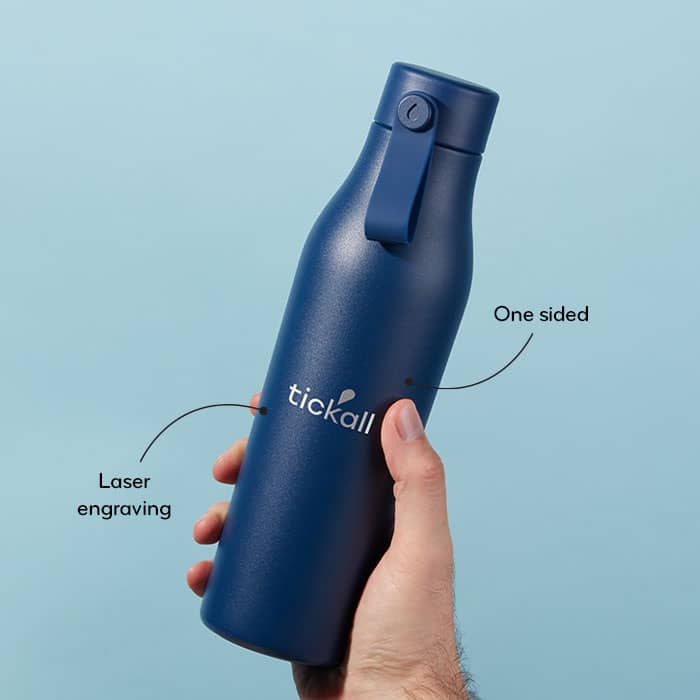 360 wrap printing
Print a design that goes right round the bottle, also available in up to four CMYK colours. So if you want to go big with your branded Water Bottle's design, this one's for you. You could also create a repeat pattern this way.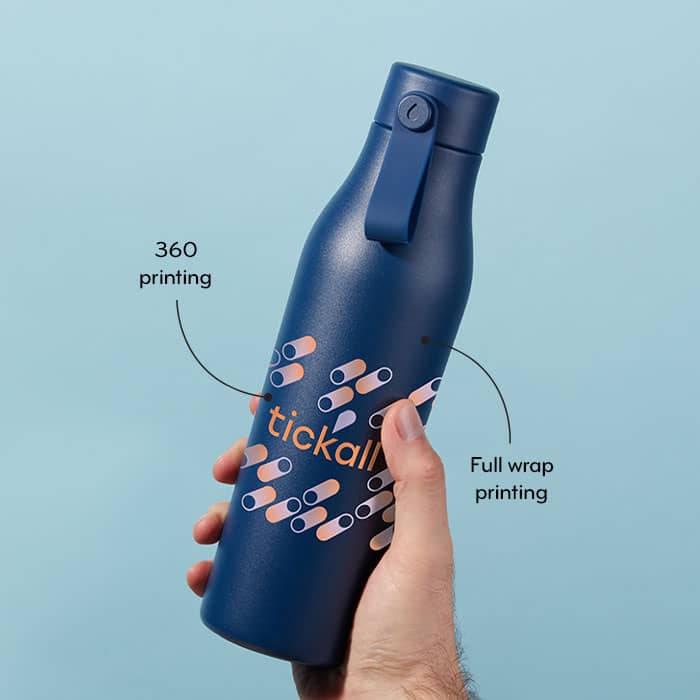 If you're after some inspiration, here are four branded Water Bottles with logos we love.
3. Upload your design
The final stretch. It's time to add your final design, a bit like you would for your Business Cards. If you're a MOO business subscriber, your account manager will be able to guide you through the process (and you can even get design support from our in-house team of pros). And don't worry, we'll be in touch with proofs of your design – so you know the final thing will be perfect.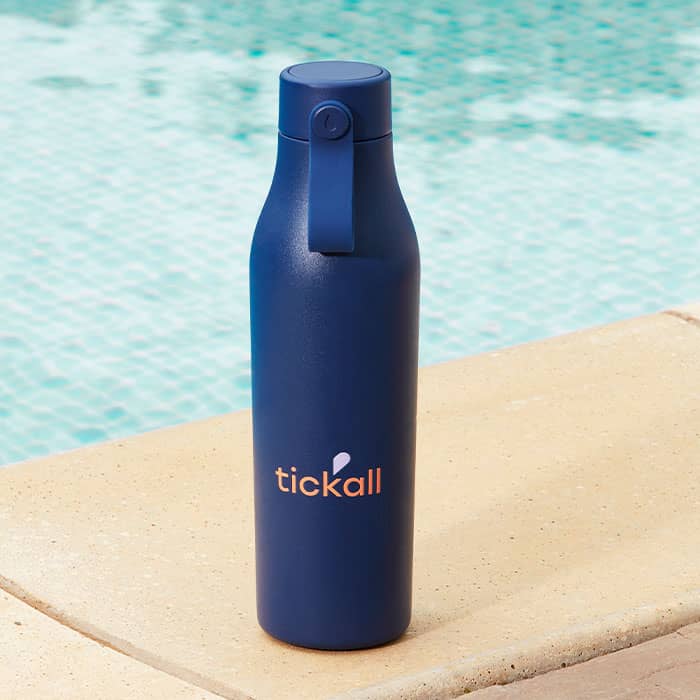 And that's it! Thinking about a custom branded Water Bottle of your own? Head here to get started. The minimum order is ten, so if you're a small business you can test limited edition runs to sell in your store. If you're ordering a bigger bulk of branded Water Bottles or you'd like more help designing your bottle, our business subscriptions are always here to support you. Just fill out our form below and a member of our team will be in touch!
Keep in touch
Get design inspiration, business tips and special offers straight to your inbox with our MOOsletter, out every two weeks.
Sign me up!