How to stand out at a craft fair
Discover how to stand out from the crowd at your next craft fair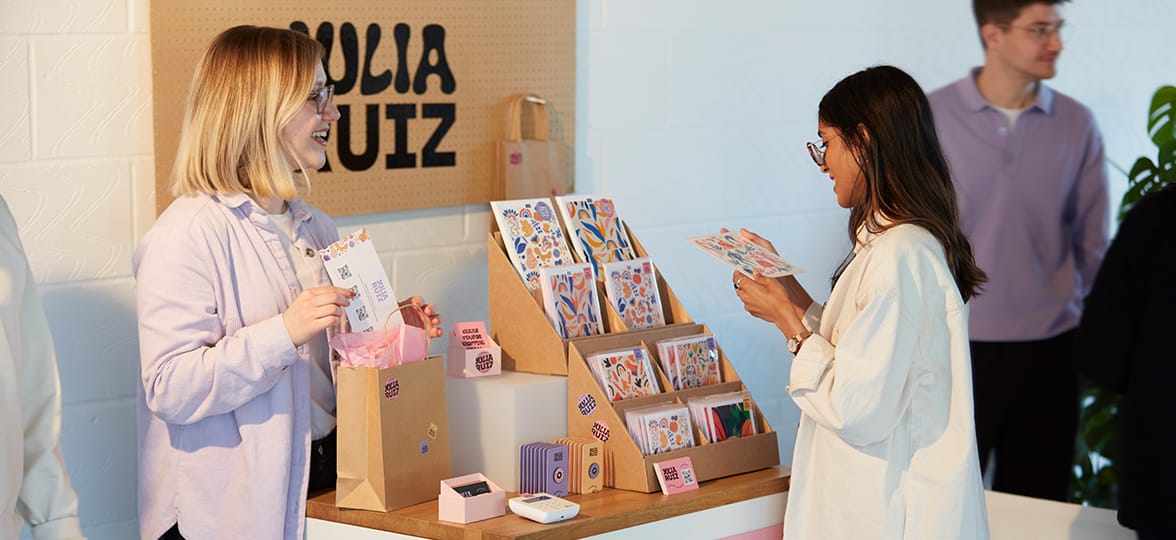 Craft fairs are a great way to get your brand out there. And yet when you're competing with so many talented sellers, it can be tough to stand out. But a bit of creative branding, personalised customer service and savvy marketing can make all the difference. Plus, you don't have to spend a fortune.
We spoke with Marina Ellen Simillide, founder of Studio Sunshine, and Hannah Villaneuva, a multimedia artist based in Queens, about all the ways you can make your booth stand out at a craft fair.
Make your stall the main event
First up, pay close attention to what your stall looks like. Sometimes, you'll only have a few seconds to catch a browser's attention, so make it count. But as a creative, you'll probably have an artistic streak, so making sure your brand looks good should come naturally.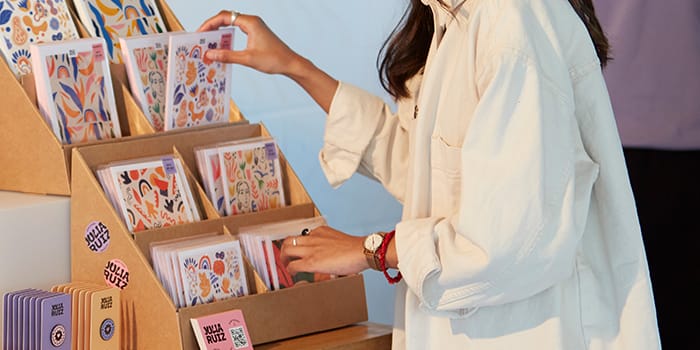 Hannah recommends practicing the set-up at home first. "I make sure to have a picture of my ideal set-up that I can reference on the day of the market, saving me a lot of stress and indecisiveness!".
Marina also suggests having a clear vision of the display beforehand but taking a closer look at the type of art fair you'll exhibit at. "Each art fair will be different and attract a unique audience depending on the theme, day and place. That's why I make sure to have enough stock of the items that I believe will sell better and have a special offer valid only for that day. I always have available products at various price points and check that the prices are visible on all my products".
When it comes to dressing your stall up, make sure it reflects your brand and products. Marina told us that her brand is all about colour, patterns and fun accessories, so vibrant hues and interesting props always work well. "I like to use various stands at different heights so my table doesn't look flat and I always make sure that everything is placed in a way that is easy for people to grab and checkout".
Hannah, who sells a collection of tufted rugs, wall hangings and home goods says, "My colour scheme is reflected in my art so I let it set the theme and tone. My displays are made up of neutral wood, allowing my products to stand out."
Extend the customer journey
If you don't make a sale – don't lose faith. There are still plenty of ways to attract potential customers. Shoppers might seek you out and consider your products again if they have something to take home. Which is why it's important to factor in marketing materials. Bring a range of prints and place them at the front of your stall, where people can reach them easily.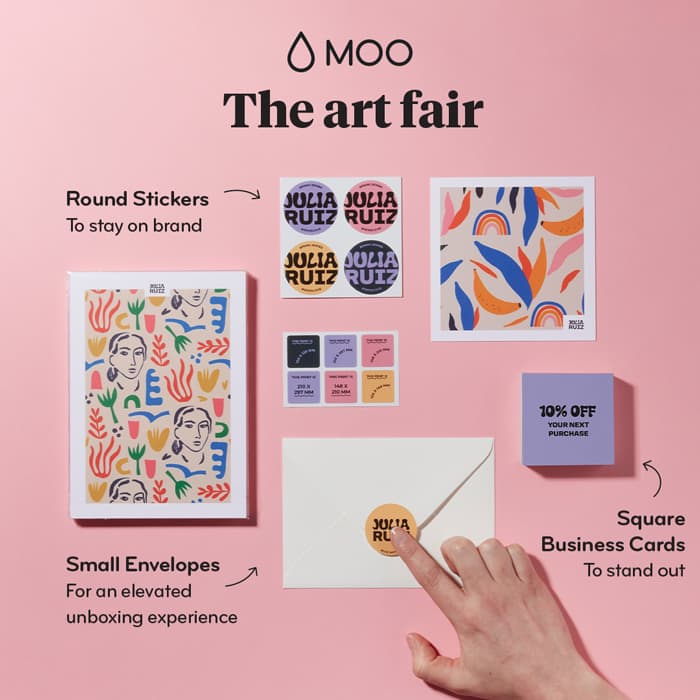 By providing a range of materials, you can dish out as much information about your brand as you like. Whether that's your contact details or more specific stuff like where your products are from or how they're made. Some people may not have the time to stop and take a look at your products, so it's important to direct them to where they might find them – whether that be at another craft fair or an online shop.
Be sure to try out our unique finishes that may stick with a potential customer – like Raised Spot Gloss, Square Business Cards, or the use of Gold or Silver Foil. Marina told us of the positive feedback she received from customers at craft fairs about this. "People love seeing a table bursting with colour. I get quite a few compliments on my Business Cards as well, which I also like to use as tags for my products."
And Hannah's customers told her, "[They] notice how coordinated my branding is. My tablecloth, Business Cards, Stickers, and tissue paper, all have the same branding. I think people appreciate the consistency!".
The must-have for every event
When it comes to marketing, both creatives agree that Business Cards are crucial to take with you. "A Business Card is a definite must-have for any brand or business! It's an easy way to make the first connection with a potential customer and a good conversation starter", says Marina. "A visually appealing, high-quality Business Card that represents your brand will definitely make an impression and help people to remember you."
End on a good note
After all the time and effort you've put into your craft, make sure to round off the experience properly with personalised customer service. Always be willing to chat with your customers – even if that's small talk, and most importantly, about your products.
While doing so, you could offer complimentary gift-wrapping – with branded Stickers to seal them. Free samples, discounts on their next purchase or loyalty cards are great ways to keep customers coming back.
Both Hannah and Marina recommend doing this. "I appreciate each purchase and love to thank my customers, so I always add a handwritten note which makes the purchase more of an experience. I include some kind of freebie too, like a Sticker, magnet or discount code for their next purchase. This makes it more personal and helps to get a returning customer," says Marina. Hannah also suggests, "I have Stickers with my branding that I give out for free. Those seem to be a big hit and are an easy way to remind customers of my brand".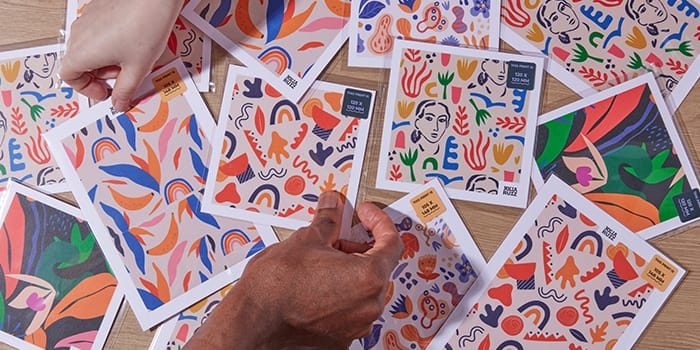 Got a craft fair coming up? Take a look at our marketing materials to help you prepare.
Keep in touch
Get design inspiration, business tips and special offers straight to your inbox with our MOOsletter, out every two weeks.
Sign me up!