Bringing consistent, premium branding to more than 100 Industrious locations
With MOO, Industrious has achieved branding consistency across their network.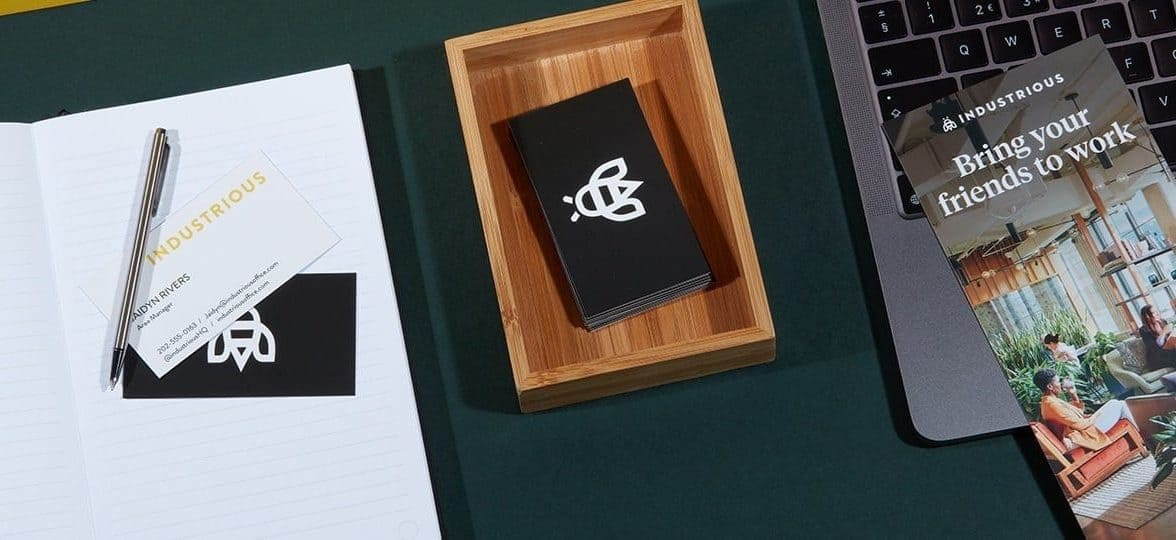 As Industrious continues to build the workplace of the future, learn how MOO is helping to keep the company's branding professional and consistent.
About Industrious
Industrious started back in 2012 as an idea between two childhood friends, Jamie Hodari and Justin Stewart. Both were members of different coworking spaces with the same problem: their businesses did better when they met clients in hotel lobbies and coffee shops —  basically anywhere but their actual office. Together, they set out to create a unique workplace. One that combined the flexibility and ease of coworking with the professionalism and hospitality you'd expect when walking into a Fortune 500.

Today, Industrious enables members to work from more than 130 locations — and 50-plus cities — across the U.S., U.K. and beyond. In 2020, the company was named one of the fastest-growing companies by Inc, with clients ranging from start-ups to Fortune 500s. Its workspaces serve as professional, all-inclusive environments that allow teams to select the right solution based on their real estate needs. In addition to access to a fully-stocked café, wellness room, lounge and other common areas, members have access to a wide array of complimentary services and amenities, as well as a dedicated community manager to curate rotating events.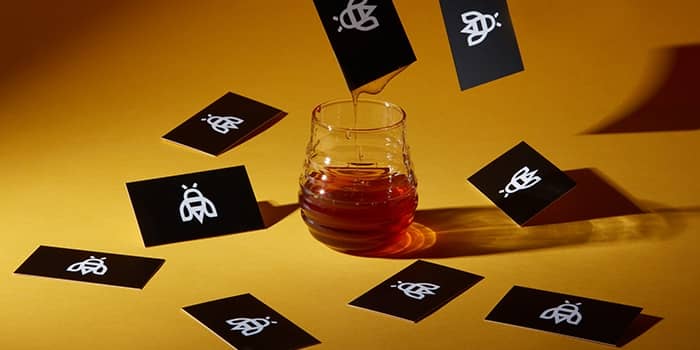 The challenge
Originally, Hodari and Stewart began with a single 20,000 sq. ft. property in Chicago dubbed the "problem child" by its owner who had previously struggled to find a tenant. Together, the two partners successfully raised $1 million among 80 investors to cover the first year's expenses, spent a whirlwind weekend mapping out a business plan in Puerto Rico and put out an ad on Craigslist to promote the newly-named Industrious. They soon received hundreds of inquiries, enabling them to open the first Industrious location with 100% occupancy in 2013.
How could they maintain this growth without sacrificing their branding along the way?
After seeing early success in Chicago, Industrious began its path toward rapid expansion, replicating this strategy across eight other major U.S. markets within a single year. However, this win would quickly lead to one of the marketing team's most pressing challenges: how could they maintain this growth without sacrificing their branding along the way? 
Before working with MOO, the Industrious team didn't have a centralised place for their branded print collateral, leading to inconsistencies and other quality issues.
"The initial difficulty in keeping our branding consistent really emerged in 2019," explained Danielle Zeisler, Creative Director at Industrious. "Due to our rapidly expanding network, the marketing team had to pivot our focus from local marketing efforts to more of a national approach, driving the need for a platform that could better empower our local teams."
As Industrious grew, the company knew it needed a way to customise print collateral with a quick turnaround while also giving teams the ability to rapidly duplicate and create assets for new locations. Fortunately, many of the company's local offices had already begun working with a partner that could do just that: MOO.
The solution
Many of Industrious' local teams had already worked with MOO independently to develop and print collateral for their local marketing needs. Due to company-wide familiarity with MOO's high-quality materials and comprehensive customer service, Industrious soon decided to expand the relationship with MOO and create a central Business Account that all employees could use for branded print collateral. 
This shared Business Account provides employees with access to a branded portal containing pre-approved templates that are ready to go. Additionally, not only does this help keep branding consistent, but it also unlocks discounts based on the amount of materials being ordered.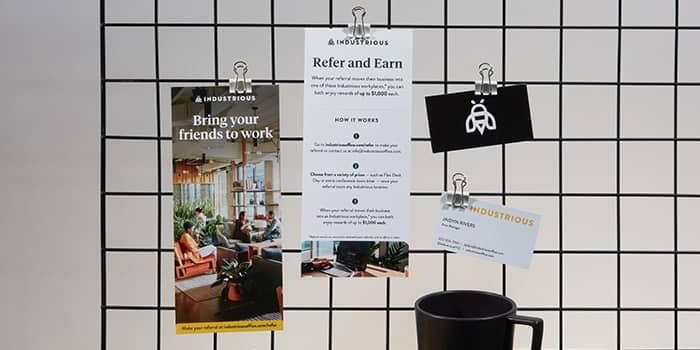 As of today, the Industrious MOO account includes a variety of business card templates, referral cards and other marketing materials that support each one of the company's teams, whether it's for an employee based out of HQ or a community manager at one of its many locations. Teams are able to customise templates and order materials with ease, using the materials to support various stages of the sales process from industry-wide conferences to one-on-one customer tours. 
"We've found great value in the stability of the MOO platform"
When asked about some of the most helpful features of having a MOO Business account, Zeisler highlighted the easy-to-use ordering platform, as it provides a seamless experience for both national and unit teams. Additionally, having a dedicated account manager has proved to be a major advantage, as the company knows friendly service and support is just an email away.
"Whether we're ordering business cards, collateral for local marketing or brand materials, we've found great value in the stability of the MOO platform as well as the affordability of the products through our Business Account," shared Zeisler.
Results
Since day one, the team at Industrious has set out to always put employees' needs at its centre and empower them to choose where and how they work. Working with MOO has allowed them to do just that.
"As a hospitality-driven company, we strive to create a consistent and elevated experience across all of our locations," concluded Zeisler. "It was important for us to find a solution like MOO that would empower our unit teams and ensure our customers received a quality brand experience through our printed marketing collateral."
On-location referral Postcards have led to an uptick in both referrals and sales
With MOO, Industrious is able to move forward with confidence in its branded print assets. Creating consistency has elevated the experience for customers and prospects alike while also improving overall brand recognition. On-location referral Postcards have led to an uptick in both referrals and sales, and the assets being used at conferences and events have helped the company to stand out among the crowd.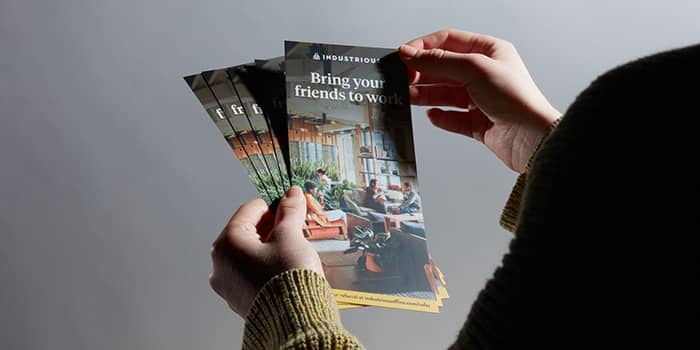 As Industrious continues to open more locations across the U.S and the U.K., MOO is excited to continue supporting the company as it sets its sights on the next phase of growth: evaluating new geographies and continuing international expansion.
To learn more about how a Business Plan with MOO can help your organisation take its branding to the next level, check out our business printing services.
Fill out the form here and a friendly Account Manager will reach out to you.

Keep in touch
Get design inspiration, business tips and special offers straight to your inbox with our MOOsletter, out every two weeks.
Sign me up!