How to build trust and improve brand loyalty
Repetition is nothing to be scared of. To build your brand, it's time to embrace consistency.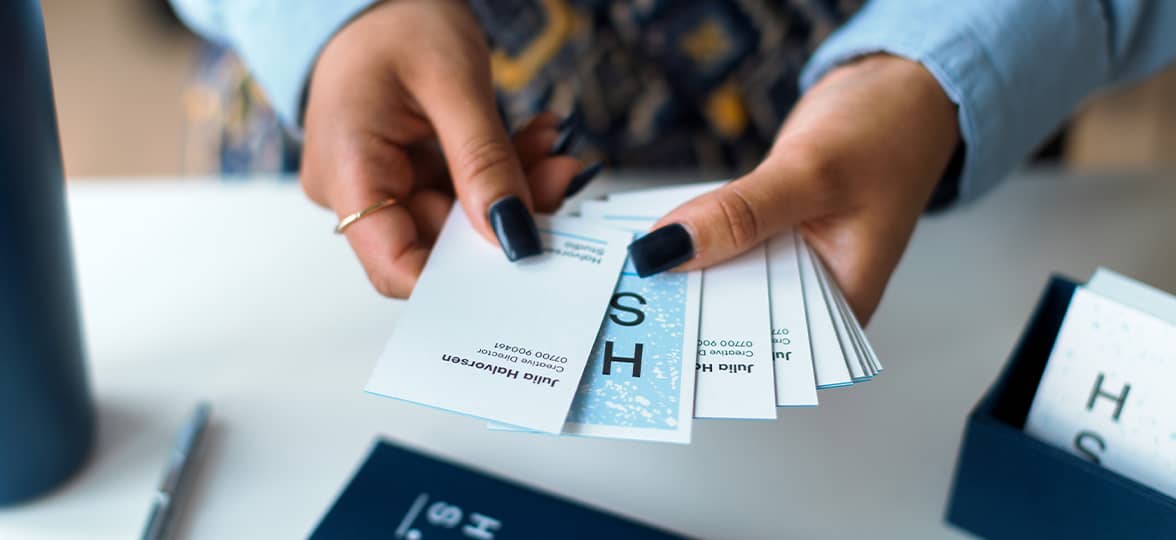 We all switch or choose brands for many reasons – sometimes it's a financial decision, or due to a personal recommendation. But with businesses having to work harder than ever to secure loyalty, one factor that should never be overlooked is the 'wow factor' that can be gained with quality, consistent and memorable branding.
Why brand consistency matters
Brand consistency is important for all brands – but perhaps even more so, for those in highly regulated and hotly contested areas such as pharma, wealth management and the rapidly growing cannabis industry.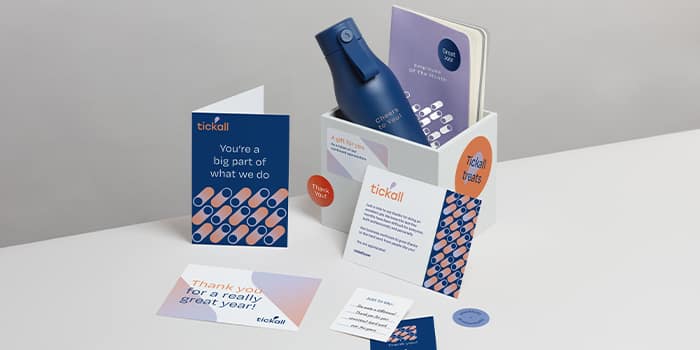 The most basic reason is familiarity. That pleasing sense of continuity that comes with consistent branding means you won't be wasting money promoting yourself to an unfamiliar audience. Rather than constantly starting from scratch, you can gradually build recognition and convey a clear message about what your brand is all about. Not just what you sell, but who you are, what matters to you, your area of expertise; all the aspects that help attract people to your brand
Add some star quality
Sure, having a famous founder rarely harms a start-up. But without a strong brand there are still many cases where it's not enough to guarantee success.
Seth Rogen's cannabis start-up Houseplant is an example of a brand that did it all right. No phoned-in star-endorsement here. When looking to update their brand, they took real care to create a vibrant and instantly recognisable typographic and illustrative system that helps them stand out a mile. From their fresh, bright packaging on shelf, through to their use of illustration and a clear positioning (it's all about quality smoking accessories with excellent design and a sustainable focus).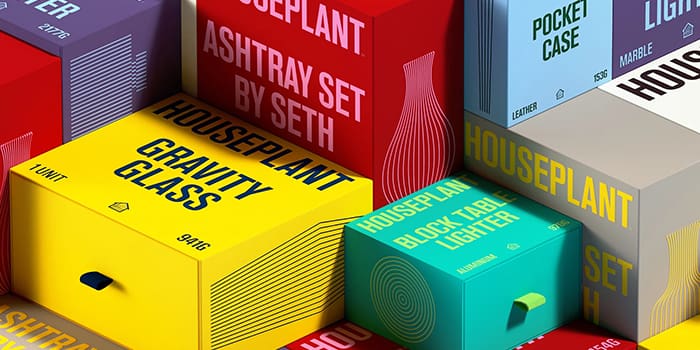 Houseplant's logo is prominently displayed on all Houseplant products, as well as on their website and social media channels. With this sleek minimalist design and a consistent personality, the sense of brand identity has been firmly established. This has allowed the brand to branch out into other areas that align with their ethos. From a growing assortment of lifestyle goods, to a stylishly furnished (and sadly now retired) Airbnb.
We may not all have those kind of budgets to play with, but the brand consistency is something that can definitely be taken on board – from your website, to your branded Water Bottles, Business Cards, and more.
Understand your target audience
Now, a financial services company might initially seem at opposite ends of the spectrum to a cannabis brand like Houseplant. Yet, while their target audience may differ, the fundamental principles are the same. It's all about building and maintaining trust, while showing that you understand the particular needs of your customers.
One company that stands out in this field is BlackRock – the investment management firm that provides a wide range of financial services to clients around the world.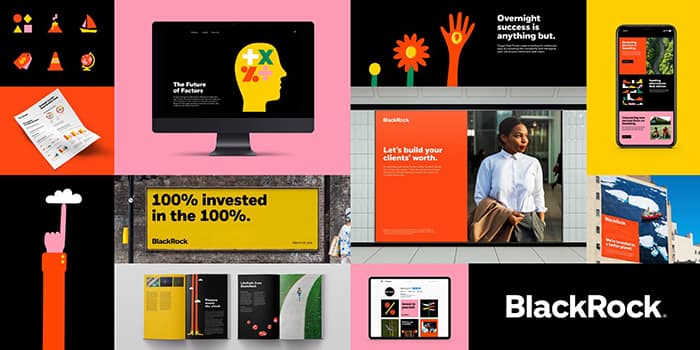 The world's largest asset manager, BlackRock used to exclusively work with large institutions. However, after several changes and acquisitions, they found themselves providing investment solutions to millions of people, from all walks of life.
To gain the trust and confidence of this wider audience, they purposely discarded many of the visual elements that traditionally define brands in the financial services category. In a sea of blues and greens, design agency Turner Duckworth introduced a warmer colour palette and an illustrative style that helps to communicate the often complex ideas and analytical expertise that the business had become famous for.
Every touchpoint matters equally
A big part of building trust is consistency. That's true for both what you say, and how you go about doing it. If your brand values are all about sustainability, you have to prove that in how you promote yourself – a throwaway or bad quality piece of merch or a misguided campaign could undo all the positive work you may well be doing elsewhere.
At MOO, all our papers are sourced sustainably and we recognise just how important long lasting and responsibly produced products are to brands who are keen to showcase, not diminish, their ethical outlook. Because we feel just the same. So if you decide to give potential clients one of our custom Water Bottles at a financial trade show, you know it's been thoughtfully designed to be a go-to bottle of choice, not something that's going to be quickly discarded or forgotten.
Our team are your team
Our team of designers and account handlers look after your brand like it's their own. When you sign up to one of our plans, they can help you to create your own unique template to ensure consistent branding time after time (no matter who in your business is ordering). Plus they're always ready to offer precious advice, and protect your brand at every stage. No stretched logos, or questionable quality issues that could undermine your brand. Just quality and consistent design for your brand. And peace of mind for you.
Ready to take your brand up a notch and find out more about our choice of plans? Fill in your details and one of our friendly account managers will be in touch.
Keep in touch
Get design inspiration, business tips and special offers straight to your inbox with our MOOsletter, out every two weeks.
Sign me up!