Onboarding kits for new hires
Make people feel welcome from day one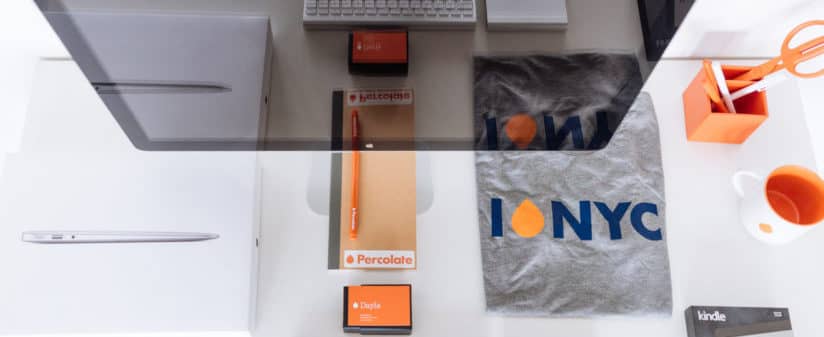 Bringing a new employee onto your team can feel a lot like leading a freshman orientation. You've got to show the new kid the ropes, make them feel part of an amazing group, and get them keen to do their best work. As someone in HR, you have the power to make their transition a little easier— and a lot more fun. How? Start with an onboarding kit.
An onboarding kit is essentially a care package for the newest member of your office. It helps them understand what your company stands for, and shows the new hire that you've got their back.
We found representatives from some of the most welcoming companies on the planet, and asked what goes into their kits.
When a new brand grows quickly, it can be difficult to teach every new hire about the office's culture. Noah Brier, the co-founder of Percolate, experienced this in 2013 when his company added 60 new people. At this point, the exec started to take a closer look at Percolate's onboarding process.
"Your first week at a company has an outsized impact on how you feel about the organisation, how you get yourself ramped up and how effective you will be," Brier said in an interview with First Round Review.
In other words, first impressions are everything. That's why an onboarding kit can mean the world to a new employee— it helps them feel a part of the team by highlighting what their culture is all about.
Here's a glamor shot of Percolate's onboarding kit:
This desk is arranged beautifully, which reflects the company's emphasis on great design. "You walk in the door and you've got a desk full of everything that you need to get started," said Brier.
This swag stash also includes a T-shirt, coffee mug, granola, tote bag and Kindle. "That's linked to a core idea that we are a learning organisation," Brier says. "It's our responsibility to help encourage people to continue to read and make themselves better." Sign us up.
Ogilvy & Mather calls their onboarding kit an induction box, but the purpose is the same – get the newbie clued up on what it means to work for one of the biggest advertising agencies in the world.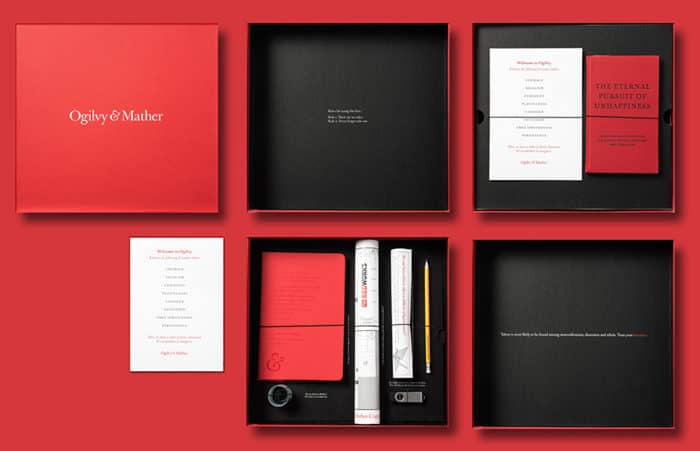 Every detail of this gift tells the new employee something about the agency. For example, the copy inside the lid reflects Ogilvy and Mather's playful nature, and encourages team members to think outside the box. (Well, from inside the box… you know what we mean.)
Even if a new hire knew nothing about Ogilvy, this box would provide a detailed history and suggestions for the future. Its design concept is drawn from David Ogilvy's book,The Eternal Pursuit of Unhappiness, as well as his eight habits of highly creative communities.
All of these items highlight the importance that Ogilvy places on greatness. For example, a postcard reads "Here, we have a habit of divine discontent. It's an antidote for smugness." In two short lines, they've summarised their brand's culture.
"Getting new staff to understand and embrace all of this in a fun and engaging way was our main focus," an Ogilvy Cape Town representative says in an interview with AdWeek. "The Induction Box solidifies the importance of what we stand for."
You know a company has some serious brand culture going on when they have over 600 likes on Instagram for a picture of something in their onboarding kit.
When a new employee at marketing agency Huge Inc. gets this on their desk, they know they're working for a team that is playful, hardworking, and sassy as all get out. The onboarding kit includes a tote bag, branded pencils, a gift card to a local coffee shop, and candy.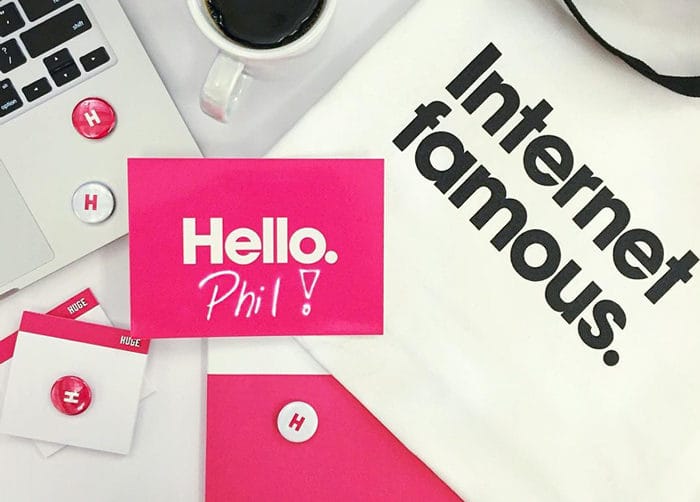 "Culture is everything to us and it only becomes more important as Huge grows in size and across cities and countries," says Adrian Buendia, a senior recruiter at Huge. "As an employee, you're here to create amazing things with amazing people."
Customised Business Cards, company Stickers, and Postcards printed with your company motto are a great place to start building your onboarding kit. From there, think about how you can convey your brand's voice. Are you playful? Throw in a company colouring book. Design-centric? Add some graphite pencils.
Overall, make sure you follow the advice of Adrian Buendia from Huge: "We want our people, no matter what role they are in, to reflect us in the world around them."
Want to create an onboarding kit for your new hires? Fill out the form below to learn more about MOO Business Services.
Get in touch
At MOO, we've been helping people make their mark in the world with amazing quality print products for over a decade. And as our customers have grown, so has our service offering. That's why for bigger businesses—with 10+ employees—we now offer MOO Business Services. It's MOO + benefits. MOO Business Services combines dedicated account management with an easy online ordering platform and expert design services. It's a complete package for businesses to give you more brand control and consistency—while saving you time, stress, and money in the process.
Keep in touch
Get design inspiration, business tips and special offers straight to your inbox with our MOOsletter, out every two weeks.
Sign me up!