What's your planning personality?
Find out if you're a Minimalist, Everythingist or something-else-ist.
There's no wrong way to plan. That's why we made the Perpetual Planner so flexible – so you could get stuff done any way you like. Whether that means getting creative or getting down to business. From keeping your plans open to nailing every detail. There are a ton of ways to plan, but three main personalities. Which one are you?
The Everythingist
Everythingists leave nothing to chance, not even the tiniest detail. They can be filmmakers, economists, swimmers, anything – but they all love to be thorough. And they LOVE a good list. It shows in the way they use a planner, with every inch of every page covered in incredibly small (and incredibly neat) notes. Often with an obscure system of ticks, triangles and snake-like wiggles for good measure.
How their week might look…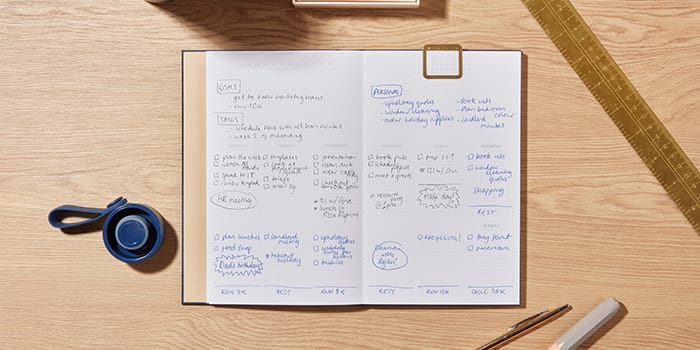 Sound like you? Then you'll probably enjoy the Perpetual Planner's dateless format, as you won't waste a single page. And those extra pages for notes and drawings will definitely come in handy.
The Minimalist
As you might have guessed, Minimalists like to keep to a minimum. They set the main goals, get down the big stuff, then let the rest just happen. And they plan for work, with personal plans only occasionally making an appearance. The odd dinner, maybe. Minimalists are very focused "getting things done" type people, and they like to keep things clear and simple.
How their week might look…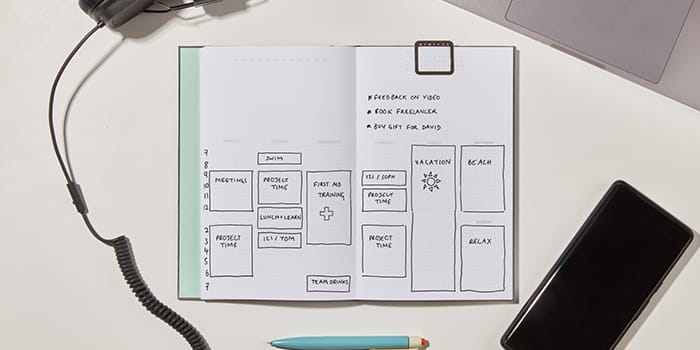 A fellow Minimalist? You'll be glad to hear that the Perpetual Planner features just the essentials, like the days of the week. And the dotted format works great if you like to visually block out parts of your day.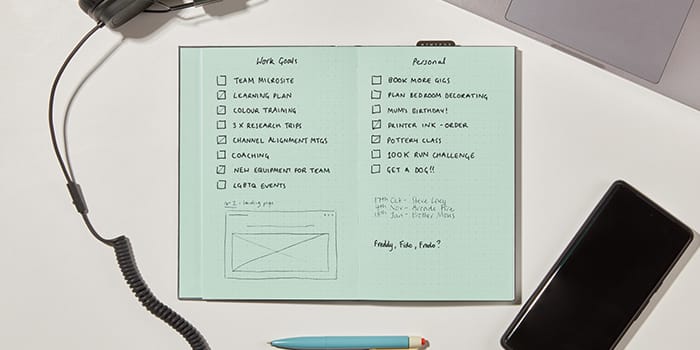 The Artist
Artists are creative, but you don't have to be a designer or illustrator to be an Artist. They're people who like to move around a lot – from the studio to the office, from one client to the next. They don't like to be constrained. And you'll see this in their plans. Like Minimalists, they like to draw up their main aims for each week, with some days summed up in a single word like "INVOICES".
How their week might look…
You'll find the Perpetual Planner's colour pages VERY Artist-friendly. Some are dotted and some are lined, so you can create 3D drawings, longer musings, quick sketches and the like.
Any of these personalities sound like you or not really? Tag your planner pics #hashtagMOO and show us your planner personality.
Get things done the way you want with the Perpetual Planner. It's available to order now (and it's customisable, too).
Keep in touch
Get design inspiration, business tips and special offers straight to your inbox with our MOOsletter, out every two weeks.
Sign me up!