5 brands with cover-worthy notebook designs
Get inspiration from 5 businesses who are making their mark with custom notebook designs.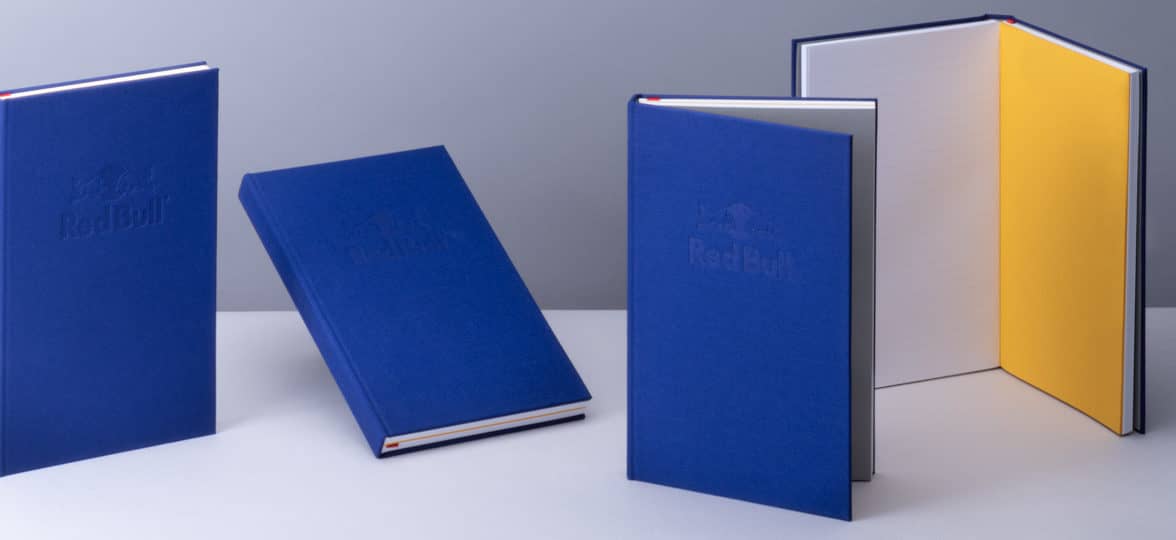 Get inspiration from 5 businesses who are making their mark with custom notebook designs.
Whether you want to add your brand colours, logo, or photo, MOO's Custom Notebooks will take your brand to the next level. But don't take it from us—here are a few of our customers who have made some noteworthy branded notebooks.
1) Red Bull: a branded welcome
Red Bull—the globally recognised energy drink company— acknowledges the importance of brand-building across its business and marketing. And that goes for their employees as well.
"All new employees get a four-day onboarding experience at our HQ, where they get acquainted with the brand" Red Bull's brand team explains. "We needed a branded notebook for these sessions that perfectly matched our branding."
The resulting Notebook fits in perfectly with Red Bull's other brand materials. And the Red Bull employees can't seem to get enough: "Everyone wants one—I have to keep some of them hidden in my office!"
2) Berkshire Hathaway: sparking connections
Berkshire Hathaway HomeServices (BHHS, for short) is a real estate brokerage network with branches across the United States. In a crowded industry, BHHS made a name for itself by offering unique experiences for homebuyers and agents alike.
Relationships are the key to success in the real estate business, and every relationship begins with a simple first meeting. A great personal interaction opens the door, and the right leave-behind can seal the moment. While BHHS invest in technology, they still recognise the importance of personal connections.
Drysdale Properties supports and empowers their team through the MOO Business Services platform. Each of the 41 offices has their own account. Through it, BHHS agents can order and customise materials as needed. From Luxe Notecards to send thank you notes to clients, right the way through to Stickers and Custom Notebooks designs, branded materials are always within easy reach.
3) The Dots: less is more
The Dots is an online community of diverse creators and entrepreneurs throughout the UK. The company seeks to connect, support and champion people, as well as provide workshops and lectures to aspiring business owners and creatives.
Recently, The Dots teamed up with MOO's creative team to create a limited edition Custom Notebook design. "We wanted to keep the notebook as subtle as possible" MOO's Senior Designer, Steve Turner explains. "We went for a monochromatic notebook design, featuring silver foil on grey cloth which allowed the green seam of the notebook to shine."
"We wanted to make sure the notebook's features were centric to the design with the co-branding acting as the icing on the Notebook cake" Steve continued. "The outcome is a simple one, but aesthetically there were a number of considerations we had to make to ensure we got the design just right."
4) Carolyn Suzuki: the power of illustration
From feel-good greeting cards to playful enamel pins, Carolyn Suzuki's illustrations are brimming with colour and life-affirming messages. The LA-based artist runs an online shop offering prints, cards and other products that showcase her bright personality and branding.
More recently, Carolyn designed and printed a Custom Notebook featuring her illustrations on the front and back to give out as a promotional giveaway to clients. "The Notebooks have been an added bonus" Carolyn says, "everyone comments on the quality of the bind and the beautiful printing!". Now that's a cool notebook design, if ever there was one!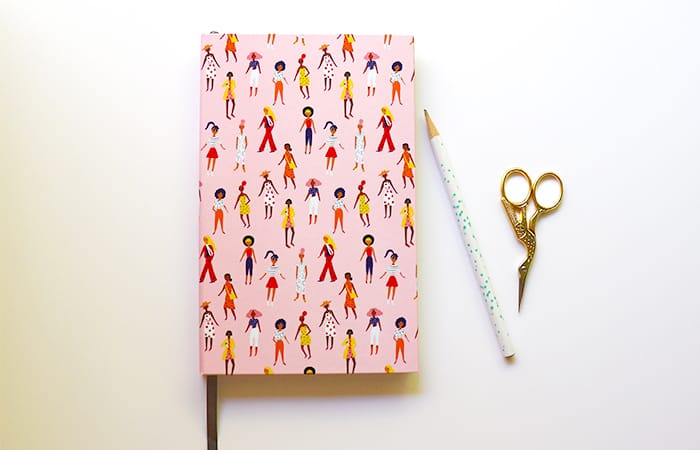 5) MOO (that's us!): celebrating customer service week
Customer Service Week is an international celebration of all things customer service. Throughout the world, customer-oriented companies recognise the importance of customer service and the ways it can shape a customer's experience with your business. Each CS week, MOO's Director of Customer Service, Doreen Berard, comes up with new ways to celebrate our amazing customer service team.
This year, we went for a bespoke notebook design! At the start of the week, each customer service agent received a '90s-themed Custom Notebook. "The senior agents thought it would be fun to relive their youth—as many of them had grown up in the '90s" Doreen explains.
"In past years during Customer Service Week, we have had carnival, superhero, movie and international themes. CS Week is generally planned a few months in advance and every year we have tried to up our game. We think the Custom Notebooks do just that."
Had your fill of notebook inspiration?
Ready to create your first notebook cover design – and more? We have a dedicated team of MOO designers ready to take your artwork and add it from cover to cover. Get in touch with our friendly Account Managers to get started.
Discover our range of Notebooks & Journals here.
Keep in touch
Get design inspiration, business tips and special offers straight to your inbox with our MOOsletter, out every two weeks.
Sign me up!