From canvas to cards: how these artists market their business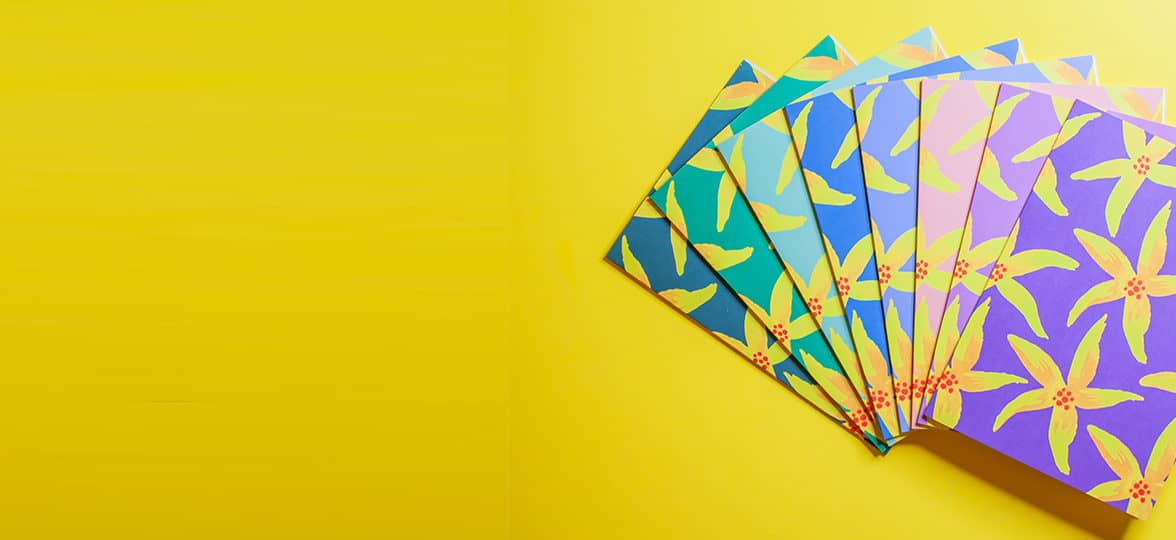 Here's how three artists used their business cards as a pocket portfolio.
As an artist or a designer, describing your aesthetic can be difficult to put into words when meeting potential clients. Handing out a piece of your artwork to take home can be a great way of acquainting people with your style, making you memorable, and nailing those on-the-fly networking moments.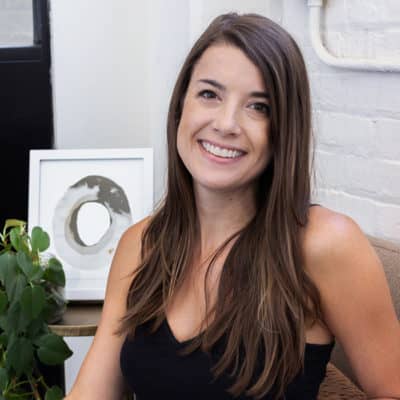 Chicago-based designer, Kim Knoll, discovered her passion for painting two years ago after experimenting with watercolor washes as a background texture for one of her client brand projects. Between running a design studio with her husband and working as a graphic designer by day, Kim dedicated her free time to creating serene watercolor artworks.
Kim's paintings are inspired by her love of minimalism and passion for the natural world. "I use a combination of watercolor, India ink, metallic gold and pencil, coupled with the glazing technique," Kim explains, "which means adding transparent layers of washes to create depth and tonal shifts. Doing design on a computer forces me to perfect details down to the last pixel, whereas watercolor is unpredictable. It's so freeing and therapeutic."
Acting as mini pieces of art, Kim chose Super Business Cards with Soft Touch and Gold Foil finishes.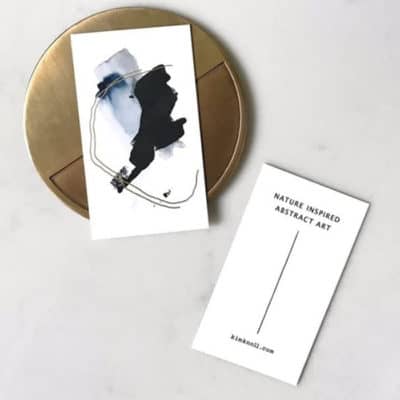 "Clients love the shimmer of gold and are obsessed with touching them. That Soft Touch finish wows them every time, and it makes them not want to put it down – which is fine by me!"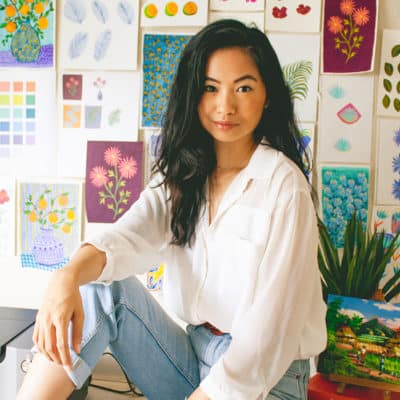 Kristine began painting three years ago as a form of therapy to improve her mental health. Driven by the belief that "art can heal, and life is better with a little color in it", she took her passion for print and stationery and started her business, Curated Dry Goods.  
Drawing inspiration from the lush botanical gardens and springs that surround her home in Florida, she creates bright, bold illustrations of foliage, flowers and fruits in sorbet watercolor shades. "I use gouache for most of my paintings—I just love how vibrant the colors are," Kristine explains. "The way I work is by painting the same flower or palm tree over and over again on paper until I get it just right, then scan and digitize my favorite. This way, I can create multiple designs from one painting session."
To showcase her range of bold motifs, Kristine printed her Greeting Cards with Printfinity. "This option is perfect for me, as my collections come in several different colors.
I love how the satin finish makes the colors on the card pop and the quality of the paper gives it an elegant touch. MOO really captured the vibrance of the original designs."
Create a range of Greeting Cards with
Printfinity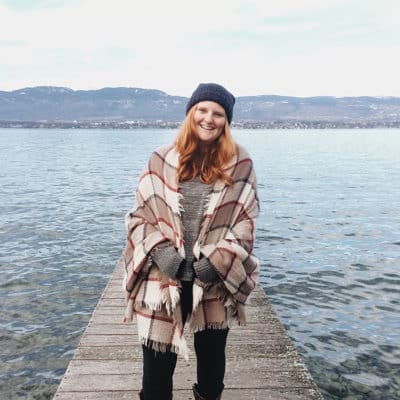 After running a wedding photography business for five years, professional snapper turned abstract artist, Jenna McKechnie, founded Joy Jen Studios with the aim of bringing happiness to those around her with colorful prints, cards and other creations. Two years later, Jenna has developed her creative side project into a business, which she runs from her home in Leeds, UK.
Jenna creates work inspired by her surroundings, communicating the natural and urban landscapes around her into watercolor shapes and hues. "I don't want to box myself in to one medium, so a few of my pieces also involve lettering or illustration and I occasionally love to throw a bit of acrylic paint or oil pastel into the mix" says Jenna. "I love to be constantly experimenting with new tools and ideas."
To make her designs stand out from the crowd, Jenna chose Square Business Cards, created with Printfinity. "I've been so happy with the reaction from customers at print fairs.
They're like little pieces of art, and people love taking time to pick their favorite design. I hope my cards bring joy to a corner of their office or home and really make my name memorable."
Add an unexpected twist to your branding with
Square Business Cards
Keep in touch
Get design inspiration, business tips and special offers straight to your inbox with our MOOsletter, out every two weeks.
Sign me up!