6 clever backing card designs for pins or earrings
They've got your back. Discover how our community turned Business Cards into original backing cards.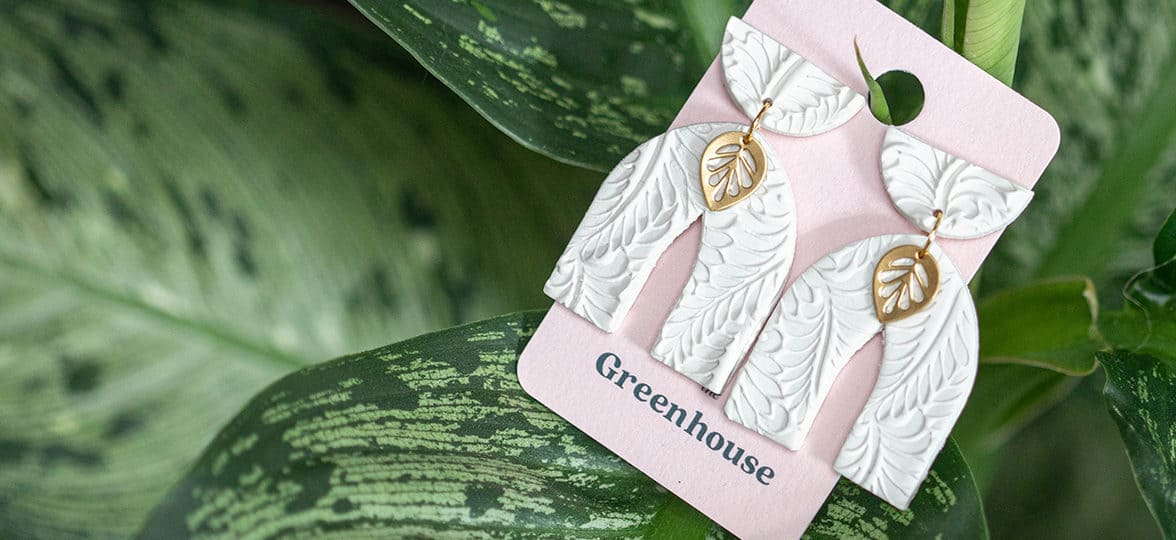 You've designed it. Refined it. Crafted it. Now make sure you present your jewellery or pins with just as much creativity. How? A well-designed backer card can put the spotlight on your product, while helping your brand get some shine too. Whether you go for Gold Foil, rounded corners, MiniCards or Luxe, MOO Business Cards adapt to make ideal backing cards. As our customers are proving.
Need backing cards for your pins or earrings? Get some 24k gold inspiration with these backing card designs from our creative community.
1) Jeweled by Joshelyn: showcasing earrings in style
In the midst of the pandemic, making jewellery became a therapeutic outlet for Joshelyn. Physically she couldn't be near friends or family – but she could still send some joy their way. What started as an act of self-care, quickly became a bona fide brand: Jeweled by Joshelyn.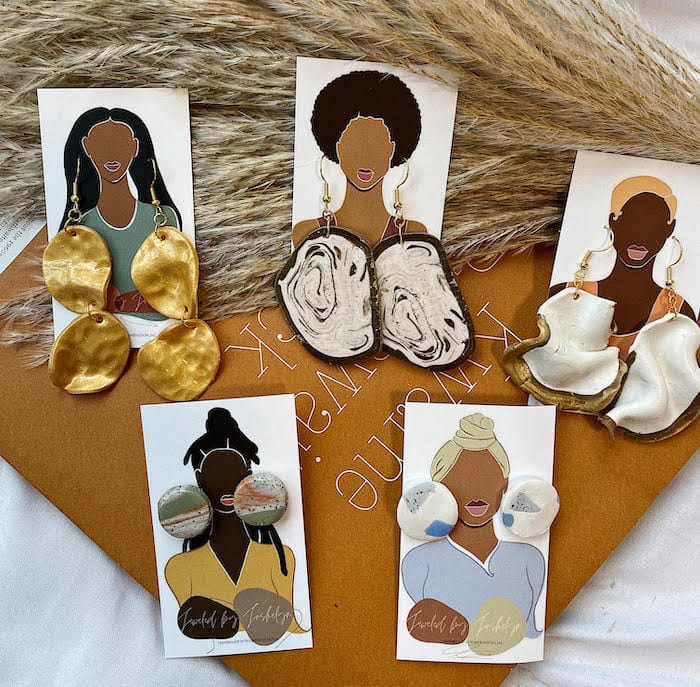 Each pair of statement earrings are made by hand, using natural materials. And, yes, how they're presented has been given the same attention to detail. Earring backing cards perfectly complement the natural colours of the clay-based creations, while illustrated care cards take the unboxing experience to the next level. A treat for eyes, as well as ears.
2) The Greenhouse: minimalist multi-taskers
Nancy Wilson is the CEO and founder of jewellery and accessories boutique, The Greenhouse. She describes herself as a merchant & maker – and now her branding is multi-talented too. Hoping to stretch her new biz budget, Nancy was looking for a single card that could be used in various ways, across the customer journey. Sounds a tricky one? But after discovering MOO's Printfinity option, the only limit was Nancy's imagination (pretty much limitless then.)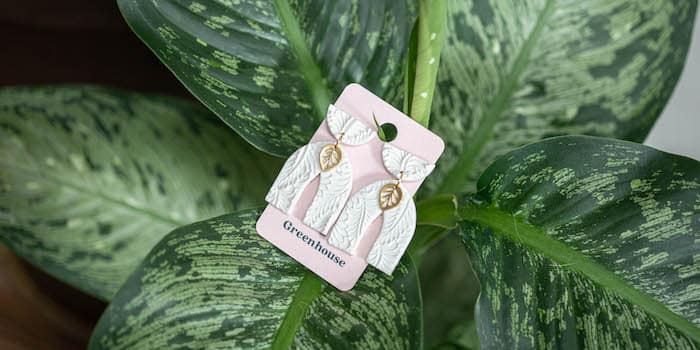 First up (and most unsurprisingly), the Business Cards work brilliantly as… business cards. But with just two perfectly measured hole punches, they also become show-stopping earring backing cards. That still not enough for you? Fine. A little design tweak and, ta-da, the backing cards transform into irresistible offer handouts with promo codes. And that's just for starters – who knows what else they'll be used for as the business grows! We can't wait to see (and wear) what comes next.
3) Snailspiration: you've got snail
Graphic designer and illustrator Emma Annunziato began creating greeting cards when she was just 12 years old. Yup, 12! Skip 13 years later and her love for our slimy mollusc friends – and her Snail Mail Cards business – are still going strong. And, for a brand inspired by one of the slowest creatures around, things have been moving pretty fast. Snailspiration has expanded from greeting cards, to include shirts, stickers, pins, and more. 
Her colourful enamel pins, featuring Sheila the snail, made the perfect addition to a jacket, hat or backpack. But, before they could make their slithery way to customers, Emma had to create an equally perfect enamel pin backing card. She went for MOO's Square Business Cards with Super paper and a matte finish. The bright and bold backer cards match the illustration style of the character; framing the design and creating the perfect home for the cute snail pins.
4) Yeung Love: adorably eco-friendly
Yeunglove grew from its founder's love of digital illustration, product design and handmade goods. Janine is an interior designer by day and online shop owner by night, and uses her brand as a platform to explore colour, experiment with different materials – and indulge in plenty of cuteness along the way.
For her moody (but lovely!) cloud pins, she created custom backing cards using MOO-sized Cotton Business Cards: "I chose this option because they are 100% recycled and I love the tactile feel and texture of the paper. I think they work beautifully as backing cards for my enamel pins!"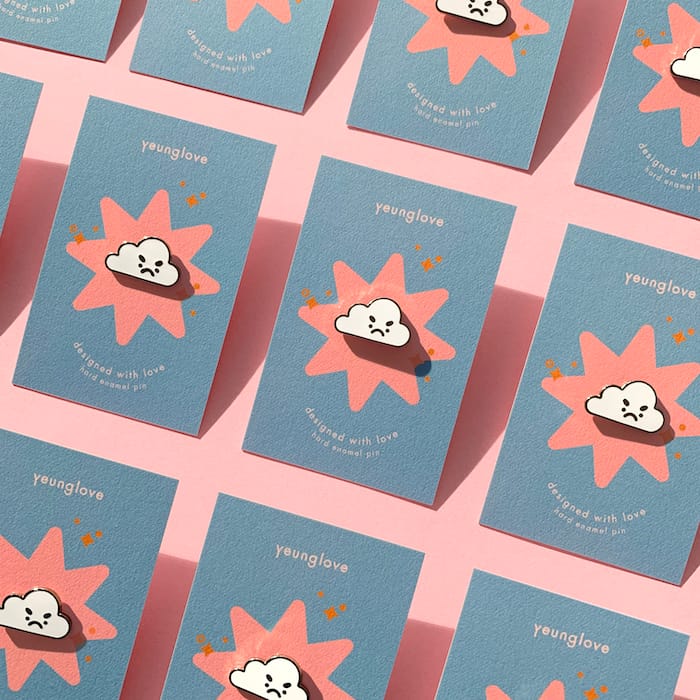 To design her pins' back cards, Janine used a colour palette featuring her signature pinks and blues, with bold, playful shapes and a few unique accents. It creates a backdrop that complements (but never detracts from) the pins. "I also included a little note on the back of the card that describes the paper stock, a fun graphic element that lets everyone know the cards are tree-free!." Lovely. It's enough to make even the moodiest of clouds feel a bit brighter.
5) Kathy Ramirez: style inspiration
Kathy designed this series of pin backing cards for social impact company The Giving Keys as part of their Statement Pin project. "I gravitate towards editorial, minimalistic design, and fashion was also a big influence for the pin back cards. I looked at statement pieces our audience wears when deciding on the designs and settled on a concept illustrating ways to wear 'The Statement Pin'." 
Thanks to Printfinity, she was able to print three different designs in the same order: "This trio of card designs served as an elegant and simple packaging solution for the product, effectively communicating the products intended use." Simplicity at its best.
6) Minta Miller: 100% positive vibes
Despite a full-time job in higher education, nothing is off limits for creative multitasker, Minta Miller. Every spare moment in her Texan home is used to develop her craft – working with clay, making moulds for casting, trying her hand at textiles and resins and more. 
Minta believes in the magic of making things from scratch. All her pieces are handmade from A to Z. Most of her pieces are inspired by the human body, from hand mirrors to eyes to "plant dudes" and lip pins. With her pin line, Minta wanted to offer a range of colourful, positive and relatable designs with fun and inspirational messaging such as "Speak No Evil" on lips or the "Eye Thrive" pin.
For her bright lapel pins, the versatile artist prints her own designs on a special plastic sheet and tops the pins with a hard resin herself. She designed her pin backing cards in a variety of bold and energising colours, to pack her products with positive vibes down to the smallest detail. 
Ready to create your very own backer cards? Explore our range of Business Card sizes, papers and finishes to make a backing card that reflects your brand.
Keep in touch
Get design inspiration, business tips and special offers straight to your inbox with our MOOsletter, out every two weeks.
Sign me up!