With Cotton Business Cards, Nexamp sees sunny days ahead
The solar energy company reduced its environmental impact with greener business cards.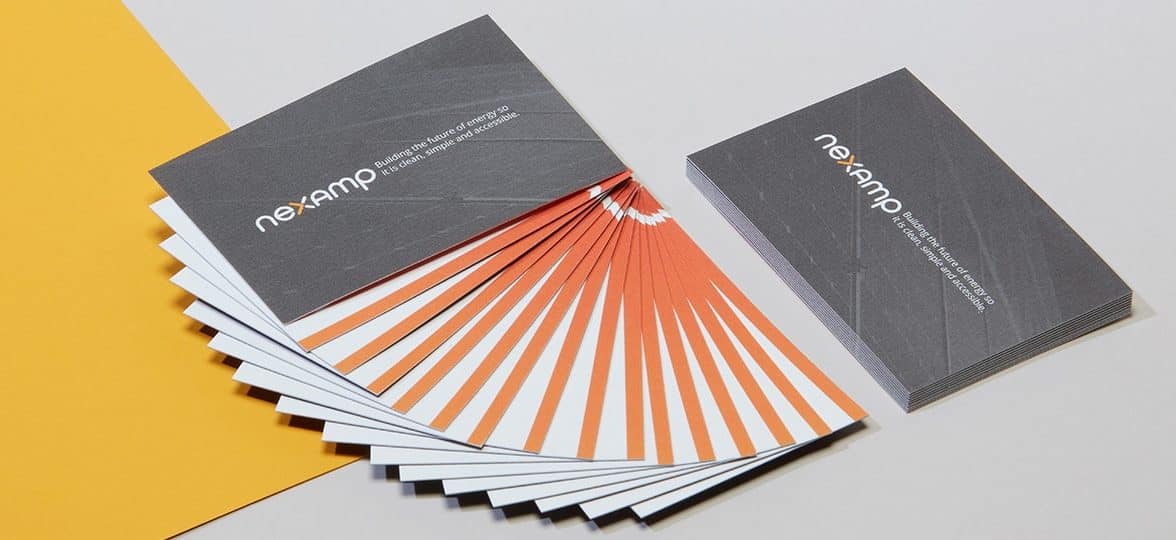 Nexamp, which is revolutionising the future of clean energy, wanted premium business cards made with sustainable materials that aligned with its values. MOO had just the product the company was looking for.
About Nexamp
As a leader in solar and energy storage solutions, Nexamp has always been willing to go above and beyond to make a difference. The company has a hand in a variety of solar initiatives, including community solar farms and energy storage solutions that offer the kinds of savings that make renewable energy a viable option. Since 2007, Nexamp has set itself apart in the crowded renewable energy space with a model where the company owns and operates its solar and storage projects, managing each part of the process. The results speak for themselves, with the company coming off recent successes like the launch of a 35-megawatt solar portfolio in Maine and a massive new solar agreement with Walmart.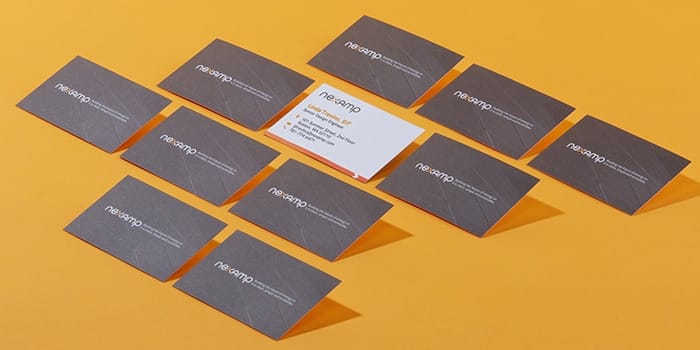 The team at Nexamp is deeply committed to reducing its carbon footprint. The company has committed to being carbon neutral by 2022 and by 2030 its supply chain will be too. When it came time to examine how that goal could be achieved throughout the supply chain, working with trusted printer MOO made complete sense.
The challenge
While Nexamp has always been a force for sustainability through its solar power initiatives, the company also wanted to find ways to cut its own carbon footprint at every level. One area that had the potential for change was the company's business cards, which were made of traditional tree-based card stock — not the greenest option possible.
"At Nexamp, we're driven by our belief that success means maximising our positive environmental and social impact — that's why sustainability and equity are at the centre of everything we do," said Dan Clarke, Senior Vice President of Marketing at Nexamp.
As a company built on constant outreach to individuals, communities and businesses across the country, business cards are often one of Nexamp's first opportunities to make a lasting impression on a potential customer. The goal was to be able to demonstrate the team's commitment to sustainability from the first handshake on.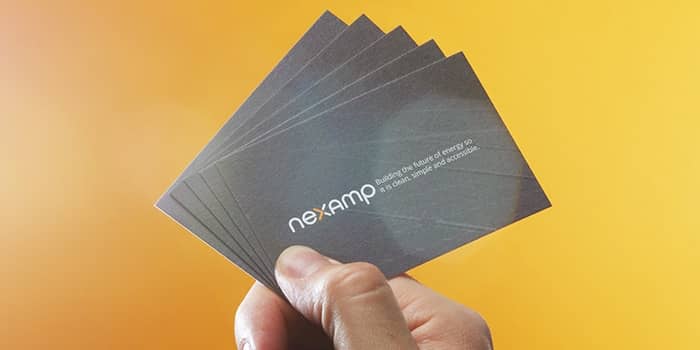 Of course, greener materials weren't the only things Nexamp needed from its new business cards. Each card needed to retain a premium look and feel that represents the professionalism of Nexamp. In addition, as a company that goes through thousands of business cards to make connections with customers, Nexamp needed a partner that could handle large reorders in a seamless manner.
When Nexamp needed to find a supplier that could help it balance sustainability and quality with cost efficiency, MOO proved to be the perfect choice.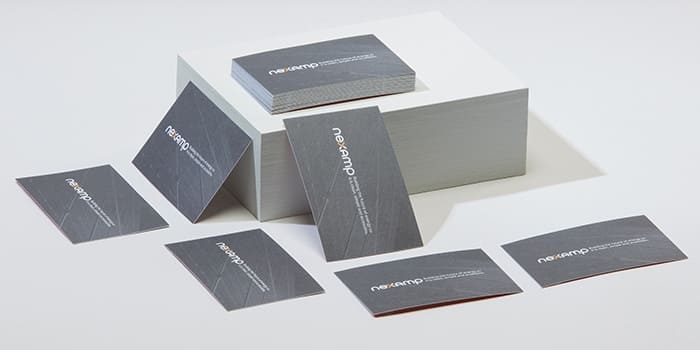 The solution
Luckily for Nexamp, MOO already has a product offering that meets the company's high standards — both for low-carbon materials and quality. MOO's Cotton Business Cards are made from 100% recycled T-shirt offcuts from U.S. manufacturers — a material that normally gets thrown away. As a result, the final product is completely tree-free.
In addition to meeting the sustainability goals central to the Nexamp mission, the Cotton Business Cards hold up to the usual levels of premium quality that they had come to expect from MOO. Each card is subtly textured and uncoated to be easily written on. The cards also don't skimp on the thickness and are available in the same kinds of custom sizes as their traditional counterparts. When asked if switching to a tree-free option had meant sacrificing product quality, Clarke responded emphatically. "Not at all, especially from MOO."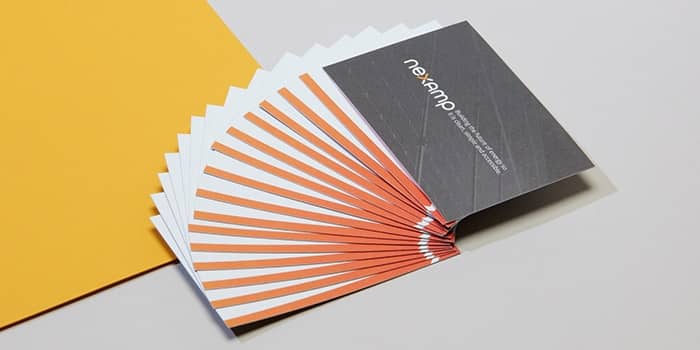 Not only do MOO's environmentally friendly products align with Nexamp's mission, but now the team can take advantage of a bulk order discount available to all MOO Business Services account users, creating added efficiencies across the product supply chain. Plus, with a user-friendly template located directly in the Nexamp portal, it's simple to update the name and contact information on each order as new employees join the company.
For Clarke, moving in a more sustainable direction while also maintaining quality and cost efficiencies wasn't just about showing existing and potential customers that Nexamp meant business. The business cards could also boost employee pride and morale.
"Not only are we looking for products that wow our B2B and B2C customers, but we want to create an amazing experience for our employees when onboarding them to the company. We want them to feel proud about products with the Nexamp brand on them," said Clarke.
Results
Through the partnership with MOO, Nexamp was able to show off its values to customers, employees and the world — all while staying true to its brand.
"We trust that any product MOO produces is top market quality. I just wish they had added other products that I am currently ordering elsewhere." Clarke said.
Moving forward, Nexamp's relationship with MOO will make it easier to continue down the tree-free route. The templatisation feature on MOO's online platform, available to all MOO Business Plan users, has allowed Nexamp to streamline its ordering process, moving the burden away from individual team members and ensuring brand consistency.
What's better than finding a premium, eco-friendly product? Finding a premium, eco-friendly product you can use again and again and again. Discover how MOO's printing solutions can make your business greener from end to end.
Fill out the form here and a friendly Account Manager will reach out to you.

October 2022 update: This article references the way we used to make Cotton Business Cards. We now use a different process.
Keep in touch
Get design inspiration, business tips and special offers straight to your inbox with our MOOsletter, out every two weeks.
Sign me up!