Meet the Planner: Elsa Cardona, WAGGGS
Planning, developing healthy habits and creating a world of possibilities with Elsa Cardona
Elsa Cardona's days are full of exciting ideas and future plans. As Interim Head of Girl Experience for The World Association of Girl Guides and Girl Scouts, it's a constant juggle between managing a global team and finding new ways to empower girls from all over the world.
We headed to London's leafy Hampstead to find out what Elsa is currently up to, and discover how she manages it all.
Were you a girl guide growing up?
I wasn't a girl guide at all. I was actually against it. My dad wanted me to join, but I was like, "I'm not going to do that." My perception of it – roughing it and going out camping – wasn't appealing at all. Of course, now I've been working at WAGGGs for five years, I realise what I missed out on.
It teaches kids so many amazing things. How to develop life skills, grow confidence, become leaders. Looking back, I feel like I would have probably been more confident as a teenager if I'd joined back then.
Can you tell us about the WAGGGS mission?
Of course. The movement's mission is to empower girls through non-formal education, and inspire them to become responsible citizens of the world. It's really about giving them agency to make their own decisions. To become independent, gain life skills and be able to make a positive impact in the world – whether that's in a small way, like being a good person to those around you, or having a huge world-changing impact.
That might sound really serious! But we do it by making sure everyone is not just learning, but making friends and having fun. There's a saying we have: "if it's not fun, it's not guiding".
We're like the UN of girl guiding and scouting. An umbrella organisation made up of 152 countries. We've got a member organisation in each country and they're all completely independent. They do their own thing, and we just support them and give them tools to help them succeed.
How does your role help support all this brilliant work?
I work in the team that looks after the quality of Girl Guiding and Girl Scouting. That means quality non-formal education – a high standard of learning, with an emphasis on fun. With games and activities that provide life skills and encourage development.
Much of my time is spent writing. Thinking and developing activities and games that the girls can use, or can be used to help train other organisations. Plus, we hold lots of international events where volunteers between 18-30 can develop their leadership skills.
What does an average day look like?
Oh, that is a very, very hard one! Well, lots of meetings. Frequently online because we're all in different countries, and often early or late in the day because of different time zones. I'm head of the team, so line management is a big part of my day, and budgeting. There's also a lot of collaboration – I work with other teams, looking at their programmes, and helping to develop them. In between all the meetings, there's always lots of writing to be done. Whether it's creating activities or training plans, or developing a whole framework on quality learning.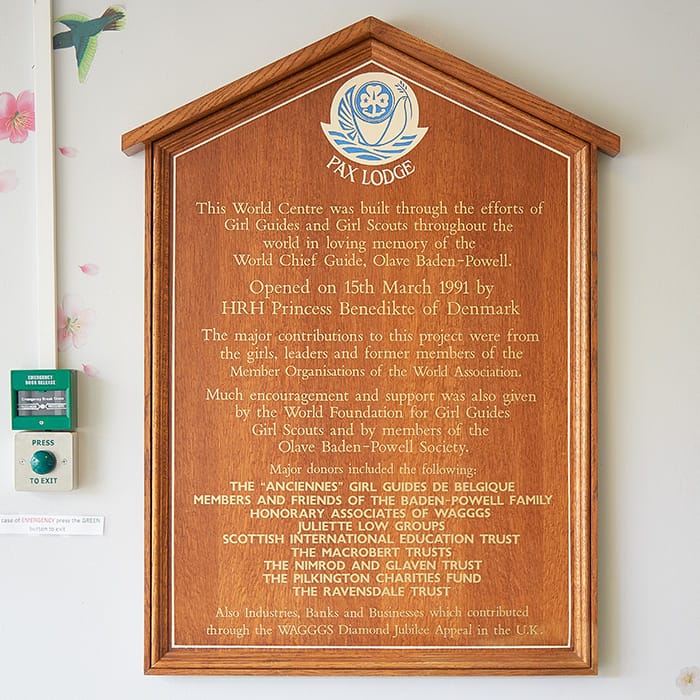 How do you manage to stay on top of all those things?
Well, it's not easy! I need to be super organised because I'm overseeing such a variety of topics. The main thing is remembering it all and keeping on top of it. Otherwise, it's easy to miss a few meetings and feel like you're unsure of what's going on or the journeys that people might be going through. What works for me is writing a lot of notes, immediately after I speak to someone. I like to be present when talking to someone, but afterwards, I'll aim to get the three main points down so that I have something clear to come back to. I love doing that. And to do-lists also help a lot – I write things that I know I can achieve. That feels way better than a list you never get to cross off.
If we flicked open the pages of your MOO planner, what would we find?
Lots of travel plans and organising. I've been travelling to India as part of my role, so it's been really helpful to write down what I needed for each day. Meetings that happen out of hours don't necessarily appear in my work calendar, so I write it all down. It's also been really useful to get a view of everything that's happening, all at the same time.
My favourite part though is definitely all the blank pages in between. I've been writing a whole bunch of things there. Including my pleasingly ticked-off completed to-do lists.
You've recently written a reflection journal for WAGGGS. Can you tell us about that?
I think it's really important to take the time to reflect. In the same way I write notes in my Planner, a reflection journal is an opportunity to put some time aside to focus on yourself. I think that can be really worthwhile, and something we often don't have the chance to do.
"Writing things down can help to clear your mind. It helps you get grounded and focus on what you're working on, or reflecting on".
Personally, I hate writing notes on my phone. Yes, you could (for instance) do that while you're on the train. But I don't actually want to be thinking about that on the train. It can be better to just be in the moment.
Writing things down can help to clear your mind. It helps you get grounded and focus on what you're working on, or reflecting on. If you're doing some form of personal development, I don't think you can get the most out of it if you're doing something else, or you've got lots of distractions. You need to be properly focused, and that's what pen and paper is so great for.
Ready to get planning like Elsa? Organise, track and bring your ideas to life with custom MOO Planners!
Keep in touch
Get design inspiration, business tips and special offers straight to your inbox with our MOOsletter, out every two weeks.
Sign me up!