Carbon180: A message on a bottle for a greener tomorrow
This climate nonprofit is leaving its impact on Capitol Hill with reusable Water Bottles.
Carbon180 wanted to share its mission to reverse two centuries of carbon emissions in a way that wasn't only stylish, but also aligned with the organisation's values.
About Carbon180
When the founders of Carbon180 first launched the climate-focused non-governmental organisation (NGO), they did so with a clear mission: to reverse two centuries of carbon emissions. At that point in time, the concept of removing the carbon that already exists in our atmosphere was far outside of the mainstream of climate policy and business decisions.
Over the last six years, the team at Carbon180 has worked tirelessly to not only put carbon removal on the map but also catalyse its potential through increased funding for innovative technologies, new federal laws, and coalition building. As of today, Carbon180 works alongside policymakers, entrepreneurs, and peer organisations, laser-focused on designing policies that will bring necessary carbon removal solutions to gigaton scale.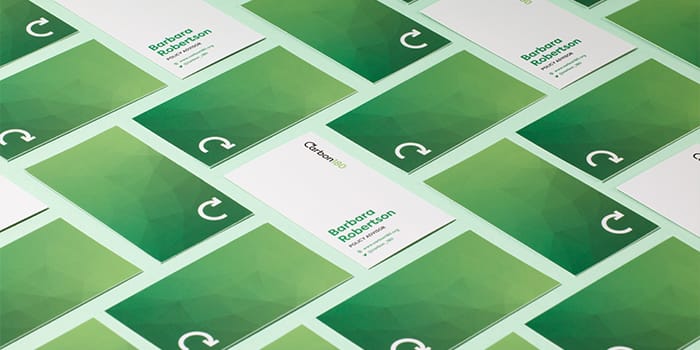 The challenge
Although many nonprofits and NGOs are known for substance over style, Carbon180 has committed to both. In an effort to create a world where climate change is halted, the organisation has also developed inspiring branding that resonates with audiences across the US. Finding a way to share that branding, however, was proving to be more difficult than initially expected.
The D.C. based organisation wanted to find a way to not only show gratitude for all of its team members' hard work but also to create an impactful leave-behind for meetings on Capitol Hill. As the team quickly discovered, their idea involved a tricky juggling act. They needed to find a way to make an impact without conflicting with their environmental values.
Not only did it prove overwhelming to navigate through all the swag options out there, but as Eliot Reali, Design Consultant at Carbon180, explained, most of the offerings were either made of plastic, intended to be single-use or both. For an organisation so dedicated to our planet, taking time out of the day — and away from its important mission — to sort through piles of virtual plastic or get stuck in a slew of design decisions wasn't an option.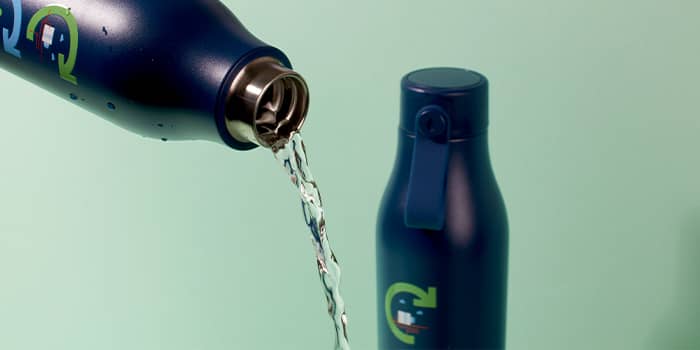 The solution
For Carbon180, finding a premium, long-lasting gift that wouldn't further contribute to existing carbon emissions was a must. The good news was they already had a partner who could help.
"I've been printing our team's business cards and stationery with MOO since 2018," said Reali. "I've always loved the results — as a designer, I want the print materials and quality to support the design. For me, MOO's products do that."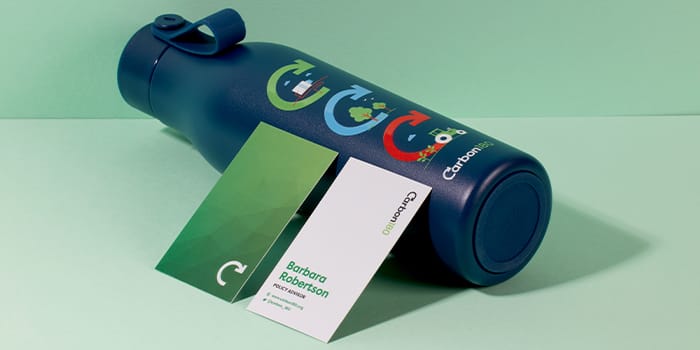 As Reali explained, the MOO Water Bottle checked all of the Carbon180 team's boxes. Not only is it specifically designed to reduce single-use plastic within the workplace, but its easy-to-customise nature made it possible for the Carbon180 brand to shine. The base colour for the Water Bottle is a dark shade of navy blue, allowing the organisation's colour palette to truly pop.
"The navy blue turned out to be so timeless"
"MOO's website and promotional materials were inspiring, and the colour variety made designing fun and flexible," said Reali. "The Water Bottle itself has a sleek look, and it was exciting to design something with it in mind. The navy blue turned out to be so timeless."
Simplistic, sleek and distinctive, the design features three key icons: a carbon removal facility, trees, and a tractor. Together, they represent everything Carbon180 stands for: a carbon-removing world and a livable climate in which current and future generations can thrive.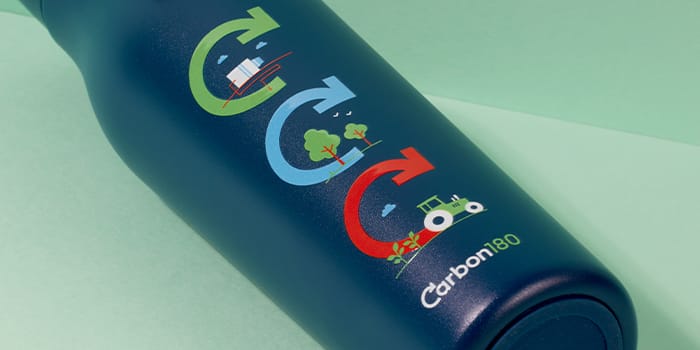 The result
Now, members have a tangible reminder of the organisation that stands with them — no matter where they are.
"We have a product that is both eye-catching and built to last"
"The options for customisation allowed us to create a uniquely branded water bottle that our team is excited to use," noted Tracy Yu, Senior Communications Associate. "With MOO's help, we have a product that is both eye-catching and built to last." Unlike other give-away items or single-use products, the Water Bottles are designed to be enjoyed again and again as Carbon180 continues its work across the country.
Although the Carbon180 team is currently working remotely, all they need to do to be reminded of both the cause and organisation behind them is take a sip from their new go-to Water Bottle. And, once the organisation returns to Capitol Hill, it's eager to spread further awareness of carbon removal and leave every meeting with a refreshing impact.
Although every brand wants to create some buzz, it's become equally important — if not more — to find a way to do it that doesn't negatively impact our planet.

As your team sets out to spread the good word and celebrate your efforts in a way that's environmentally friendly, learn how the MOO Water Bottle can help.
.
Keep in touch
Get design inspiration, business tips and special offers straight to your inbox with our MOOsletter, out every two weeks.
Sign me up!