Ecology and design: Natalie Luz on bringing conservation and art together
Graphic designer Natalie Luz shares how her background in education and conservation has allowed her to pour her personal passions into her commissions.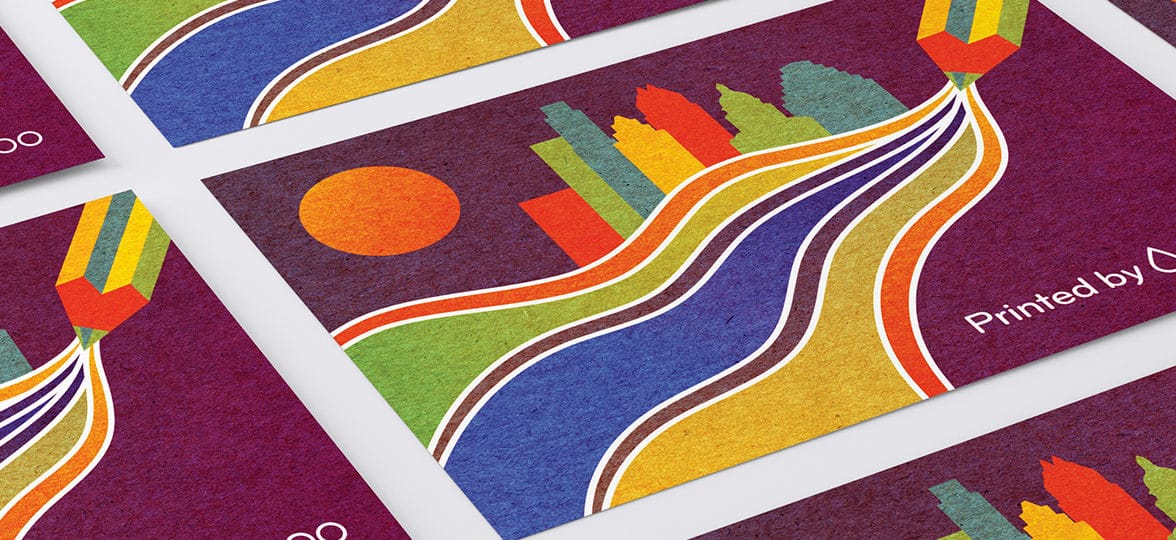 To celebrate our partnership with AIGA at SXSW in Austin, Texas, MOO asked three artists to design a postcard that reflects their unique interpretation of the city. We spoke with graphic designer Natalie Luz about her approach to our challenge and how Texan culture has influenced her style.
With a background in ecology, graphic designer, artist and educator Natalie Luz's work is firmly rooted in nature. Her colorful and flowing designs are filled with flora and fauna, often with a surreal edge.
Natalie's eclectic client list features socially aware businesses working in areas such as education, conservation and the arts, allowing her to pour her personal passions into each commission.
Originally from Florida, Natalie's work has been inspired and energized by the people of Texas, and by Austin's natural spaces and waterways. We caught up with her to find out how she chose to depict the city in her Postcards, and how she stays connected with nature.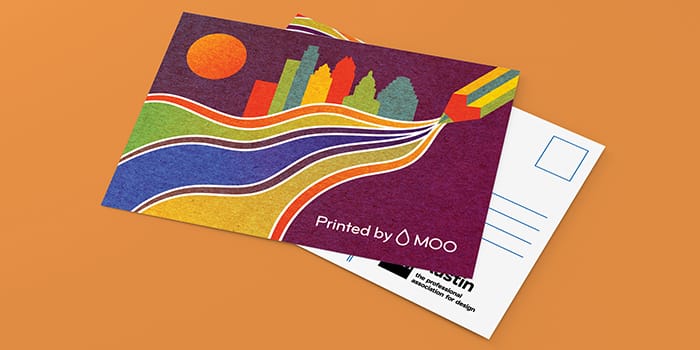 Tells us about your background in conservation and ecology, and how you eventually moved into design.
It's difficult for me to remember a time in my life when I wasn't getting outside and observing the natural world – watching a spider constructing a web or the emergence of new buds in spring. This keen attention to detail led to an interest in art and design.
In 2008, I got my degree in Wildlife Ecology and Conservation, after which I spent some time teaching about the environment, and taking up opportunities to create illustrations and designs for events.
That motivated me to create a path between the two disciplines, and I pushed myself to learn the skills that would allow me to advocate for the things I feel passionately towards. It's been uplifting to learn what I'm capable of.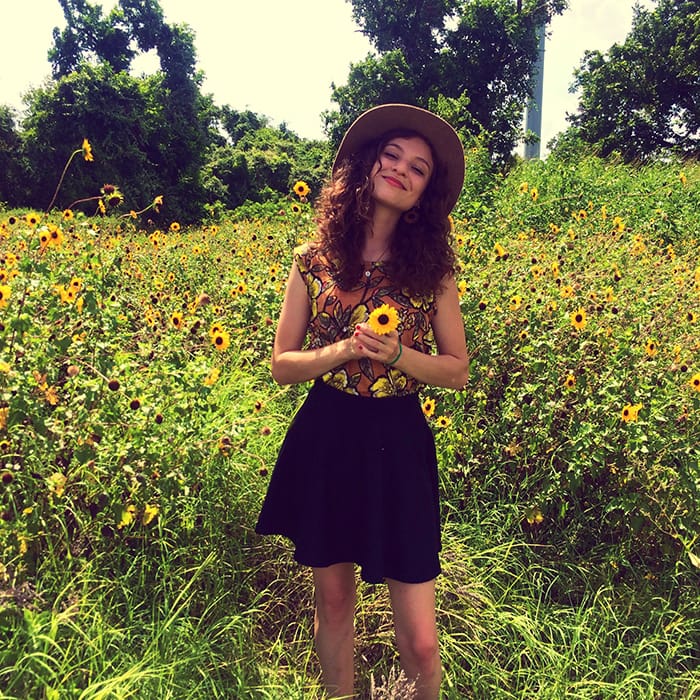 What have been your key influences and inspirations?
I feel most inspired when I'm engaged in something enriching. I create art as a way of telling stories and giving myself an outlet to reflect on the complexities of human emotions. I enjoy studying science, understanding the natural world, reading, music, dancing, culture and community – and I try to harness the creativity those influences bring out in me.
How important is it to you that your work reflects your personal beliefs?
It's very significant that my work tells a narrative of who I am. Not every project I work on will fall within this niche, but I think I've created an identity for myself as an artist, and will continue to attract those kinds of opportunities.
I currently work on a range of projects that aim to empower communities, educate, and provide meaningful experiences. Creativity, whether art, music, writing or dance, is all about personal discovery. Immersing myself in these things has helped me learn a lot about who I am and what I believe.
What advice would you give to designers keen to remain authentic as they grow as artists?
Art is a reflection of one's essence, and authenticity should be the driving force of this self-expression. Growing in any art form requires a great deal of ambition and focus, and when you commit yourself to your art, you'll naturally stay in tune with your authentic self as you grow.
It's also important to cultivate joy in your life and allow yourself the experiences that bring you connection and inspiration. A passionate existence will never cease to fuel authentic expression.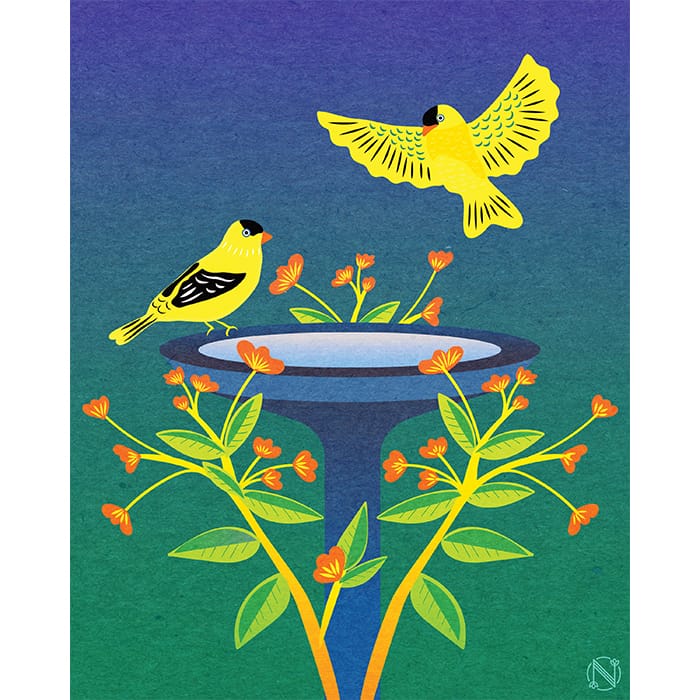 How has Texan culture influenced your style?
I'm a native Floridian, so my experience of living in Texas has broadened the scope of what's inspired me. It's exposed me to an immersive culture of arts and music, diverse communities of people, beautiful landscapes and exceptional food.
The most notable influence on me has been through the people I've met – many of my closest friends are native Texans who embody the kindness, warmth and hospitality of Texan culture. It will always hold a special place in my heart.
How did you approach the brief to design your Austin-inspired Postcards?
I created a mind map of words, themes and symbols to help me explore my ideas, then narrowed them down and started to conduct visual research. I spent time sketching and exploring color themes, textures and treatments.
I wanted to deviate from the typical Austin themes in my Postcard, and highlight the parallel between the flow of nature and expression. I tried to think about how I could represent that conceptually, while also creating a simple, bold design. That's when I thought of the river representing the flow of ideas out of the tip of a pencil, with the Austin skyline in the background.
What does this design represent for you?
The primary inspiration comes from Austin's waterways and natural areas, which are symbolic of replenishing inspiration and rejuvenation.
I feel there's a parallel between the flow of water and the 'flow' of passion and ideas – a state of high cognition where you feel fully present and deeply focused. I wanted to encourage people to embrace their own creative flow.
What are the benefits to artists of attending SXSW?
Being able to immerse yourself in the full experience opens you up to amazing opportunities to learn, explore and network. You meet people with diverse backgrounds and life stories, which leave me feeling motivated.
Being part of the MOO experience at SXSW this year has also been an inspiring opportunity that's encouraged me to keep pushing forward.
What do you have coming up that you're excited about?
I've been working so hard in recent years to get to this point, I'm just excited to keep working and growing. I hope to open an online store to sell prints of my art this year – if I keep focused and continue working hard, I know I'll eventually reap what I sow.
Keep in touch
Get design inspiration, business tips and special offers straight to your inbox with our MOOsletter, out every two weeks.
Sign me up!