Lydia Makepeace: the journey of an artist-activist
We met the New Orleans-based artist to talk about their journey and the role of art in social change.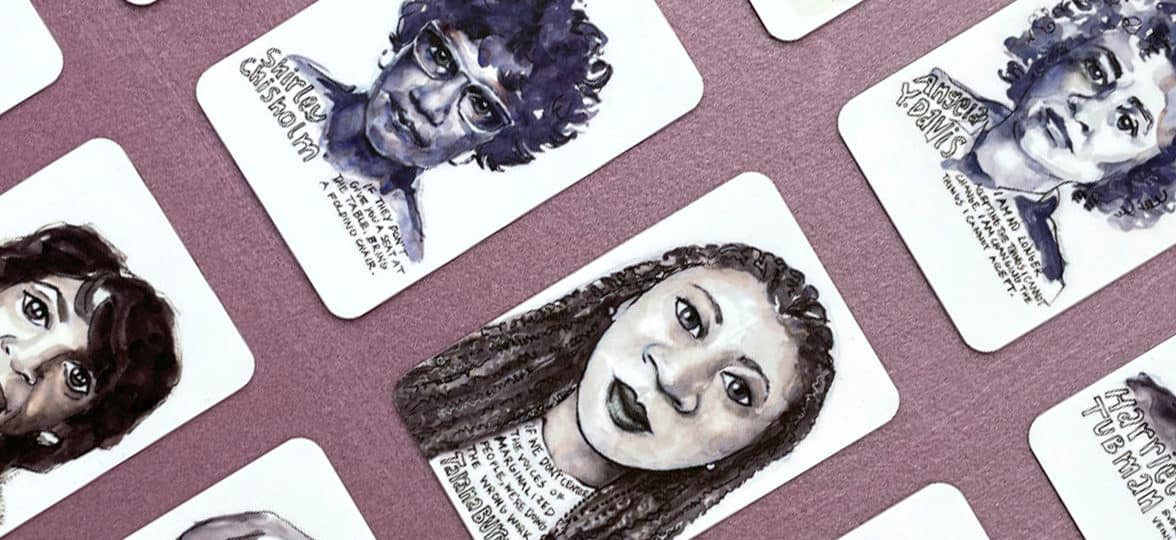 With their prophetic name, Lydia Makepeace seems to have been destined for social justice. The New Orleans-based urban sketcher and artist-activist believes art is an invaluable tool to educate and fight against inequalities. Their latest project, Affirm Black Women, aims to give some incredible women their rightful place in the spotlight – and in history.
We met Lydia to talk about their journey as an artist and activist, the role of art in social change, and the importance of questioning the status quo.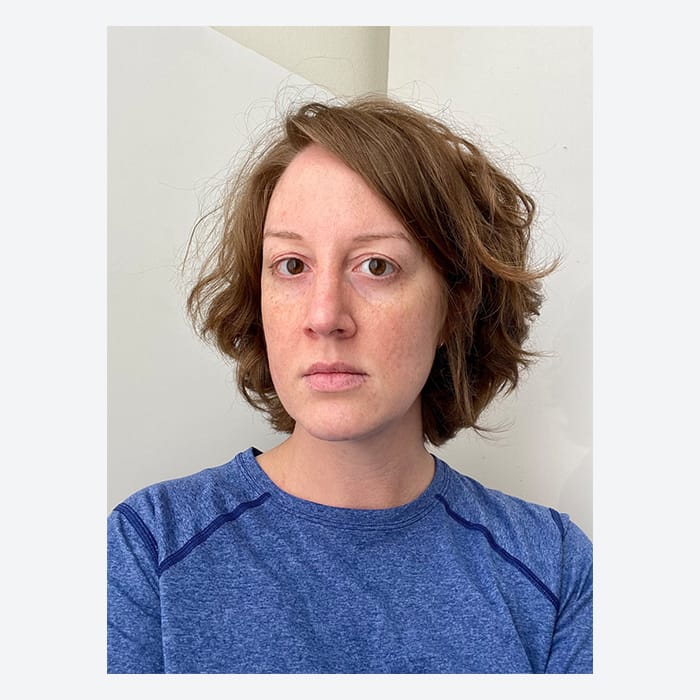 Tell us about yourself and your background as an artist.
I've made New Orleans my home but I was born and raised in a little white house, in a Midwest town surrounded by cornfields. My passions growing up were reading every book I could get my hands on and drawing the world around me. I was fortunate to have parents who nurtured creative curiosity. They believed my creativity was a gift and expected me to use those skills in service of a greater good.
How would you describe your style? How did it evolve over time?
The notion of creative style makes me squirm a bit because I feel pressure to have a consistent linear evolution. I'm kind of this squirrel-rabbit hybrid. I see something bright and shiny and rabbit trail from one topic to the next tucking away a stash of what I discover along the way. Novel connections between seemingly disparate topics can yield some unexpected work. From the outside, that work may not appear to have a commonality. Sometimes I'm the only witness to the connective journey.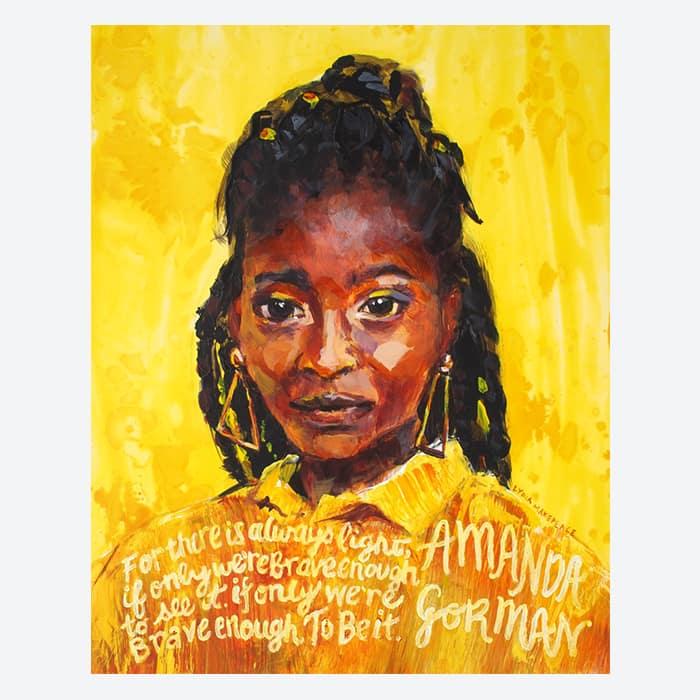 You describe yourself as an urban sketcher and artist-activist. How are the two of them connected?
Urban sketching is an international community of artists dedicated to sharing and documenting everyday life. The only parameters are that sketches be made on location without the use of photos. The goal is to record directly from life so as to bear witness and tell the stories of the places we live and travel to.
Each of us contains a history
As an artist-activist, I interrogate the histories presented as gospel truth, the histories that mainly live in photographs and stories of people long dead. But history is a living and breathing, vulnerable being. Each of us contains a history. Some histories are valued more than others. Some histories are intentionally hidden. My current portrait series is a way to record and bear witness to the history of each person I paint.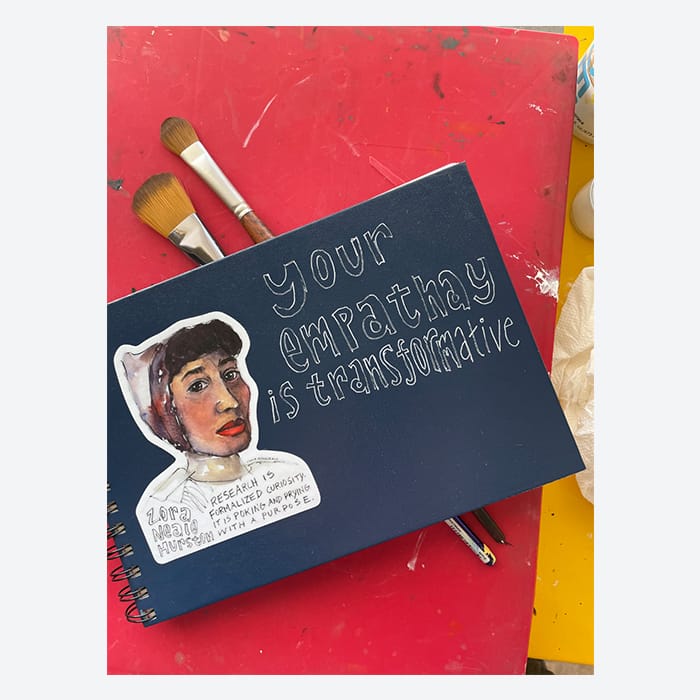 In what ways do you think art can be activism? What do you think is the role of art in social change?
Nina Simone believed that "an artist's duty is to reflect the times." In response to the murder of Medgar Evers and the 16th Street Baptist Church bombing, Simone wrote Mississippi Goddam. Billie Holiday sang about white violence and the lynching of Black people in Strange Fruit.
Which stories are centred matters.
Art historian and painter Samella Lewis asserts, "Art is not a luxury as many people think — it is a necessity. It documents history — it helps educate people and stores knowledge for generations to come." Recording daily life can be activism. It contributes to the historical narrative. History is composed of the stories we tell ourselves and future generations about who we are and what we value. Who tells these stories matters. Which stories are centred matters.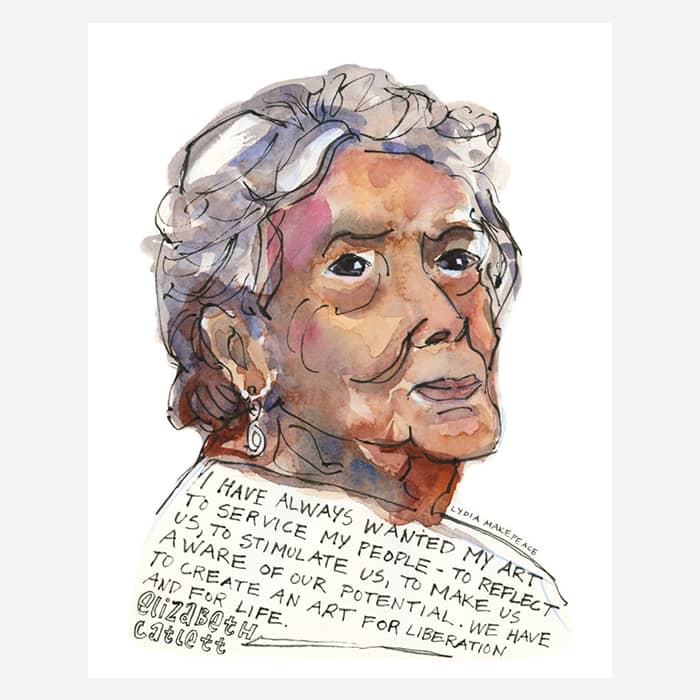 You describe yourself as someone with invisible disabilities. Can you explain what that means? Have you faced any obstacles in your career as someone with disabilities?
Who do you imagine when you think of a disabled person? Are they using a wheelchair? How old are they? How do they behave? In public, you probably wouldn't notice anything amiss about my presence. You wouldn't see my mental illness or chronic fatigue. In fact, you wouldn't see me at all on the days when taking a shower is so exhausting I collapse onto the couch afterwards. Invisible disabilities can encompass a whole range of chronic illnesses and disorders that aren't immediately evident.
Many obstacles exist because this world does not value disabled people and views them as disposable, something the pandemic has made more apparent than ever.
Access to life-saving care has been costly and painful. I can't create if I'm using all my energy to barely survive. It doesn't have to be this way. Many obstacles exist because this world does not value disabled people and views them as disposable, something the pandemic has made more apparent than ever. Accommodations like working from home, distance learning, virtual medical visits suddenly became doable, almost overnight, once the able-bodied population needed them. 
A year into this pandemic, I am thinking of Louisiana disability activist April Dunn. During a work trip advocating for accessibility, she contracted COVID-19. Like many disabled people Dunn was more vulnerable to complications, something she addressed in her last Facebook post stating, "Only the vulnerable will be at risk. Your 'only' is my everything." April Dunn died on March 28th, 2020 at the age of 33 from COVID-19. She should still be here. This pandemic is creating a wave of newly disabled people. I desperately hope this pushes us to dismantle the obstacles preventing everyone the access they need to thrive in their communities. 
Your work often (if not always) has an educational goal. How do you go about researching your topics?
My research always begins with a question. The further I dig into a topic the more questions I discover. The questions guide the journey. I get to be a detective searching for clues and it's thrilling! 
When I paint someone's portrait, it's important to dig deeper than a list of accomplishments. I want to learn what makes that person who they are by studying their work and the experiences that shaped them. I read their novels, poetry, and autobiographies. I watch interviews and documentaries. I listen to their music. The research is immersive.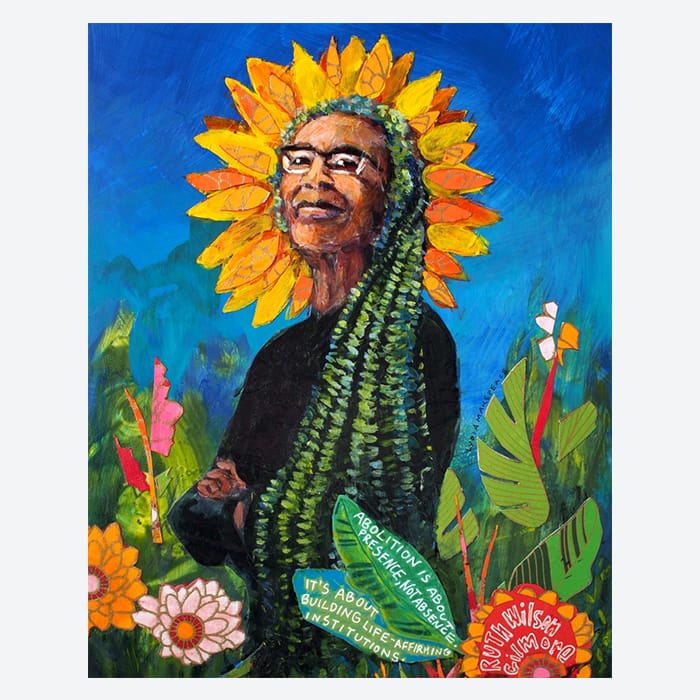 Can you tell us more about your project Affirm Black Women? How did you come up with the idea?
The Affirm Black Women portrait series is named after a call to action on social media in October 2018. A protest intended to bring attention to gendered violence was encouraging women to participate in a social media blackout. In a world that already seeks to silence and erase their voices, Black women spoke about the violence of being asked to be silent in the face of oppression. 
Abolitionist Elisabeth Epps proposed an alternative action that asked white women to amplify the content of Black, Brown, Indigenous, and other women and femmes of colour. She urged that action be followed up with payment for their labor and a continued commitment to affirm Black women. Anti-oppression activist Regan Byrd explained, "Black women are targeted in a way other women of colour are not and this is due to colourism, and anti-Black racism, so this effort is one way to call attention to that specific situation and highlight those who endure it."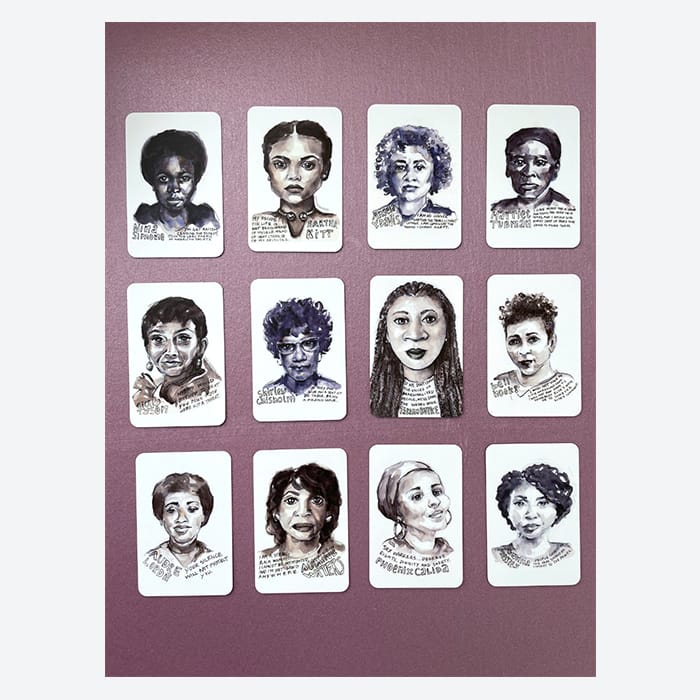 On October 3, 2018, I posted an illustrated stack of books written by Black women who have taught me new histories. The next day, I painted a portrait of one of the authors of those books, Roxane Gay, and included a quote. The day after that I painted a portrait of Tracee Ellis Ross, followed by a portrait of Fannie Lou Hamer… It's 2021 and the series is at 67 quote portraits and counting.
As exciting as it is to see this project resonate and grow, it's important that I both amplify Black women's work AND find ways to pay them for their labor. The sale of prints enables me to donate to Women With a Vision, a non-profit created by Black women to fight the injustices oppressing New Orleans' most marginalised women. I'm also able to support with direct giving to activists and by donating resources to educators.
What did you find most surprising about bringing the project to life?
What I've learned should be no surprise — white supremacy is insidious. No facet of our lives is immune to its violence. Some of the Black women I've painted were subjected to online harassment and death threats for the truths they've spoken. On the other hand, I, a white woman, painted their portraits with those same truths and have been granted opportunities — like this interview.
Good intentions don't matter if they are causing harm.
Good intentions have not prevented me from doing harm. Unthinkingly, I painted one Black woman's eyes blue as a stylistic choice because of the lighting in a reference photo. She felt honoured, but distressed that her brown eyes had been made blue. Instead of an affirming portrait, I'd created one with anti-Blackness. In Toni Morrison's novel The Bluest Eye a young Black girl prays for blue eyes. American culture prizes whiteness and tells her black skin is ugly. She internalises this anti-Blackness and believes that only those with blond hair and blue eyes can be happy, loved, and beautiful. Good intentions don't matter if they are causing harm.
How do you use MOO for your art?
I love that I can print a different portrait on each of my Business Cards. The cards become conversation starters about the women on them. I also use MOO for my Medium Postcard prints. They're versatile prints that customers can pop in frames, gift, or washi tape to a home office wall. It's rewarding to see customers create a gallery wall of portraits they find meaningful.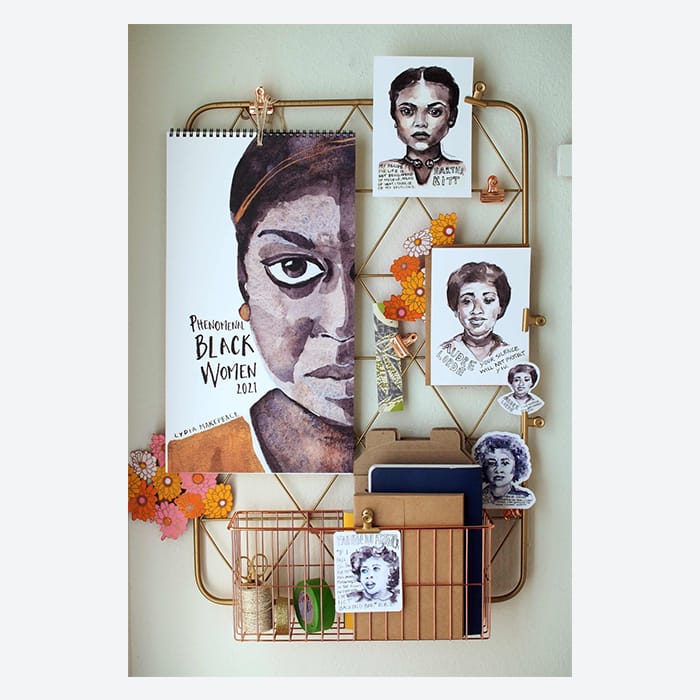 Most recently I created The Phenomenal Black Women Memory Matching Game with MOO Business Cards and Stickers. I wouldn't have been able to afford the cost to print such high-quality playing cards with so many different images at this point in my business without MOO's Printfinity option. Thanks, MOO!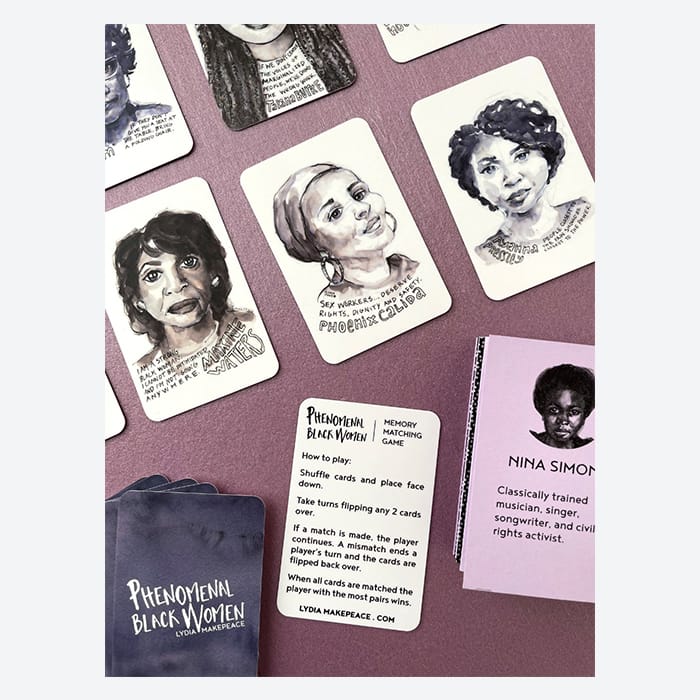 Any projects coming up you're looking forward to?
SO many! I have sketchbooks and a brain overflowing with ideas just waiting for the energy to match my ambitions. When my health and schedule allow, I plan to dive into a picture book about grief and resilience that's been simmering on the back burner of my brain. I've always wanted to write and illustrate picture books.
What piece of advice would you give to artists who want to put their creativity at the service of activism?
Wrestle with difficult questions. Whose stories are being told? Why? What stories are missing or neglected? Are you the best person to be telling a specific story? Are you talking over someone whose lived experiences make them the expert the world needs to hear from? How can you use your skills and resources to support them? Is your silence violence? Are your good intentions causing harm?
We live in unprecedented times. Your imagination is needed to build a life-affirming world that leaves no space for those who seek to deny someone's full humanity. 
Tell your own story through print with MOO.
Keep in touch
Get design inspiration, business tips and special offers straight to your inbox with our MOOsletter, out every two weeks.
Sign me up!