How this female-led branding agency pack a visual punch in print
This International Women's Day we're celebrating the female and non-binary creatives that are driving inspiring work throughout the industry. In this interview, we caught up with founder and Creative Director, Julie Schmidt, of yellowDog : creative, to find out how she builds standout identities for both her branding agency and her clients.
What inspired you to start your own business?
I started yellowDog : creative ten years ago after working as a graphic designer for fifteen years. My design career gave me experience working in lots of different environments, and when I moved into working freelance, I was lucky enough to find clients that allowed me to work on projects I loved. 
As time went on, I decided to take that love to the next level and fully strike out on my own, and my last full-time employer ended up turning into my first client!
How would you describe your style and approach to your projects?
My favorite type of work is helping clients to grow their brand, and I love the experience of working with them as part of their team. It's really collaborative, but they also allow me to take the reins and be the design expert on a project. When we are all doing what we do best, we create lasting work that resonates with audiences.
What kind of challenges have you faced as a small business?
In the early years I was convinced that someone was going to come through the door and say I wasn't really doing my job. I was, of course, but there was still this feeling of being an imposter that hung around for a long time. Thankfully, after ten years of experience with clients, a big portfolio of work – and the data to back it all up – has shown me that it all is real. 
I suppose being a small business also means that cash flow will pop up from time to time as an issue, but it's not a reason to be scared to go for it.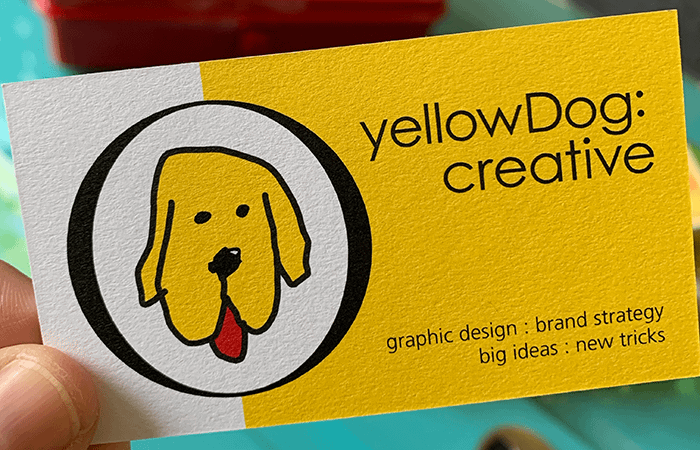 As a branding agency, clients would expect you to have a strong visual identity. How do you show them what yellowDog : creative is all about?
I think the way I dig into my brand is one of the ways I show off our personality and delight my clients. All the proposals I send come with dog bone paper clips, I wear yellow clothes to meetings, and I even drive a yellow Beetle! My reputation and the way I present our brand is how yellowDog gets more work, so it's important to set a high level of excellence – both in work and in my working relationships.
But despite all this hard work, I'll bet my clients mainly remember our agency dog! Sadie (the #brownyellowdog) is always at the office and ready to give clients a warm welcome. She's an absolute delight!
What kind of considerations go into translating a brand's visual identity in print?
For me, quality of product is the most important consideration you need to look at. Many of my clients are small businesses or nonprofits, so I also need to be mindful of budgets. Printing our designs with MOO means I can offer my clients a great product at a great price! And because I can order small quantities, we can test different design options and variations before we make that final big print order.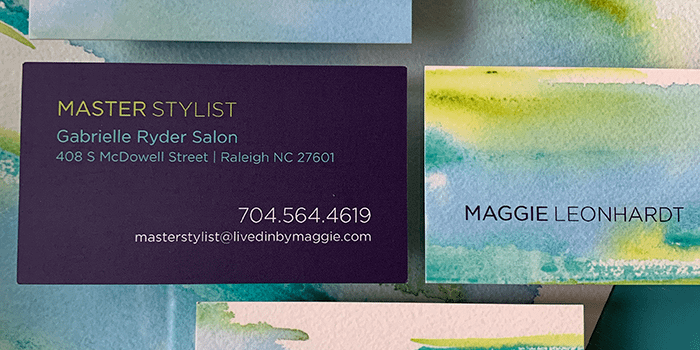 How do clients react when they first receive a business card with their new branding? 
Clients always say how much they love the feel of the cards when they get them. That first experience with branded print is so important. 
When I first discovered MOO, I was given a really cool, tiny business card by an artist after purchasing some of her work. I loved that she'd printed the backs of her cards in all different designs using MOO's Printfinity option, and that inspired me to start ordering my own for clients. 
How do you use print to help your clients' branding stand out from the crowd?
As technology has developed we can now do so much more with print. I can wow clients with Gold and Silver Foil, and add some extra shine and texture with Spot Gloss and Raised Spot Gloss effects. These special finishes really help elevate the brand, and add an element of uniqueness to their materials. 
Printfinity has also been really a really useful tool when we're designing for our clients. For example, if we're working with a photographer, we can show off her work by putting a variety of her images on the backs of the cards. We also have clients that work across different markets, so it's great that we can tailor the backs of cards for this too. 
After printing a few of these branding projects with MOO, they approached me about having a dedicated platform for my clients. I signed up immediately and have been ordering cards ever since!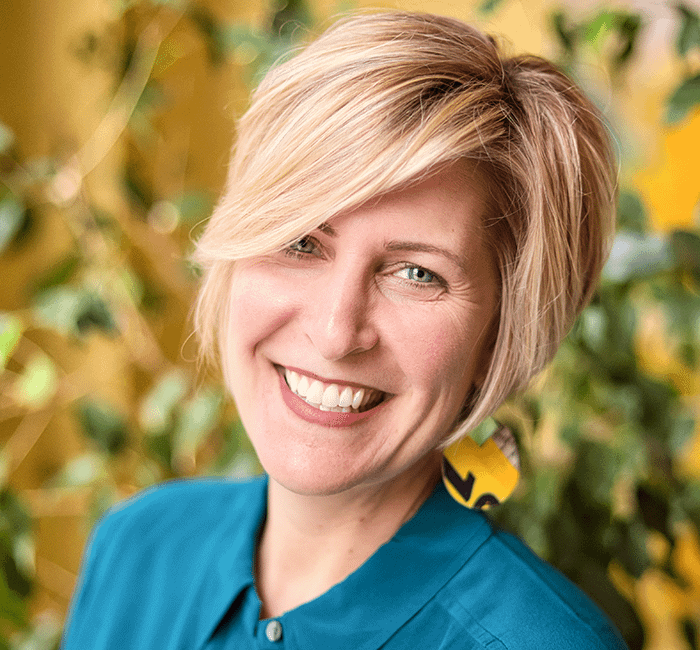 How has MOO's platform helped you as a small business?
I love that I have a platform that has all of my history for orders and company templates. This makes reordering and editing so much easier. As a business owner, I like to have trusted partners for all of the services and products we offer clients. When it comes to printing, MOO is our preferred partner. If we ever have any issues with an order, the team lets us know and we can work through the issues. Working together like this helps us give the client the best possible end product. 
What is your vision for the future of yellowDog : creative?
I hope I continue having the good fortune of working with amazing clients (who often become friends), and I'm also really looking forward to doing more design work that affects my community in a positive way. 
I've loved this work since the day I started, and I'm hopeful that will continue for many more years. It's always changing and evolving, and I love how that pushes me to do the same. I'm grateful for the many wonderful opportunities and design projects headed my way in the future!
Ready to harness the power of print for your clients? Well, we'd love to help you. Click here to get started.
Keep in touch
Get design inspiration, business tips and special offers straight to your inbox with our MOOsletter, out every two weeks.
Sign me up!