Welcome to Hagsville: Kelly Abeln's autobiographical comics
Kelly Abeln is a freelance illustrator and comic artist, working from her home studio in Minneapolis.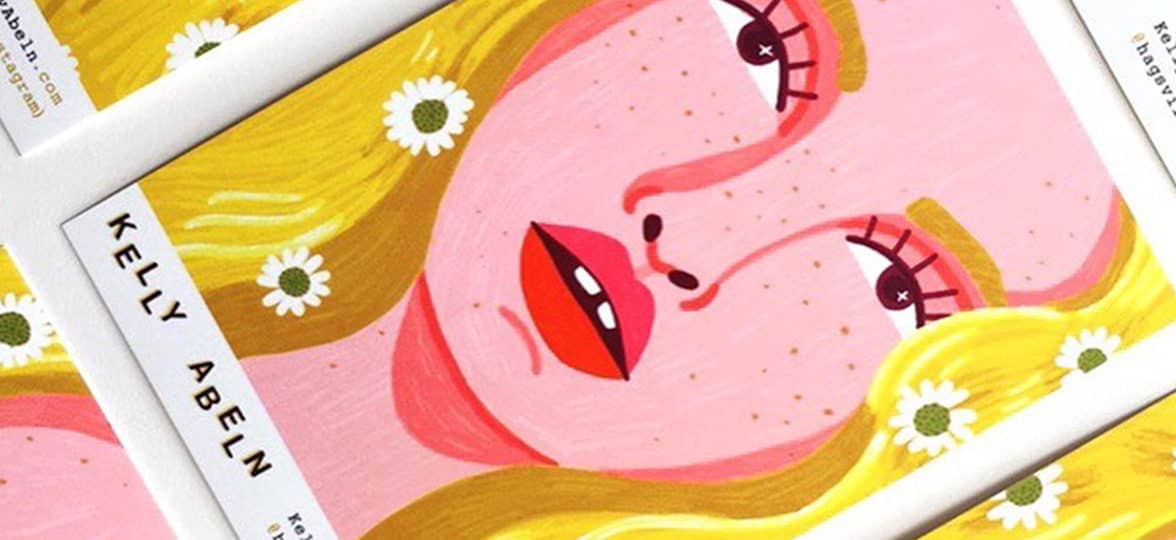 Kelly Abeln is a full-time freelance illustrator and comic artist, working from her home studio in Minneapolis. We caught up with her on how she's adapted her style to fit the comic format, and how she uses personal experiences to connect to her audiences through art.

Talk us through your illustration technique. How did it evolve over time?
As I've developed as an illustrator, my process has shifted from using totally analog materials like gouache, to creating almost everything digitally on an iPad. Even though I've moved away from creating with ink and paint, I still like to incorporate painting and printmaking textures into my work to make it feel warm and handmade, even when it's digital. 
How does your style change when you shift from illustration to comic work with Hagsville? 
If I'm just working on a stand-alone illustration, I can include more depth, texture and detail, whereas when I'm creating a comic illustration, I try to simplify my style by using limited colour palettes and line work. It's also important to ensure consistency when you're drawing a character across several panels, and really focus on getting across the emotion of their expressions. My comic work is less about making each panel full and rich, and more about moving the story along.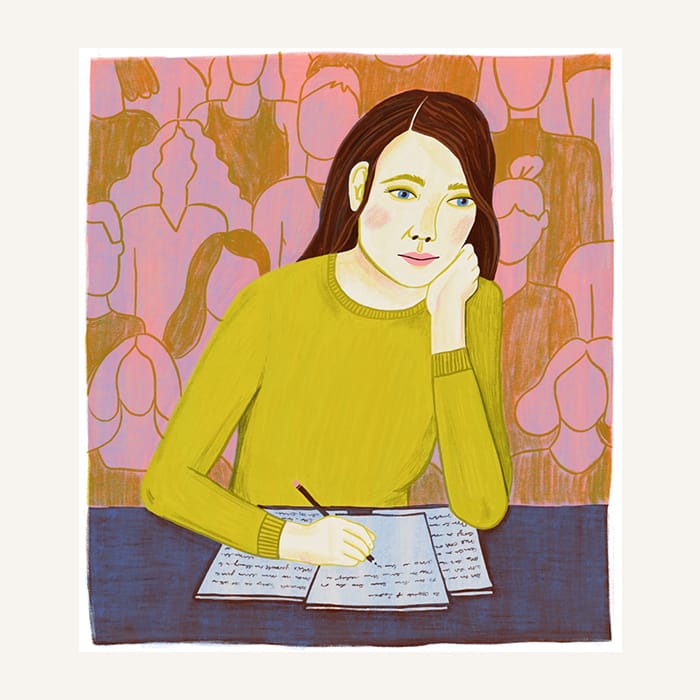 How did you discover your love for autobiographical comics?
My college roommate used to check out a lot of indie comic books from the library and I started borrowing them. When I read books like Lynda Barry's 'The Greatest of Marlys', Esther Pearl Watson's 'Unlovable' series, and James Kochalka's 'American Elf', I felt a connection that I'd never had with superhero comics. I just immediately fell in love with them. Even though I only took one comics class at school and focused more on illustration as a career, storytelling and humour has always been a part of my work, so it wasn't too big of a jump to start making my own autobiographical comics with Hagsville. 
What's your comic style? How do you see it developing in the future?
The simplicity that comics demand forces me to strip back and exercise restraint with detail. Storytelling is the main attraction and the art is somewhat secondary, so it's nice to not have to agonise over every panel.
In the future, I'd like to develop more of a system like traditional comic strips have and create more consistency in the way I draw people and places. That way I  won't have to rely on reference images as much, and it'd speed up some of the more tedious parts of comic making.
How would you describe the sense of humour in your work?
I like to create a mixture of sad and funny moments. Dark comedies are my favorite genre of movies, books, and comics. For me, the laughs are deeper when they are based on truth, so a lot of my comics come from personal experience.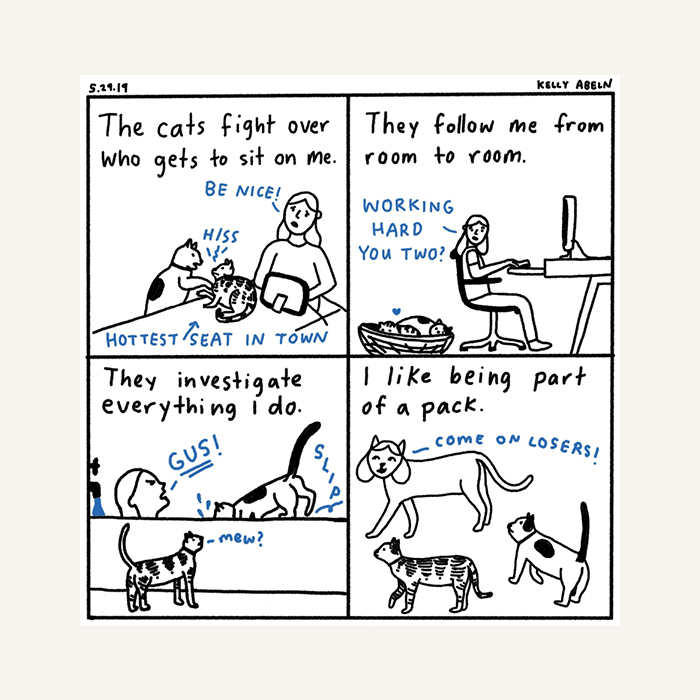 The things that stick in my mind usually have a strong emotion of humour and/or sadness attached to them, so they end up influencing what I create. I also love to find humour in small daily interactions and all those in-between moments in life that often get overlooked.
Where does the character Hagsville come from? 
Hagsville comes from my favorite movie, Clueless. It's not one of the most famous lines – it's a comment Christian makes in reaction to an outfit Amber's wearing. I chose it all the way back in 2009 as my instant messenger screen name, and when I got Instagram, I carried it over.
I still like it to this day because it's kind of girly if you get the Clueless connection, but it's also kind of freaky because of the witchy, repulsive connotations the word 'hag' carries. The combination of cute and weird fits me well, which is why Hagsville is currently a stand-in for myself. In the future, I think I might make her more of a character and have her branch away from being 100% me.
How did your recent printed collection 'Hagsville Volume One' come to life?
In April 2019, I posted a comic every day on Instagram as part of The 100 Day Project. Having that daily deadline to create something forced me to work through a lot of ideas – even if I didn't think they were funny or poignant enough. As a result, I ended up making lots of comics I wouldn't have otherwise – which meant I created enough material to release my printed collection. I also had a few longer comics that I hadn't shared online and wanted to publish, so I went through them and selected my favorites. They naturally fell into three categories: growing up, anxiety and self-care, and bad times. The whole process of editing my own work really helped me understand what subjects I'm drawn to.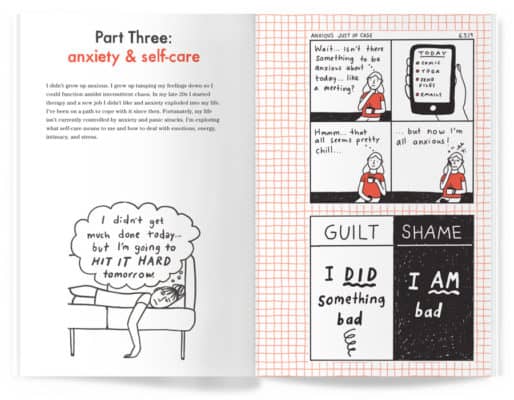 Sharing my work on Instagram as well as creating Hagsville Volume One has helped me grow my audience. People were excited to see what I would come up with each day during the 100 Day Project, and the support helped encourage me that my comics were worth sharing and pursuing.
What do you want people to feel when they read comics about your personal experiences?
My comics are based on what I'm thinking about, and self-care and anxiety come up a lot. Making a comic helps me process what I'm thinking. It's like when you have to teach someone else how to do something, you're forced to think about how you do it. So when I make a comic about an experience or thought, it forces me to put words around how I feel about it. 
I'm happy when people relate to my comics because it proves the thoughts and experiences I have that often feel lonely aren't unique to me. That's the best reaction I can get from readers – a sense of connection over our inner lives.
How have you used print to promote your art?
I often send MOO postcards to art directors. The Printfinity option allows me to really personalise what I send to the recipient because I can choose loads of different images of my work for the front, and have my contact information on the back. Having so many variations means I can send each art director a postcard with the image I think best fits their publication or company.
Have you had lots of positive reactions from sending out print?
I've had loads of great responses from my printed mailers. I think they stand out a lot more than an email because It's such a nice surprise to get something fun in the mail. The enamel lip pin and postcard promo I did got me a lot of emails from art directors. I initially created it as a Valentine's Day promo, but ended up selling some of them in my Etsy because there was such a demand!
Finally, if you had one piece of advice for fellow creatives, what would it be?
This quote from Dolly Parton pretty much sums it up: "Find out who you are and do it on purpose." To me, it means experiment, dive deep into your interests, hone your craft, simplify your message, and share it with the world. If you focus on those things, success will come.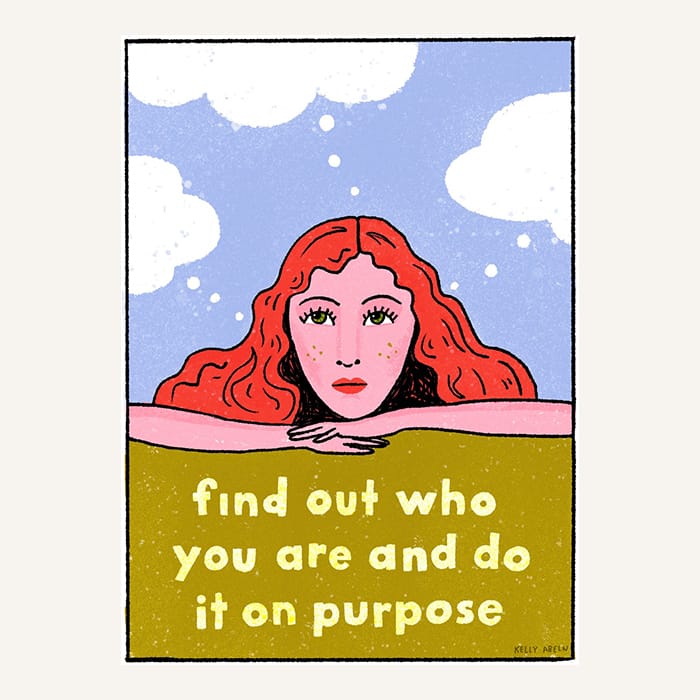 Write your own narrative with custom postcards by MOO.
Keep in touch
Get design inspiration, business tips and special offers straight to your inbox with our MOOsletter, out every two weeks.
Sign me up!