Creating a powerful brand identity as a freelance designer
Framing a brand to reflect your values while also engaging your customers is a tricky balance to strike. Lettering artist extraordinaire, DesignerMike, lets us in on how he's developed his distinctive personal branding as a freelance designer.
DesignerMike is a graphic designer, lettering artist and creative director based in Toronto. Heavily influenced by '90s music culture, graffiti art, and tattooing traditions, Mike blends striking aesthetics with personal values to create his unique brand.
We caught up with Mike to learn about the role of social media in marketing, finding your brand voice and some key tips for anyone who wants to redefine their brand identity.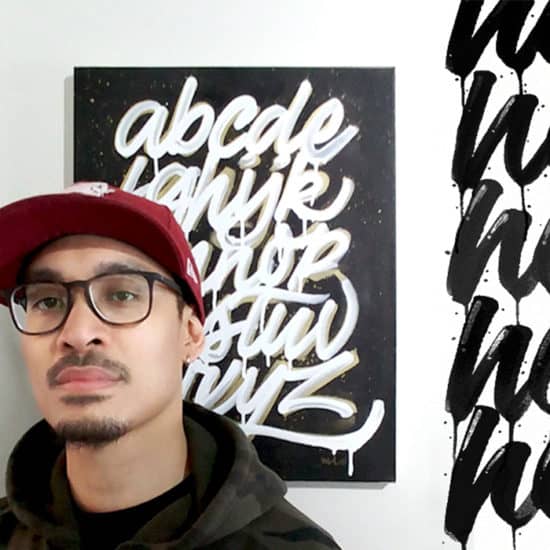 What inspires your work?
I take inspiration from the everyday. I tend to notice all the different styles and forms of signage, graphics and type around us. Where most people see the mundane, I look for the extraordinary. A teacher once told me that most successful design is the design that surrounds us and informs our lives, yet goes unnoticed.
You work on a lot of client branding projects – how did you come up with your own brand identity?
My own brand identity is still evolving. I suppose it's because I, myself, am still evolving, as an artist and as a business. It was only within the last couple years that I developed the current iteration of my brand identity as DesignerMike. I used to operate under an impersonal company name, with the idea of appearing bigger than myself as a solopreneur. Yet as times changed, social media became a part of our lives, and there was a shift in the paradigm. People want to know that they're working with other people. And that human connection, I believe, is part of the reason for the recent popularity of hand-lettering.
My personal Instagram profile began gaining a following as I started to focus my work on lettering, so I decided to just roll with it as a branding strategy.
Do you have your own brand values?
My brand values are a reflection of my personal values:
Design has Power. Use it for good: Design has influence over people's perceptions and behaviour, and has the power to create possibilities for a better world.
Keep it real: Only work with people and businesses you like—whose purpose, product, or service you would use yourself and recommend to friends and family.
Follow your heart but bring your brain with you: Love what you do, but know how your work generates value for others. Know how much you should earn from providing that value. You can't feed your family on warm feelings.
Stay curious, stay humble: The wise person knows they know nothing at all.
What are your top tips for anyone who wants to revamp their brand identity?
Know yourself. Know your customers. Know your business. Know your competition.
Branding is an exercise in self-discovery. To be able to represent your brand, you must be able to live it. To resonate with customers, you need to know who they are and what they're into. And having in-depth knowledge of your industry and the players in it will help you to define what is unique about your business and stand out from the crowd.
How important is a well-curated social media feed to your freelance business?
If your social media feed is a key marketing channel, then it should be focused on your business. When people visit your profile, they should get an immediate sense of what you're about, or get curious enough to dig into your feed to find out. But if your posts feature too many personal photos, unrelated or random things, then people will view you as a casual user–– instead of a business with something specific to offer them. I believe in the Law of Attraction, and that social media works as a hyper-public expression of your thoughts. So you get back what you put out.
Do you have any advice for other design entrepreneurs who may be about to embark on their own freelance journey?
Do lots of work and find your own style. Keep a practice of continuous study, exploration and experimentation. And never stop learning. Take extra classes and workshops to build your skills and learn new things. You'll never go wrong investing in yourself.
Keep in touch
Get design inspiration, business tips and special offers straight to your inbox with our MOOsletter, out every two weeks.
Sign me up!