The Floral Craft: the dark side of floristry
We met the owner and head witch behind The Floral Craft to talk branding and dark arts.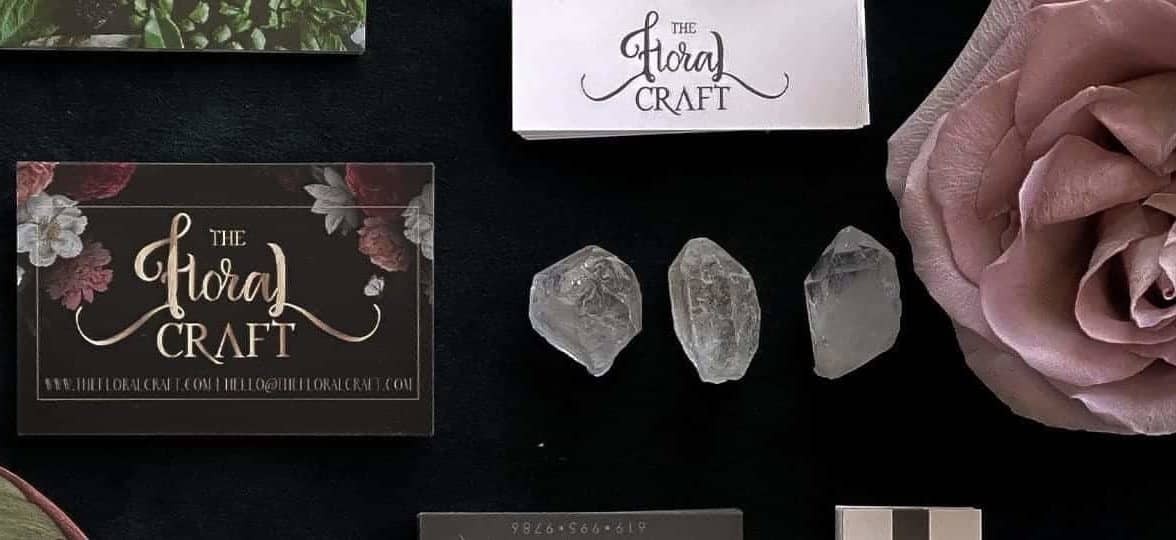 Forget everything you know about florists. Bathed in moonlight and crystal glow, the creative spirits at The Floral Craft master the dark art of floristry to conjure up hauntingly beautiful designs. They find inspiration in the macabre, the Victorian era, and the mysteries of nature to create a haven of magic in their San Diego shop.
We met Danielle, the owner and head witch behind The Floral Craft, to talk branding and dark arts.
Tell us a bit more about yourself. Where does your love for the macabre come from? 
Hi! My name is Danielle and I am the owner and head witch over at The Floral Craft. I am an Aries Sun, Capricorn Moon, and Cancer Rising. I was destined to do something creative with my life and I am very fortunate to have found a career and started a business that can keep me full in my imaginative endeavours. 
I'm an old soul – I am attracted to anything that comes from a long time ago. I love watching black and white movies, especially if they are spooky and have Vincent Price in them. I collect old items like photo cabinet cards, brass candlesticks, vintage antique poetry books from the 1800s, antique flower paintings and Victorian-style couches.
I've always been attracted to a darker aesthetic and all things macabre. With Halloween being my absolute favourite holiday, it only made sense to take something I love and make it beautiful – but also a bit creepy! So I wanted to show that I can mix what I love with what I love doing and share it with others like me.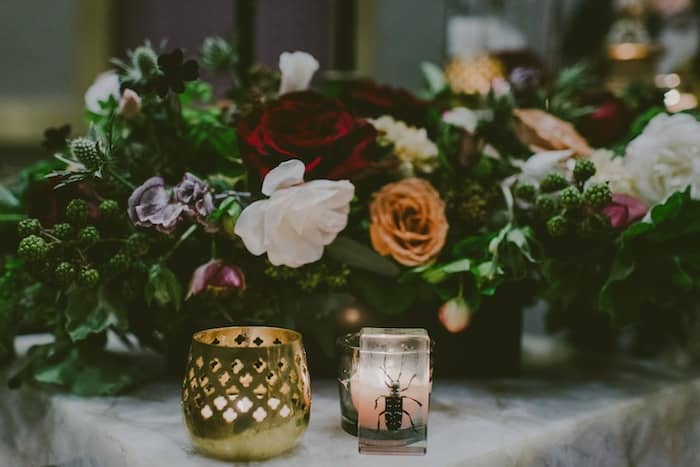 What sparked the idea to create The Floral Craft, your shop and floral studio?
After graduating from the Fashion Institute of Design and Merchandising, I was seeking out a career that would coincide with my Visual Communications Degree. This was a challenge, especially living in San Diego where the industry isn't as vast as Los Angeles. After a few failed jobs, I came across a job posting for a floral designer on Craigslist (is that still a thing?). I didn't even know there could be such a job as a floral designer. The job requirements were for a seasoned floral designer to make flower arrangements in a creative environment and work in a fun and fast industry. "Sounds great!". The only catch was a five-year experience requirement. After seeing this, I made it a mission to send my résumé and cover letter to 12 local flower shops and event companies. I never heard a word back from anyone.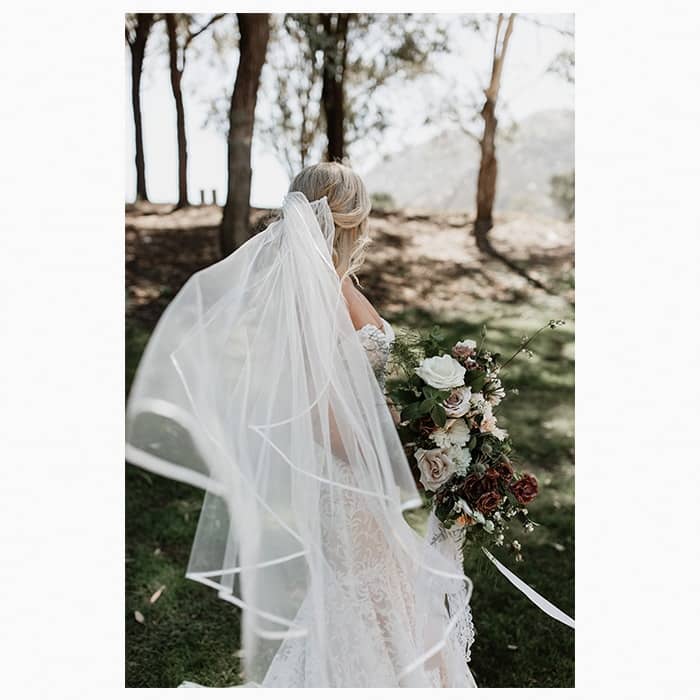 I decided I would probably have to start from the bottom – and that's what I did. I got a part-time job as a sales associate for a local flower shop. There, I met a woman with almost 30 years experience in the game, who would later become my mentor. I told her this is what I was meant to do and she taught me five years of experience within a year. In 2010, I started my business – and the rest is her-story.
I wasn't happy with booking the same wedding clients with the same colour palette and same centerpieces and same "rustic chic" decor
It wasn't all roses and daisies, though. I learned so much, especially from a lot of struggling and failure. I started the business with a different name and I was trying to be like other florists out there that were booking high-end clients and making lots of money. There is nothing like imposter syndrome to really harm your confidence and your business. I wasn't happy with booking the same wedding clients with the same colour palette and same centerpieces and same "rustic chic" decor. I needed to change the direction my business was heading in. I decided to change my business name and do a total rebrand of my company and, in 2017, The Floral Craft was born.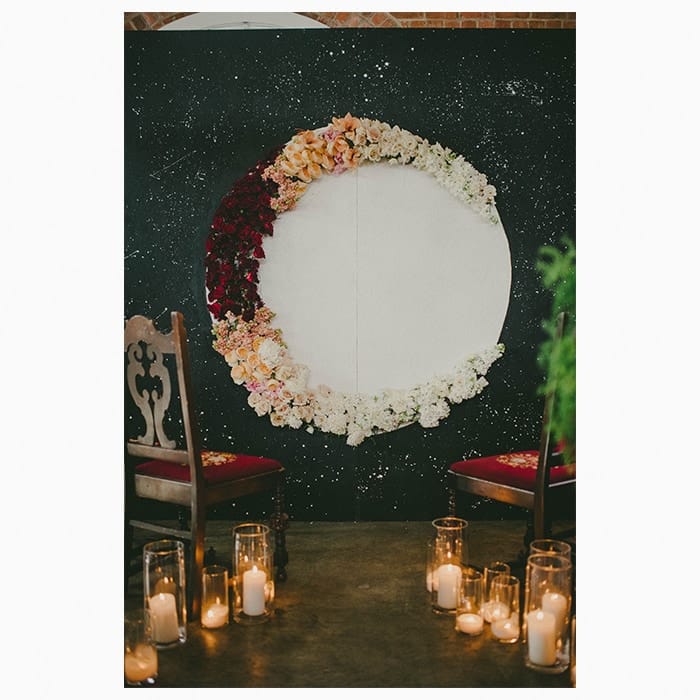 We don't usually associate flowers with darkness, yet you've proven they make the perfect pair. Why do you think this combination works so well?
I think they pair so well together because it's unexpected. Usually, you associate a brighter colour palette when it comes to florals, something you would expect to see in a golden-filled garden on a warm sunny day. But I wanted to embrace the beauty in darkness. 
Using a colour palette like blushes, creams and emerald greens will give you depth and romanticism. Using a softer colour palette in tones of dusty rose, mauve and deep plum will give off a hauntingly beautiful design. I want people to embrace both sides of light and dark since this is a reflection of how life and nature is. We use flowers to convey so many different emotions, be it for happy times like a wedding or welcoming a new baby, or even in dire times like an apology bouquet or the loss of a loved one. Flowers can mean so many things and I wanted to show that there is beauty in it, no matter what the occasion is.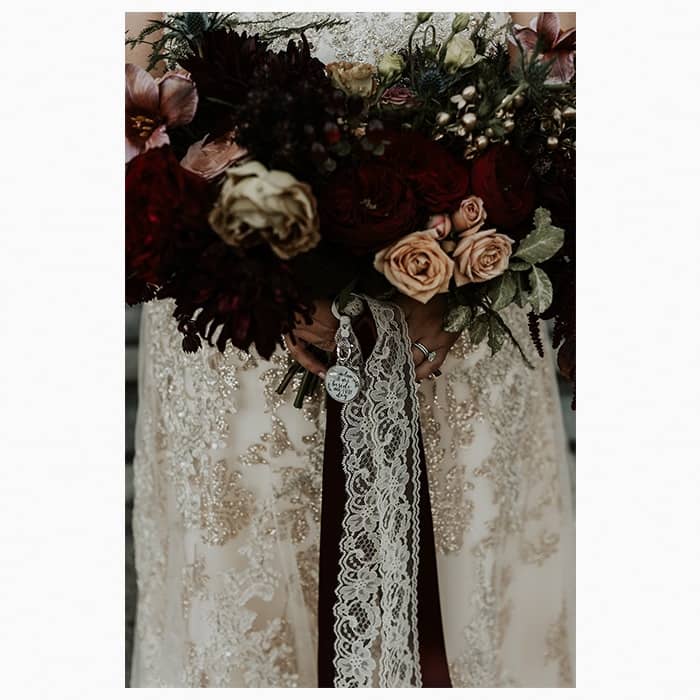 You have such a unique and recognizable brand identity. How did you go about developing it?
I wanted to embrace the terms "Flora + Fauna". Especially owning a flower shop, I wanted to associate the natural essence of flowers, plants and animals. By starting with a base colour such as black, I can make all my photos of flowers pop and become the main focus of my branding. 
I love showcasing branding items on my Business Cards like a skull with a flower crown, snakes, a spider web, or even a ram (my zodiac sign!) with flowers. These branding icons refer to things that I love and they're a bit about me, and I am so happy I can make them significant in my branding.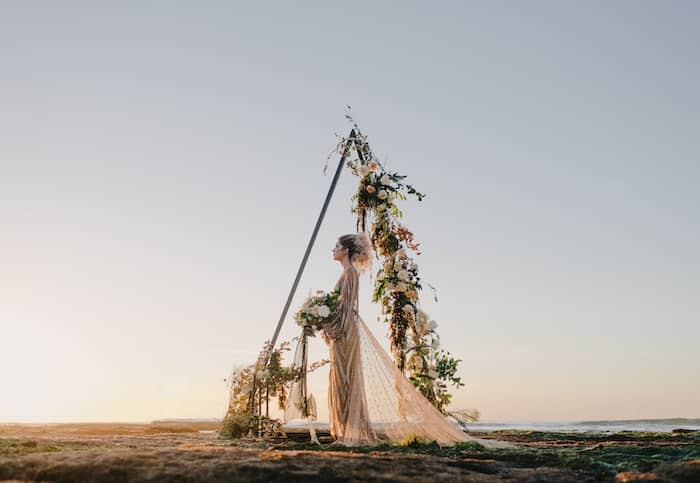 Where do you find inspiration for your compositions and products?
I love being in nature. The natural mystery of being outside has always been something I love and fear, which makes it so intriguing to embrace. I've always been drawn to a darker aesthetic, so of course having that as part of my brand identity makes it more appealing. I also follow a lot of artists who make such beautiful art with the same aesthetic, and I love showcasing similar products in my shop. 
You have expanded from flower arrangements to incense, stationery, apothecary, and even taxidermy. How did that fit into your vision and strategy for the brand? How do you see The Floral Craft expanding in the future?
I am obsessed with the Victorian era and I wanted to showcase my shop as something you would find in a parlour or natural history museum. Items like antique books about gardening, taxidermy animals, plants and fresh flowers all the while mixing in witchy items like incense, smudge, crystals and our very own apothecary line. I also offer Floral Tarot Readings as The Floracle. These are tarot readings using a floral tarot deck, reading the meaning behind flowers – it fits into our brand so well.
I would love to expand our company by opening up another flower shop, but mixing in a tea house. You see a lot of coffee and flower shops, but none with just tea. I envision a Victorian greenhouse-style design with afternoon tea on the weekend, filled with finger sandwiches, pastries and vintage tea sets. We would incorporate Victorian Tea Leaf readings as well as workshops on how to customize your own tea. All the while having the flower shop open and gifts abound.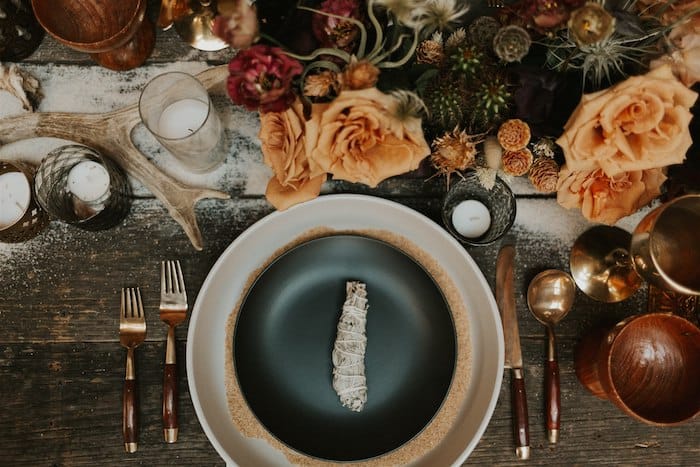 What do you like the most about managing your own studio? What's the most challenging?
I love making it my second home. Making it my own. Making it into something completely magical and something you have not seen before in a retail flower shop. The outside of our building is black! How exciting and intriguing to bring in your curiosity and find yourself in a flower and gift shop. I love mixing in vintage and antique items with new and fun products.
My most challenging thing about owning a studio: TIME. I find it so difficult to manage my time. I pretty much wear all the hats in the business, so I am constantly juggling all different tasks. Everything from taking care of the flowers and plants on a daily basis, to making all the florals for weddings, making sure the shop is stocked for inventory, cleaning, cleaning, cleaning, managing the team, marketing, emails and accounting. It's a lot.
How did you approach your promotion strategy?
Always with excitement. I love featuring new products or changes that I have going on that I am excited to share with others. Like right now, we just started offering workshops. They are so different from other workshops where you are only learning or doing one type of thing. 
At The Floral Craft we offer workshops like making your own smudge bundles, learning how to mount and spread taxidermy butterflies, making your own Moon Ritual Bath Soaks and of course floral design or wreath making. We also are opening the shop up for anyone who wants to host their next event there. So a fun group activity for a birthday, bridal shower or just a ghouls night out. Something a little different for everyone.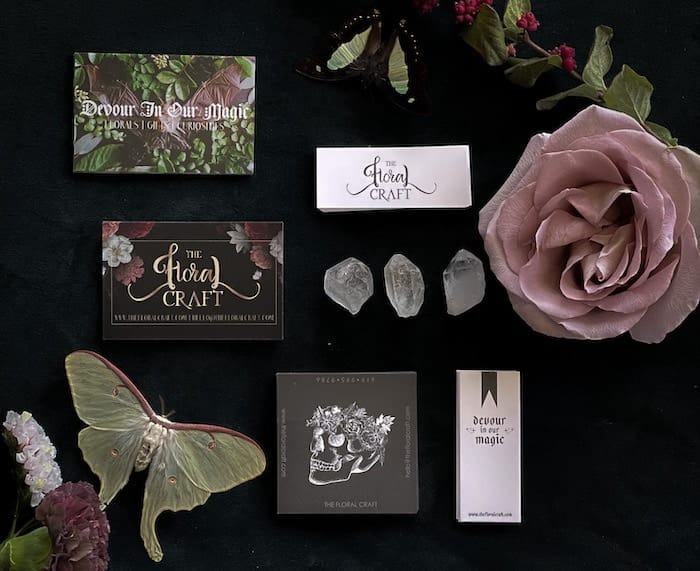 How do you use MOO for The Floral Craft?
I love MOO! I was excited to find a company that made professional but budget-friendly Business Cards and promotional items to use for my business when I rebranded. I knew I wanted to make a collection of items that would pair so well together. 
My favourites are the Square Business Cards. They have a unique design on each card that has our business info on each side of the square. I love the thickness of the cards and how beautifully my photos are printed on the cards. I also make custom price tags that go on the MiniCards from MOO. I use the Stickers on wrapping items up in the shop with tissue paper and such. 
Are you working on any exciting new products that you can tell us about?
As of right now, I am wanting to structure my business a little better. I feel a little all over the place, so I think by the time the new year comes around, I will have more of a structural idea of how I want my business to run. I'll also take a deeper dive into setting it up successfully so it can run as smoothly as possible while I take on more business. 
I want to expand the apothecary line a little more and come out with custom candles. They seem to be a success in the shop. I would also love to come out with some of my own prints for the shop. I'm still playing with this thought, but I have this idea of venturing into drawing and making some of my crazy ideas and dreams come to life. I would love to come out with my own collection of floral poetry – not a lot of people know this about me, but I love to write short style poetry and I have a small collection stashed away. Maybe I will be brave enough to release it, but in the meantime, I hold onto it and cherish it. 
Do you have any advice for small business owners looking to expand their brand while maintaining their unique identity?
Find yourself. Find what inspires you and hold onto it. Run with it and embrace it. If it wasn't for me finding the darkness inside myself I would have never been able to make beautiful work and share it with others. 
Find what inspires you and hold onto it
Focus your attention on details and figure out what draws you to it. For me, I kept finding I was being drawn to the Victorian era and romanticism of poetry and the love of a dark aesthetic were just a few items that fueled this passion I already had of doing flowers.
Give your brand a unique voice and grow your business in style with MOO products.
Keep in touch
Get design inspiration, business tips and special offers straight to your inbox with our MOOsletter, out every two weeks.
Sign me up!