These Gold Foil Business Cards are shining examples
They say all that glitters isn't gold. But after seeing these customer designs, we beg to differ.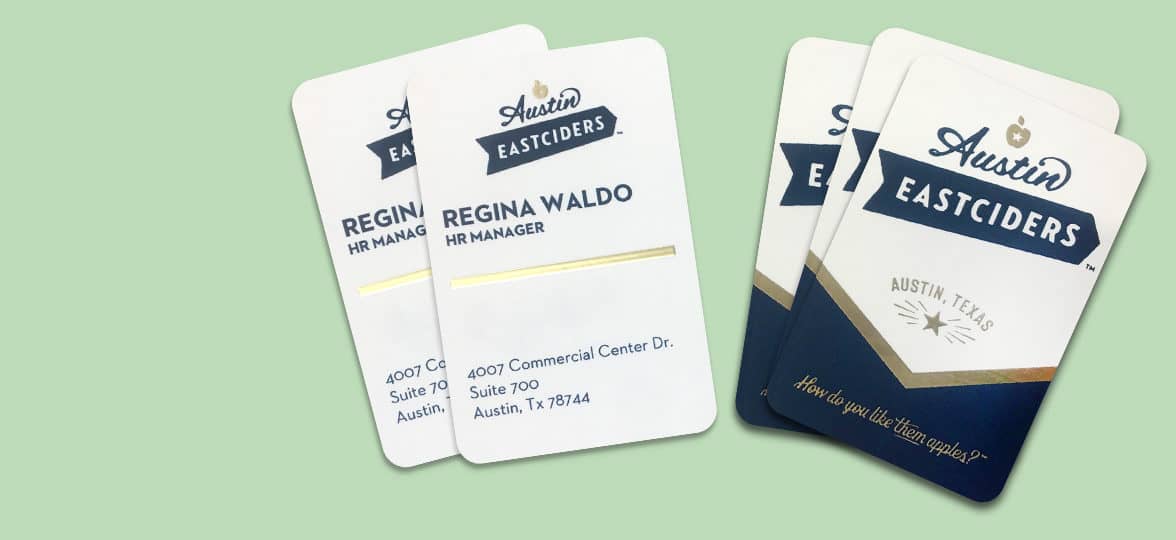 They say all that glitters isn't gold. But after seeing these customer designs, we beg to differ.
What better way to bring in the new year than to peruse our #MOOcards hashtag and see a treasure trove of amazing customer designs. From a cidery in Austin, Texas to a multi-talented designer in Bristol, UK—these customers from all over the globe are turning heads with their glistening gold designs. Here are their stories…
Libby Parfitt is a graphic designer and illustrator currently based in Bristol, UK. After completing her design degree in Bristol, Libby worked various jobs and internships to hone her skills. Now, with a full-time design job at a publishing company, Libby continues to take on freelance work to build her ever-growing portfolio as her creative outlet.
Taking inspiration from Instagram and Pinterest, Libby has developed a playful style in everything from collage to illustration. Her work takes on a confident simplicity, incorporating muted backdrops with splashes of vibrant accent color. "I get inspiration from all over Bristol," Libby says. And it shows—her illustrations reflect the vivid imagery, patterns, and textures seen around the city.
Libby's work has led to her involvement in local exhibitions and craft fairs, which is where her eye-catching Gold Foil Business Cards come in handy. The Business Card designs came from the need to revamp her freelance website. "I was messing around doodling on Adobe Illustrator using my new graphics tablet when I came up with the pattern, so I decided to add some color and my logo and—voila!" Using a matte finish with a Gold Foil logo helped elevate her design to another level. "I love the Gold Foil! I feel proud to give them out and people have been loving them as well."'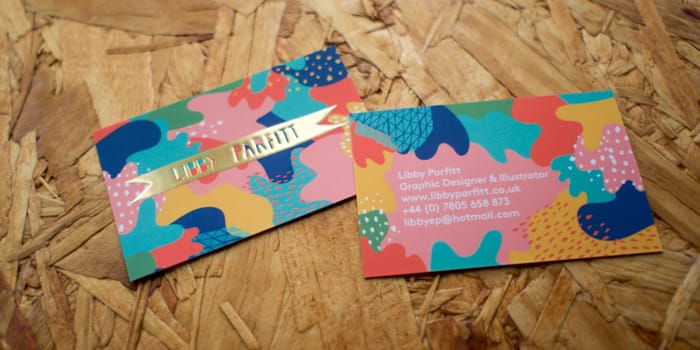 Elevate your designs with Gold Foil
Austin Eastciders is a hard cider company from Austin, Texas. Formed in 2012 by Ed Gibson and Mark King, the idea behind Eastciders was to make America fall in love with the drink all over again by creating a perfectly balanced cider. Pairing Gibson's heritage from England's cider country with King's business savvy, the team created their first-ever cider, Gold Top—and the rest was history. Gold Top blends bittersweet apples from Europe with dessert apples from the Pacific Northwest, creating an easy-to-enjoy cider that won the hearts of craft-beer lovers throughout the state.
With more cider flavors in the works, Gibson and King set up Eastciders' state-of-the-art brewing facility and taproom in downtown Austin. Drawing inspiration from the vibrant cultural scene, the cidery has an open, communal atmosphere for cider lovers to congregate. Eastciders also hosts a music series called 'Eastciders Rambles' that brings local music and craft cider together.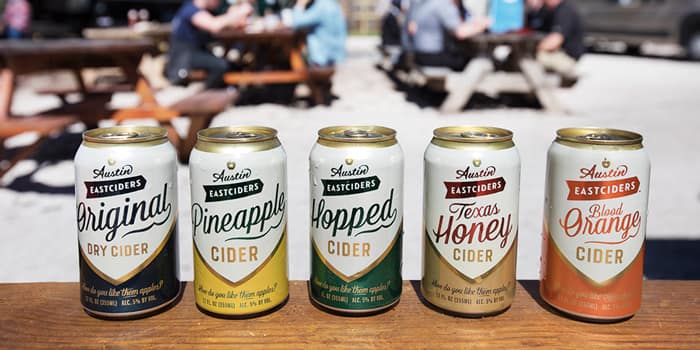 "The design of Austin Eastciders' logo and cans is centered on hand-crafted simplicity," Eastciders' Danica Ferrell says, "which echoes the old-school approach in the brewing process." The logo and flavor script on the cans was hand-lettered and relies on simple color to make the distinction between the different cider flavors—all with gold accents to hint at the cider's golden hue.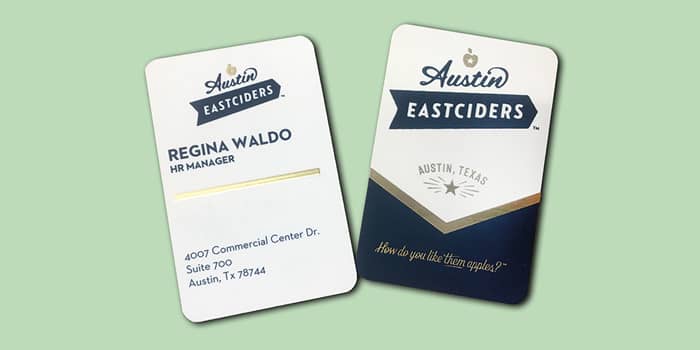 Austin Eastciders have taken their gold branding from their cans through to their Business Cards using Gold Foil. Working with their Business Services Account Manager, the Eastciders team uploaded these Gold Foil Business Card templates to their dedicated platform for all their employees to order from. According to Ferrell, "Every time I hand out my business card, I always get a 'wow!' And when they see our cans, they can make the connection."
Create connections with Gold Foil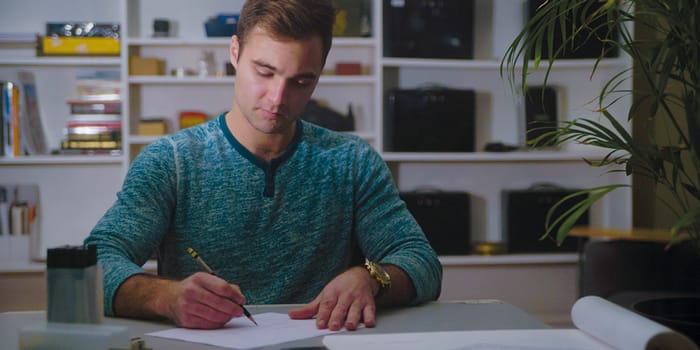 Ware Mfg is a creative consultancy in Detroit, Michigan. Founded in 2012 by Paul Karas, Ware Mfg takes on custom projects in interior design, industrial design, and engineering that helps bring his client's dreams into reality. Paul is the face of the company, and partners with other artisans in the Detroit area to fulfill each project's unique needs and scale.
Before starting Ware, Paul attended design school and worked as a project manager for a design company. In his spare time, he found plenty of ways to keep busy: "I was making all kinds of things and was obsessed with understanding the world around me." That curiosity helped him create a truly unique design style, drawing inspiration from his travels, people, and the architecture of Detroit. "More recently, I've been gathering a lot of inspiration from Mayan architecture and culture." The company's mission statement draws on these various inspirations: "Ware Manufacturing creates and translates the messiness of great ideas into order."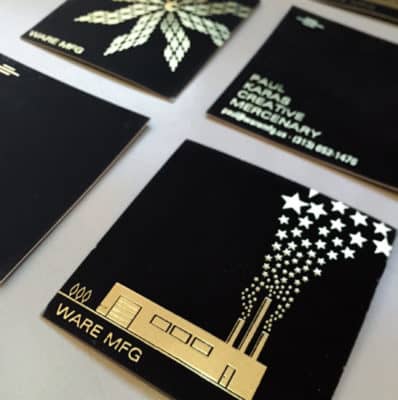 "I recently re-designed the Ware Mfg logo to become a building where all dreams come true and the only emissions are good ideas. Kind of like Willy Wonka's factory, but more inviting, and you can definitely buy tickets—all of which will be gold!" Ware's Business Cards reflect these aspirations of translating ideas into objects. When Paul found MOO's Gold Foil option, he knew it was the perfect fit for his designs. "I love everything about my cards! I love how you can do multiple designs on the back with Printfinity. Now, when I hand my cards out, the reaction has been a double-take, a smile, and careful placement in the pocket."
Print multiple Gold Foil designs with Printfinity
Fancy being featured on our blog? Tag your designs with
#MOOcards on Instagram
Keep in touch
Get design inspiration, business tips and special offers straight to your inbox with our MOOsletter, out every two weeks.
Sign me up!