You Are Not Alone: on murals and mental health
The project is sparking conversations around mental health with murals… and MOO Postcards.
Street art may not be the first thing that comes to mind when advocating for mental health, but the project You Are Not Alone is just that. Discover how murals around NYC were created with the goal of sparking hope, connection and conversations about mental health.
You Are Not Alone Murals officially launched in New York City back in 2019 as a community-based art project. It set out to create inspirational murals all over the world that portrayed messages of hope and brought about dialogue around mental health. Since then, it's expanded to other mediums including textiles and digital and has received over 250 pieces of artwork from 25 countries.
To participate as an artist, it's simple. You're requested to paint a mural illustrated with the phrase: You Are Not Alone. This can be written in any language but should use a yellow, black, white and grey colour palette.
The project was founded by long-time friends Annica Lydenberg – an art director, lettering artist, illustrator, and mural painter, and Samantha Schutz, who also works as a publishing director, mental health advocate, and is the author of the critically-acclaimed anxiety disorder memoir, I Don't Want to Be Crazy.
We recently had the pleasure of speaking with Samantha and Annica, along with award-winning artist Jason Naylor – a long-time contributor of You Are Not Alone Murals.
Tell us more about yourself and your role in the project.
Annica Lydenberg: I love painting public murals; no one can buy them, no one can save them, they are vulnerable and fleeting. Having painted a mural in 2017 with Adam Fujita that read "Everything is Not OK", I was moved by seeing it shared over and over by people to help them express their pain, frustration and fear. I wanted to make mental health murals that would help people express their support and feel supported. I hope to continue to do this each year, contributing to communities near and far.
Samantha Schutz: Along with Annica, I am the co-creator of the project. If you trace the origin of the project all the way back, you'll find my anxiety disorder memoir, I Don't Want to Be Crazy. While the book was a creative exercise for me to start healing myself, I knew my vulnerability could help other people, too. It's truly humbling to see how that act has transformed into something new and is now playing a part in inspiring people to create art in all different mediums and share intimate details about their experiences with mental health challenges.
Jason Naylor: I've always loved seeing my work in large scale, even as a designer in my previous life, working on environmental graphics. I've been painting murals for 10 years and large scale work has taken my career in so many interesting directions. I feel blessed to be on this journey. My role in the project, in my opinion, is to bring ideas for growth and innovation for You Are Not Alone and to help broadcast this message as far and wide as possible.
What was your reason and inspiration behind launching this initiative?
SS: After the publication of my memoir, I received letters from readers and found one phrase repeated over and over: "Your book made me feel less alone." Annica, a longtime friend and artist who has a deep appreciation for type, love of storytelling, and dedication to social good, was so inspired by the connection I'd made to readers that she wanted to use public murals to help spread the message "You Are Not Alone."
How do you think art and creativity can help our mental health?
SS: One way or another, our emotions are going to find a way to come out. In the short term, it might seem like bottling them up is a way to dodge painful feelings, but that builds pressure – and eventually, there's going to be an explosion. For me, creativity is like opening a release valve just a little bit at a time.
"Creativity is like opening a release valve just a little bit at a time"
JN: I think art helps in several ways. Firstly, it helps me maintain my own mental health. Having a daily practice brings structure and routine to my life. Being healthy enables me to share with others – my words, my art, my energy. Not only does this feel like a reward for me, but I know that my work has a positive impact on others, which feels like a win-win. I love that social media provides a place for people to reach out and let me know my work has impacted them – it drives me to do more.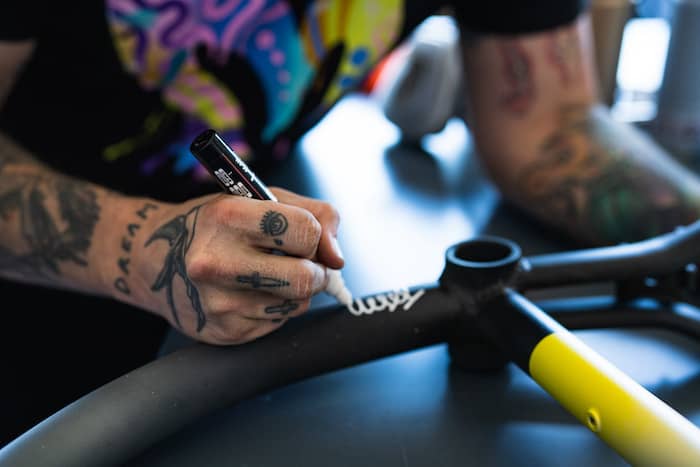 Why did you choose murals? What did you hope to accomplish by expanding with Priority Bicycles and adding postcards?
AL: The idea was to connect in a serendipitous way. When someone is walking down the street they aren't intending to see this message. Priority Delivers offered us the chance to do the same thing. Catch people by surprise and give them a message of hope they weren't expecting. And just as people photograph the murals and share them with their friends, family, or online network, the Postcards were handed out in pairs, allowing people to continue the cycle of sharing.
Why did you choose to collaborate with MOO?
AL: As a designer, I use MOO for all my printing anyway – so that was already happening. MOO quality is on point! Having learned about MOO's efforts to promote mental health within their company, the fit was undeniably perfect.
Jason, can you tell us how you approached the brief for your inspirational murals?
JN: The project is so special to me because I get so much reward out of spreading this type of message. I know how valuable this work is to so many people and I feel so blessed that I have the skillset to do this work and reach so many people. I feel like it's my calling to use my work for good, so this project fits right into my brand and practice seamlessly.
The brief is a challenge for me though, as I usually use ALL the colours in my work. Limiting myself to yellow and black feels very constraining, and while I love the palette, I am used to relying on lots of colours to get my point across.
That being said, my design process is simple since so many parameters are already in place. Basically, it's just sit and sketch, then go and paint! I have reinvented my You Are Not Alone mural designs each time to keep doing fresh work, despite the limited palette.
Can you tell us about You Are Not Alone's impact so far?
SS: I love when I see new art come in and realise that it's the second year in a row that this person has participated. To know that people are repeatedly taking time out of their lives to join this project is really humbling – and exciting! This is how I know that we are truly growing a community.
We can also see how a community is forming from the feedback we get about the project. One follower put it perfectly: "After reading 'You Are Not Alone' so many times, in so many creative ways, I think it finally sinks in."
"These murals offer a source of comfort and a constant reminder that there are people who care around us."
Others talk about how seeing the work makes them feel inspired, uplifted, reassured, loved, and supported. An early supporter of the project said, "In a city of millions, it's strangely easy to feel forgotten, lost and alone, and for those of us struggling with mental health (in my case anxiety), these larger-than-life murals offer a source of comfort and a constant reminder that there are people who care around us."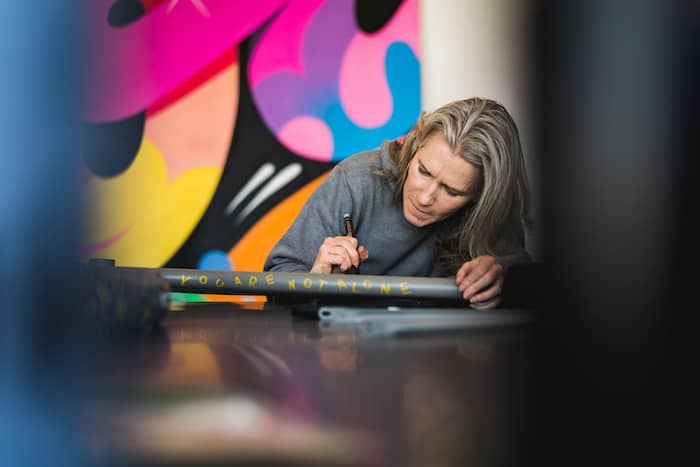 What's it been like working together on this project?
JN: Working with Sam and Annica is absolutely wonderful. Both are so passionate about this (we all are!) and it makes it so exciting to be moving forward with like-minded people who care and are willing to work. We have so much synergy and we all complement one another very nicely. I'm so excited to see this project grow and expand. Imagine what this will be in 10 years. 20… 100! Let's go!
AL: Jason is our own personal Kevin Bacon, the connection between all the people. He has been generous with not only his skills but also his relationships. We are so lucky to have him on board.
Follow the You Are Not Alone community on Instagram and make your own inspirational Postcards with MOO. You can also submit your own mental health murals and designs to the project here.
Keep in touch
Get design inspiration, business tips and special offers straight to your inbox with our MOOsletter, out every two weeks.
Sign me up!