Corporate gift basket ideas for the festive season
What to put in a client gift basket? Follow the guide for some unique holiday gift ideas.
After the year we've been through, it's more important than ever to (re)connect with your community and remind them you care. A corporate gift basket is a great way to treat your clients to something nice and thank them for their business.
Wondering what to put in a holiday gift basket for your clients? Follow our handy guide for a unique corporate gift basket they won't forget.
Start with a little thank you
A business gift basket is, above all, a more tangible thank you – but don't forget to say it, too. In times of uncertainty, loyal customers are the most precious asset for your business. Custom Greeting Cards are a memorable way to show you care and thank your clients for their business in the past year. With Printfinity, you can create different designs within a single pack – a great way to personalise your cards for each client without over-stretching your budget.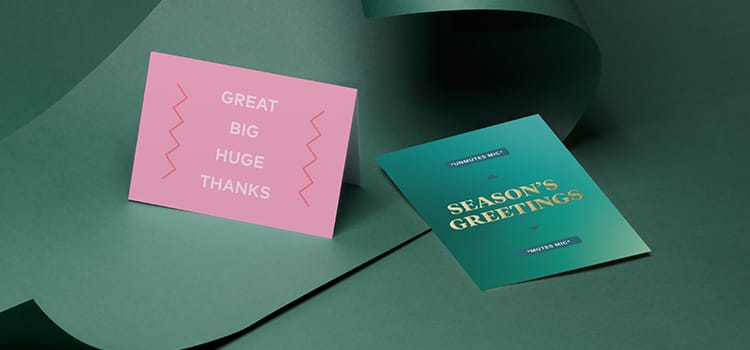 Treat them to a tasty snack
Everyone loves snacks – and that includes your clients. Sneak a little box of chocolates, some candy or any non-perishable festive snack you can think of in your corporate holiday gift basket. If you have partners in the food industry, it's a great opportunity to collaborate and give them a helping hand to boost their business during the festive season. Mutual support is key in these trying times.
Leave a (cheerful) mark
A professional gift basket is not that different from a goody bag. Express your gratitude with some shareable print products. Include some festive Stickers or Postcards with your logo in your client's gift basket to stay by their side, even from afar. They will spread the love without even trying.
Brand away
Why not treat your clients to some branded merch for a unique corporate gift basket?  Create beautiful products they'll want to keep and make sure they're recognisable for potential new customers: include a logo and use your brand colour palette to help build brand awareness. For example, you can design a branded Notebook to help them organise their to-do list or a custom drink bottle to keep them hydrated – they're more likely to think about ordering from you if your logo is on it.
Give them a reason to come back
Incentives are a great way to keep your clients happy and make them come back. Encourage them to buy again by adding a discount coupon to your client's gift basket. You're guaranteed to put a smile on their face. Share the coupon or gift card on a custom Business Card designed for the occasion – you can add Gold or Silver Foil to make it even more festive.
Treat your clients and spread the cheer with custom Greeting Cards from MOO.
Keep in touch
Get design inspiration, business tips and special offers straight to your inbox with our MOOsletter, out every two weeks.
Sign me up!