Question 52 in our cryptic quiz: "Three is the magic number"
24th September 2009 by Pete
---
It's time to get your brain in gear and answer today's first question. What's in it for me I hear you say?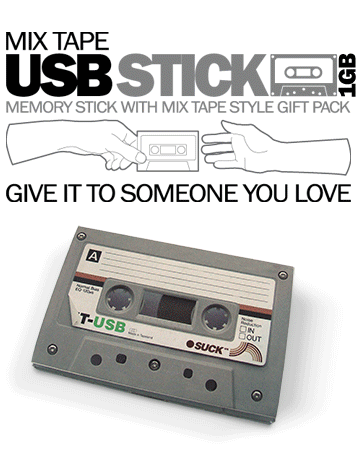 Well; Today you have another chance to win one of the coolest little gadgets around. We are giving away more Mix Tape USBs from our friends at Suck UK. You can store your MP3s on the USB and be retro and master of all things digital all at the same time!
If you want to see the Mix Tape in action, take a look.
But you have to earn them! So, let the games begin……
---
Hardboiled, The Journey
Payback
Nick drew Sam's short straw, so once we were on the boat it was his turn to face a puzzle challenge.


Sam said, "At this very moment a woman is 21 years older than her child. In exactly 6 years from now she will be precisely 5 times older than the child." 

I could see the wheels turning in Nick's mind.


"The question is this," Sam said, "where is the father right now?"


Nick paused a second, surprised. But suddenly he relaxed and said, "he's right next to the mother, I suspect."


QUESTION: How old is the child right now?
---
Answer below in your comments please, and keep coming back, as the next question will be up soon.