Question 22 of the Cryptic Quiz: "Three is the Magic Number!"
10th September 2009 by Simon G
---
It's another sunny day in London, which means another fun day of cryptic questions from the MOO Crew at MOO Towers and another three chances (yes, three) to win some amazing prizes! Answers to yesterday's quiz will be posted shortly, but in the meantime we pick up with our adventurers in…
---
Hardboiled, Part Eight
Sam Goes to the Source
I'd gotten an opportunity to chat with Moo's CEO, Richard Moross, at the office, but it was a casual, lunch-time, chess-game, out-on-the-patio kind of talk. He seemed like a great guy and hardly the type to go about crushing other people's businesses. I decided if I was going to get an accurate picture of him, I needed to see what he was like at home. So I searched for his address and paid his place a visit. What I got for my efforts didn't exactly surprise me.
In his home, Richard had collected copies of several recent newspapers. Looking through them, I discovered that within the last three months alone, Richard Moross and Moo had been written up in three separate papers. The reports were positive, almost glowing, and it was becoming very clear to me that it wasn't Moo and Mr. Moross that warranted investigation–it was our client, Mary.
Q: What three newspapers did write-ups about Richard Moross and Moo in the last three months?
---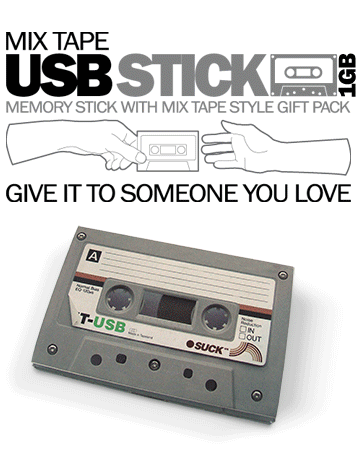 "What are the prizes?" – I'm glad you asked!
Today we're giving away some rather nifty Mix Tape USBs from the lovely guys at Suck UK. You can store your MP3s on the USB and stay 80s chic!
If you want to see the Mix Tape in action, take a look.
As the saying goes though, "you've got to be in it, to win it" so make sure you post your answers in the comments. We'll reveal the lucky winners tomorrow, so watch this space!