Question 43 in our cryptic quiz: "Three is the magic number"
21st September 2009 by Emilie
---
What is the best way to start the week? Well, for me it is a strong black coffee but I heard that some couldn't wait any longer for MOO thrilling cryptic questions, so here is the first one…
---
Hardboiled, Part Fourteen
Nick Puts it Together
As Ray and I went over what we knew about the case–including the new detail that our client, Mary, wore a wig to cover up her blonde hair–Nick was busy writing on a piece of paper. We were used to this, so we ignored him and kept talking it out. We figured the whole thing revolved around Moo and Richard Moross. Suddenly, "Brothers," Nick said, "look at this!"
Nick held out a scrap of paper with a bunch of names, including all three of ours, scrawled criss-cross on its surface. "What do you notice about these names?"
Ray said, "Well I notice that you don't quite have all of our ursine friends' names right. But she does cook apple pie, so she probably won't mind the abbreviation."
"Never mind that, " Nick said, "what names are missing? What names didn't fit?"
We scanned the 13 names on the paper and suddenly Ray sat down abruptly, "Oh my goodness."
Then I saw it too. Every name we we'd become familiar with over the last few weeks–from friends to clients to enemies, from recent graduates to established professionals–were on the list. All of them, that is, except two.
"I'd better alert Junior and his folks," I said as I picked up the phone and called.


QUESTION: What two names are missing from Nick's puzzle?
---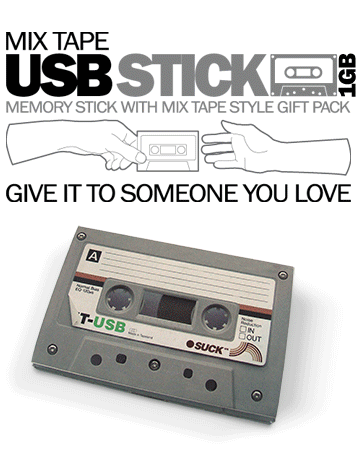 Today we're giving away some Mix Tape USBs from our friends at Suck UK. You can store your MP3s on the USB and stay 80s chic!
If you want to see the Mix Tape in action, take a look.
As the saying goes though, "you've got to be in it, to win it" so make sure you post your answers in the comments. We'll reveal the lucky winners tomorrow.